Why started writing travel notes
The older I get, my memory becomes worse. There are only photos and trivial memory fragments left from previous trips. I want to look back on my previous trips, but I can't piece together the bits and pieces of my travels and the beautiful moments worth keeping. So leave some text, you can recall the beauty at that time~
The host-luya, the host's husband, and luya's parents are a 4-person trip;
this is the first overseas trip with their parents. I hope they can see more beautiful scenery and the bigger world when they are still young.
Why choose Phuket it? Some time ago the landlord vibrato brush a little bit more, the Bali network attracted to red spots, and catch up with eleven approaching, restless heart can not be suppressed, then Internet search around Bali airfare decided to start, are per person 7K The air tickets on the left and right were frightened, and simply took his hands, but did not take the heart out of the wave, and decided to change his way.
The main purpose of this trip is to plan a vacation, plus the next would like to experience the Thai public service with a smile, side have been to Thailand a friend of Thailand 'evaluation are good "(high cost, some play, some to eat, the visit), then go to Thailand Well, firstly, visa is convenient, secondly, there is not much language barrier. The landlord is not much workers holiday, choose two different city island + experience, combined with a period of little more considering the number of vacation days and two distance, we chose Phuket and Bangkok .
Friends recommended bees have time after November to Similan Island, niche and more beautiful scenery; small fresh bee Friends recommended to Chiang Mai and Pai .
Let's start with a collection of beautiful pictures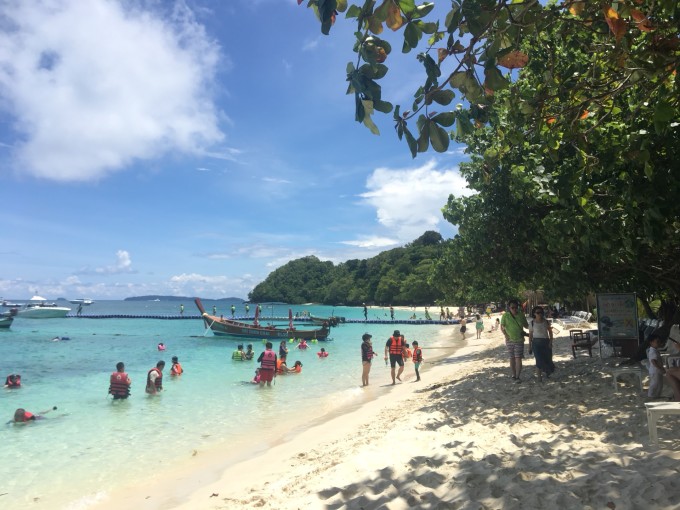 Emperor Island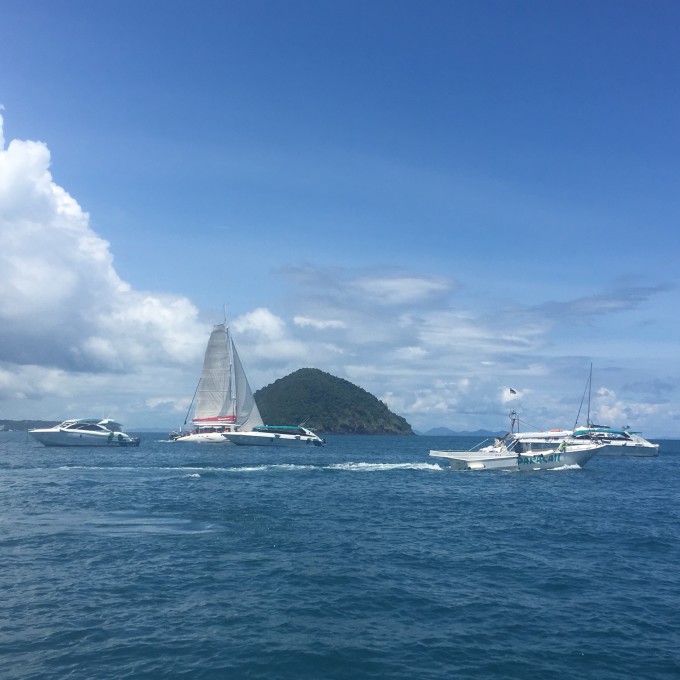 Emperor Island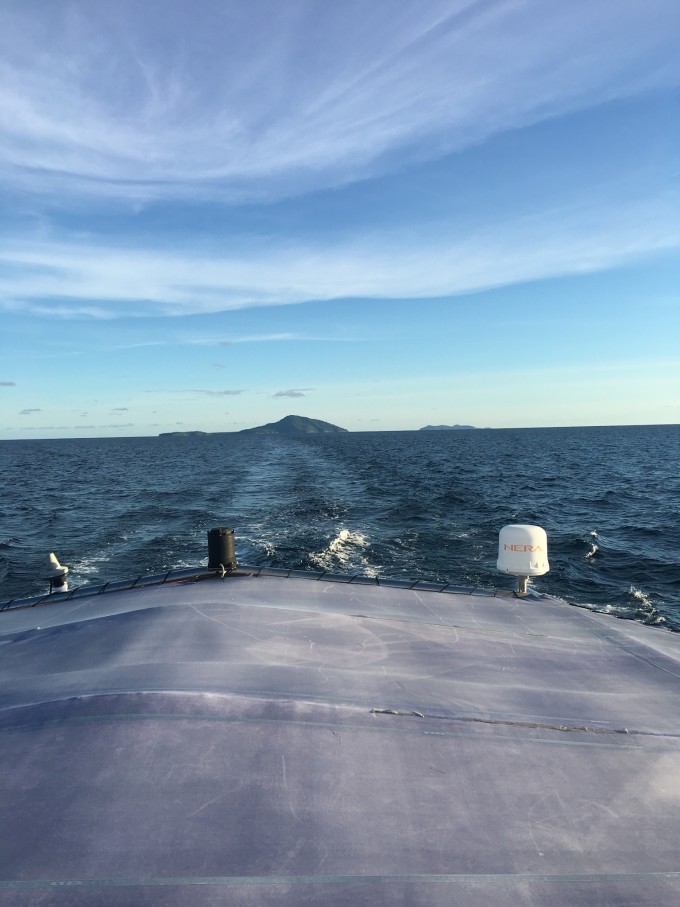 Emperor Island
Emperor Island goes to sea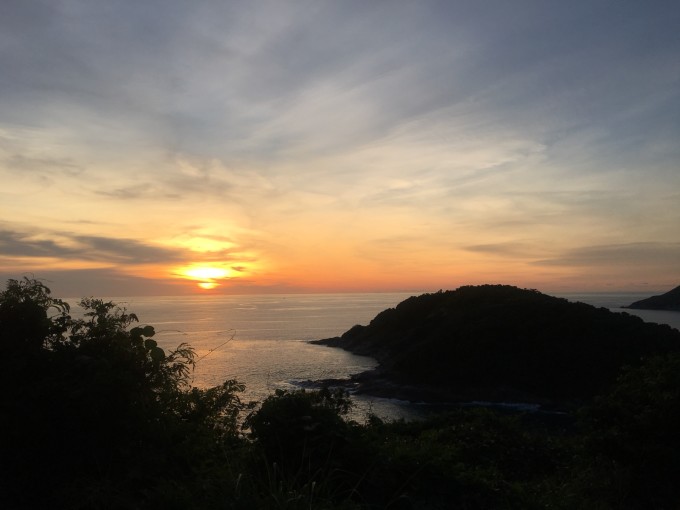 Shenxian Peninsula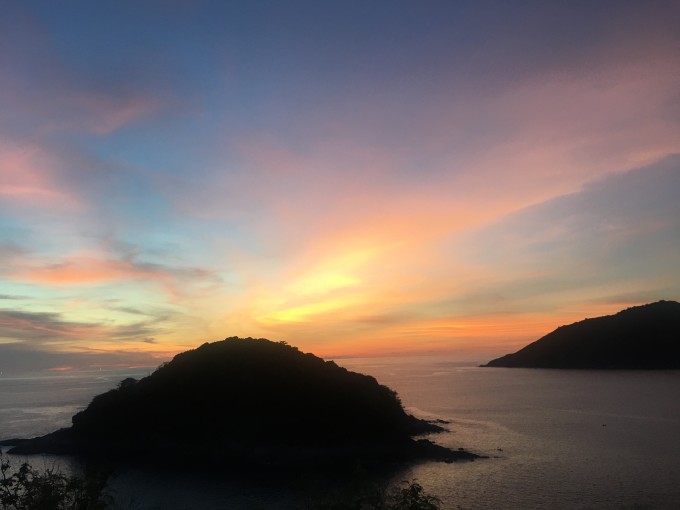 Shenxian Peninsula
Sunset on the Fairy Peninsula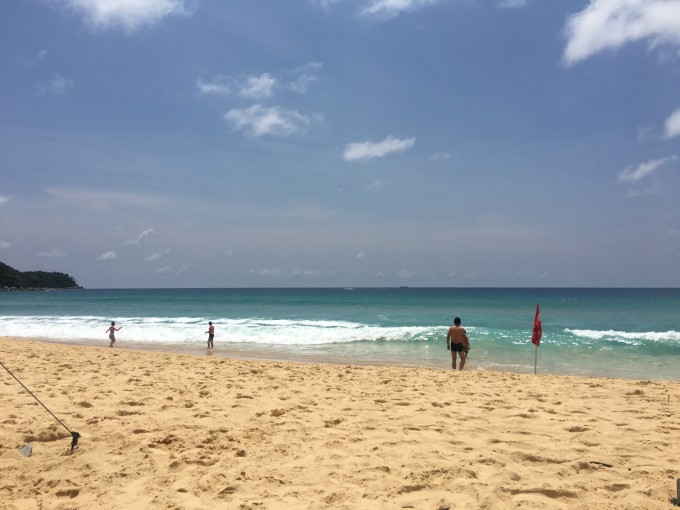 Kata Beach
Kata Beach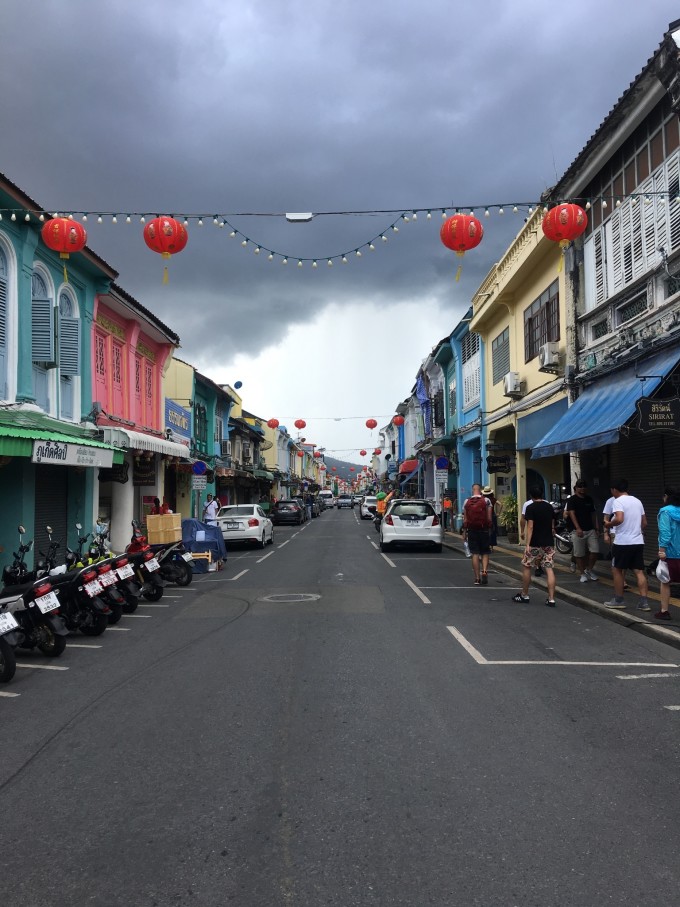 Phuket Town
Phuket Town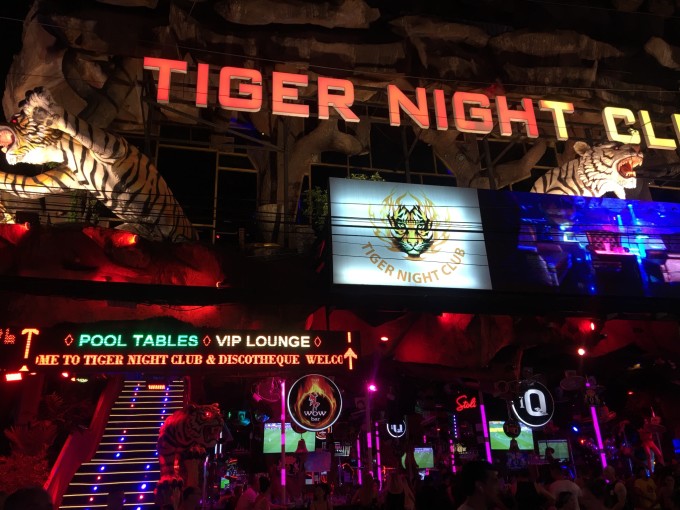 Patong Bar Street
Patong Bar Street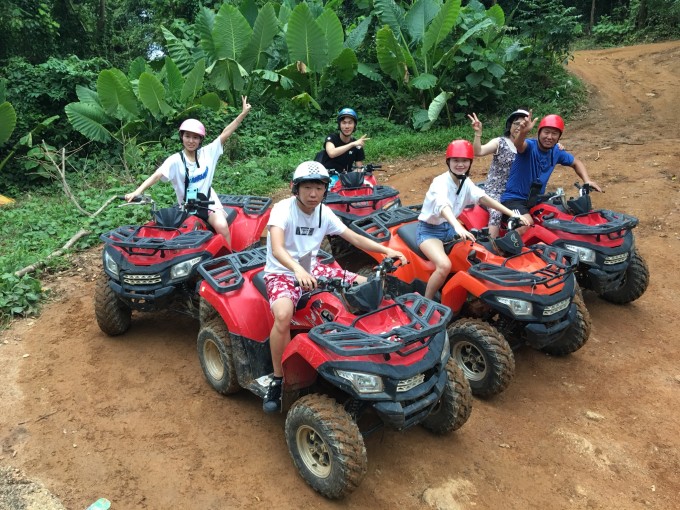 ATV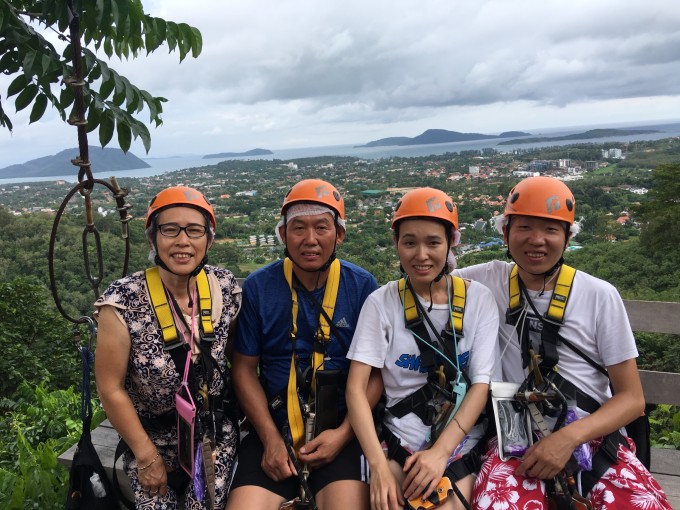 Skyline Jungle Leap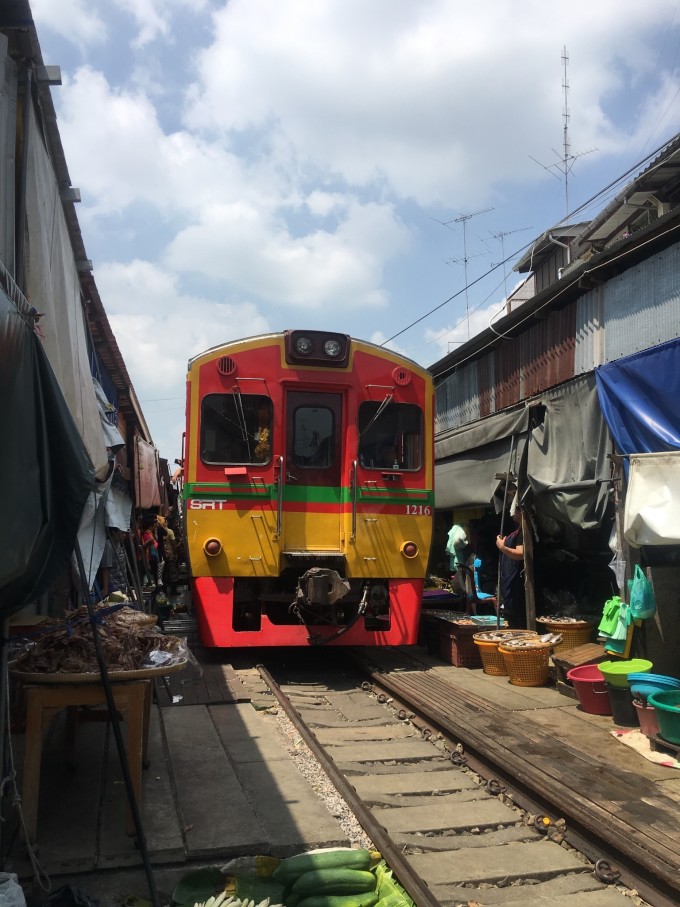 Railway Market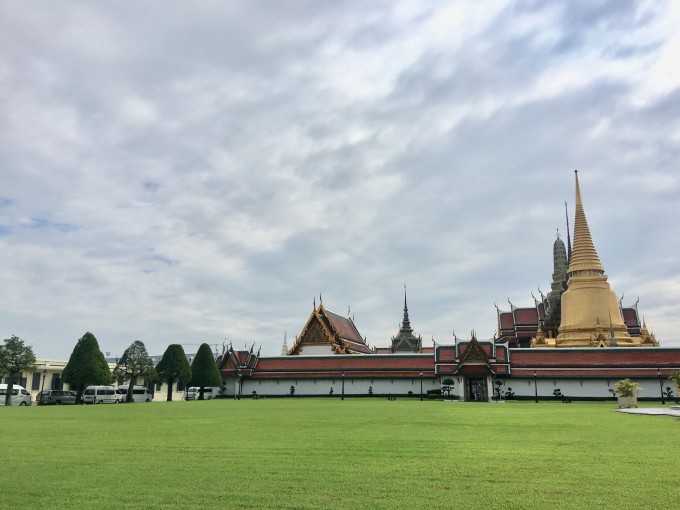 big palace
big palace

Total transportation expenses: 4666 per capita air ticket: Beijing - Phuket (Air China), 2372 Phuket - Bangkok



( Thailand International Airways), 203
Bangkok - Tianjin (Air China), 2041
(transportation) Train ticket: Tianjin - Beijing , about 50
because the tickets will be some time late (travel time than remaining two and a half months), in order to save expenditure on air tickets, have opted for red-eye flight, and from Tianjin back than from Beijing back and save the hundreds of ocean. Hotel:



Patong Hotel: R-Mar Resort and Spa-3 nights 2 rooms, 2673 yuan
Kata Hotel: Kata Tranquil Villa (Kata Tranquil Villa)-2 nights 1 room, 1836 yuan
Bangkok Hotel: Nine Design Place (Nine Design Hotel)-2 nights, 1 room, 1808 yuan.
The hotels for this trip are all booked in booking. There are three hotels in total. The purpose of choosing-cost-effective, comfortable and convenient location.
A total of 8 days of travel, Phuket + Bangkok , plenty of time to visit, Bangkok Attractions not too much, so we plan on Phuket a few days longer.
Phuket more well-known of the three beaches: Patong, Kata, Karon, Patong facilities to improve is the East China Sea beach, night out bar street, shopping mall, massage parlors, restaurants, supermarkets are more convenient, but it will be very noisy, The beach water quality and the fineness of the beach sand are not as good as Karon and Kata. On the other hand, the beaches of Kata and Karon are few people, restaurants, etc., and you can't swim in the big waves. You can only sun and play on the beach, which is suitable for relaxation. Therefore, the host chose to be both lively and quiet, and stayed at Patong and Kata Beach for two or three nights respectively.
Patong Hotel: R-Mar Resort and Spa (R-Mar Resort and Spa)
Recommendation 400 per night, the hotel location was good, away from the beach, Jiangxi cold, Bar Street are very close, the hotel comes with swimming pool, but the pool is disabled after 19:00, and basically we are playing outside during the day It was very late to return to the hotel, and I didn't use the swimming pool much. There were two western restaurants and a massage parlor at the entrance of the hotel. Cartagena Hotel: Kata Tranquil Villa (Kata Jingya Villa) Recommendation hotel relatively remote location, the road on both sides of mustaches Tongli









, The small villa is relatively spacious, with a living room on the first floor and two houses on the second floor. There is a small swimming pool. At night, you can hear the calls of various small animals. It is a bit scary for people to live in this area. There is a supermarket outside the alley, and there is also a noodle shop nearby where Kata has a good reputation. The hotel is about 500m from the sea. You can rent a motorcycle.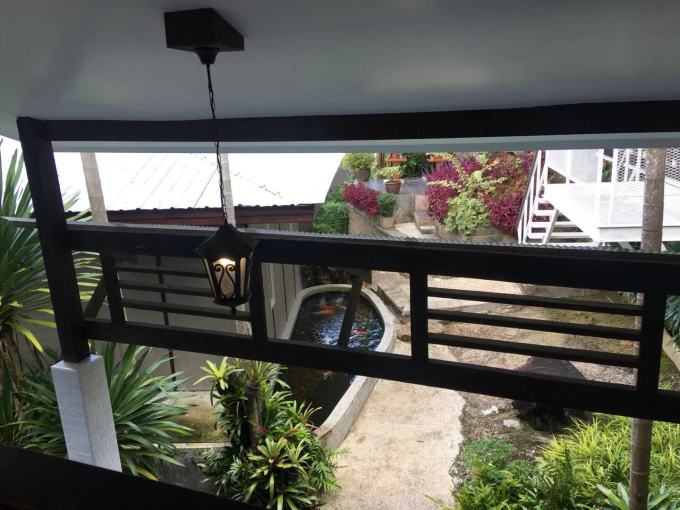 Kata Jingya Villa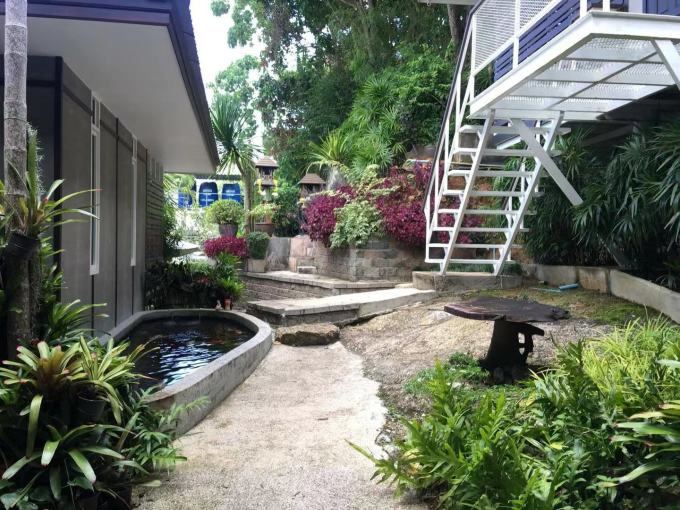 Kata Jingya Villa
Bangkok Hotel: Nine Design Place (nine design hotel)
Recommendation located in Siam district, excellent location, very warm reception brother, dining taste could be improved. Visa: Taobao visa application: 4 people, a total of 1,000 yuan; Thailand can apply for visa on arrival, but in order to save time, we applied for a visa in Mafengwo ahead of time, 250 per capita. The information required for a Thai visa is relatively simple, and the visa can be issued in about 1 week.






Exchange money: This year, to catch up with the depreciation of the RMB, the exchange rate of the Thai baht is very uneconomical. The exchange rate was around 4.74 when the host exchanged it in September, but the normal exchange rate of RMB to Thai baht was above 5 . It recommended that domestic banks ahead for good, to Phuket I turn several domestic swap points are not as cost-effective, but it is not absolute, based on the experience of the landlord seen multiple posts, there is a change in the foreign exchange rate than the domestic cost-effective Bee friend. In summary, it depends on time and character. Domestic banks need to call in advance to make an appointment for foreign exchange exchange. Small denomination banks will not have the spot (no problem if you don't change the small denomination in advance, you can break it when you get off the plane and find a supermarket to buy water. The small denomination is mainly used Give a small fee.), not every branch can exchange currency, you can call the bank to inquire about the exchange point closer to home.



According to the summary of the travel experience, the recommended sequence of exchange currency exchange: domestic banks (ICBC& Bank of China , personally verified)> foreign roadside exchange points/ATM machines ( You can visit a few more and compare, most bee friends recommend superrich exchange point, I found one with clumsy eyes ) > airport exchange point (according to the forum post, this is the most pitted) wifi and phone card : Happy card, 3 cards, 8 days, a total of 70 yuan; Roaming Superman wifi rental, 1, 9 days, a total of 153 yuan; 7-day Happy card bought on Taobao, mobile wifi is rented, Happy card unlimited data usage within 7 days .


Tickets for all kinds of
excursions: One-day trip to Emperor Island: 4 people, totaling 2027 yuan (Taobao);
Simon Cabaret: 4 people, total 260 (hornet's nest);
Phuket one-day rental car around the island: chartered car for 1-4 people Thai driver 8 hours, total 419 yuan;
The Oasis spa: Lost Oasis for 2 hours, 4 people, total 1756 yuan (horse nest);
Kata ATV+Skyline Jungle Leap: ATV 30 minutes + Jungle Leap 20 stations, 4 people, total 1596 yuan (Horse honeycomb);
Bangkok Siam Ocean World: 2 people, 200 yuan in total (horse honeycomb);
Damnoen Saduak Floating Market + Maeklong Market one-day tour: Damnoen Saduak Floating Market + Meigong Railway Market (including rowing boat + Electric long-tail boat), 4 people, total 552 yuan (horse's nest);
Coral Island &Emperor Island One-day Tour, Simon Cabaret, Phuket Car rental one-day tour around the island, The Oasis spa, Kata ATV+Skyline jungle leap, Bangkok Sea World, Damnoen Saduak Floating Market + Maeklong Market. -----Taobao and hornet's nest are scheduled in advance. The itinerary is probably well arranged. It is not very popular. It can be scheduled 1-2 days in advance or on the same day. Don't get stuck in the itinerary to avoid bad adjustments. Pick-up, drop-off: Pick: Business 10 (9 6 luggage), a total of 117 yuan; conveyor: Contact local drivers of the line (that is, to take us around the island of Phuket driver, offline than online book to talk about Cheap), about more than 100, forget the specifics; Taobao and Mafengwo are booked in advance. When booking other travel tickets, you can book the pick-up and drop-off at the same place and generally have discounts.



Shopping:
Boots, Siam Japanese drug store, royalty airport duty-free shops.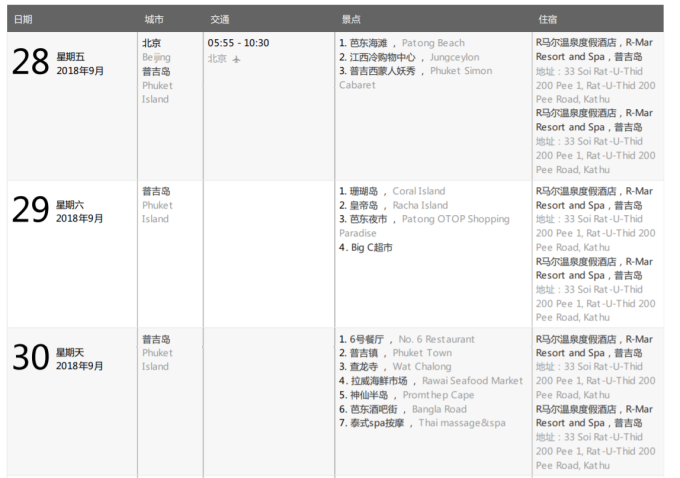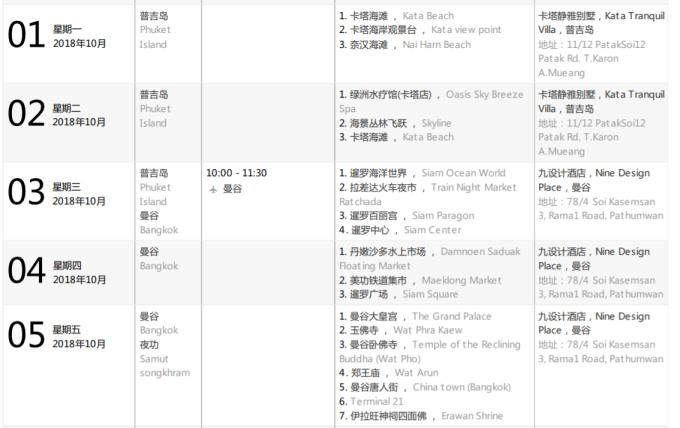 Recommended other locations: Similan Island (the world's top ten diving destinations, developed from November to April of the following year), Katuga Weekend Market, Bangkok Night Market Ferris wheel, night cruise on Chao Phraya River, Khao San Road,;



I arrived in Phuket and took pictures with my favorite ladyboy sister
It was nearly 12 o'clock when I arrived in Phuket and took my luggage. I found a pre-arranged pick-up outside the airport. I arrived at the hotel and checked in at about 2 o'clock. Hungry, first of all solve the food problem, advance search good taste Thai Bistro, do not know the reasons for not too hungry, I feel that I am in Thailand eaten the most delicious Thai food.
Thai Restaurant: Dianping 4 stars, 90 per capita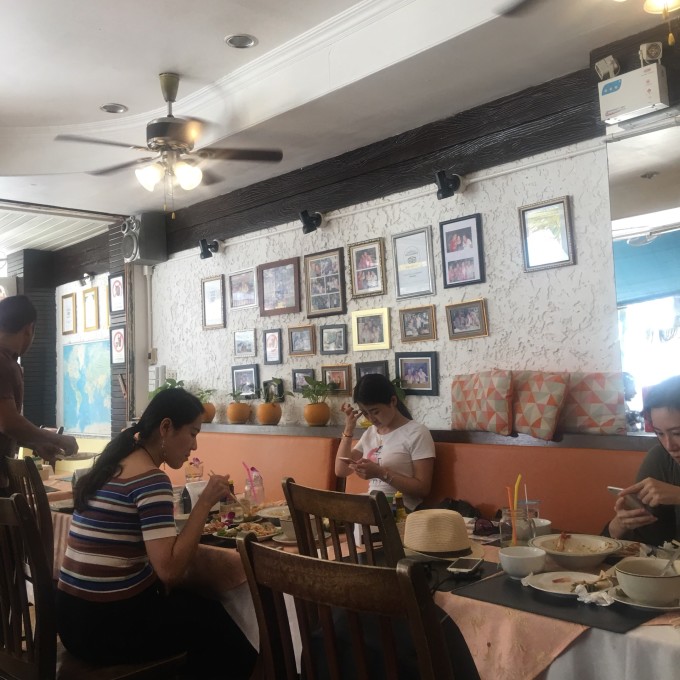 Thai Restaurant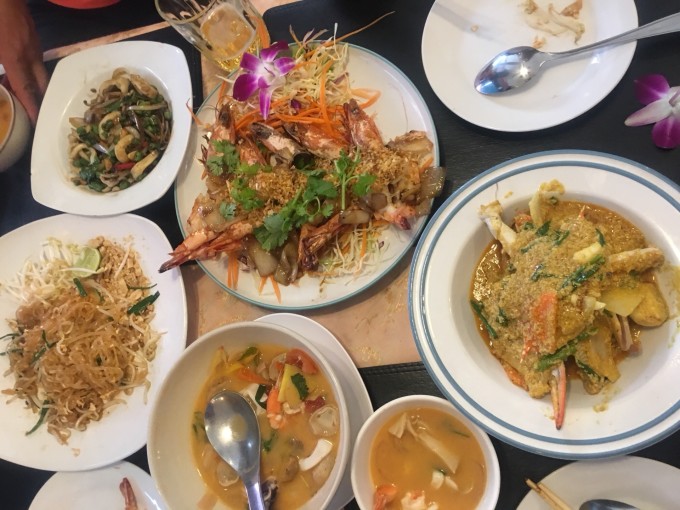 Thai Restaurant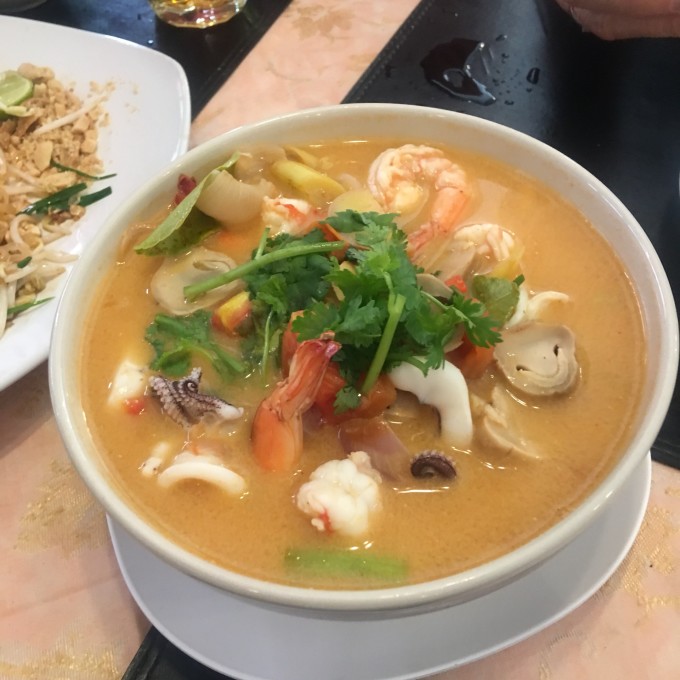 Thai Restaurant
I love my Tom Yum Goong soup every time I go to a Thai restaurant.
Thai Restaurant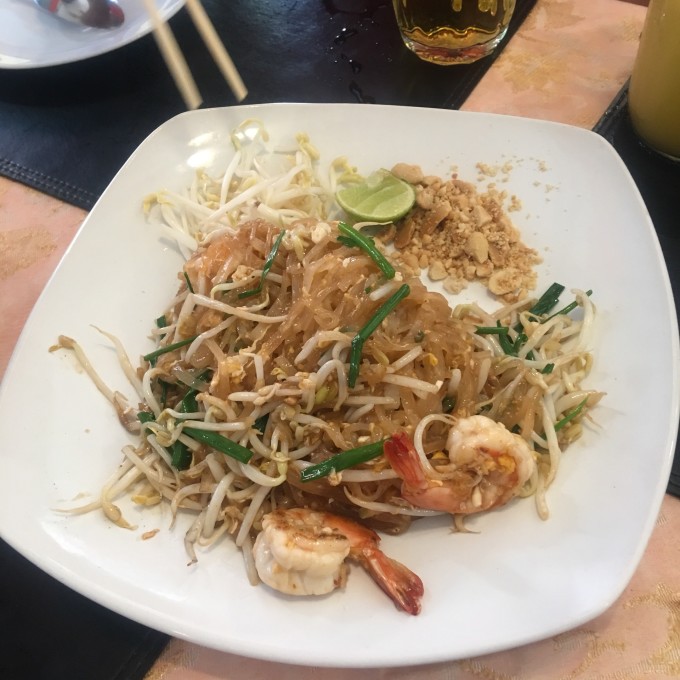 Thai Restaurant
Thai fried rice noodles
after eating eaten enough, in Patong East Beach and Jiangxi cold stroll around the shopping center, there is nothing to recommend it. It was about 7:30 in the evening for the Simon Cabaret Show, which is less than 3 kilometers away from our location. We plan to take a walk to take a look at the street scenery and get familiar with the surrounding environment. But when we went there happened to be building roads, it was not very easy to walk, but it was okay, the distance of 3 kilometers was not as close as we thought. From a distance in this dark place, there is no doubt that the place where you see the shining light and the tall and brilliant is the human demon show. There are still a lot of people who come to see it. If you are not allowed to bring water, take photos, or record videos, you will be fined if you are found, and you can only watch with your eyes.
Had not so great expectations for Simon show, just think this is Thailand Under characteristics should experience, but far exceeded expectations, even been to Thailand watched Pattaya show Simon Simon Simon's parents also show appreciation for me. The ladyboy show is one hour, and there are about 20 shows. Different ladyboys will appear in turn. The quality of the first few shows is especially good. I especially like the dance performed by a young lady who is very professional. I admire her spontaneously. The final photo The link also took a photo with her. The ladyboy show is a little bit erotic and seductive, with high slits to the crotch, transparent stockings, and a good figure, but the whole is still showing the versatility of the ladyboy. The program involves performing a wide range of masses, there is North Korea The performances of ethnic groups, ethnic minorities, Snow White, imitating Beyoncé, etc. try their best to make audiences from various countries feel substituting.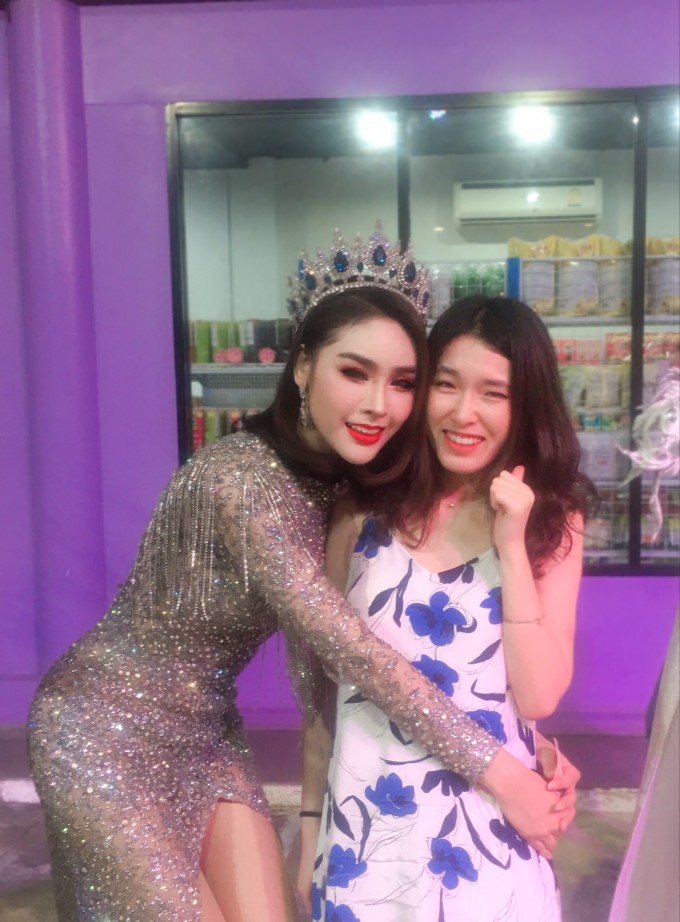 Little sister very close for the three pose, from Simon Simon show out to hunt for dinner, there is a nearby night market, they make do with a point to eat barbecue, night market outside the house most of my fried water spinach in Thailand, the best food eaten Don't miss the bee bee who likes spicy taste. After dinner, I went back to the hotel to rest early.



Go out to sea, blow on the board
Sea day, Emperor Island Coral Island and island-hopping tour, reported a day trip, travel agents will need day-trippers pooled and then divided into each boat, our boat guide is a Thai brother, super slide in Mandarin .
Coral Island is mainly used for water sports, such as sea walks, deep diving, banana boats, parasailing, etc. Banana boats are more recommended. The banana boats will be pulled into the middle of the sea by the speedboat and will be deliberately dropped by the crew twice. If you are lucky enough to feel that you are stable, you can not fall down. If you don't fall, the crew will think that you can't have fun . Besides, the scenery around the island is good, and it is recommended. If you don't dare to go into the water and want to see the bees and bees on the bottom of the sea, you can choose to walk on the bottom of the sea. There is no danger to life with an oxygen mask, except that it is expensive.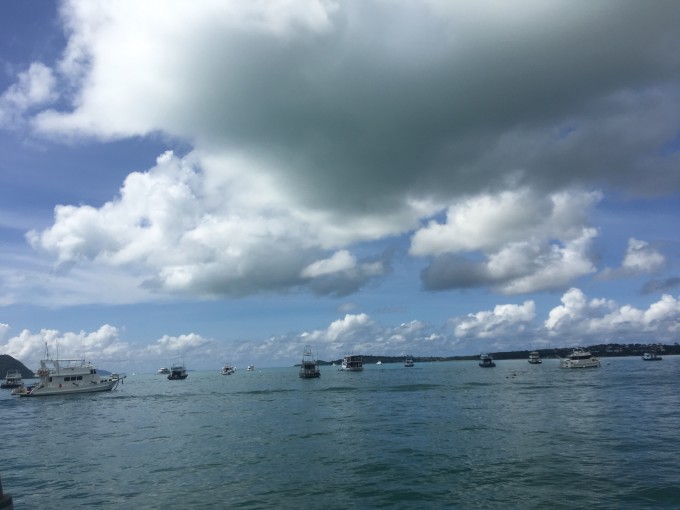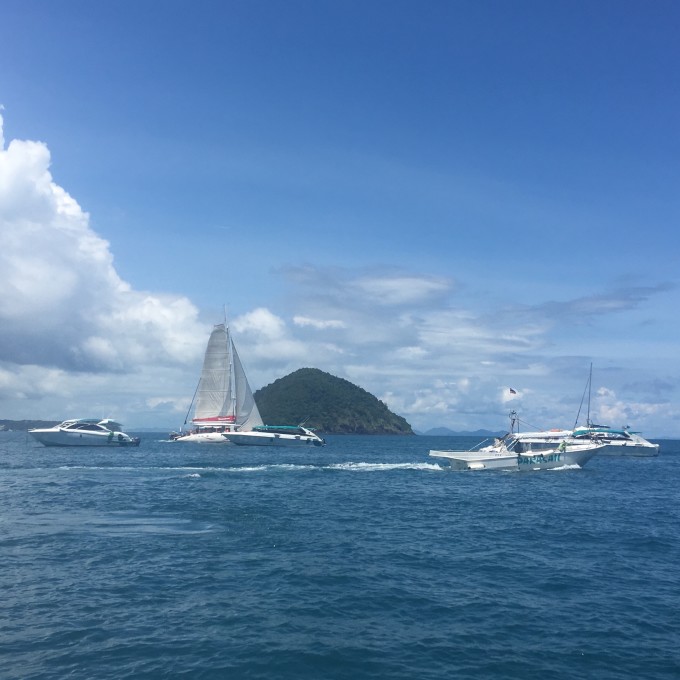 Travel around the island on a banana boat on Emperor Island with a good view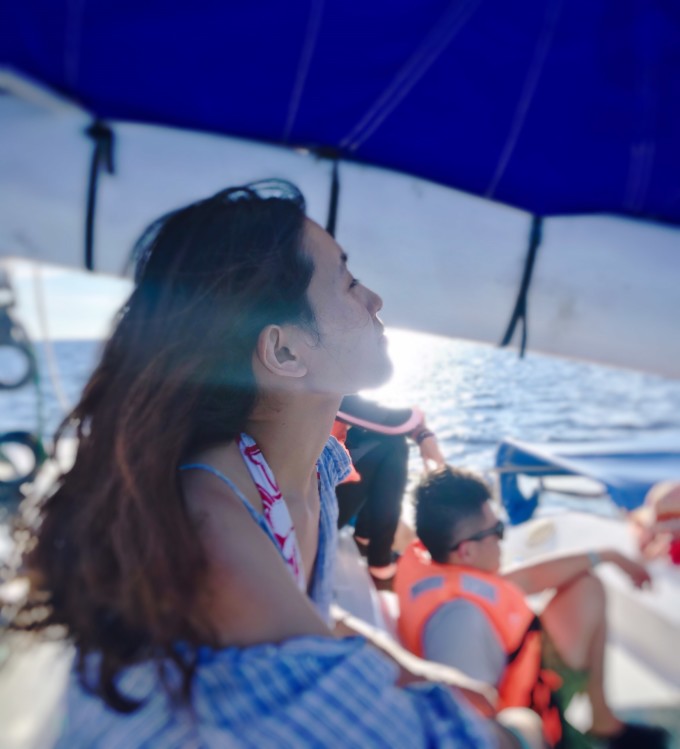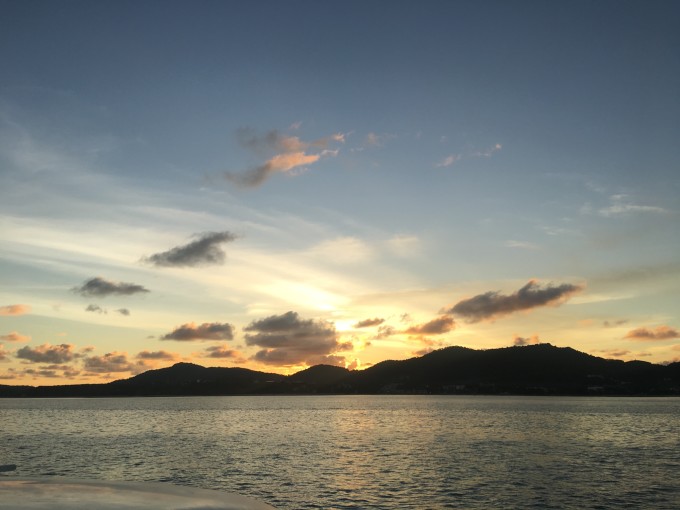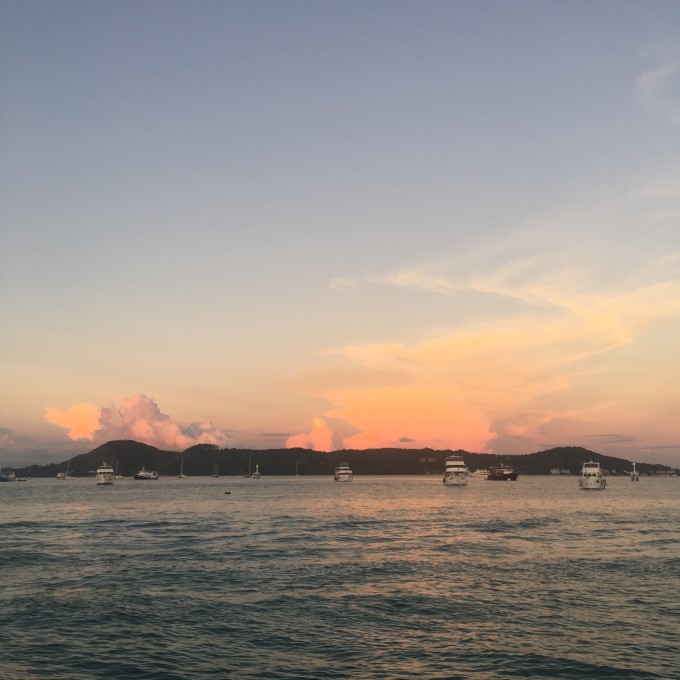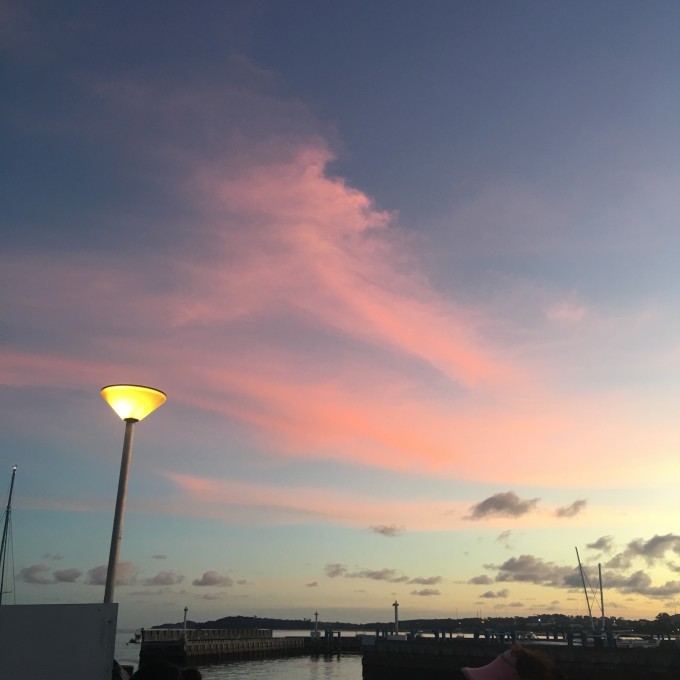 The sky was pink in the evening


After playing the water project on Coral Island, you can eat a free buffet on the island. The taste is average and there are not many dishes to choose from. After eating, you can take pictures at the beach. Time is very tight and rush to Emperor Island.
Emperor's Island is a small private island. Fees are required to go to toilets and showers. The equipment is unusually simple. There are no items to play on the island. Bees who have no special requirements can not be considered. They can play floating near the boats of travel agencies. Diving, bees and bees who can't swim can also play snorkeling. The boat guide will teach you the basic movements very simple. The formula: A, one, well, three movements and finally bite the mouth to go snorkeling. Boat There will be 3 or 4 crew members each responsible for a group of people, and those who can't swim can swim back and forth with their legs on the floating board. The greatest achievement is to overcome the fear of the heart, can not put his head stuffed into too deep water side snorkeling friends



At first, I was very scared. I couldn't figure out the shape of my mouth and it was always flooded. Later, I thought it was nothing more than that. I couldn't fall down even if I had a floating board. Coupled with the crew's guidance on my movements, I started to look boldly. Breathing rhythm. May be too nervous, afraid of their own, but to call so I've been mouth breathing frequency quickly, and I helped with the little sister floating board told me I could try a little slower breathing, and gave me to do a demo action, though a bit awkward but very grateful to her, I started to slow down breathing, observe the water plant and animal side of it. Snorkeling for 40 minutes is not enough. I reluctantly boarded the boat and started returning. On the way back, I can experience sea fishing and watch the sunset. The winning rate of sea fishing is very low. According to the boat guide, the fish here are often caught, so they are very chicken thieves. After grabbing the fish, they ran away, but there are still fishing gods. We caught up. The sashimi depends on him.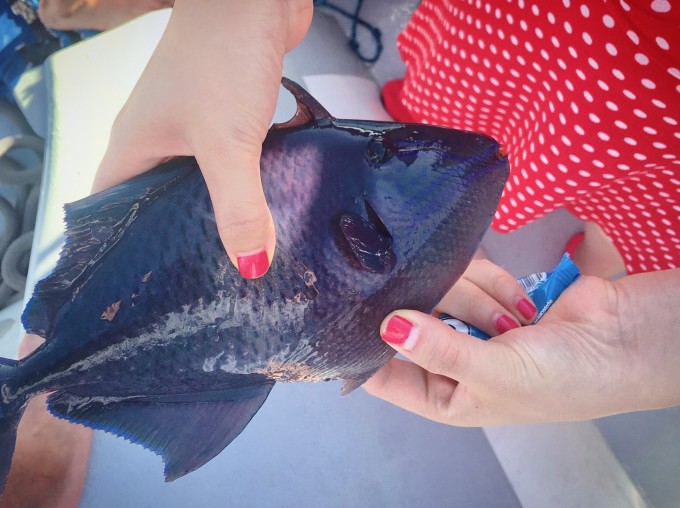 After eating the sashimi, my husband and I climbed onto the sails, watching the retreating sea, blowing the sea breeze, and listening to the music on the boat. It was full of comfort. Watching the sky change from blue to yellow and then pink, as if living outside the United States of Taoyuan .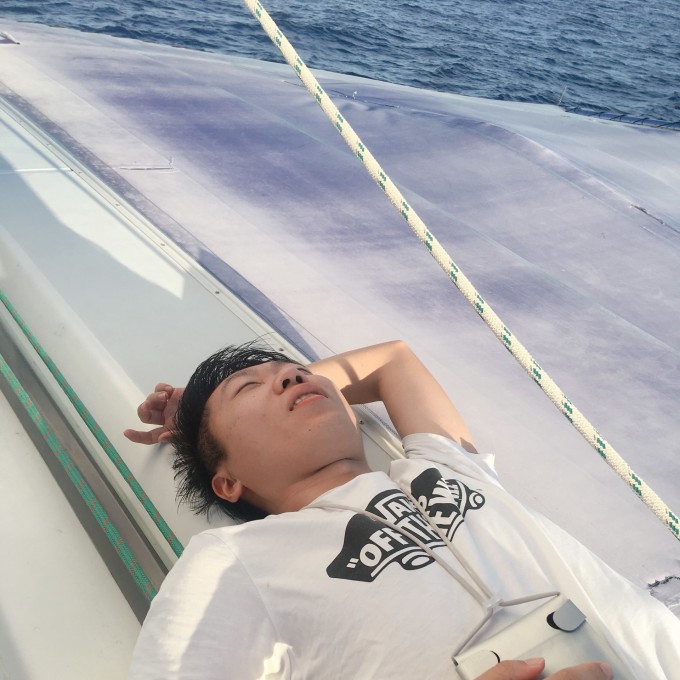 Husband lying on the boat board is as beautiful as he has his own sails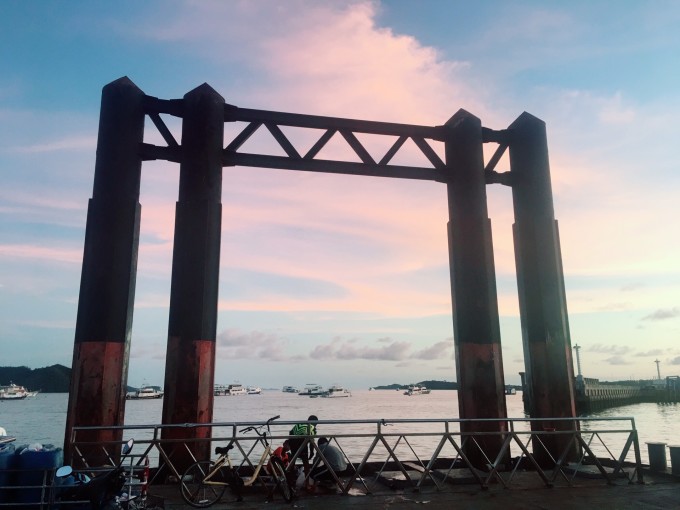 After returning home, the one-day tour group will take care of an automatic meal, the taste is really hard to eat. The following words are omitted Edition, travel dragged on for over a year, has no clear memory of 10 pm, we returned to Patong East China Sea beach, teach a bit Jiangxi cold shopping center, is near the largest integrated shopping mall, the mall has a BIG C supermarket, shopping malls nearby Boots store (you can buy some Thai





Local cosmeceuticals, such as ice cream mask, cucumber, sunscreen, etc.).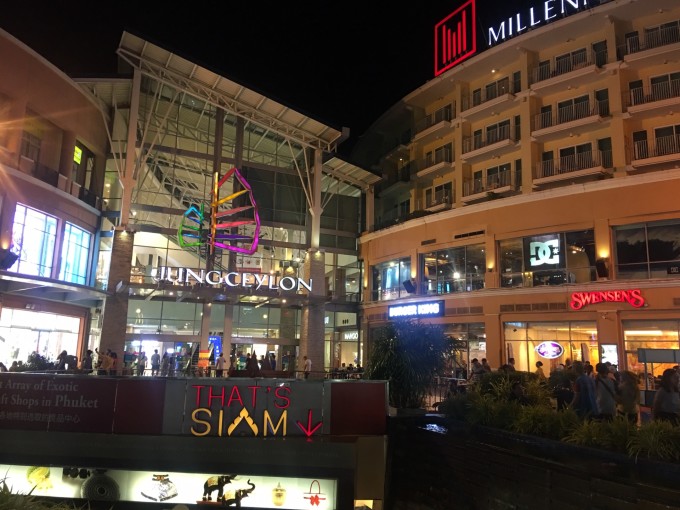 Jiangxi Leng Shopping Center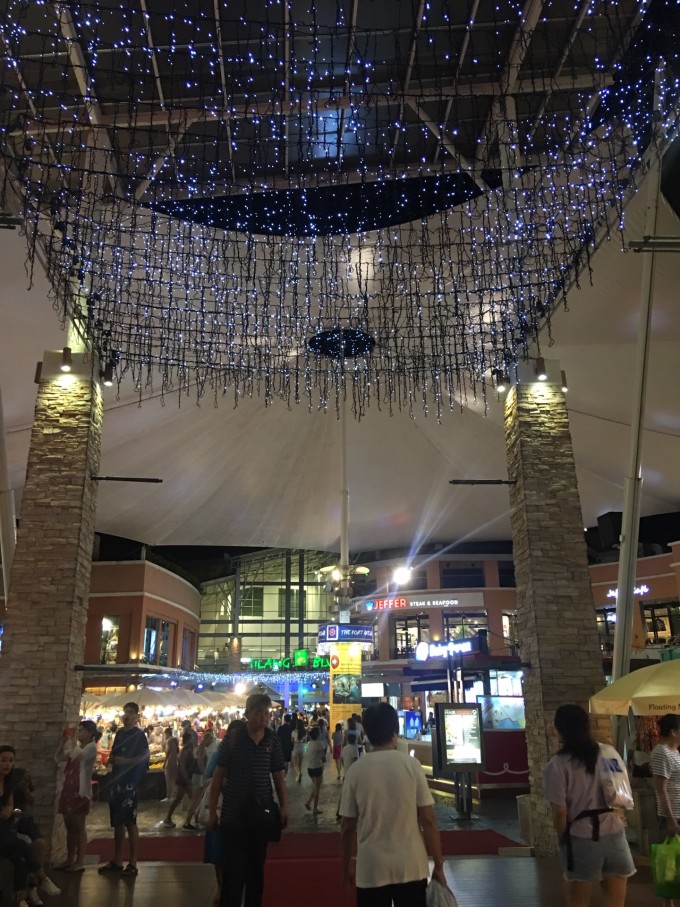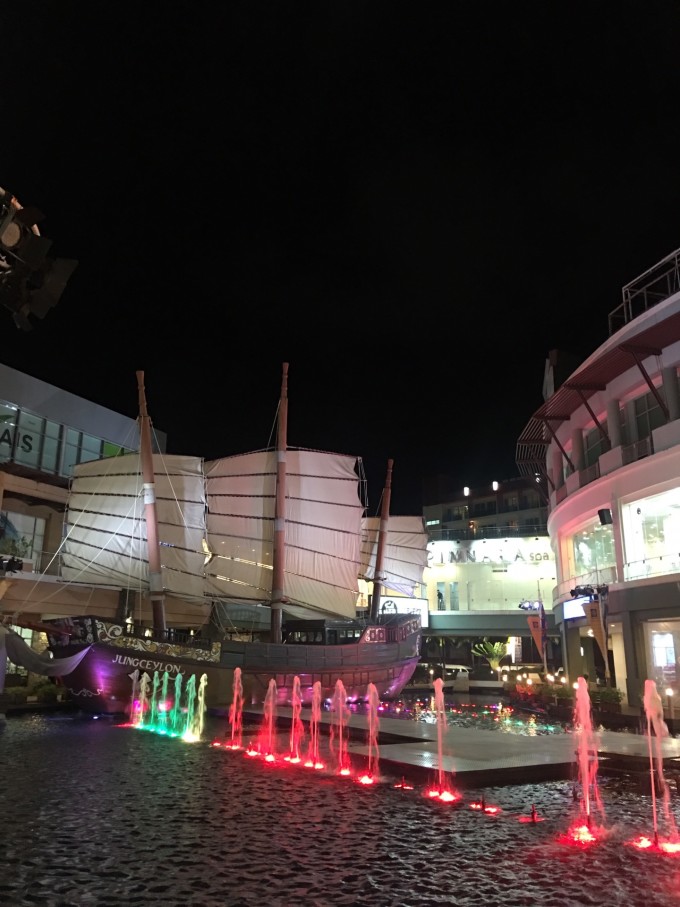 I was hungry after shopping, my husband decided to have another meal, he really didn't come to play but to eat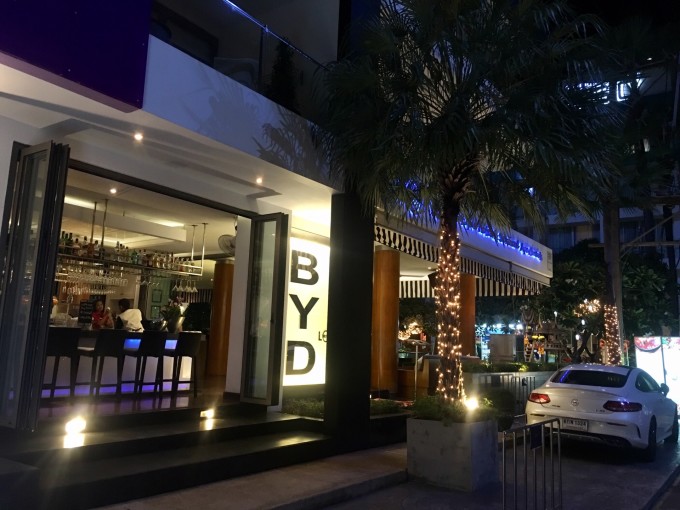 I didn't remember the name of the restaurant, it's next to this BYD. The environment is very good and the taste is so-so, because it's already late. The restaurant is not on the avenue, there are not many people and music, and the dining environment is very comfortable.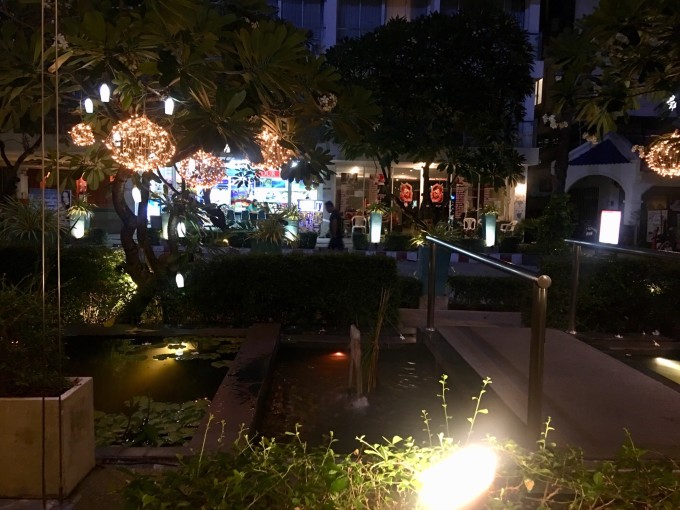 There is a pond at the entrance of the restaurant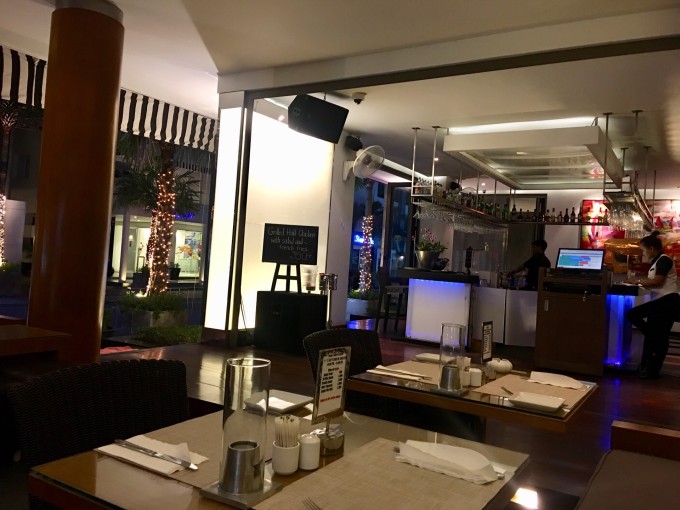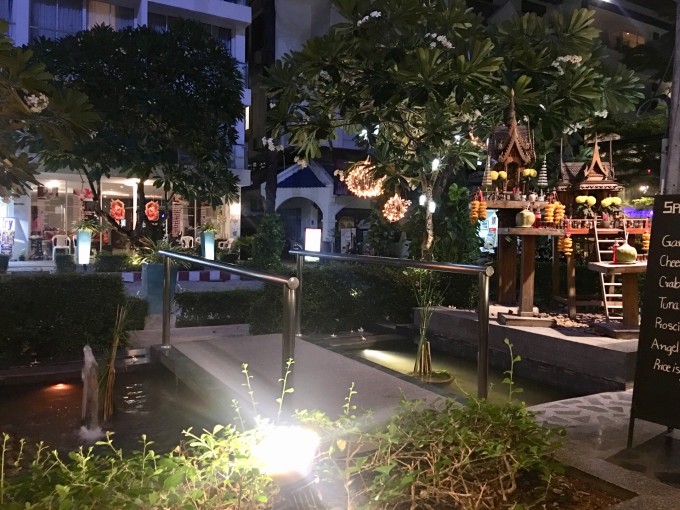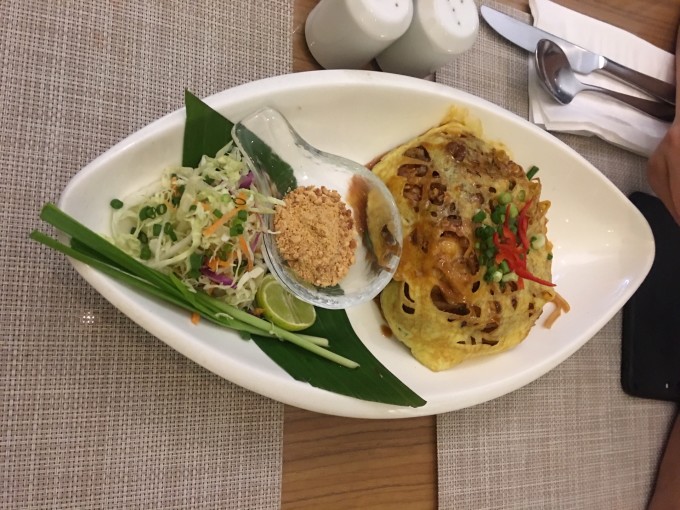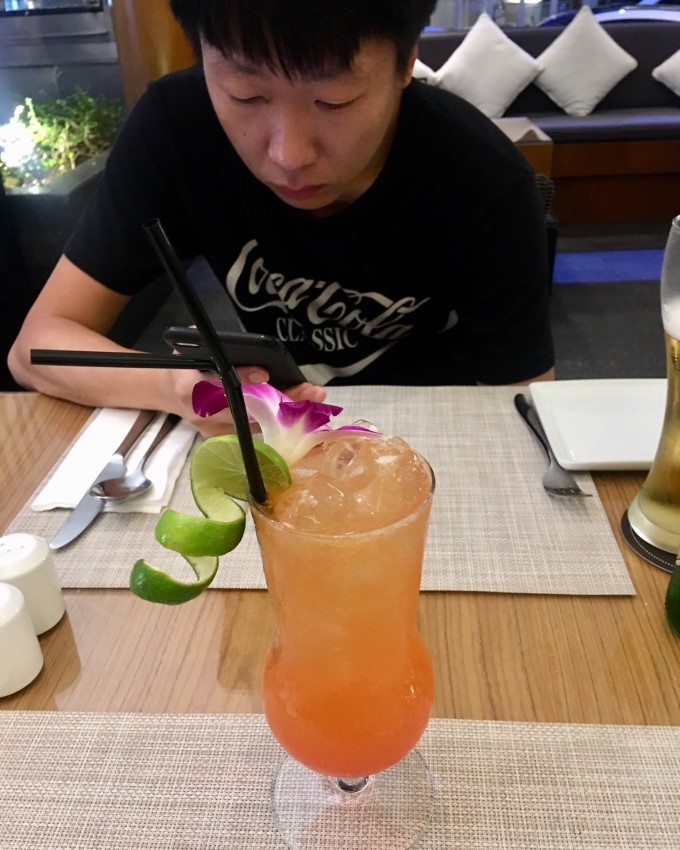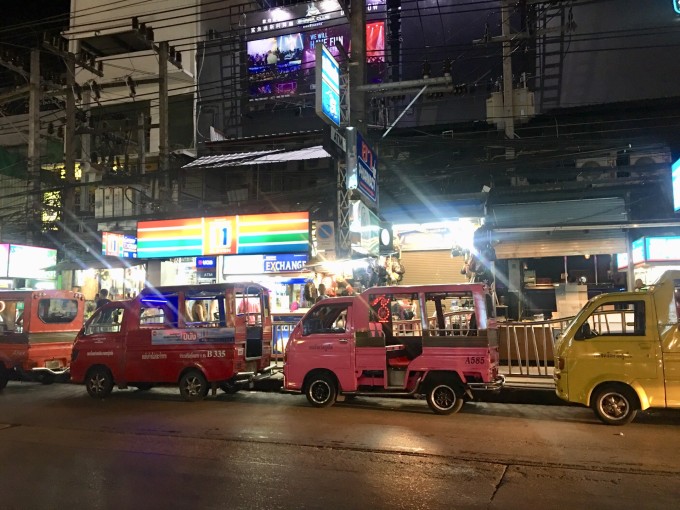 Satiated, strolled back to the hotel, the road to see a lot of 711, 711 in Thailand also developed
Watch the pink blue sunset on Shenxian Peninsula
You can rent a car or take a tuk-tuk or rent a motorcycle to visit the attractions in Phuket , because we are traveling with 4 people and our parents are with us. For safety, we chose a chartered car. The order is 420 yuan for 8 hours, and you can customize the route. , Still very good value. In the afternoon we have about Phuket chartered tour, choose morning in Patong East China Sea around the beach.
We like to get up early to go to class seafood market stroll around, take a look at Thailand What kind of dishes the people eat, the conclusion is that many don't know them, and they bought a few tropical fruits that they haven't eaten.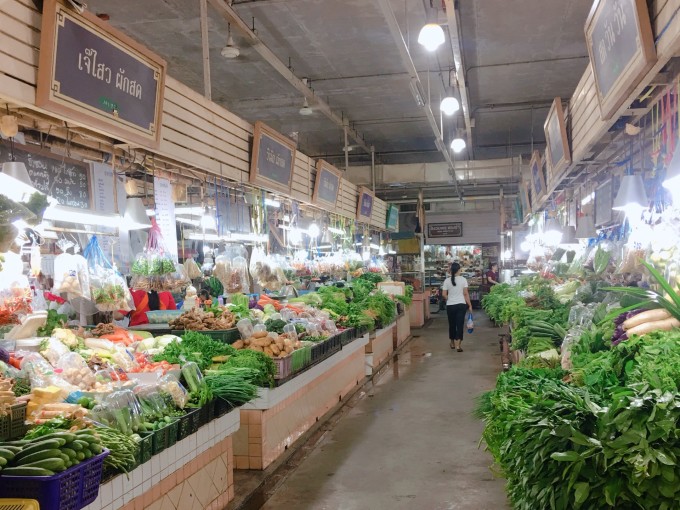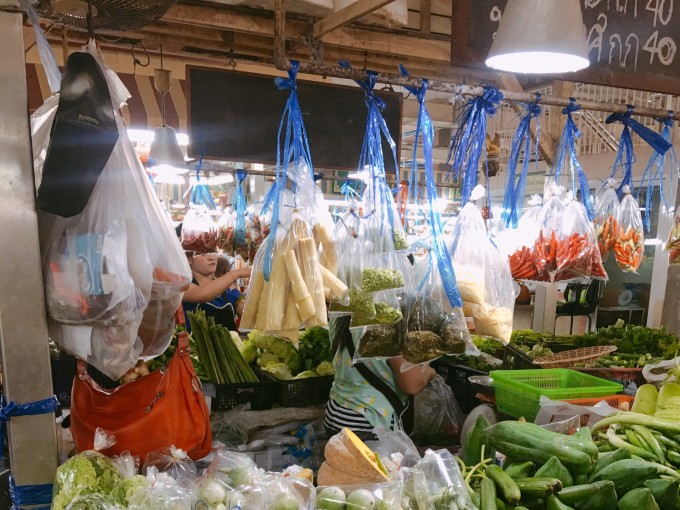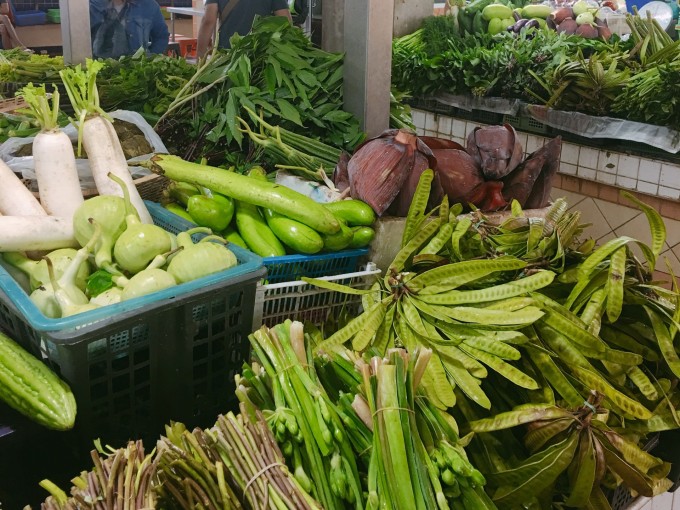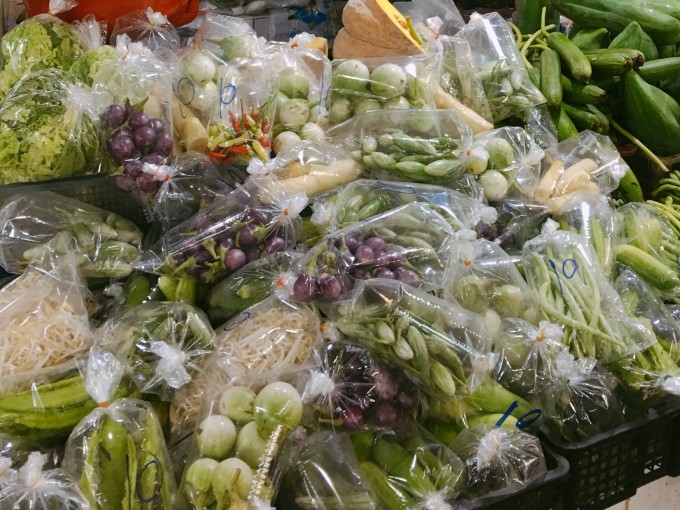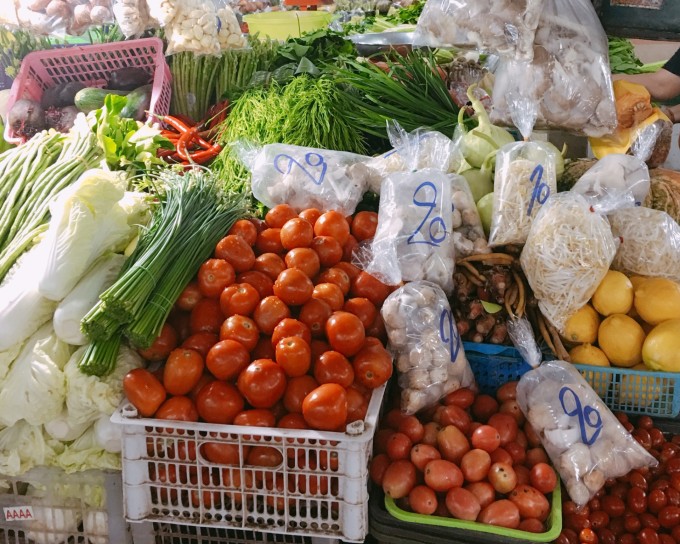 Then I went to the No. 6 restaurant for lunch. This restaurant is also an Internet celebrity restaurant. We usually have to queue up. Today, we don't have to queue for lunch before we eat, but I don't have any impression on the taste. It should be quite satisfactory.
In Thailand after eating a few days, summed up the basic law, Tom Yum Kung soup, spinach, curry crab, roast pork neck meat, rice pineapple, mango sticky rice, mango juice, basically do not step on mine,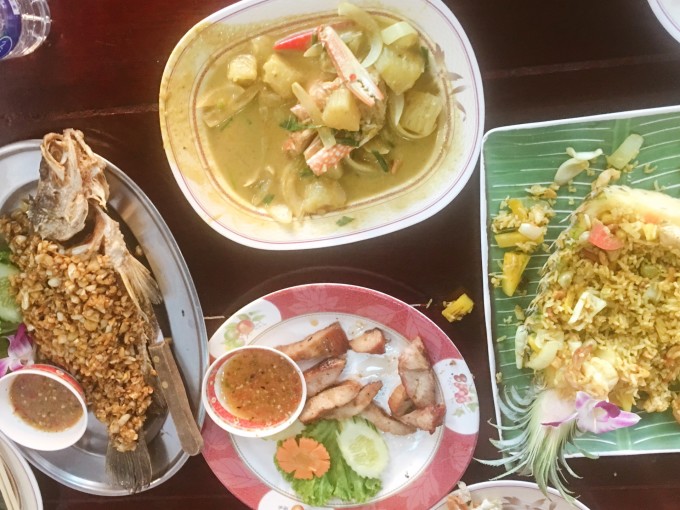 Ordered grilled sea bass, grilled pork neck, pineapple rice, water spinach, spicy fried clams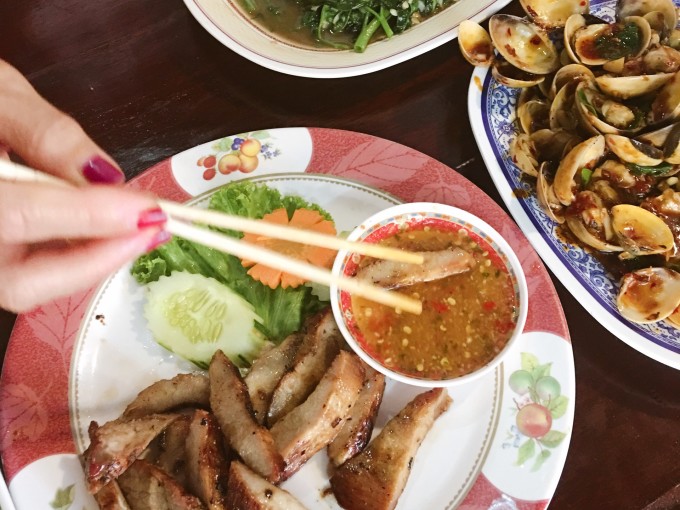 After dinner, we returned to the hotel, and when the chartered master came to pick us up at the hotel, we set off for a tour around Phuket.
Our route around the island: Phuket Town - Chalong Temple - pull Weihai fresh market - fairy peninsula, was originally planned, including Cartagena observation deck because of the time scheduled for next day some compact
attached a Phuket Attractions Location Map: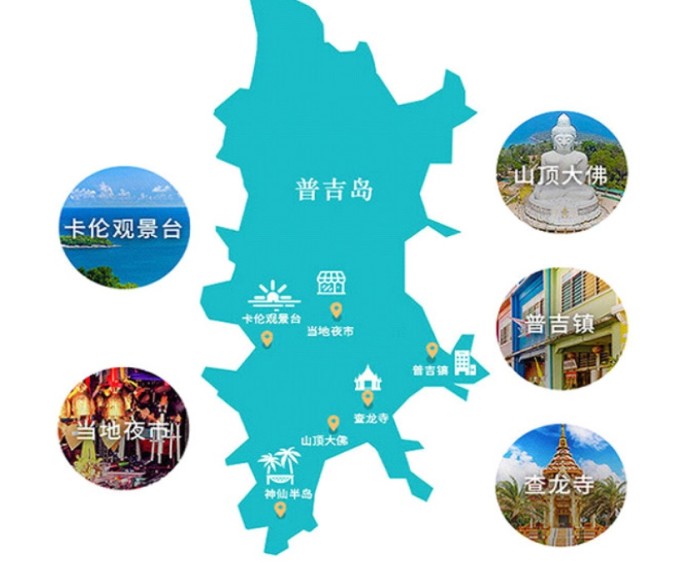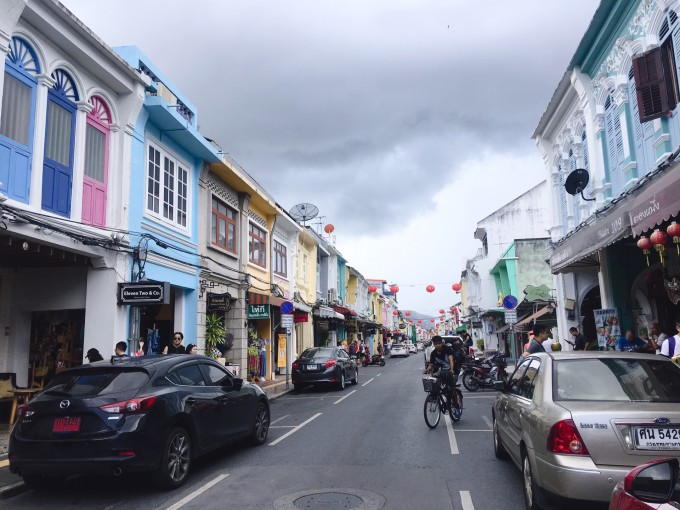 Phuket Town
Phuket Town is a few streets, all kinds of houses painted in different colors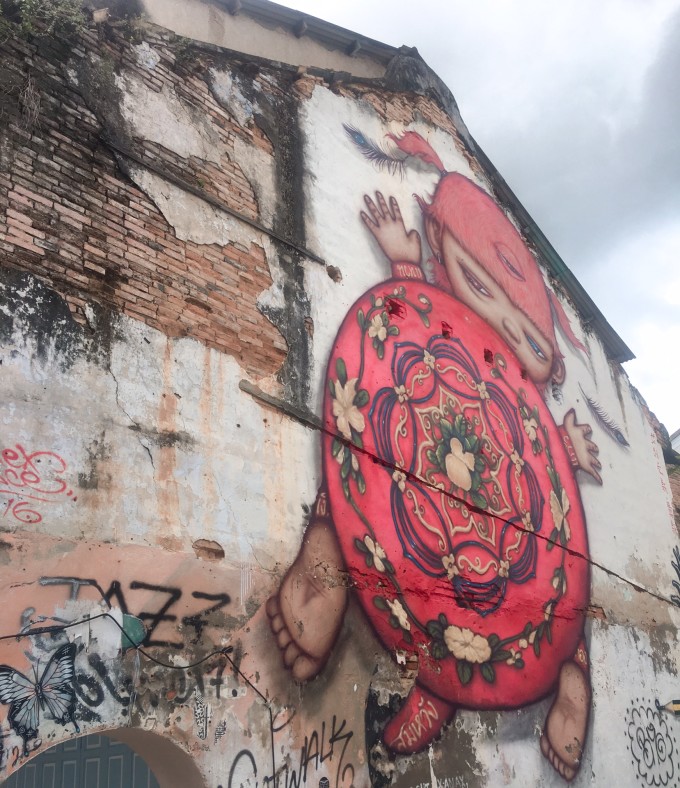 Phuket Town
There is such a graffiti wall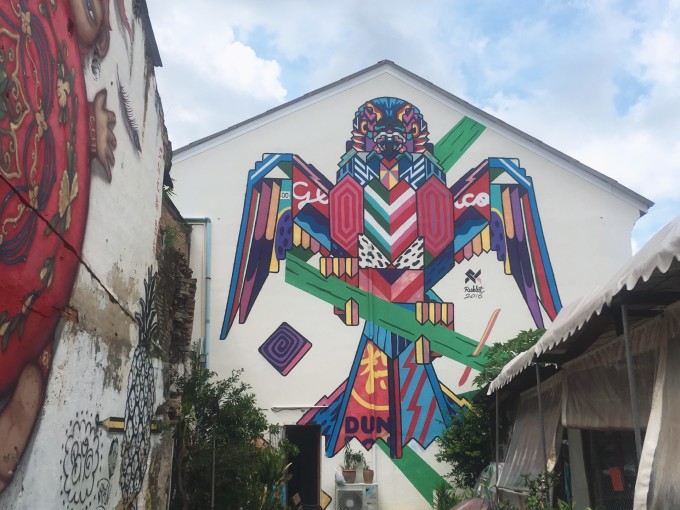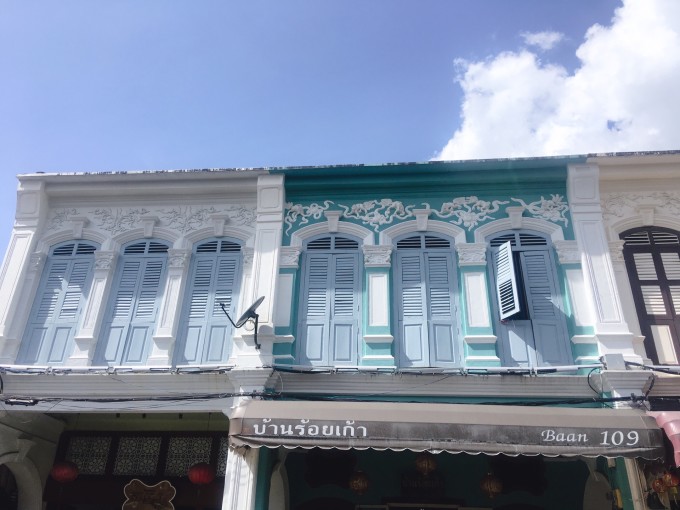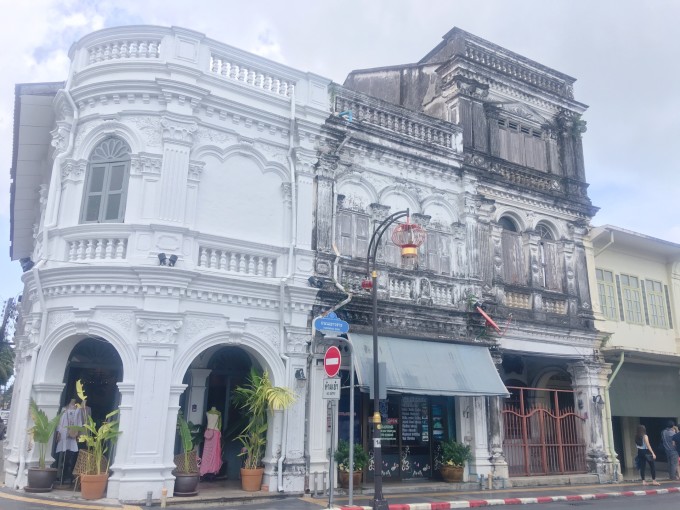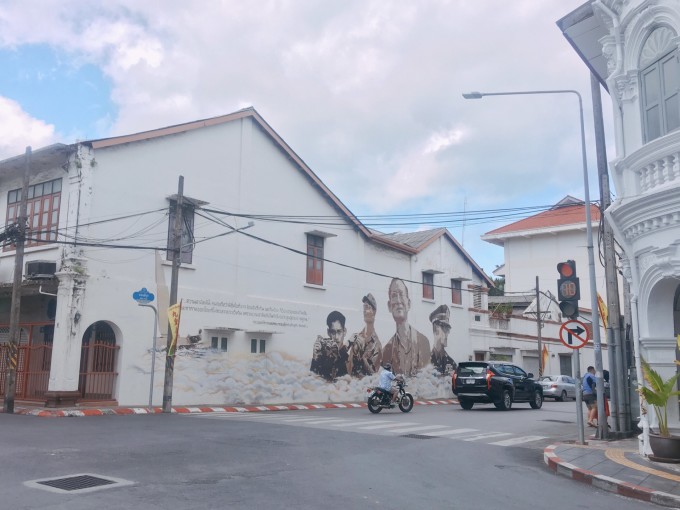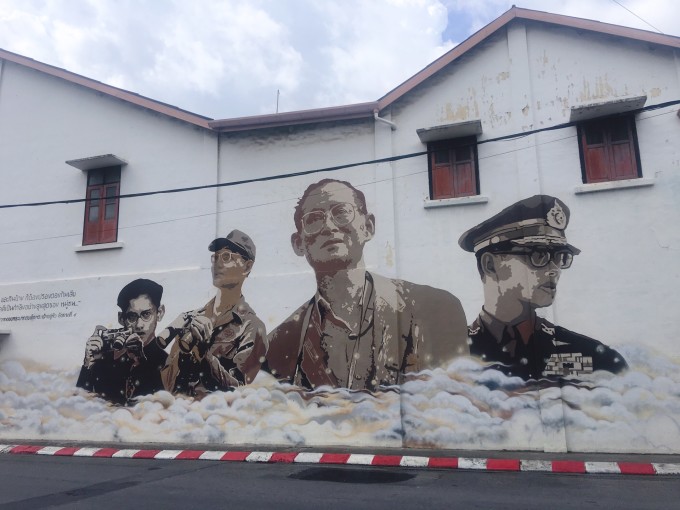 The third portrait looked like Thai King Bhumibol Adulyadej, King Bhumibol in power 70 years, with charisma and political governance authority is very popular in Thailand loved people.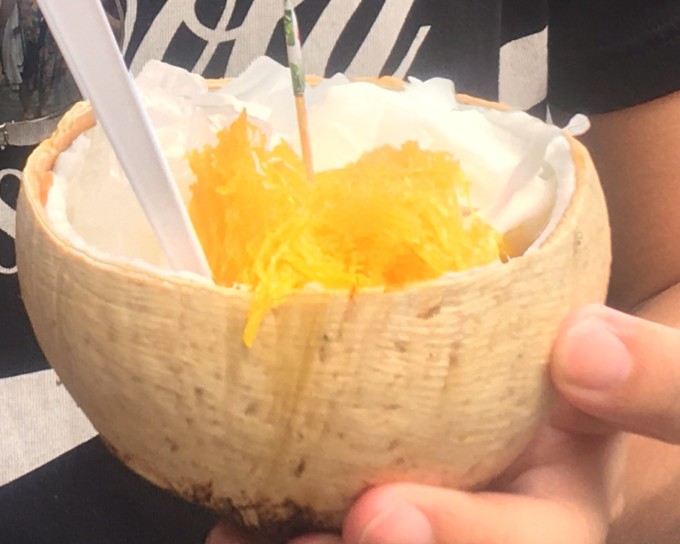 Try the coconut ice rain, seemingly called the Phuket Town streets there are many small shop selling small souvenirs, we are not interested, not too much shopping, go to the next attraction Wat Chalong friends.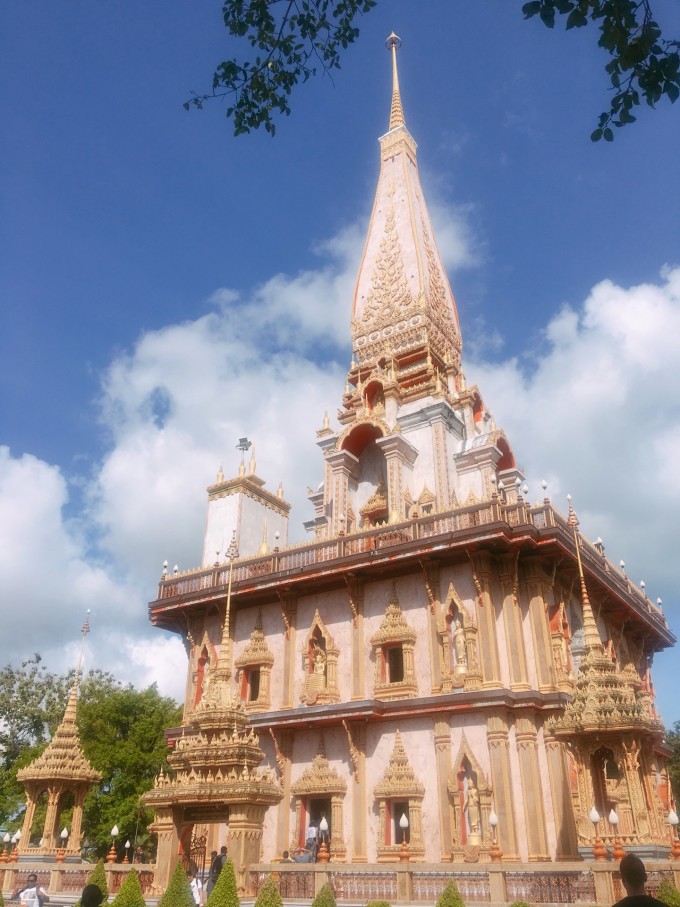 Chalong Temple
In Phuket Town when space still overcast, to Chalong Temple on the sunny, Wat Chalong is Phuket's largest temple, had not much hope for this place, but then went very pleasantly surprised, people Be quiet, let your heart relax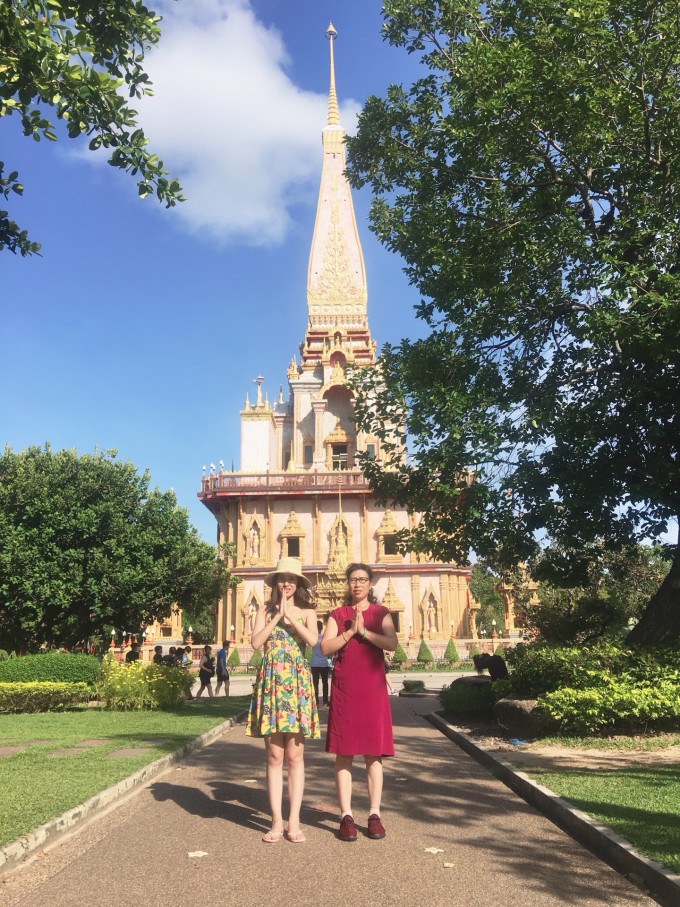 Seeing someone else put their hands together to take a photo, my mother and I also took one . This location is still good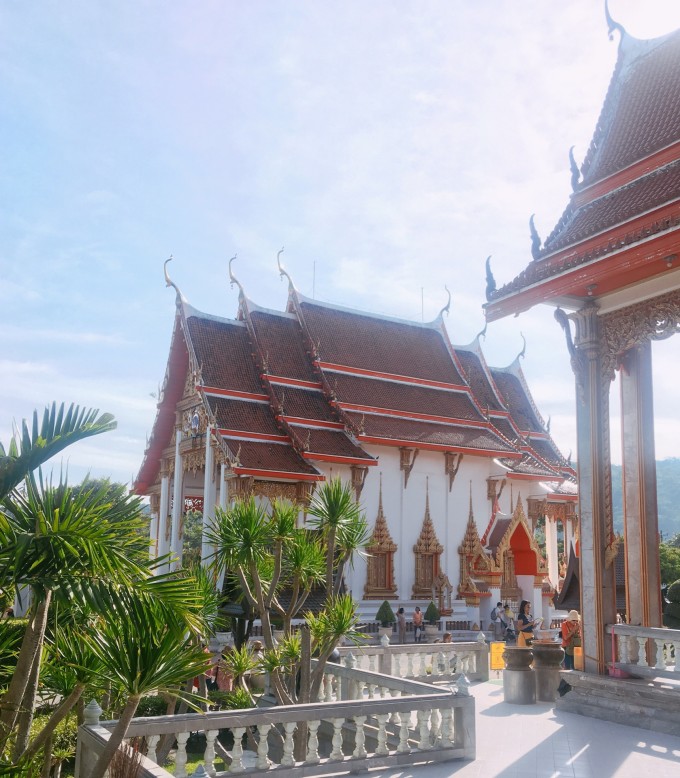 The architectural tones of Chalong Temple are basically red, yellow, and white. They are magnificent. The green plants in the courtyard and the blue sky are very beautiful. There are not many tourists, so it is very peaceful and peaceful. Recommend to go.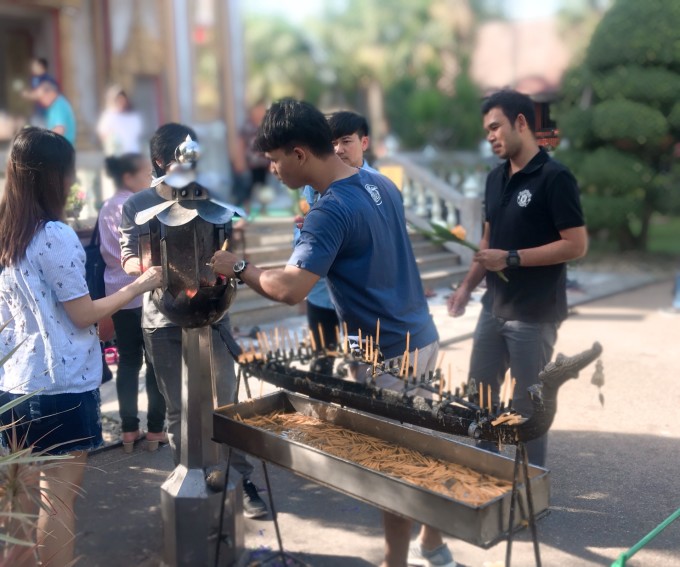 Foreigners also have the custom of worshipping Buddha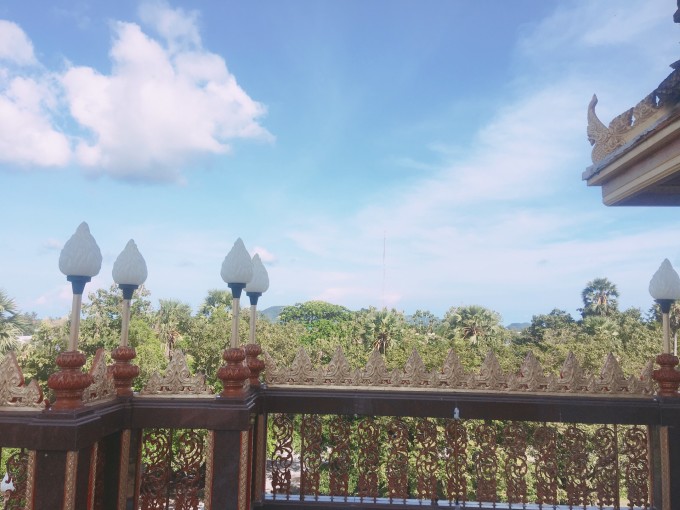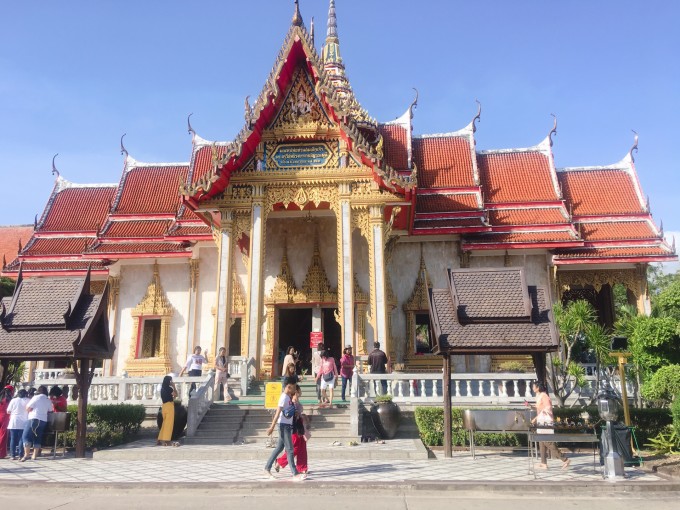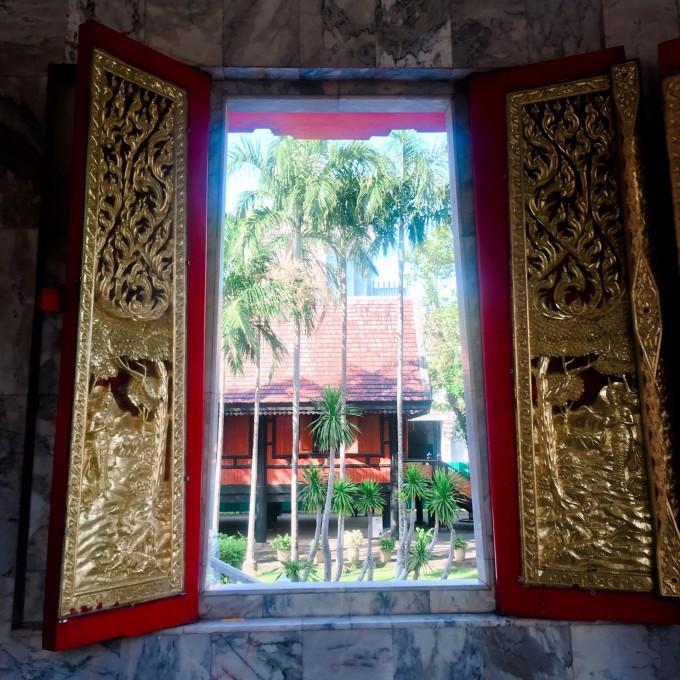 Take pictures of coconut trees outside through the temple window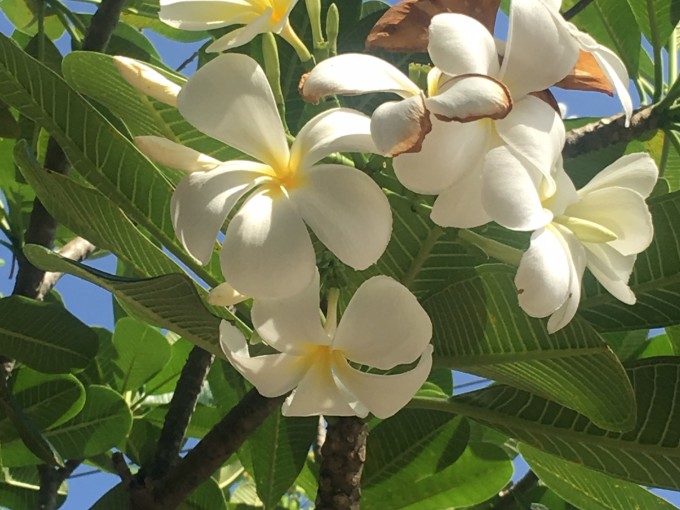 Plumeria
walk around Wat Chalong still early, fairy peninsula not to sunset when her husband was a food goods is absolutely necessary Kara Weihai fresh market, so go here.
Previously, I saw the strategy of Banzan Seafood Market, so I chose this place, but the location is somewhat remote and there are fewer tourists.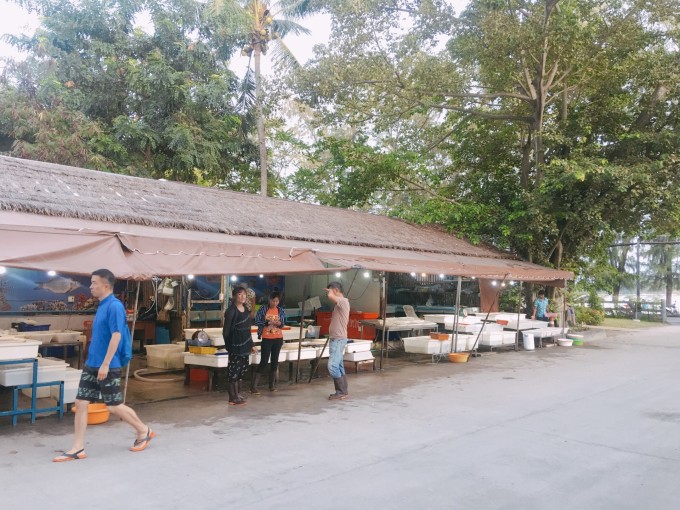 We have about 4:00 to sell seafood small businesses, when only two or three tables tourists, few people can bargain, but do not forget the price has been too expensive , there are those who can make it count bargain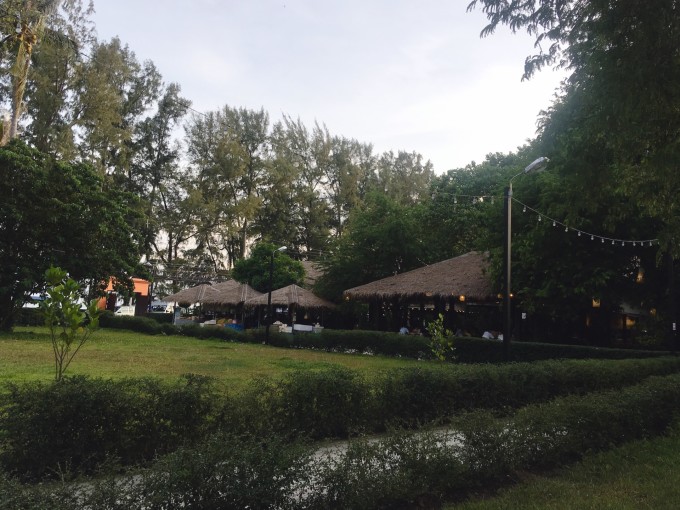 I chose the seafood and paid the fee. I chose the seafood flavor, and I sat in such a small house and waited for the meal to be served.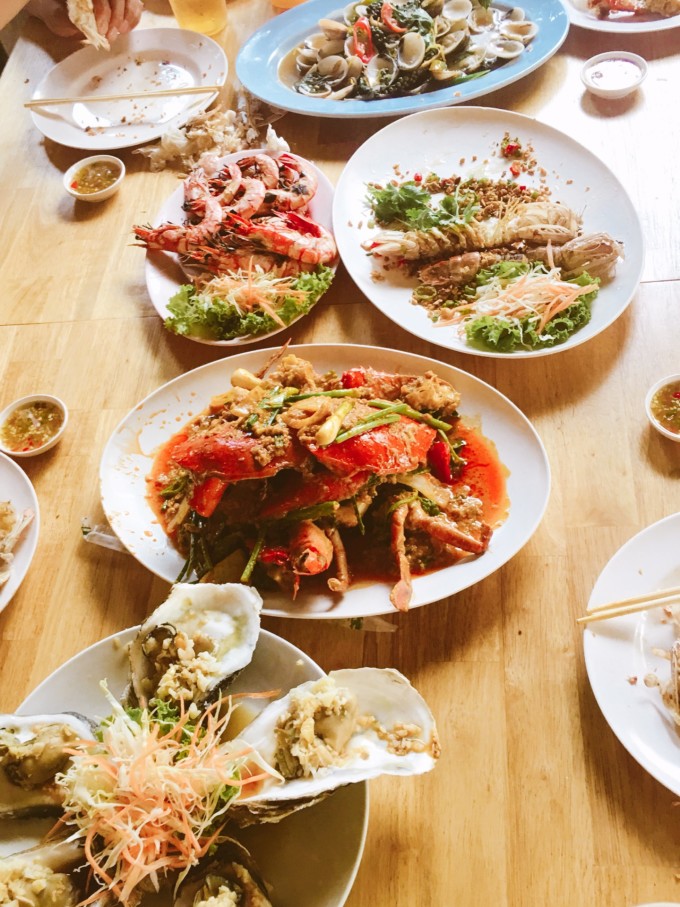 It will be ready in a while. Everyone is watching to eat when I am taking pictures . The taste is great and I recommend everyone to come.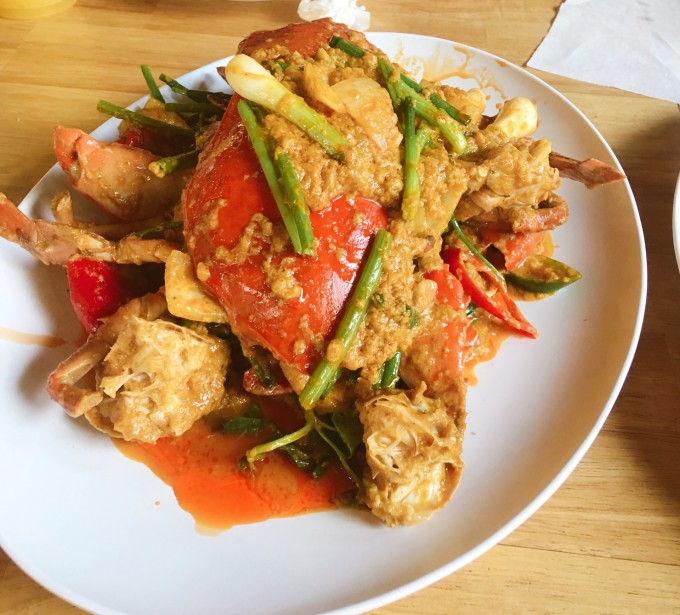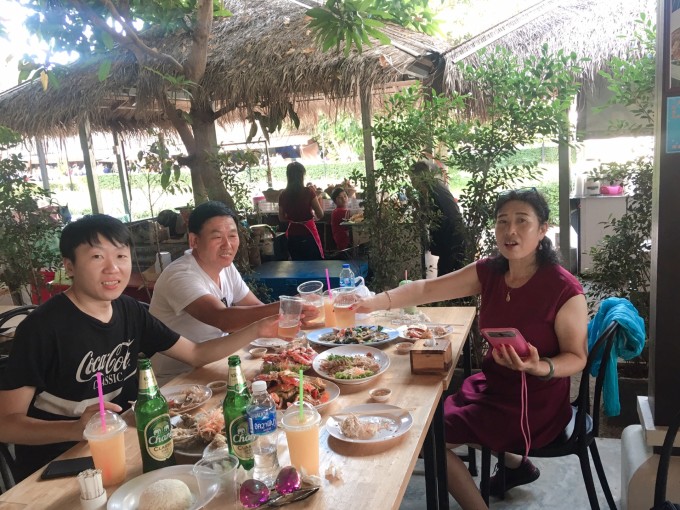 Next to a clink taken off to satiated fairy peninsula, the trip most is here, and feel very romantic partner to watch the sunset together, where we arrived about 6:00, the day has begun dark just in time At the sunset, I hurried to the small uphill to take pictures.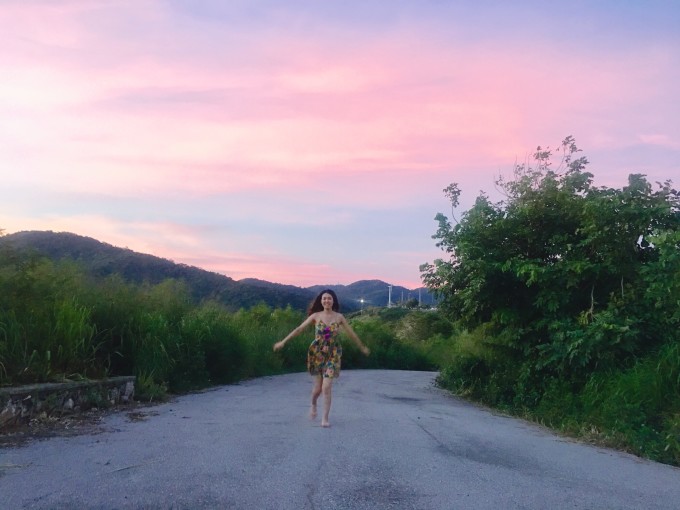 Shenxian Peninsula
I'm running again. For those who are embarrassed by taking photos, running casually is my best posture.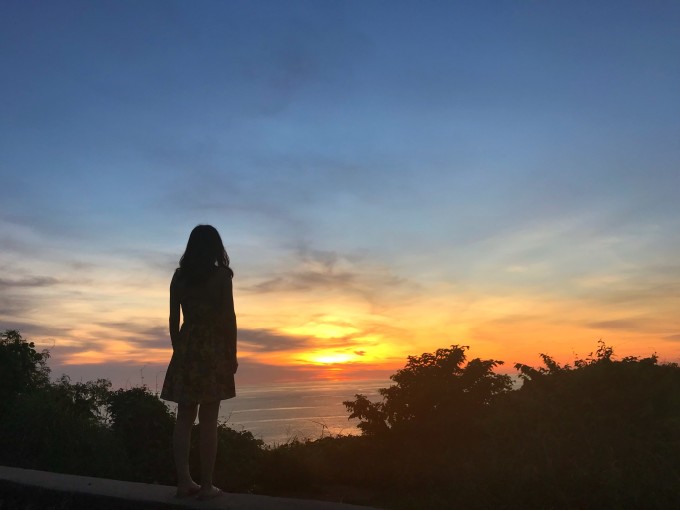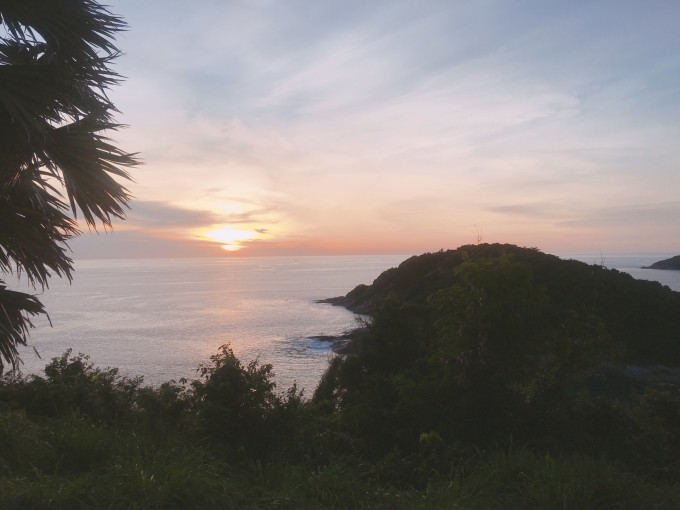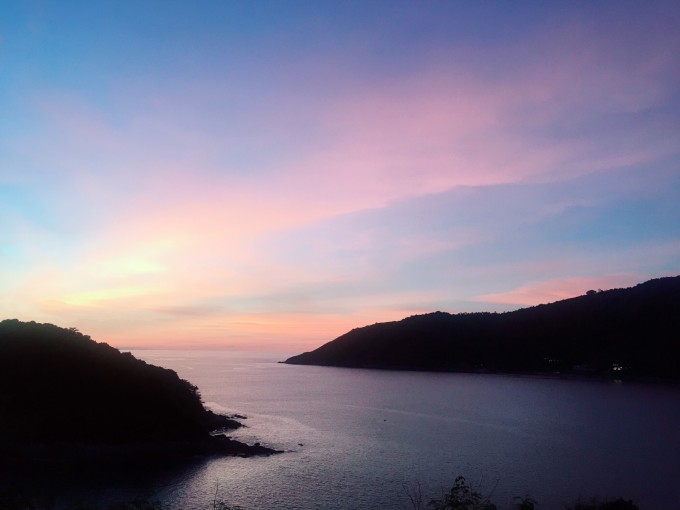 The yellow and pink clouds in the sky are so beautiful that they are undoubtedly a girl's heart punching!
At the end of the trip to the Immortal Peninsula, we let the driver put us near the Patong Bar Street. Our hotel is very close to the Bar Street. We plan to take a stroll back and go shopping the night of the Bar Street.
Patong Bar Street is very lively. It is closed during the day and the lights are red and willows at night. All kinds of girls dancing pole dancing come into view. You can try it out for the first time.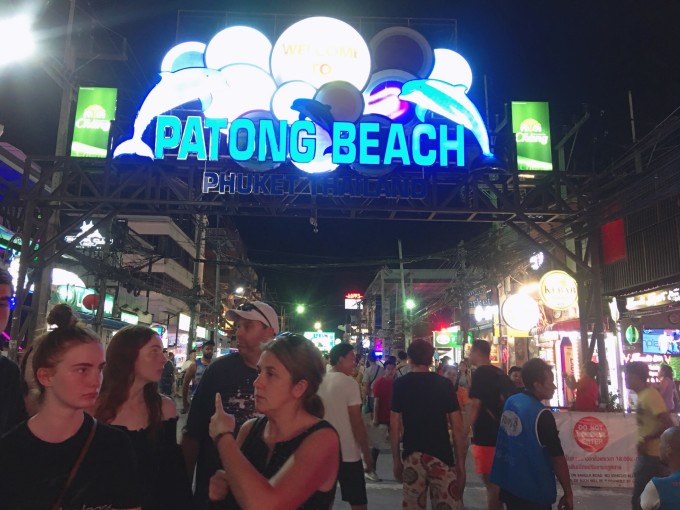 Patong Bar Street
Bar street entrance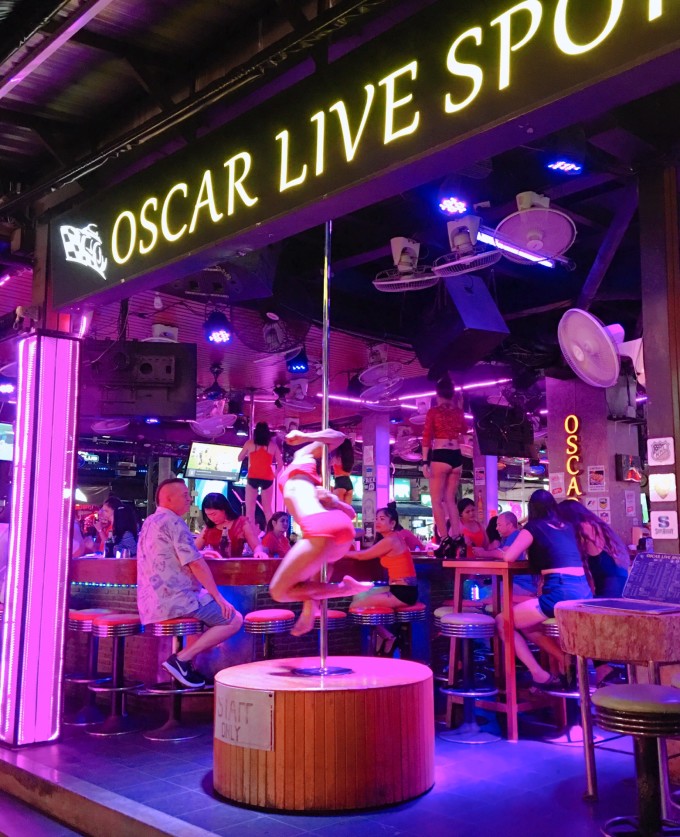 This girl is very powerful, as far as I observe it is the signature lead dancer in this store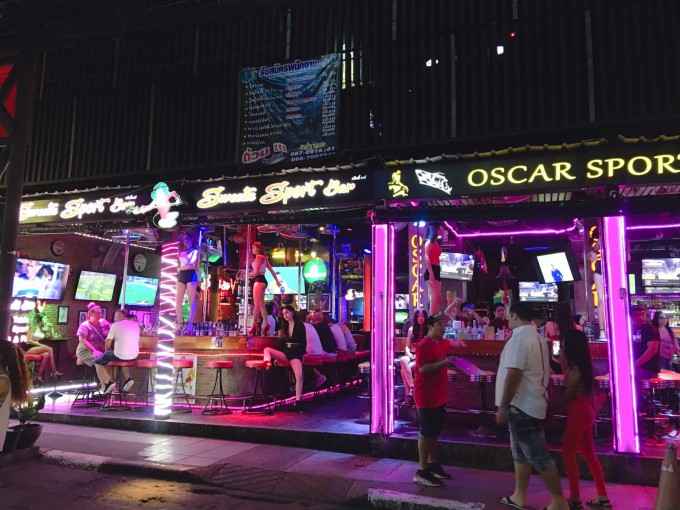 There is a soliciting brother on the side of the road, passing by will ask you if you can go in for a drink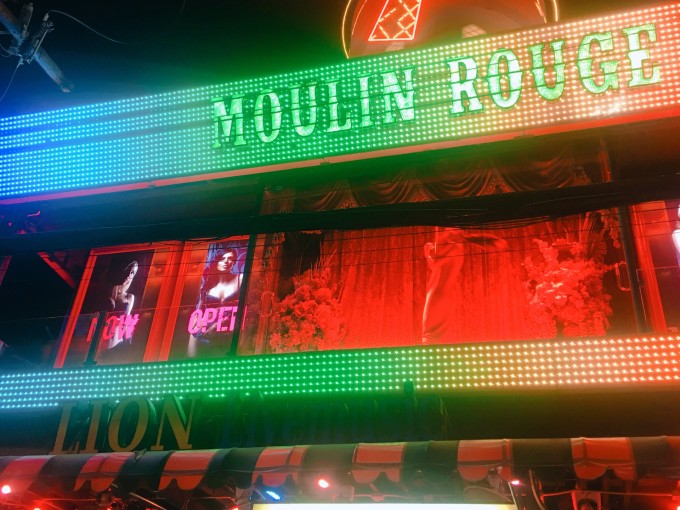 Pay attention to the spinning dance on the second floor, I remember she wore a pink pajamas dance skirt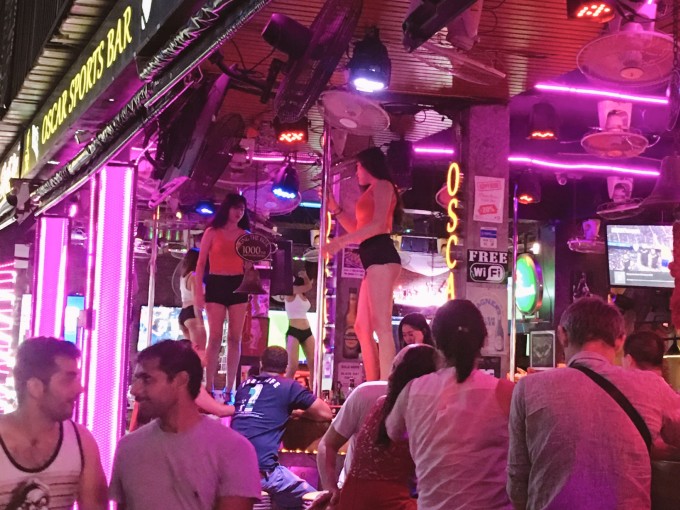 Pole dancing girls are basically such small vests. Standing on the table in short shorts, there are drinking and observing alcoholics sitting next to them. If not with parents, we will also go in and appreciate it.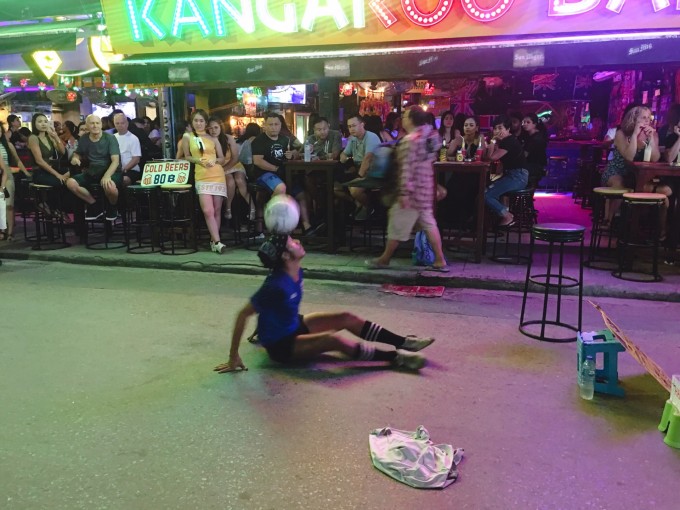 A person who heads the ball through the body on the road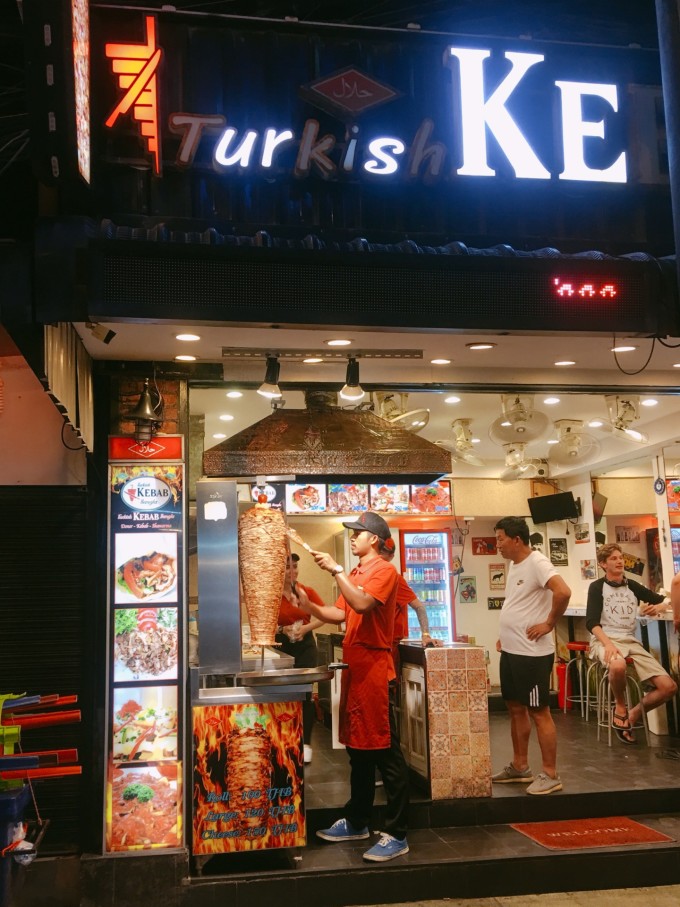 Buy a barbecue pie taste, good taste is similar to Mexico volumes.
Back at the hotel, the family ate snacks and chatted in the hotel's swimming pool, but they were kicked out by the staff, saying that the swimming pool was not allowed to be used after 8 o'clock. It's not okay to sit here . The long night has to find something to do. Dianping started to kill a horse. Here comes the point! ! ! This is my experience the best horse slaughter shop, although this time to experience a total of two, but this good-value, highly recommended to everyone, the location in Patong East China Sea


Xiao-hu Beach with in the past, according to public comment and Google Maps.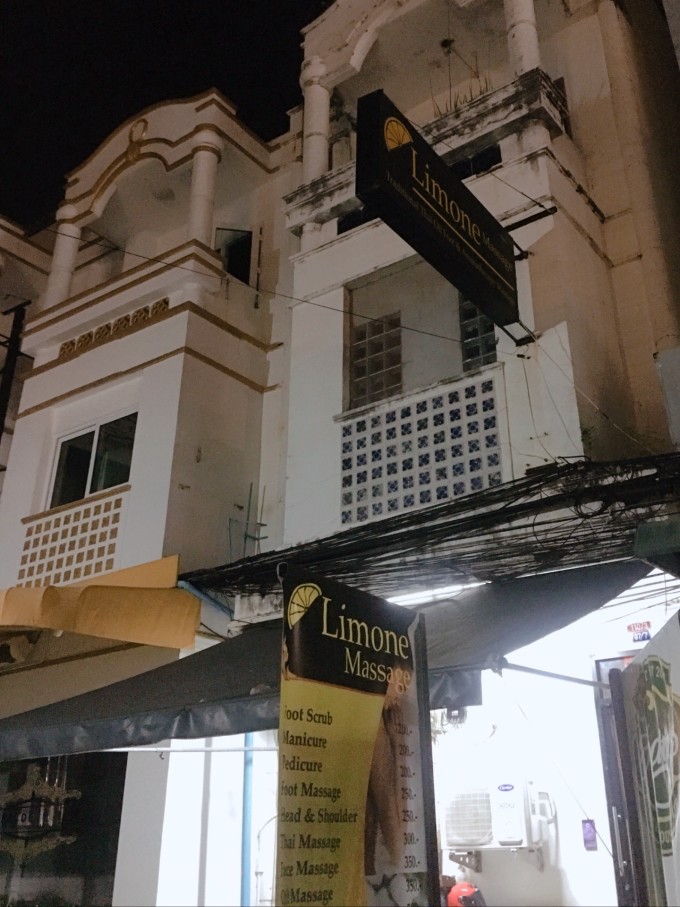 Just see this door face, shop name: Limone sul Garda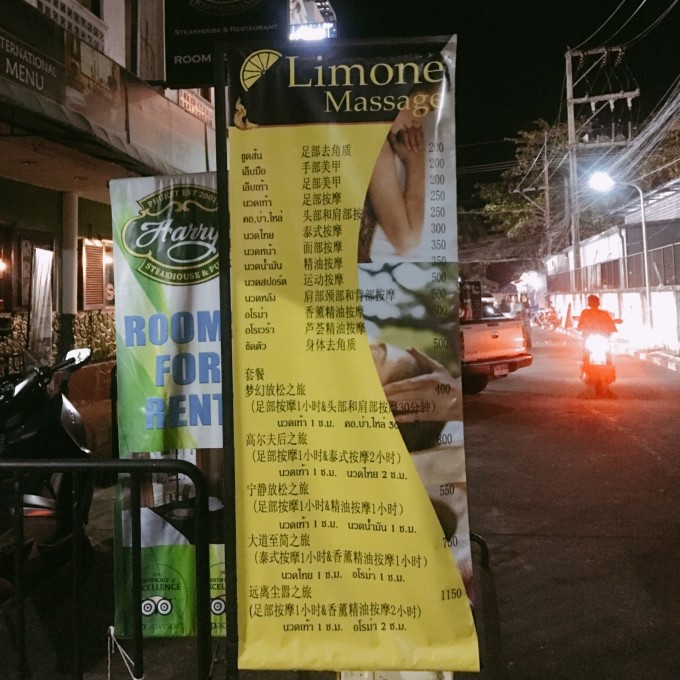 The price is here for reference. Anyway, it's very cheap. We chose a head and shoulder massage, which cost about 80 per person for about 1 hour. It was completely refreshing and unbelievable.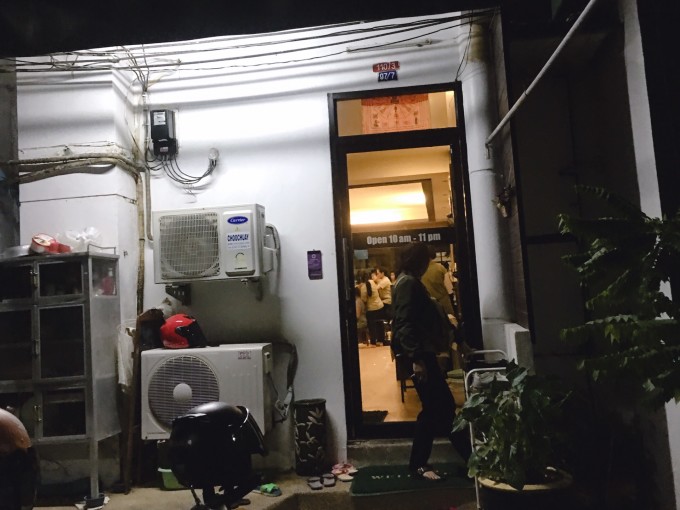 Don't be afraid, the door face is so small, just go in
Here is a picture that everyone enjoys. The shop is very quiet. Not letting people talk is to let everyone have a rest during the massage process. Someone really relaxes too much, and the foreigner next to him snorts. After a while it rained and there were people coming. The small shops were full, but the staff in the shop was about to get off work. We were the last wave of guests who had just arrived, and we were very happy.


One day when he was slaughtered by the Bangkok police
Today's itinerary is relatively easy, playing in the water near Kata Beach-to the Kata Observation Deck.
Wake up early and change hotel to near Kata. The hotel is a two-story villa with a small swimming pool. There are several restaurants and small supermarkets around. The surrounding facilities are not perfect but it is better than quiet and leisure. The price of the hotel is relatively high and the location is very private.
End toss hotel, fly in a small museum nearby to eat breakfast, super cheap price shop a lot of people, public comment is also good word of mouth, similar to China 's rice bowl, want to experience ground gas can try.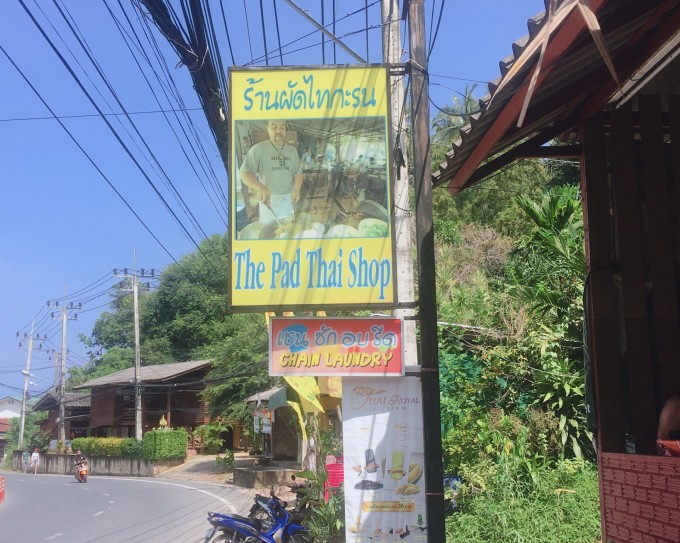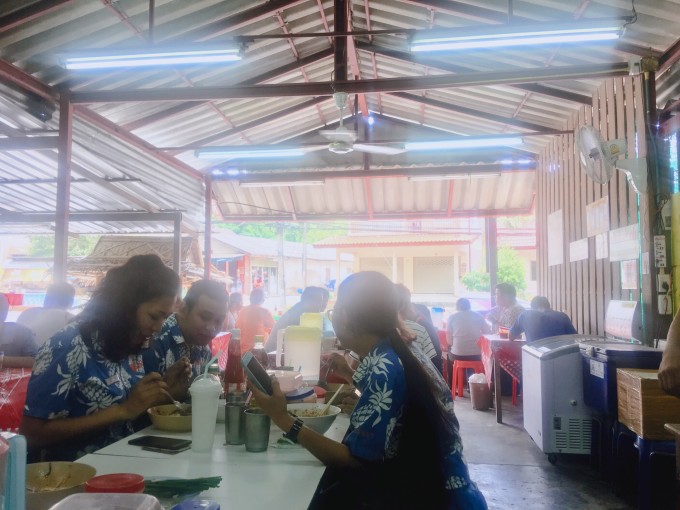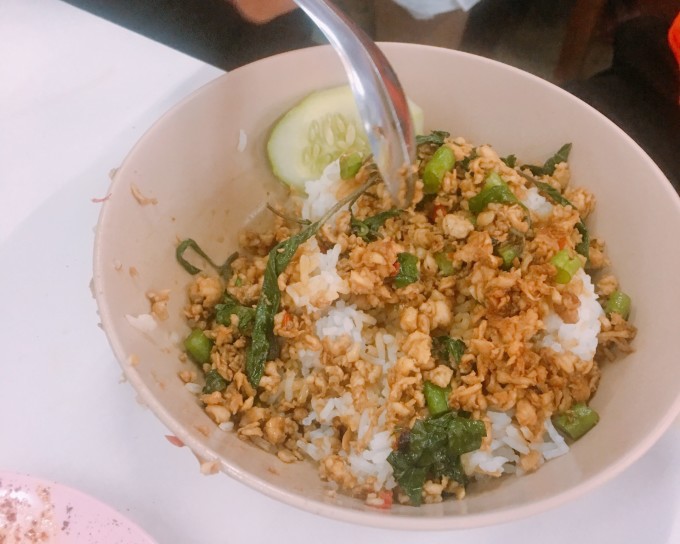 Looks average, the taste is ok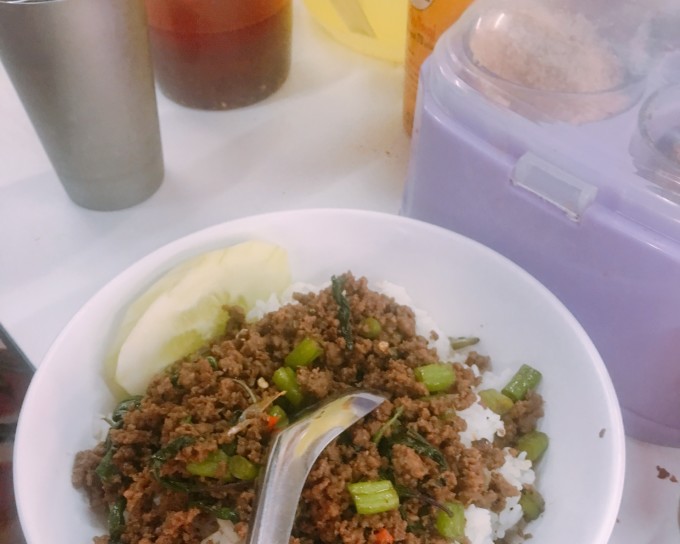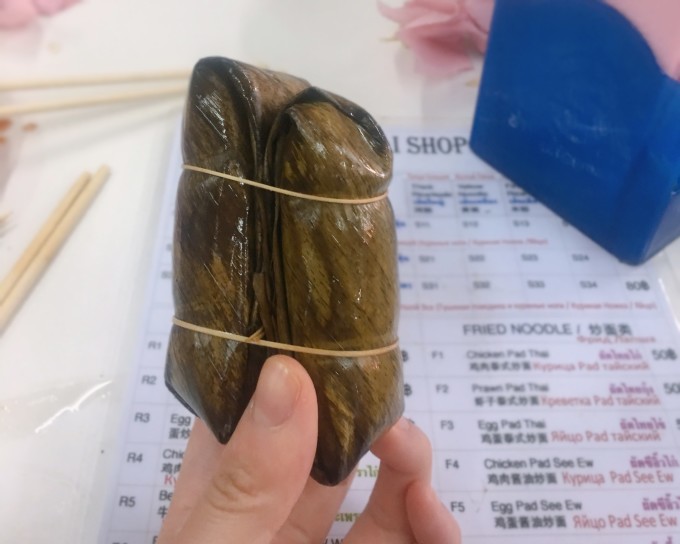 Things like rice dumplings, I
changed into a swimsuit and wandered to Kata Beach after eating. The waves in Kata were so big that I couldn't swim. I could only play in the water on the beach. My mother and I were afraid to lie on the sun lounger and slept all afternoon. Sun, only my father and husband are pushing around in the ocean with the waves, and I can't understand what's so funny.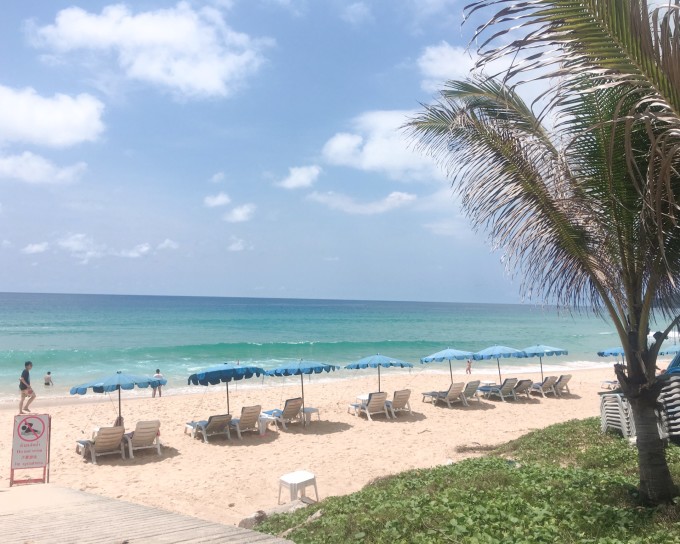 Kata Beach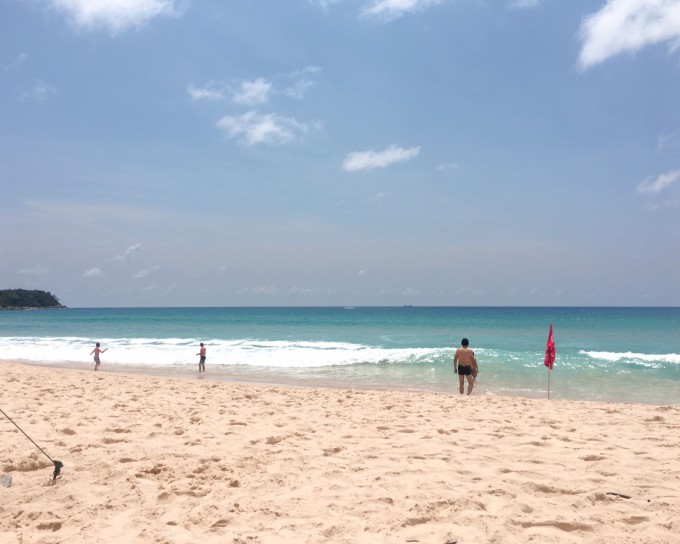 I have to check in for the standard scenic spots. I have to go to the scenic spots I like. I didn't go to the Kata Observation Deck in the itinerary yesterday. I still want to go today. I rented a motorbike from the hotel owner and drove there. The motorbike lasted about 20 minutes.
May be good luck has run out yesterday, today suffered a Thai policeman deep malice. Just 10 minutes on a motorcycle did not suddenly roadside Thailand stopped by the police, and a look ignorant than alight asked whether or not a driver's license, then it certainly will not ah fine of 2,000 baht, the police finally we mean less income 1000 baht point, the specific number but I forgot to remember together several hundred yuan, but on motorcycles whizzing foreigner and had not been stopped in the course we were fine in was stopped are China People, later I searched the posts of Ma's nest and found that many bee friends also have the experience of being fined. It is recommended that you choose a motorcycle to see if you can get a driver's license or choose other modes of travel. The policemen who have experience will choose everyone. Stopping you at the intersection, I guess the fined money will be hidden.
After being fined, I continued to move forward. After driving for more than 10 minutes, I reached the Kata Observatory. The three beaches of Karon are connected in a line), there is a telescope on the viewing platform, which can be used for 10 baht. According to the posts of other bee friends, it is good to come here to watch the sunrise and sunset. It was in the afternoon when we went, so it was quite sunny.
Add pictures to be standing on the observation deck of a picture together, not in vain fined already ate a few tons of Thai food, want to change something new, so we went out for dinner Western -EAT.Bar & Grill, the meat was tough, Meat lovers can come.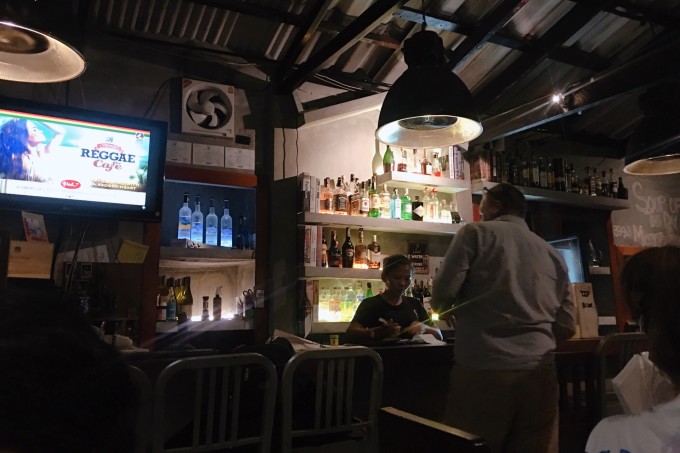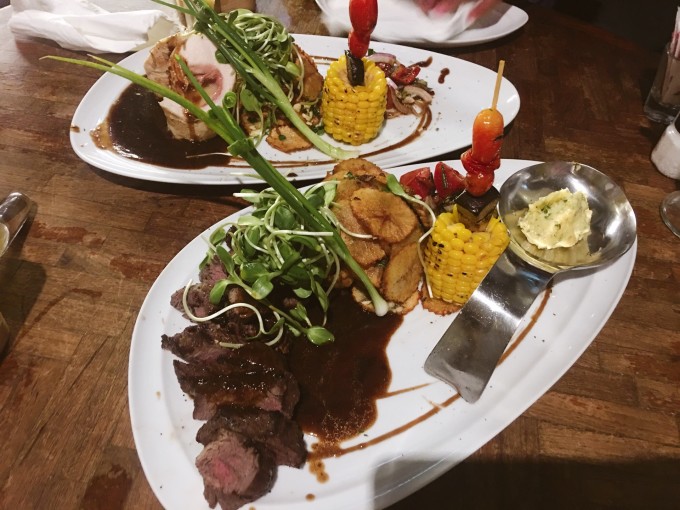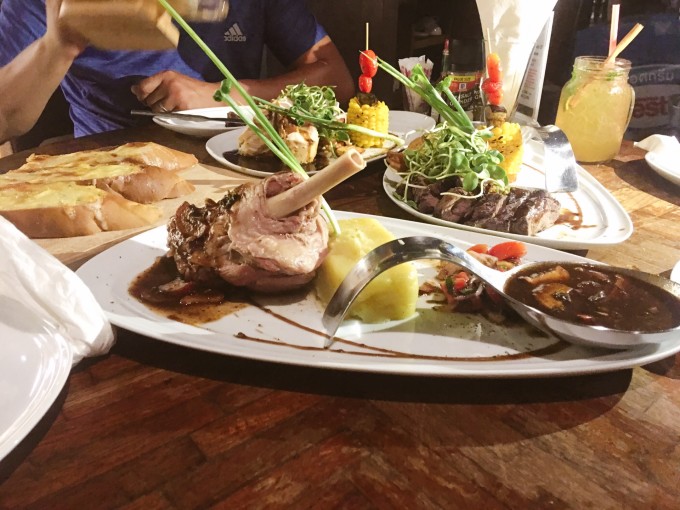 Too much meat, you will get a little greasy if you eat too much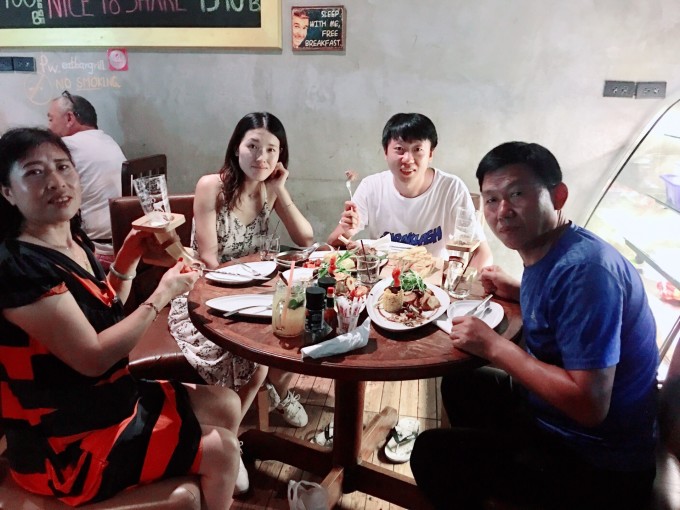 The restaurant staff saw that our family was here to play and took the initiative to take a photo with us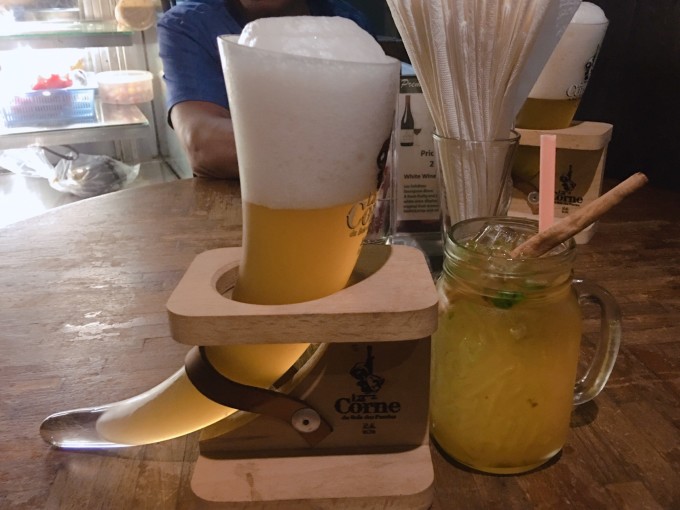 His beer mug is more interesting, it is in the shape of a horn
Outdoor SPA in the cold wind
To Thailand checked a lot of spa shop before, OASIS SPA good reviews at home and in Cartagena - Open-air sky oasis breath Museum bit, see the online environment surrounding green plants, I feel very close to nature so chose the open position.
It's very convenient to go to the spa with a car to pick up and drop off from the hotel. Because Jungle Leap was scheduled in advance that afternoon, the earliest spa was arranged in the morning. It is recommended that you can change the arrangement of Jungle Leap and the spa. After a very tiring day of playing A spa can be very relaxing.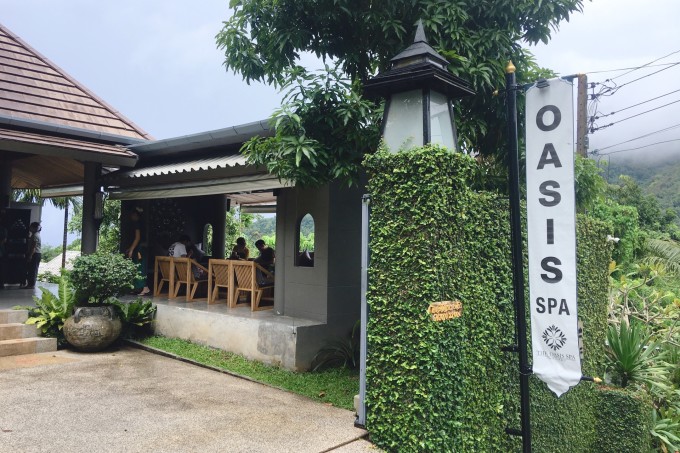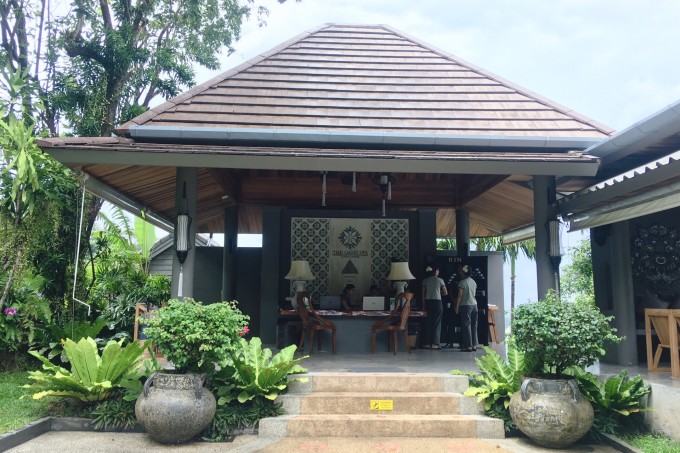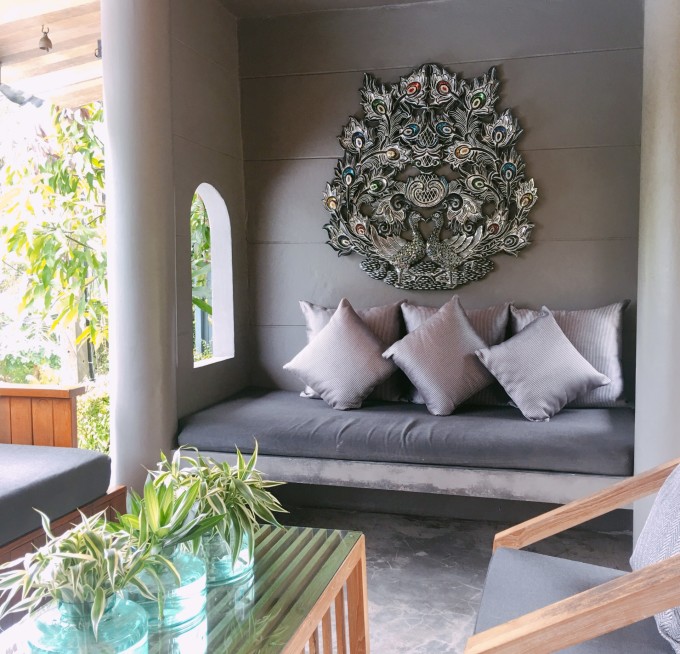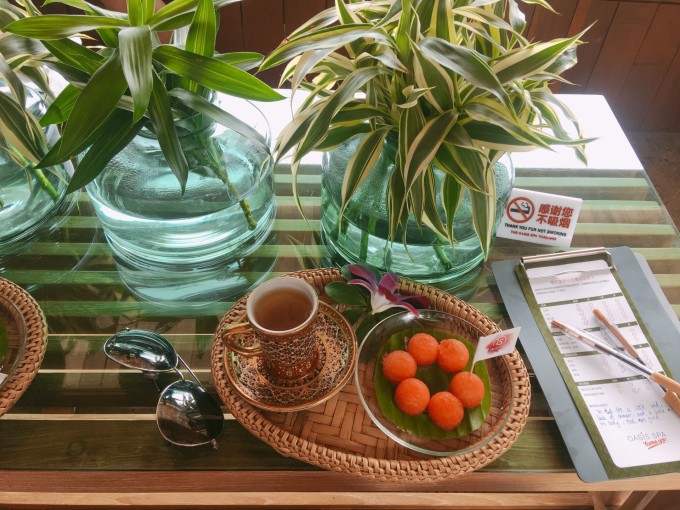 Before starting the massage, everyone will be asked to fill in a form to explain what disease they have, where they want to focus on the massage, strength, etc. The technician will pay attention to what you write during the massage.
While waiting for the arrangement, we will serve hot tea and fruit, and then take us to the terrace to change our clothes. Don't be surprised that we change our clothes in the open air on the terrace. After we have changed our clothes, we will shake the bell and the young lady technician will appear. During the massage I will ask whether the strength should be increased or lightened. After the experience, you can take a shower. What we are saddened is that there was a light rain during the pressing process. The wind and the rain showered the misery. I saw that the other bee friends were indoors. Great, really two worlds. Outdoors are still recommended, but the weather is fine! ! ! There are only two outdoor locations, which are very popular. If you want to experience it, book early~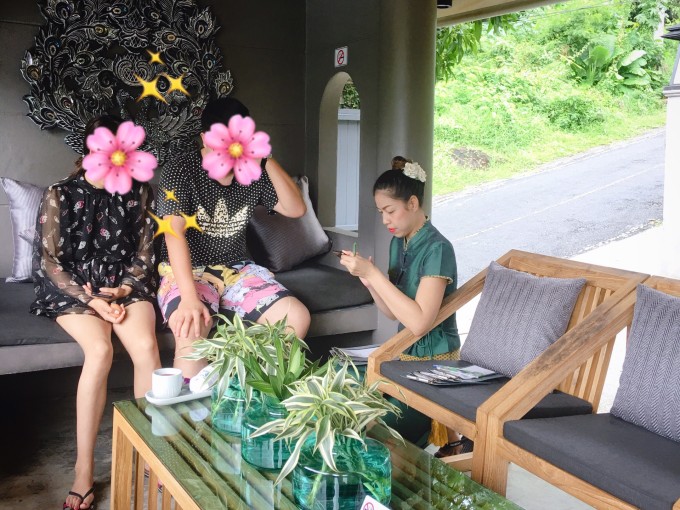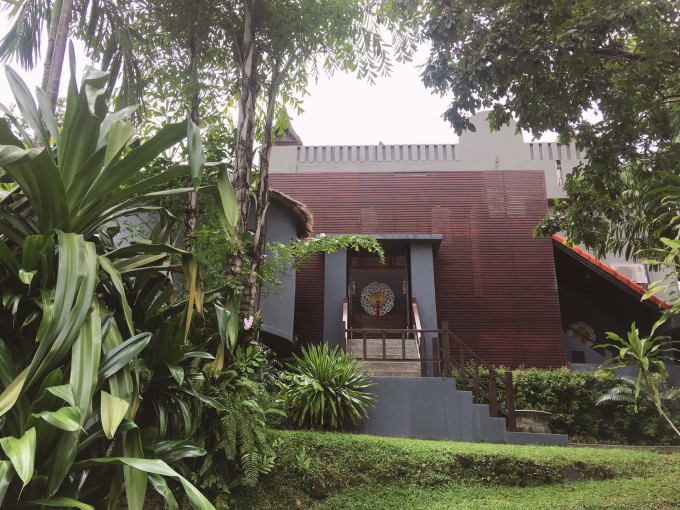 Go through this small door and you will enter the spa hall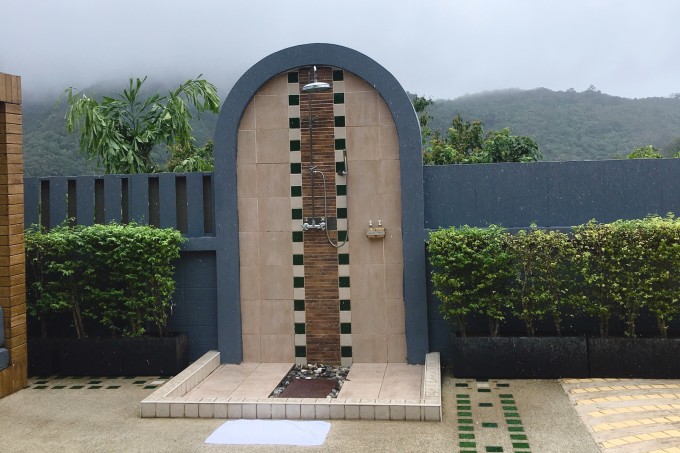 Open-air shower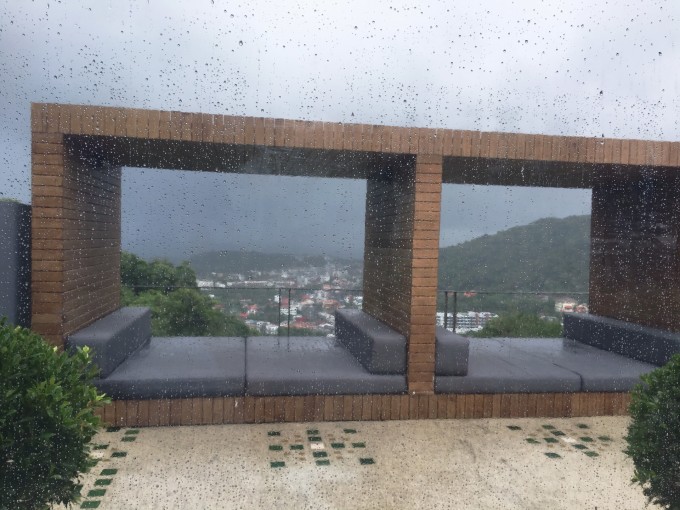 We chose the lost oasis two hours, a person 440, for a good massage done their clothes, will write a review of their services, and spa shop Hoi row back to the hotel.
Since there is a jungle leap in the afternoon, we choose a simple meal at noon, and then a driver will pick us up to the jungle leap site. There will be a coach for every 8 people. The coach will first explain to us how to wear clothes, then go up the mountain and teach step by step from the low level of difficulty. The coach will demonstrate it first, and then everyone will pass in turn. Don't be afraid to be safe. After the ropeway, you can let go of the experience. The coach will frighten everyone after seeing that everyone is not afraid, and it will be very active.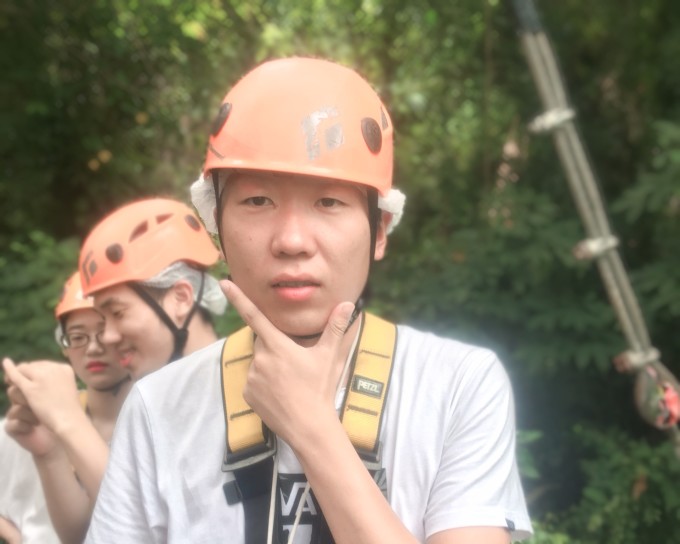 The clothing is probably like this. For the sake of hygiene, everyone will have a hair cover that is ugly. It is recommended to tidy it up, otherwise it looks like a hair-making aunt like us.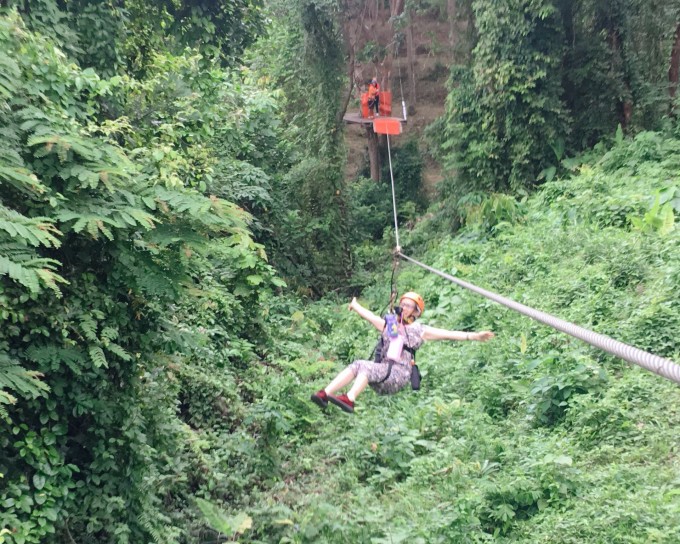 Mom and Dad is the oldest regiment, the coach thought my mom would often afraid to scare her, but my mom mended great bravery on the cableway such a tree diagram connected to another tree, people paddle through the cableway, really the little apes Tarzan look like. We chose 20 stations. After arriving late, we became more and more relaxed. Many bee friends were not addicted to reading the posts. If you are not afraid, you can choose 30 stations. There is a 50-meter downhill at the end of the trip, which is a little scary but the distance is short, which is acceptable.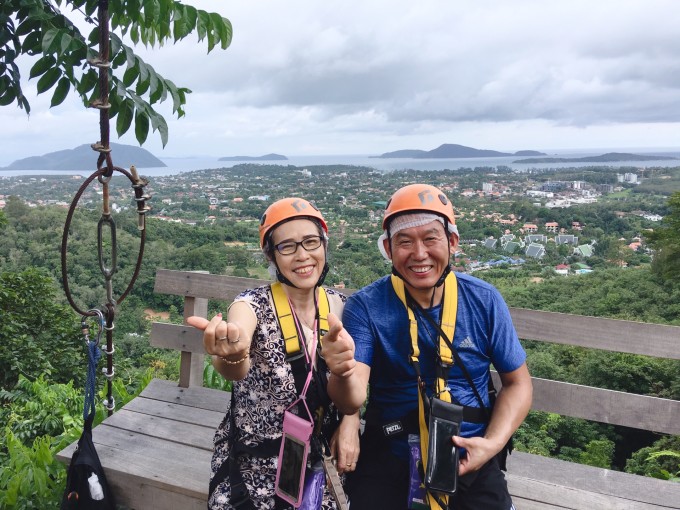 The coach will take photos of everyone for free. This is the coach teaching my parents to send love.
After the jungle leap, we started the ATV experience. You can choose one person for one car or two people for one car.
A small group with two coaches, our group a total of six people, is our family of four plus jungle leap just to play with a pair of young lovers, two coaches were in the front ranks of the most edge and the final edge, in front of the coach is responsible for most Lead the way and control the speed. The coach at the end is responsible for checking whether the team members are left behind.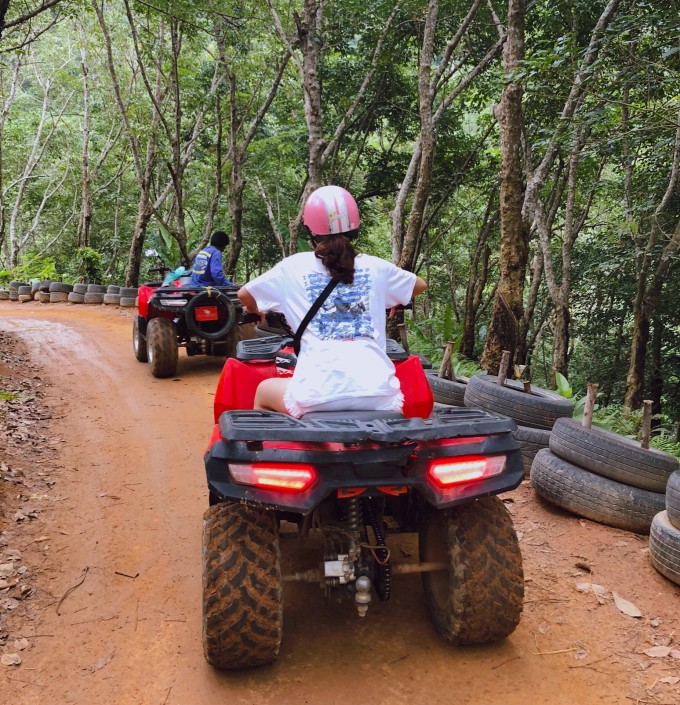 Coach put me on his back, because of my fear of timid successfully control the speed of the whole team (because you want a car with a car behind to ensure the whole team safety) , then I can not stand my slow speed, the exhumation Pressed me to the bottom on the road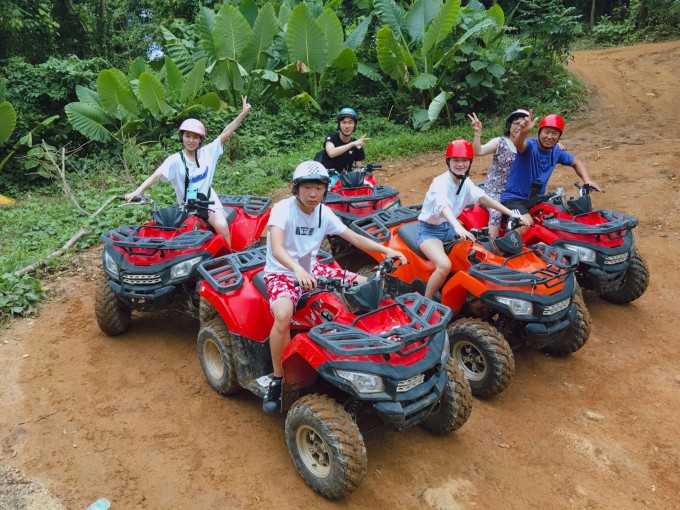 The whole is still very thrilling, but there will be muddy and uneven roads, so be careful when driving.
Photo to a whole group, because they do not know another couple willingness exposure, or to cover off the face of the
night we went out for Italian food Gastone Italian Restaurant, public comment 4 star foreigners to go above normal, pizza is thin It's crisp and crisp, but I forgot the details. Basically the forgotten ones are not so amazing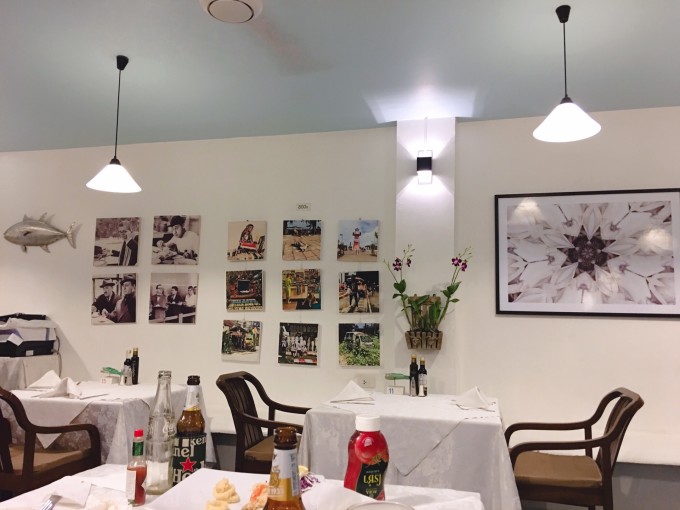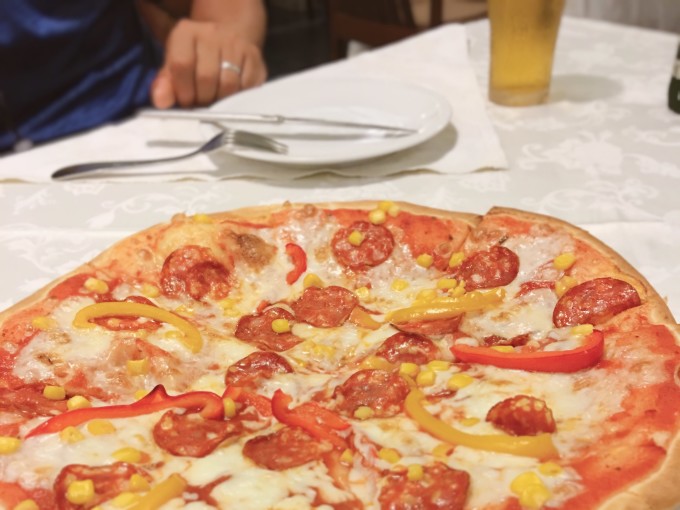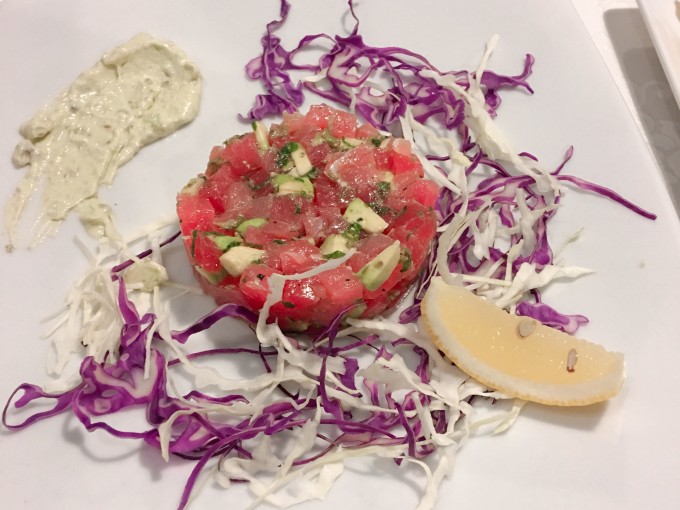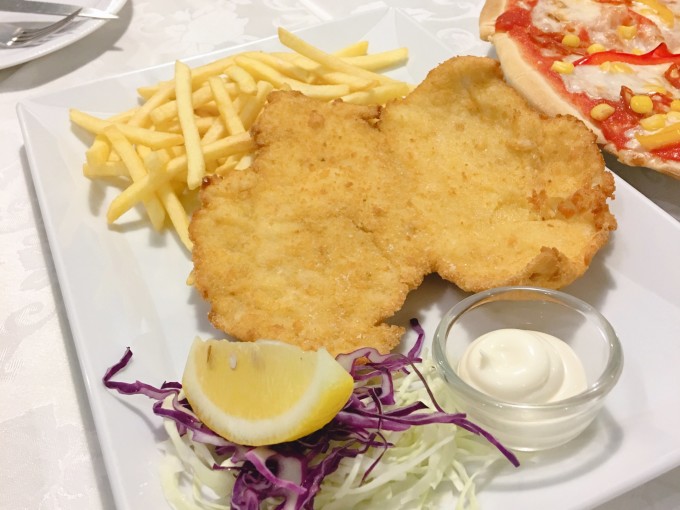 A few days after the trip roughly from Phuket to fly to Bangkok to play in Bangkok direct flight home after Wanji Tian.
To Bangkok After almost noon, four people dragging the box in Bangkok tired of walking the streets, we are in Bangkok from the mall close to the hotel, but also to the point of the meal and then into the mall to eat lunch, chose a local barbecue buffet, taste Good price and affordable, recommended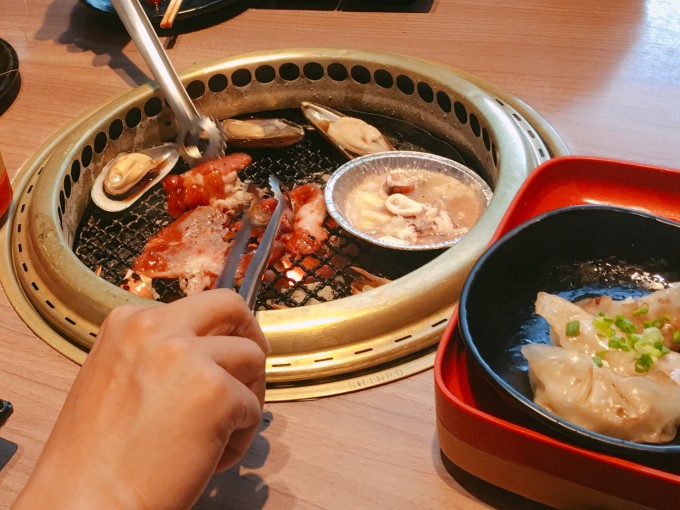 There is such a small bowl that can be put directly on and baked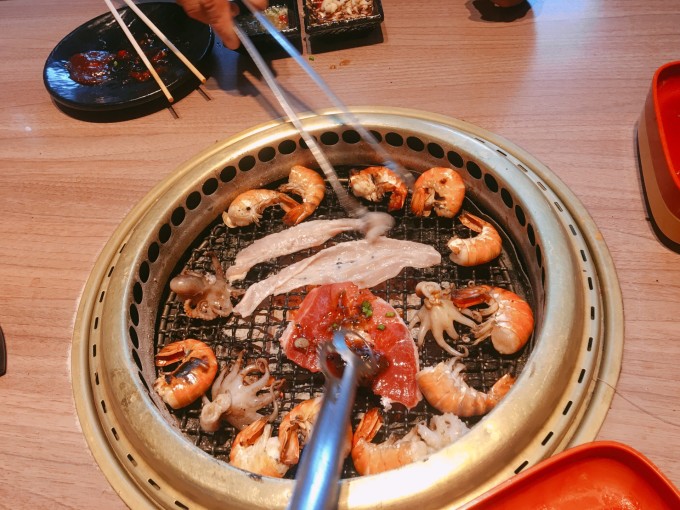 After eating, I have to go to the hotel to check in to avoid the four people spending time to check in. My husband and I will check in and let my parents go to Siam Ocean World for a round. Tickets are 100 per person. Many itineraries suggest that you don't decide to die, you can adjust it at any time in emergencies.
Our hotel is Nine Design Place, a family suite with a terrace, a night more than 900, more suitable for family travel, quite easy distance of major shopping malls, and we had to make our boss is very warm Thai taste local food, but taste Michizane of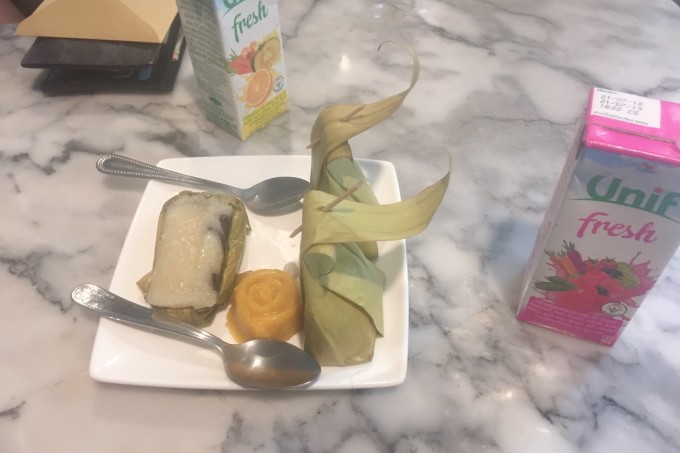 The boss sent Thai small pastries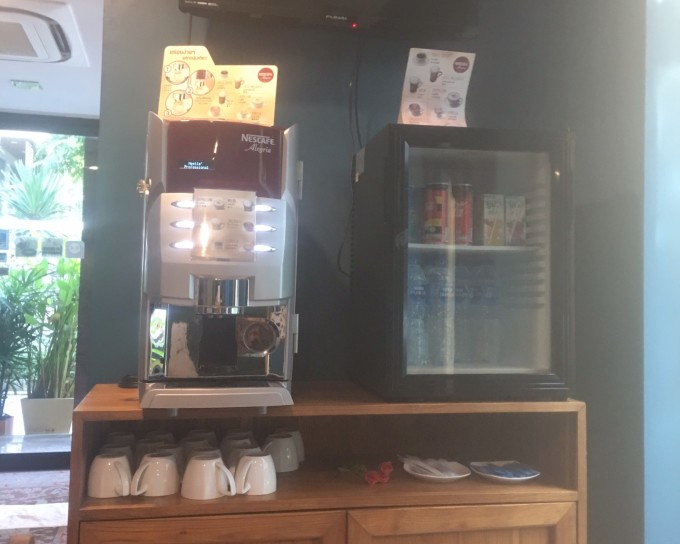 The restaurant comes with breakfast and a coffee machine. After
checking in, return to the entrance of Ocean World to meet your parents. According to the parents, Siam Ocean World is okay. Bee friends with children can go there. Then we set off to Ratchada Train Night Market. There are many night markets in Thailand , which are a manifestation of local people's sentiments. Ratchada is also one of the Internet celebrities among them. The reason why I chose here is because of the colorful stalls and sheds in the pictures on the Internet. Attracted, my husband was not interested in them, so we did not go to the scenic spots to take pictures.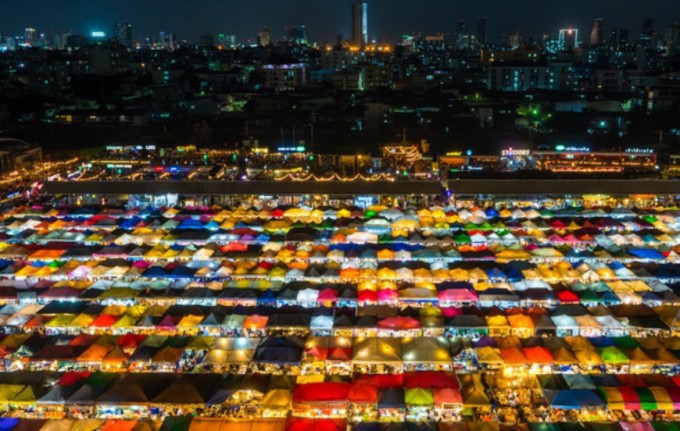 This is the picture that attracted me. The
following guide location is recommended for everyone: The
classic photo location is the parking lot of the Esplanade mall next to the night market. You can stop the elevator to the 4th floor and walk to the 5th floor after you get out.
There are a lot of food and people in the night market, and the seats at each table are basically full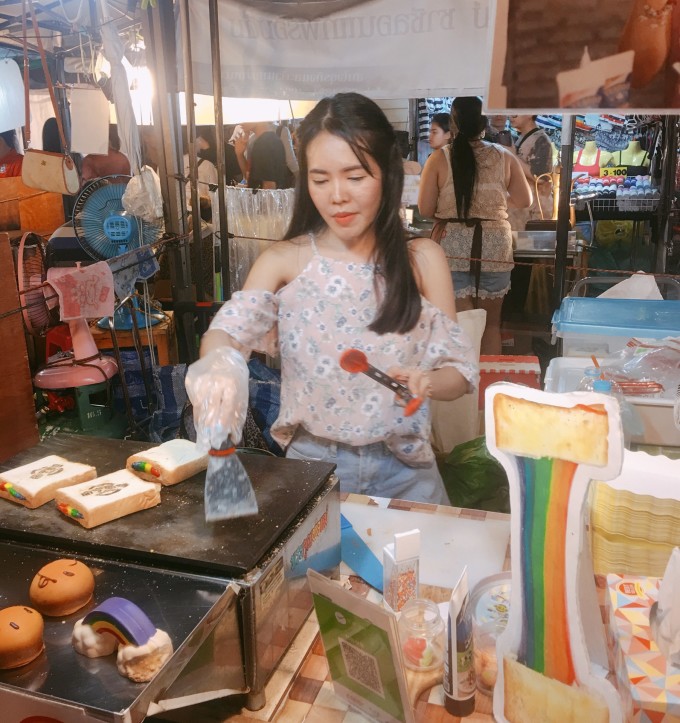 Rainbow sauce in the bread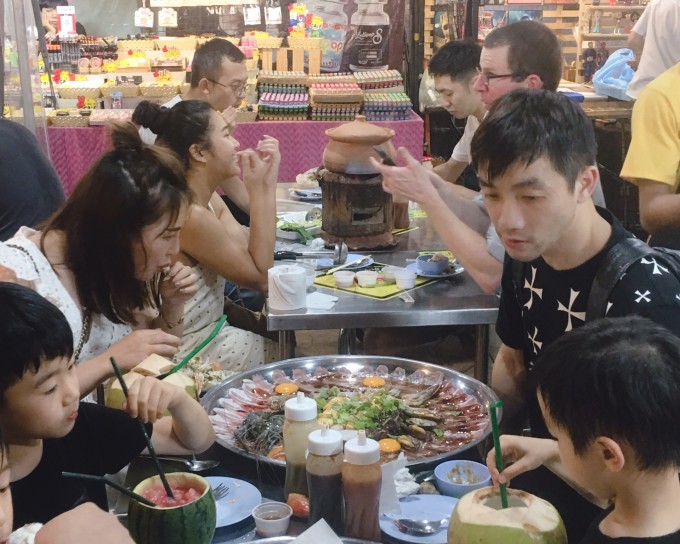 Every table is full of seafood like this, it looks very appetizing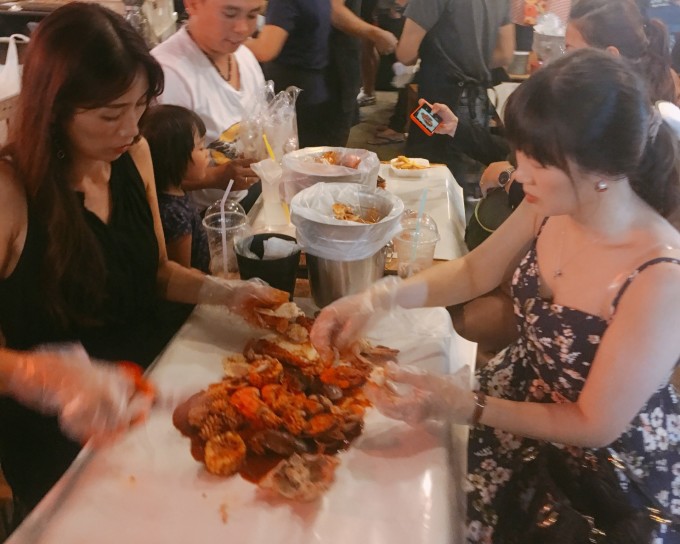 Everyone basically starts to eat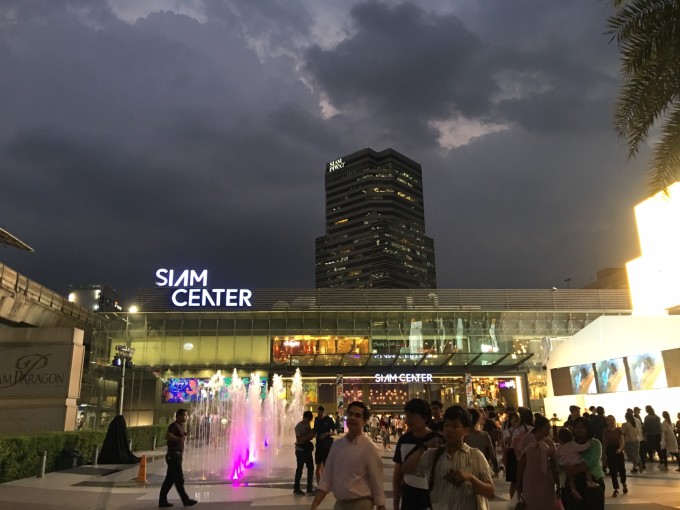 Siam Center Mall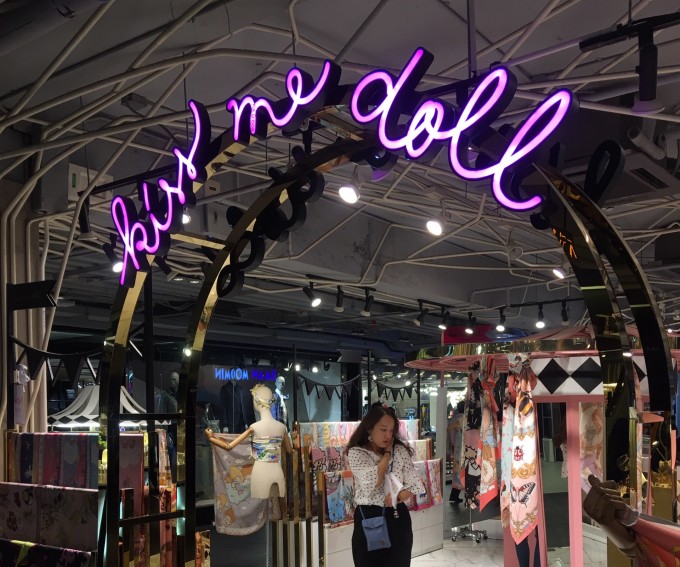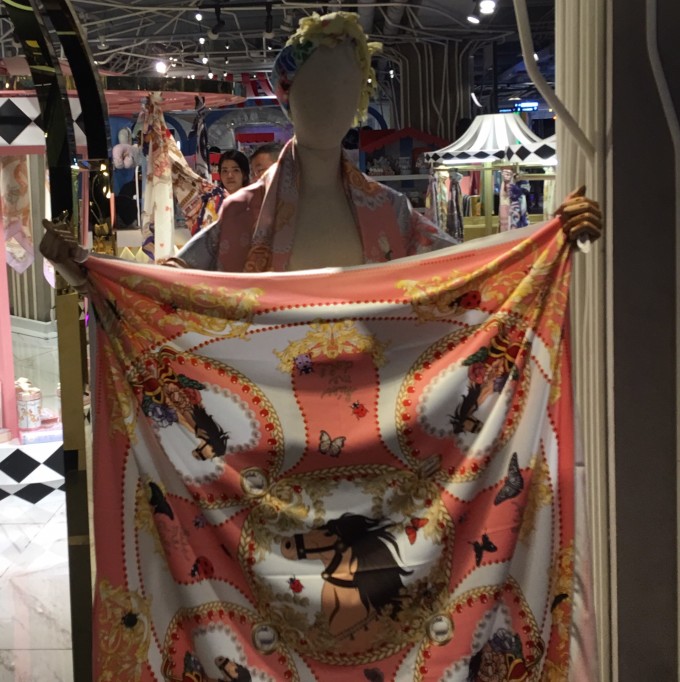 When doing shopping strategies, watch everyone push his silk scarves, and the beautiful fairies can go and take a look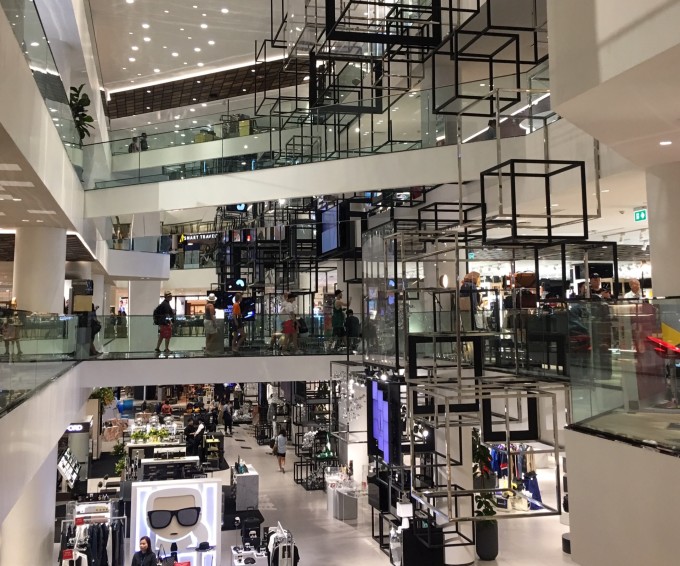 I forgot which store this mall is, it's all designer brands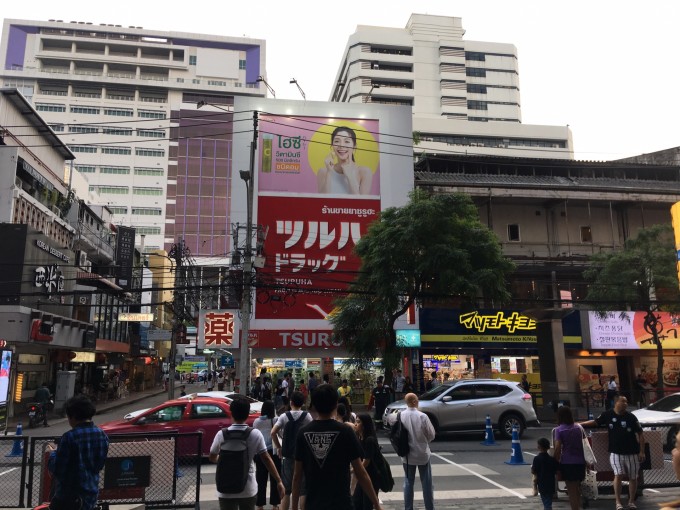 Matsumoto on Siam Square, though not Japan is cheap, and I did not quite compare prices for individual Japanese drug store fascinated, went through a buy buy buy

Go to the floating market and experience local life
If you want to experience the life of more locals, you can go to the market . There are also many markets in Thailand .
I'm interested in the US railway market power, but from Bangkok a bit far away, so reported a day trip (one 138 yuan), Damnoen Saduak Floating Market and beauty play with power market, in order to avoid the return Bangkok Traffic jam, this one-day tour started at 6 o'clock, although you are sleepy, you can make up for it in the car.
However, I just watched the latest tour and adjusted a more reasonable arrangement. I set off at 8 o'clock, and then went to Maekong to see the train crossing market, and then to the Dannen Sadok market, so that I can catch the train crossing time without getting up early. , Quite reasonable.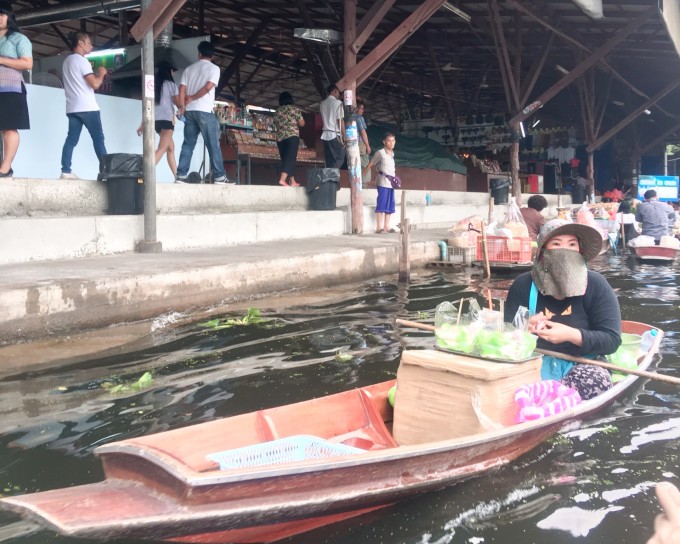 Damnoen Saduak Floating Market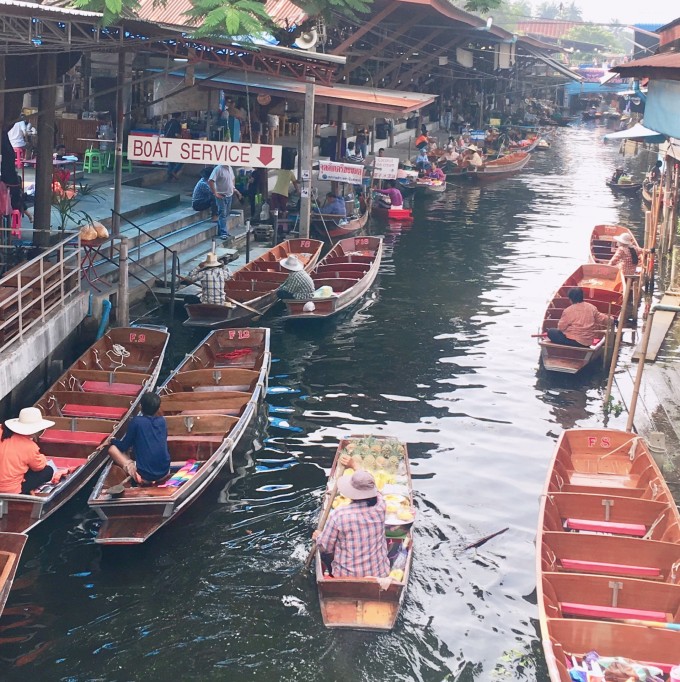 The river is not very clean, and the local people are rowing boats to sell food, which is very novel and interested bee friends can come and try.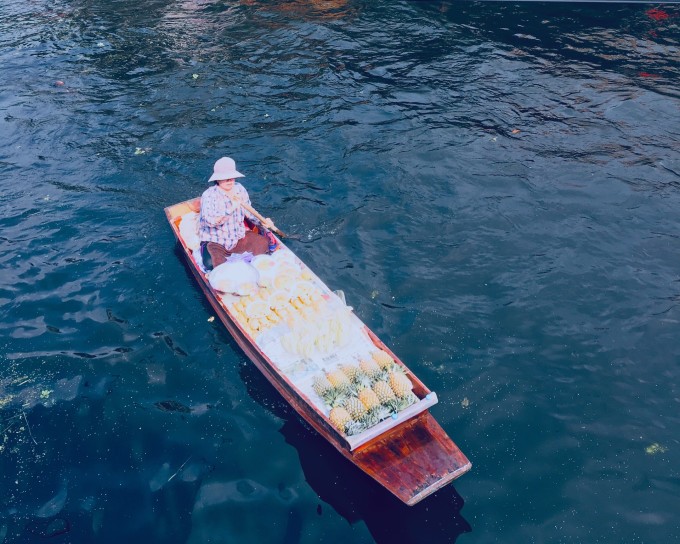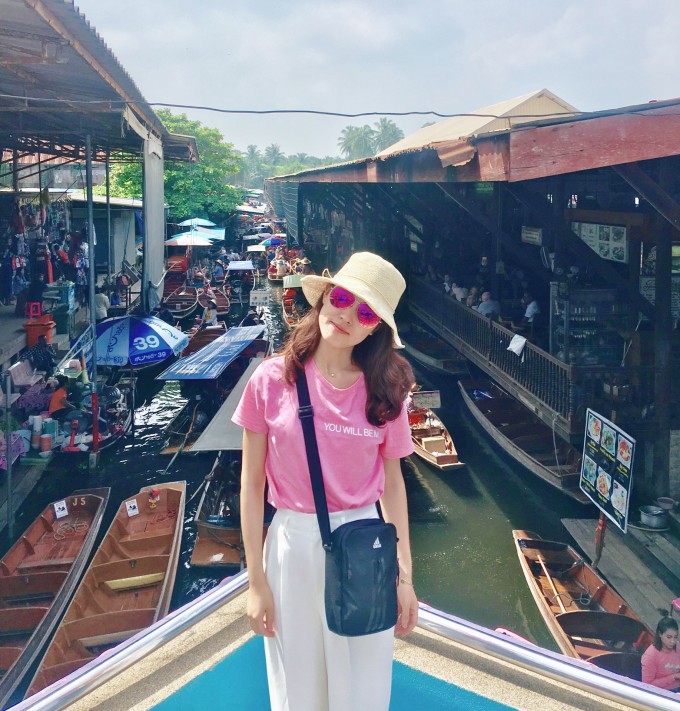 This location can be used to take photos of the row of boats in the river. The photo location is very popular and you need to line up.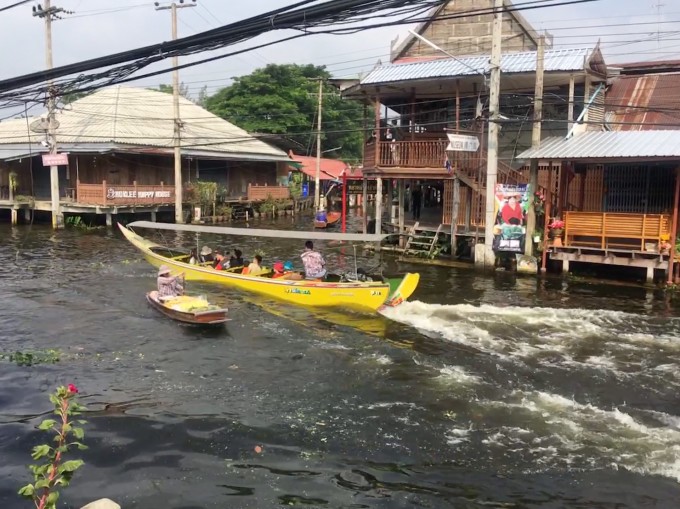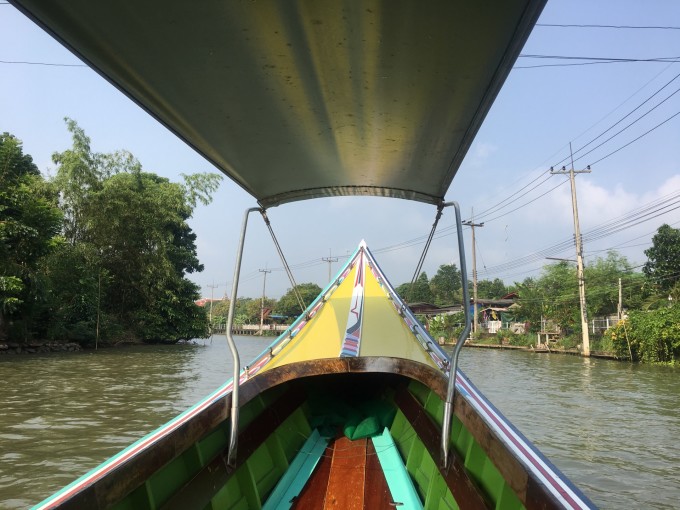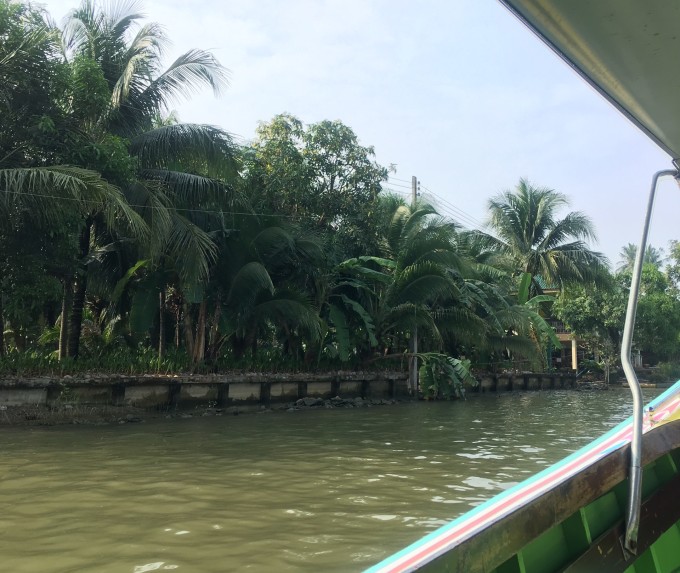 The electric boat experience is also included during the period. It is like this. The water is not very clean, but the boat runs very fast.
The special feature of the Maeklong Railway Market is that the stalls selling vegetables are placed along the railway. As soon as the whistle passes by the stall owners, they will quickly put away the stalls so that the train can pass by. The melons and fruits here are very cheap, and they are very popular.
The train passes through at a fixed time. We went with a tour group. After getting off the train and walking for 5 minutes, we arrived at the market. We waited until 8:30 for shopping and the train would drive in.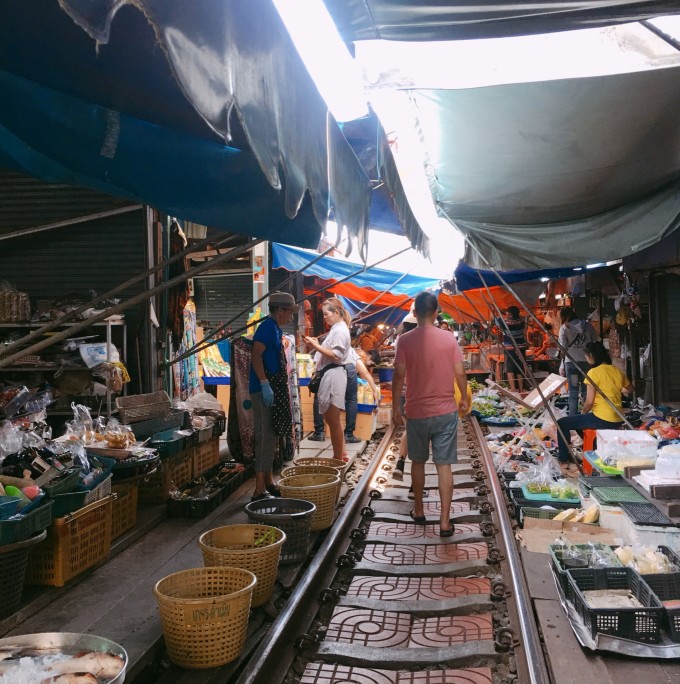 Maeklong Railway Market
Buying dried mango here is very cost-effective, and you can also discuss with the stall owner to get a bag if you buy 9 bags.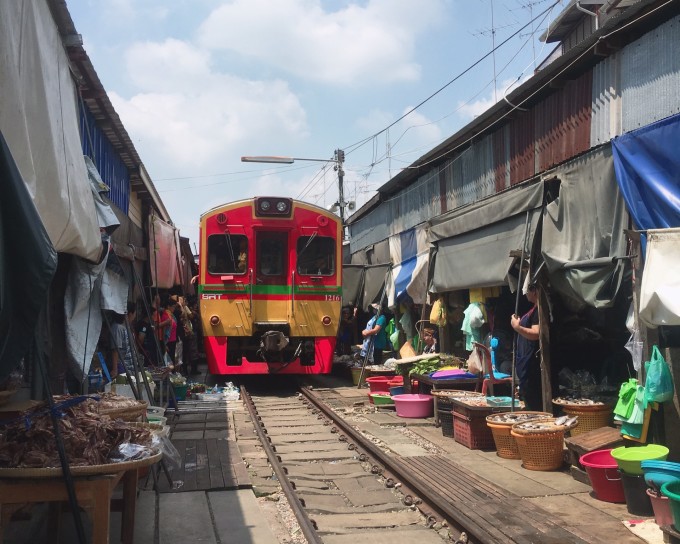 The aisle in the middle is where the train passes. I think the driver of the train will be very tired from driving every day. He needs to constantly watch the pedestrians on the side of the road. The train runs very slowly.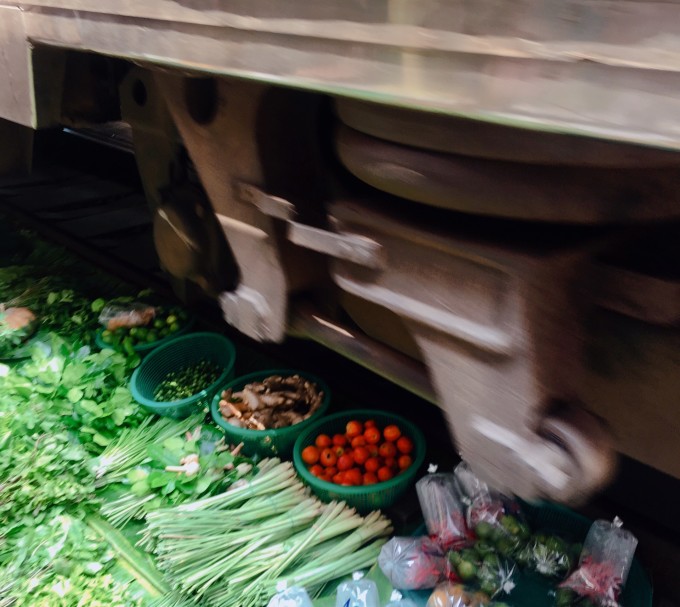 It's amazing. The train is stuck on such a narrow track, but it doesn't overwhelm the vegetables and fruits on both sides of the road. The stall owners' vegetable arranging skills are also leveraged.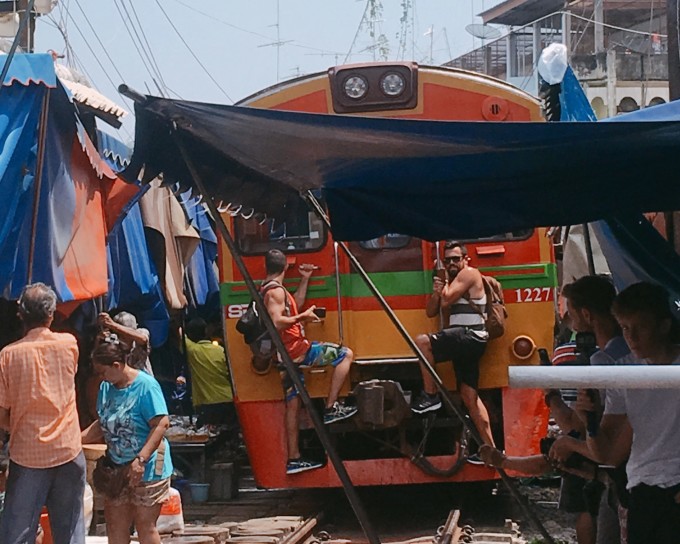 Went to the daily food sectors, dinner today is this line the best taste, the most impressive one, but I forgot to remember the name, damn day Bangkok weather is not very good, not a small under the rain, still can not stop us out For food, this restaurant is not too close to our hotel, so I took a tutu car to go. The location of the restaurant is not easy to find. After walking around for a long time, I finally found that it was in a high-end hotel. The environment of this restaurant is very good, the indoor environment is dark, and the dishes are beautifully presented. The key is that each dish tastes excellent. We stopped talking when we ate. Everyone was eating silently. Fortunately, I still didn't. Forgot to take photos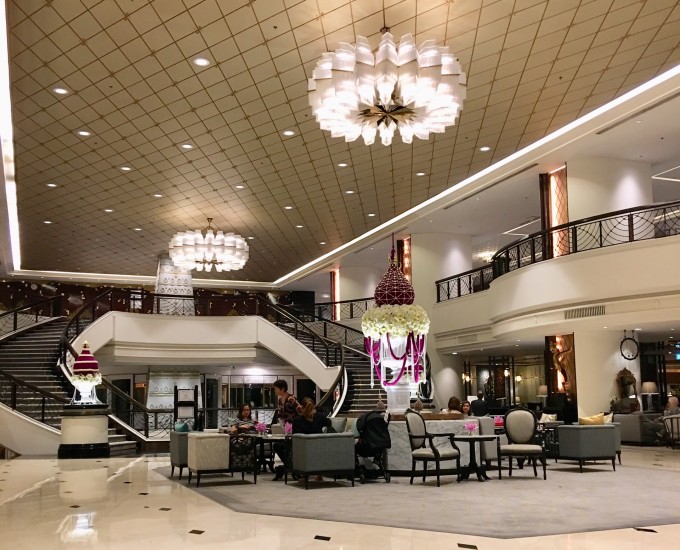 Restaurant in this hotel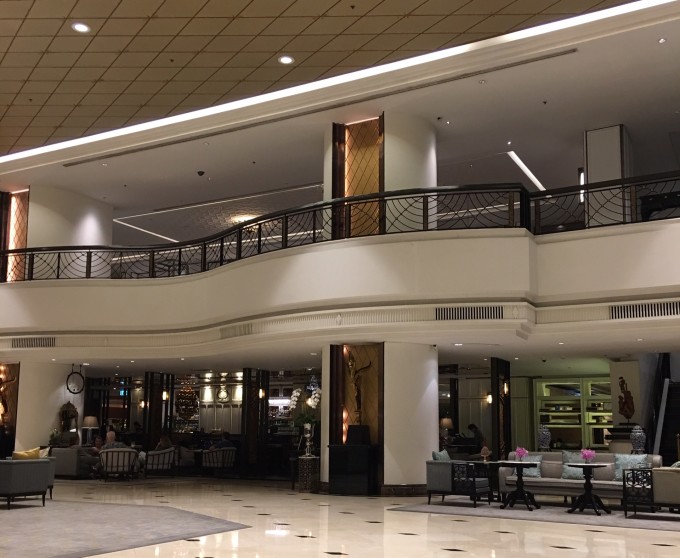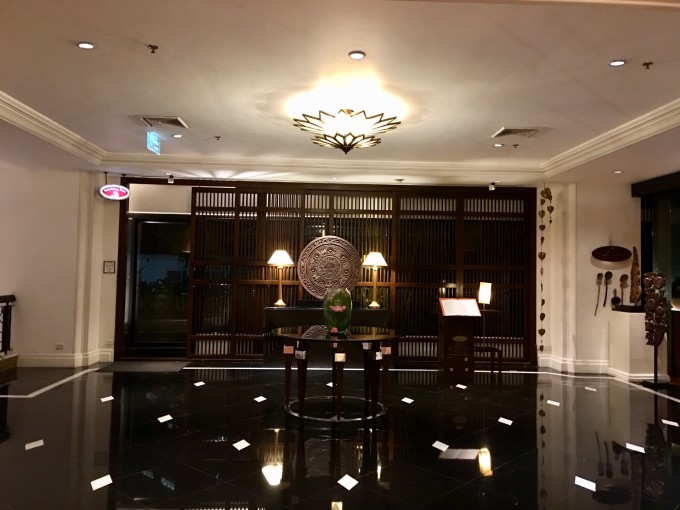 Restaurant entrance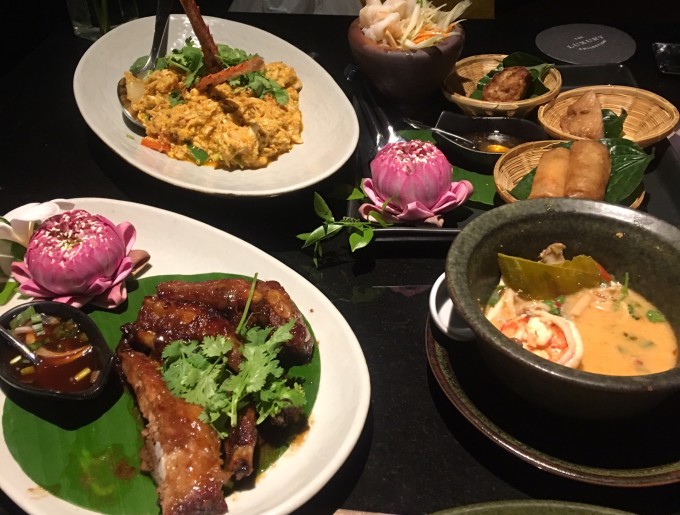 Each dish did not pit, we ordered Thai essentially pit-free dishes, but even basic food is above average too much, highly recommended curry crab and Tom Yum Kung soup, and hate stomach could not eat otherwise want Try more dishes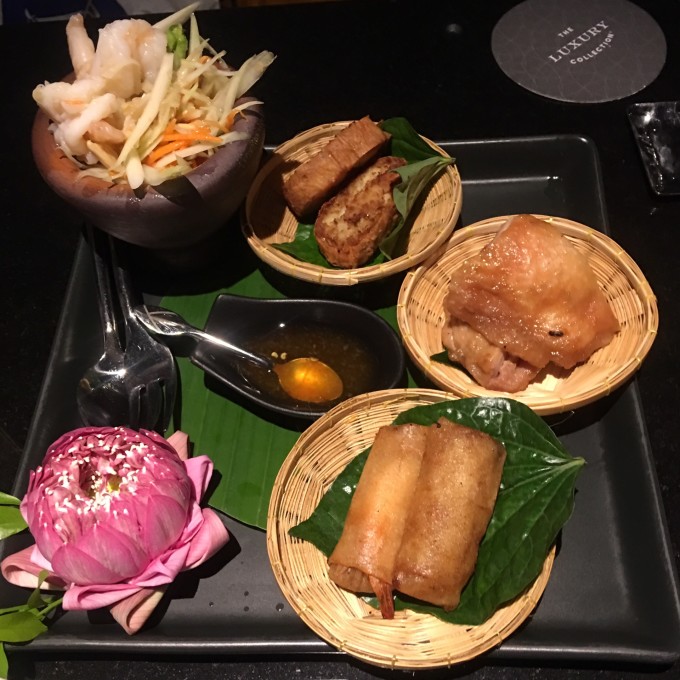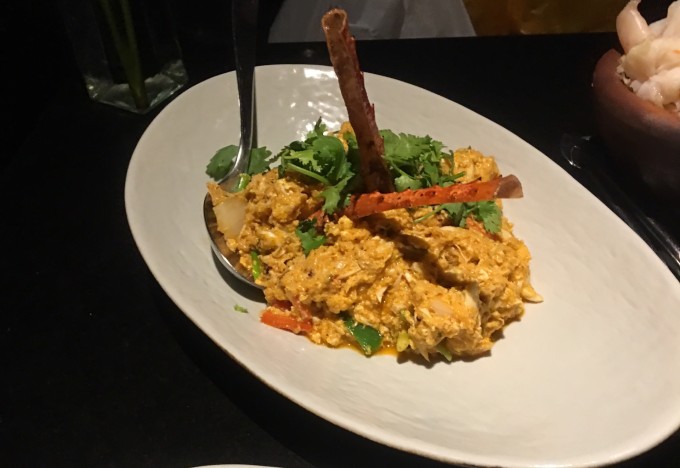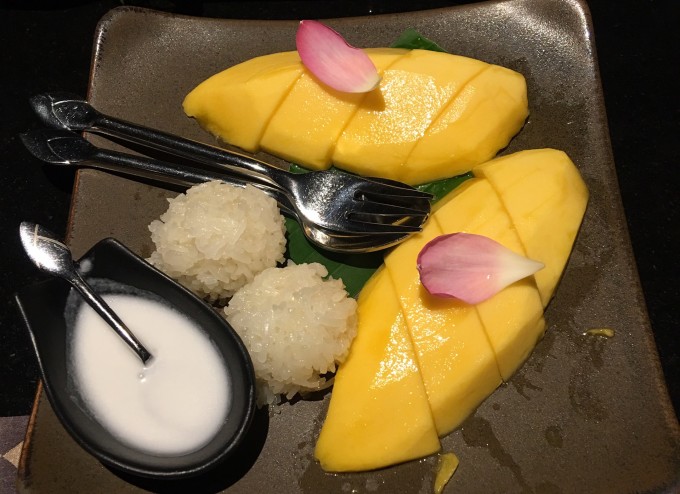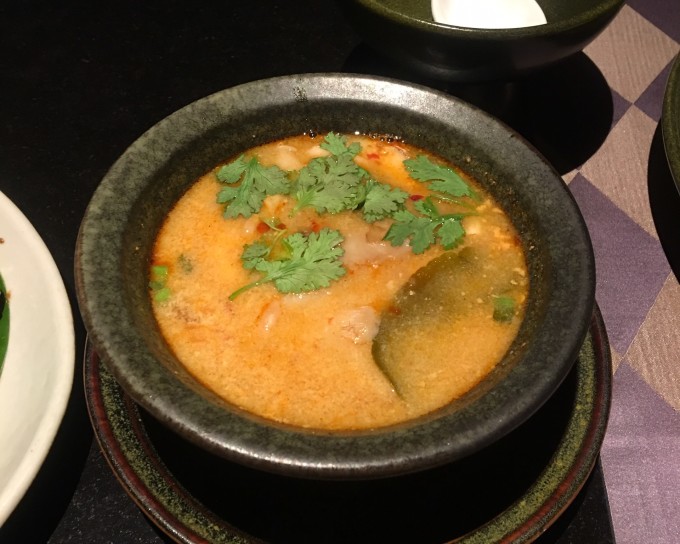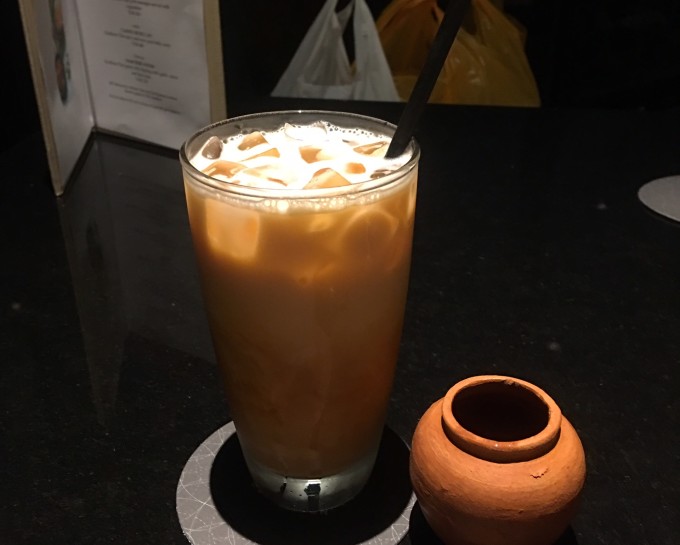 Thai ice tea is Thailand unique, tasted good to go when still in the supermarket to buy Thai tea bag, often after returning to their own cook drink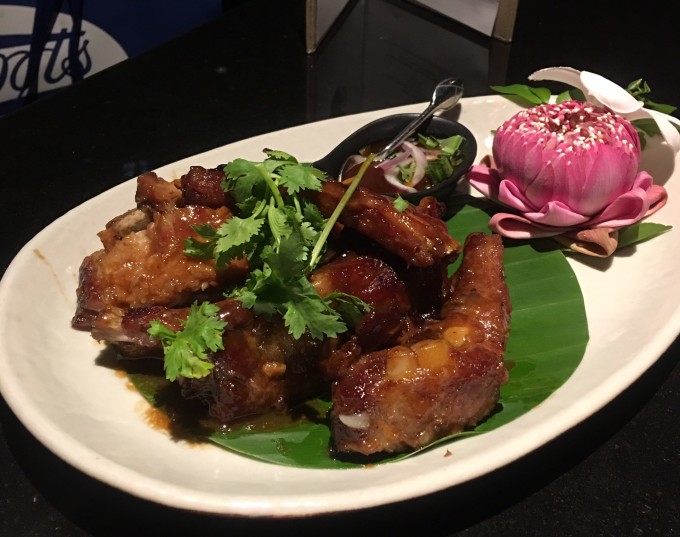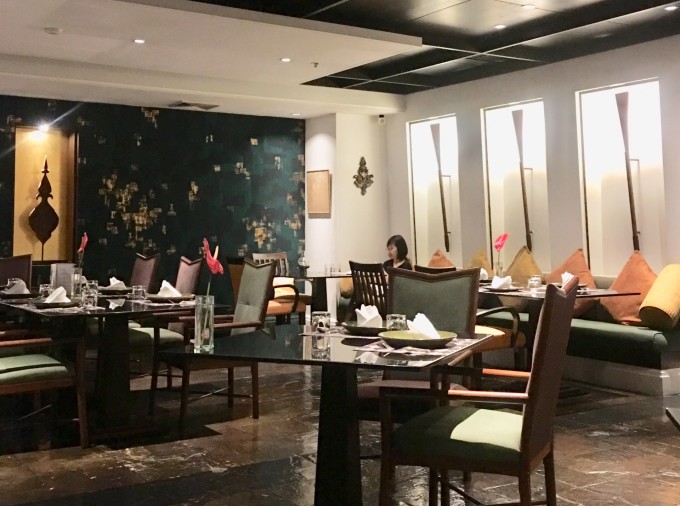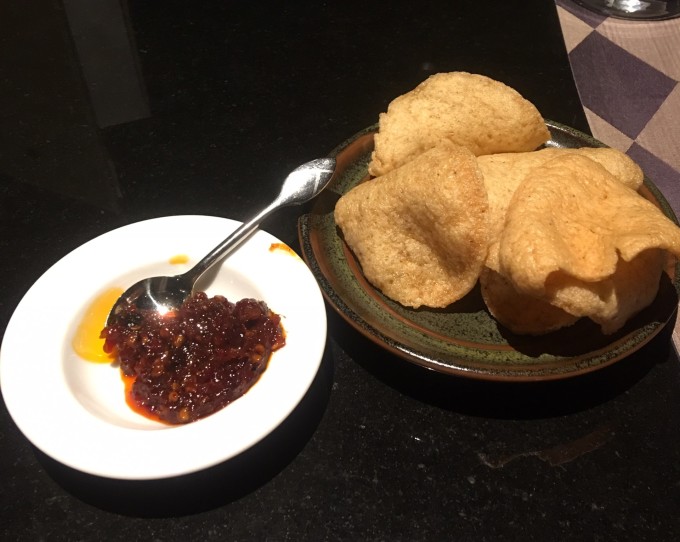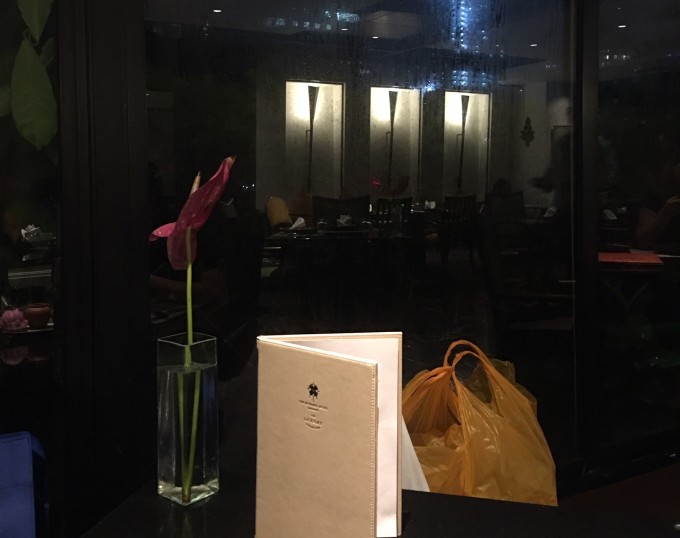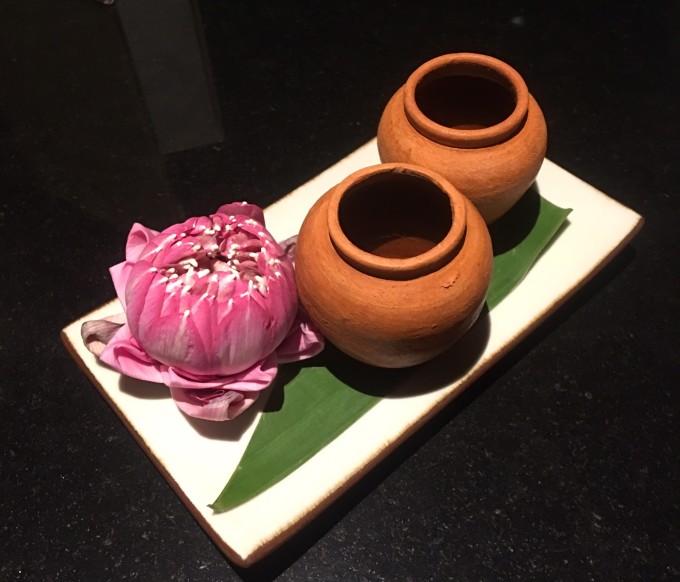 If you want to go to Fengfeng, you can check the nearby hotels and then the public comment to cooperate with the search. I use the photo location to see that the restaurant is this place, but I really don't understand Thai.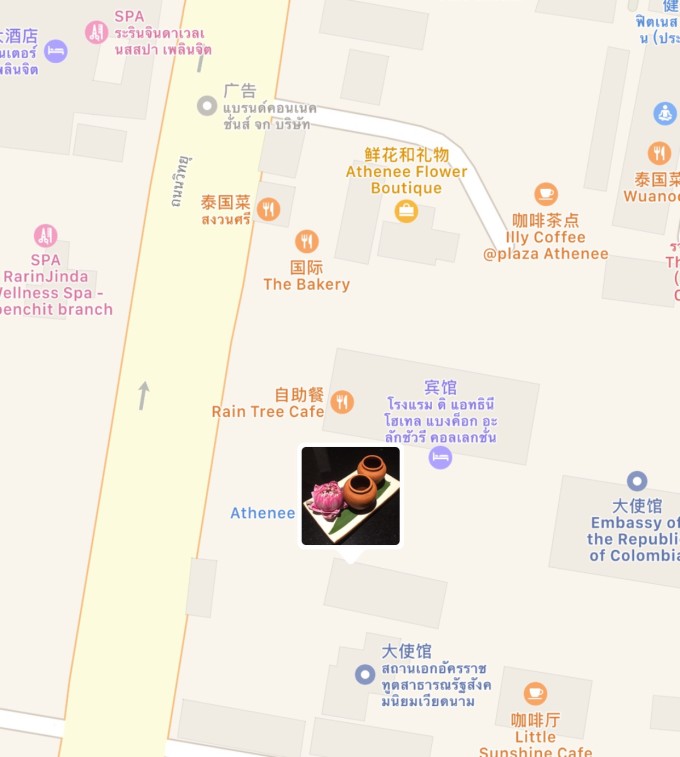 Check in the Chao Phraya River Loop
Here is a sad dividing line, from the last time I wrote this travel half a year has passed away from this trip I have a year and a half, and I have not even finished, terrible procrastination ah roughly Route: Hotel - Grand Palace (2)-Temple of the Emerald Buddha (3)-Temple of the Reclining Buddha (4)-Wat Arun (5)-Chinatown (6), these places are very close, you can go shopping in one day. Route map: (The route is generated by the Qinyou Itinerary Assistant. Enter the scenic spots you want to go to every day, and the route map will be automatically generated, and the system can also automatically help adjust the best route)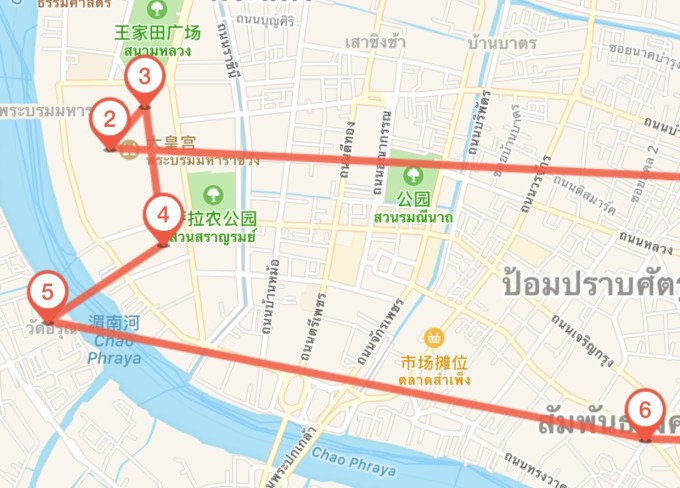 Grand Palace: Tickets are 500 baht, including the Jade Buddha Temple, is the Thai save the ancient palace of the most perfect, the largest and most ethnic characteristics of the palace, the status equal to China 's "Forbidden City."
In the Grand Palace, men must wear long trousers to enter, otherwise they will have to buy such trousers at the door. It is recommended to buy them on Taobao in advance. The styles are optional and the price is more favorable.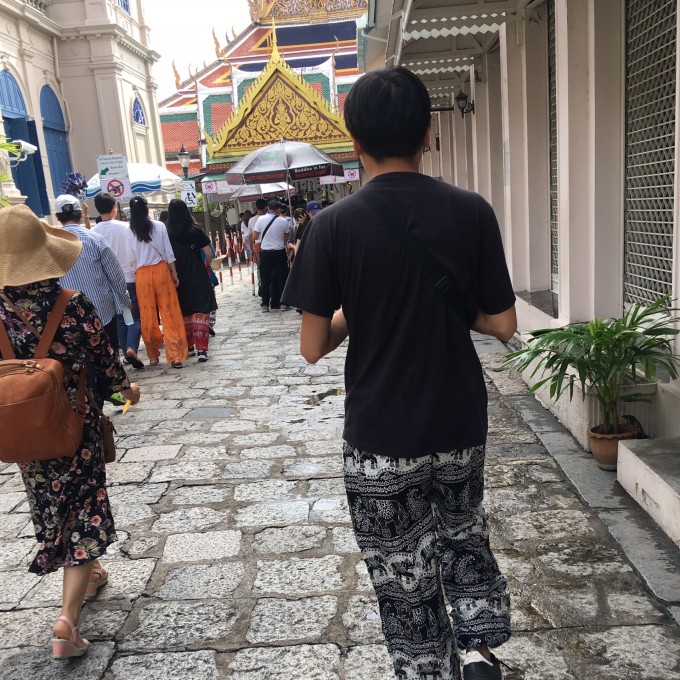 big palace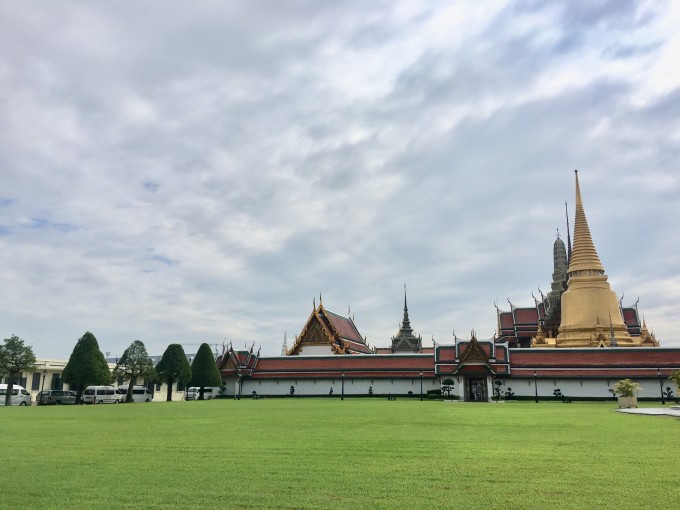 big palace
The Grand Palace looks like a quiet beauty from a distance, like an elegant princess. It is magnificent and shiny when approached, and I feel my eyes are flashing blind, but the whole is quite shocking. Many people go early, 3:30 pm Stop selling tickets.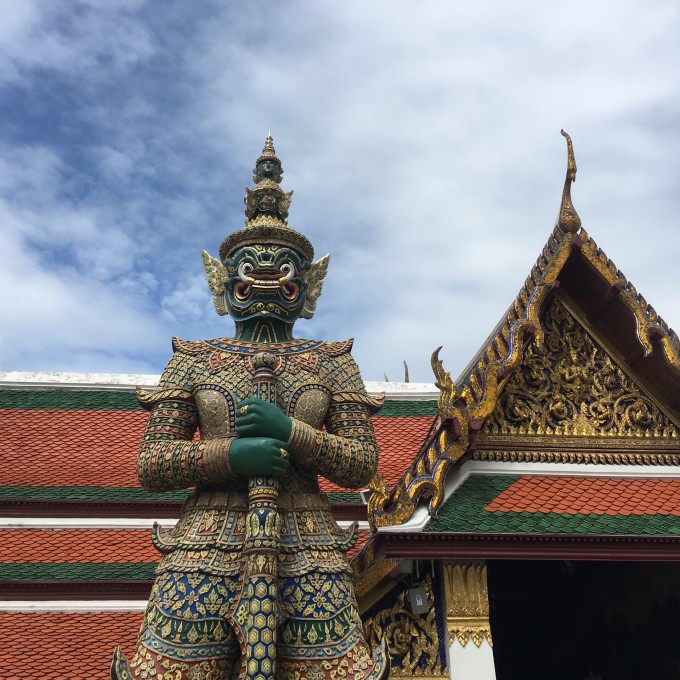 From the entrance into the scenic Grand Palace ticket office, is the Jade Buddha Temple, you have to ask me which piece belongs to the Jade Buddha Temple, I do not know, there are three Emerald Buddha cassock a year (because Thailand has three seasons). The three robes must be replaced by the Jade Buddha when the king changes seasons.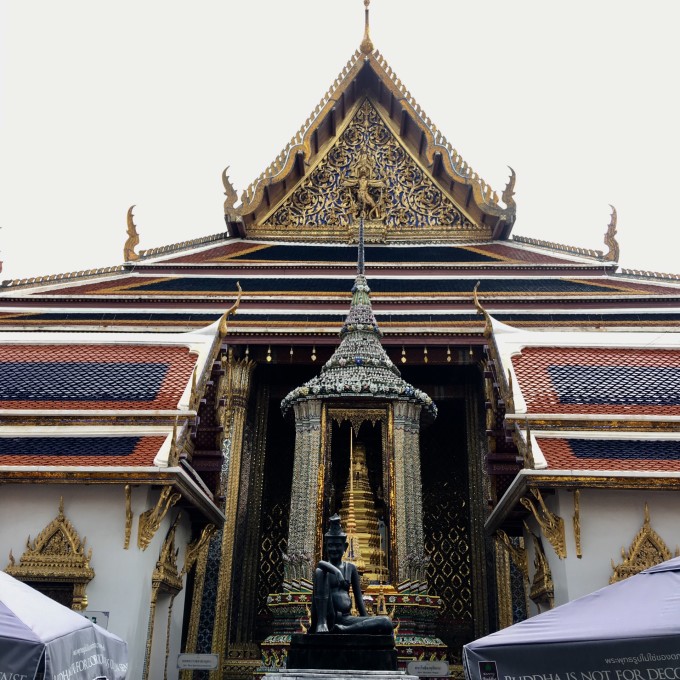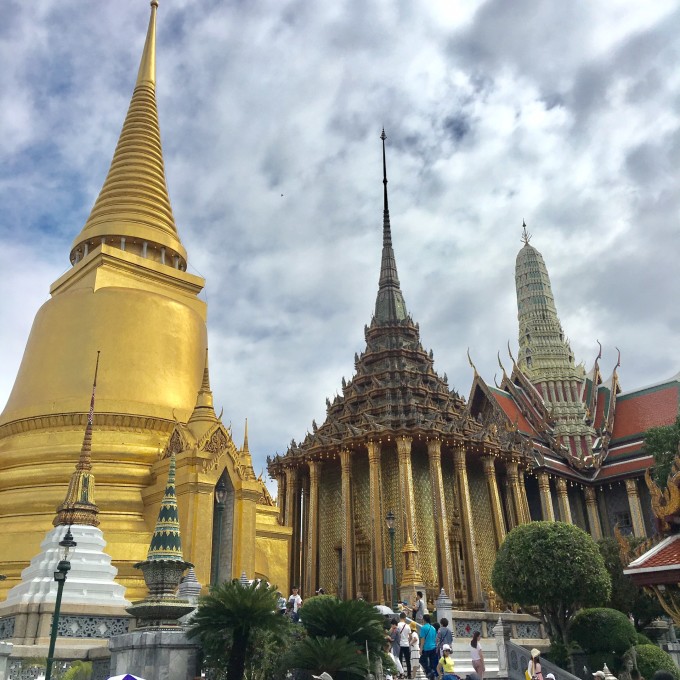 Jade Buddha Temple
It is said that the left side of the urn is music达纳舍利塔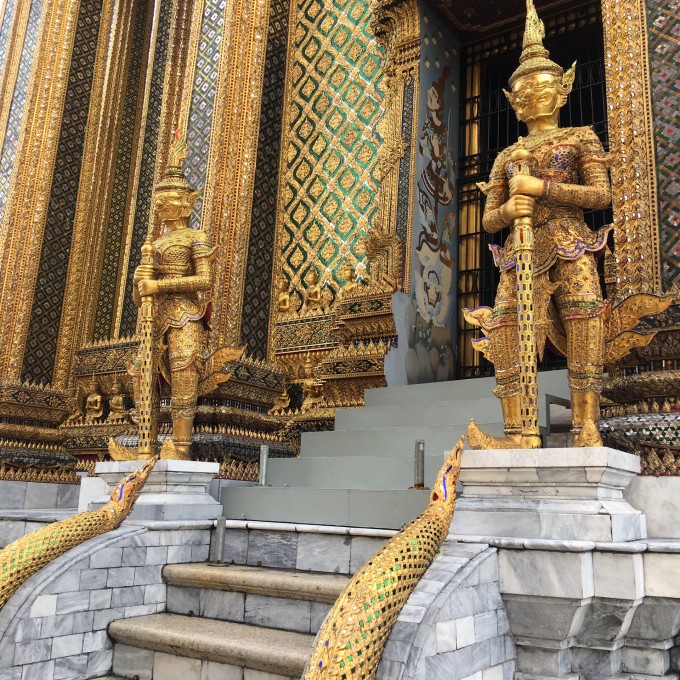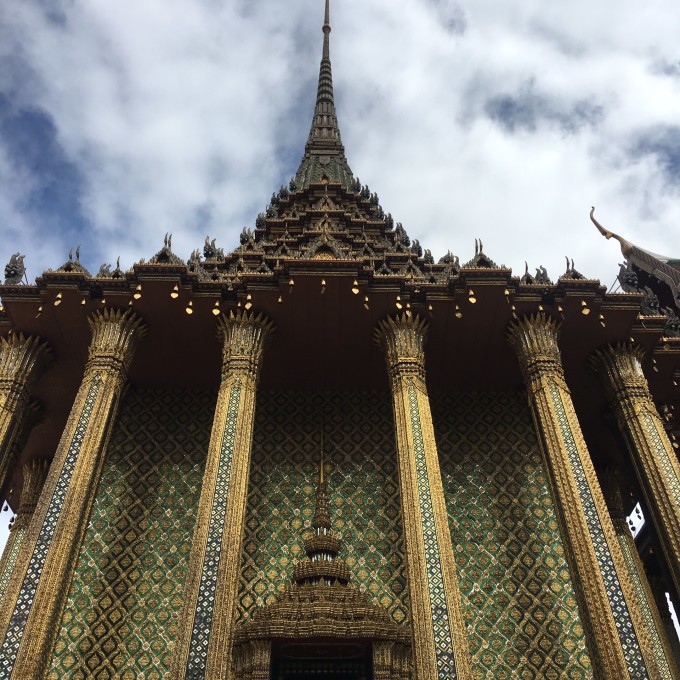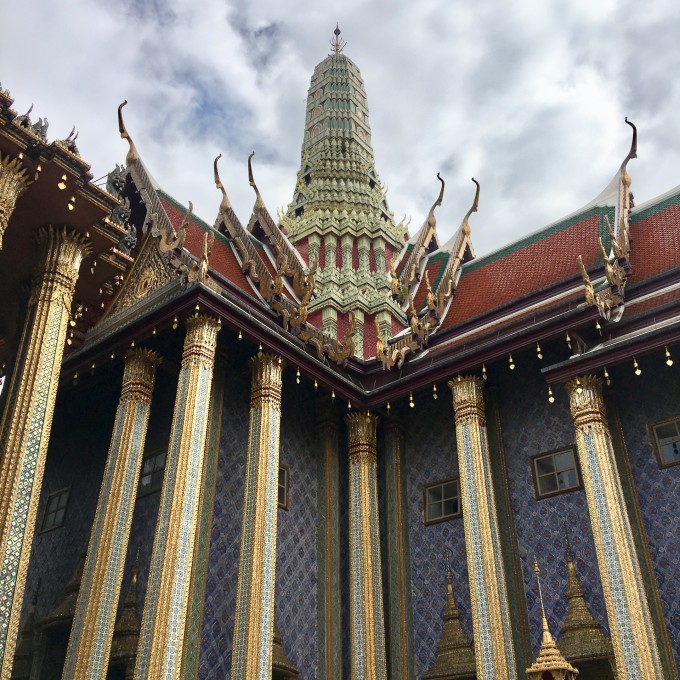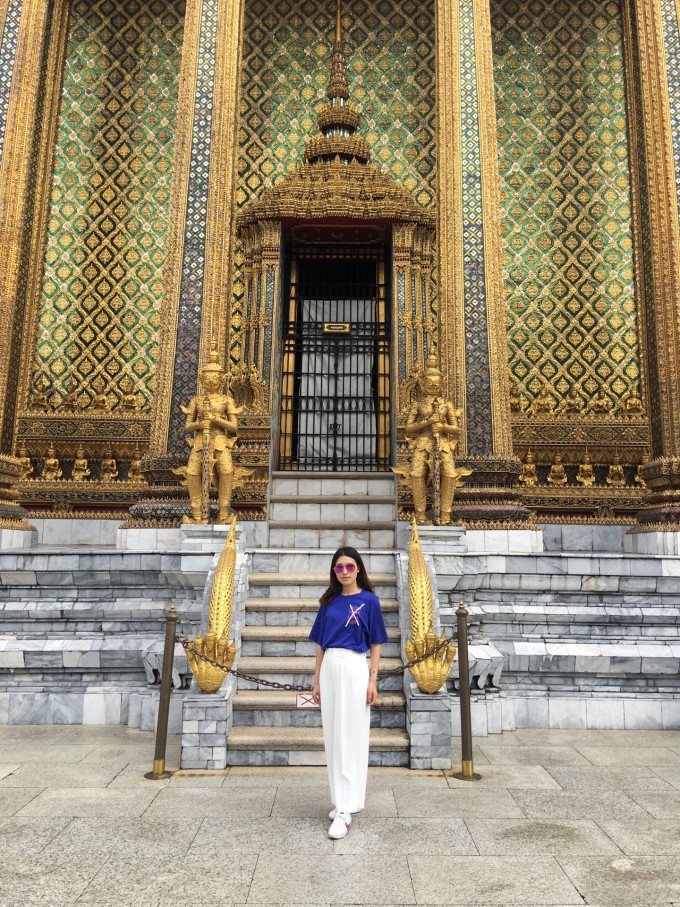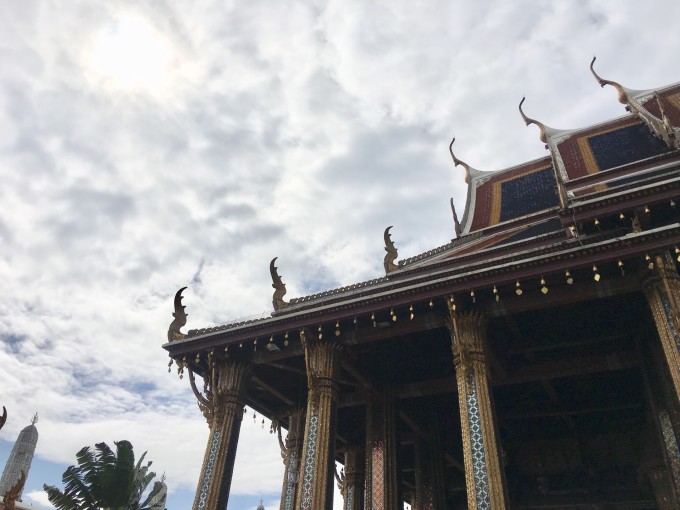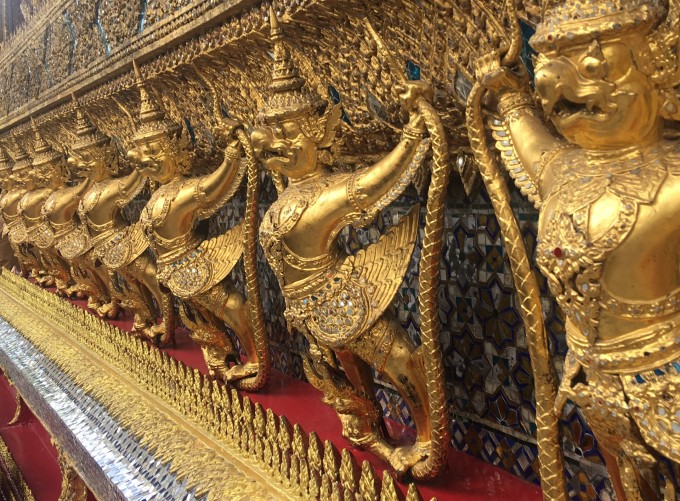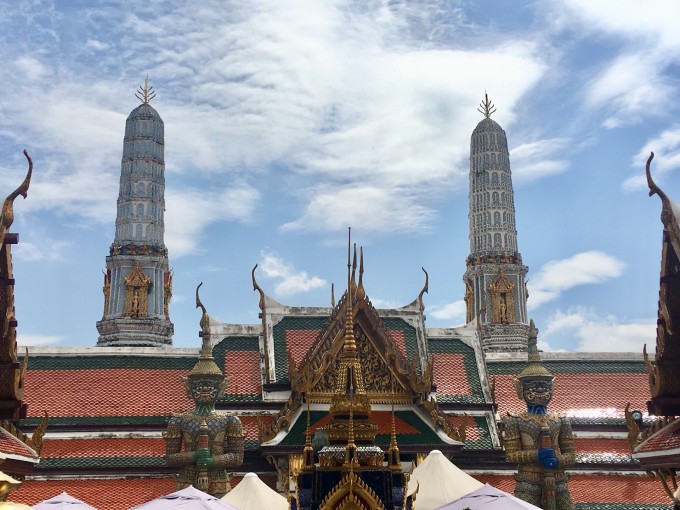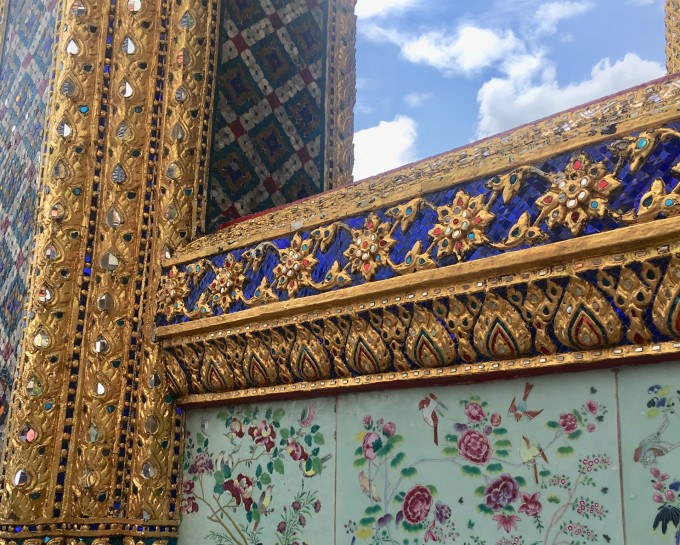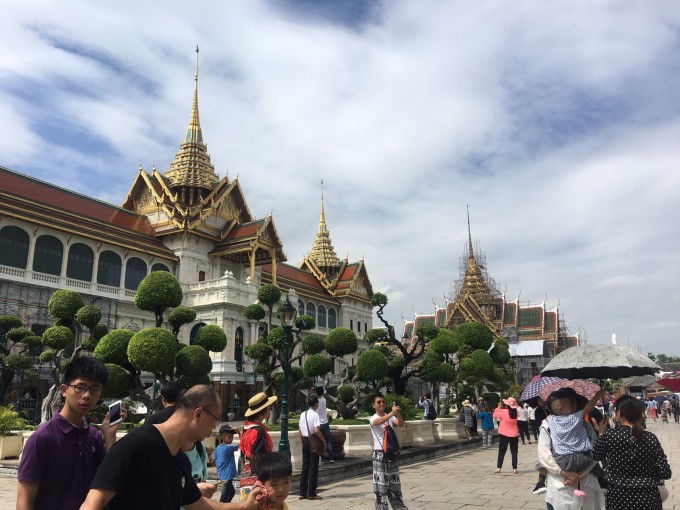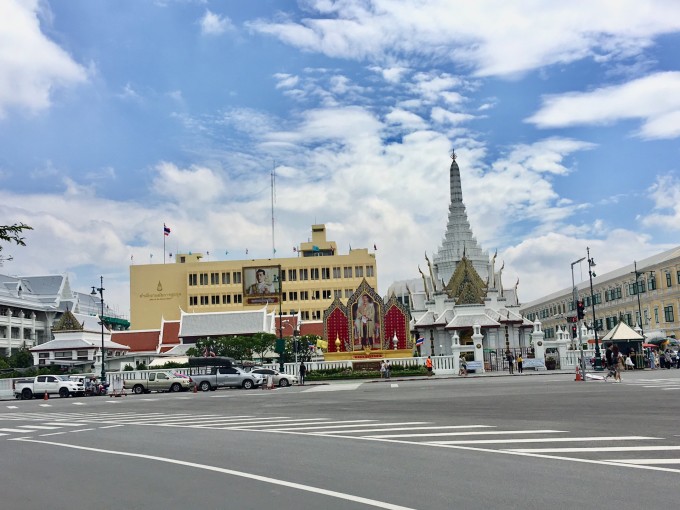 From the Grand Palace out of the street, saw in the distance now hanging in any of the Thai King's portrait - Maha Chulalongkorn wow set (more on his gossip, had married either 4 wife), his father took office King - Bhumibol Adulyadej, who is the world's longest reign of the monarch, ruled Thailand more than 70 years, he was regarded as God's own people, he is the world's richest king. Thailand The king has a very high status in his country, playing the role of "savior",
Thailand Everyone must bow to the king when they see the king. See this strange posture in the picture below.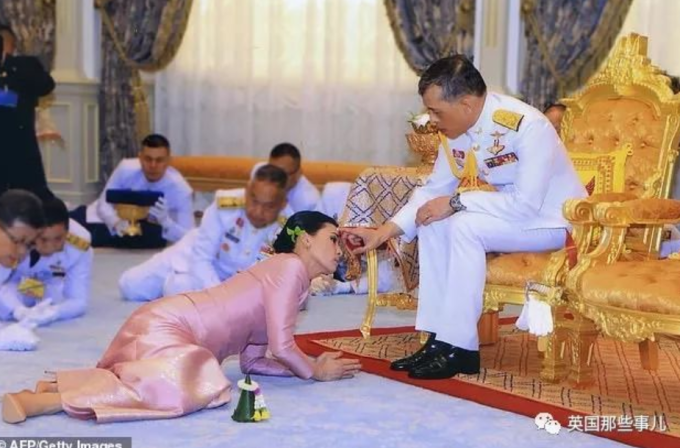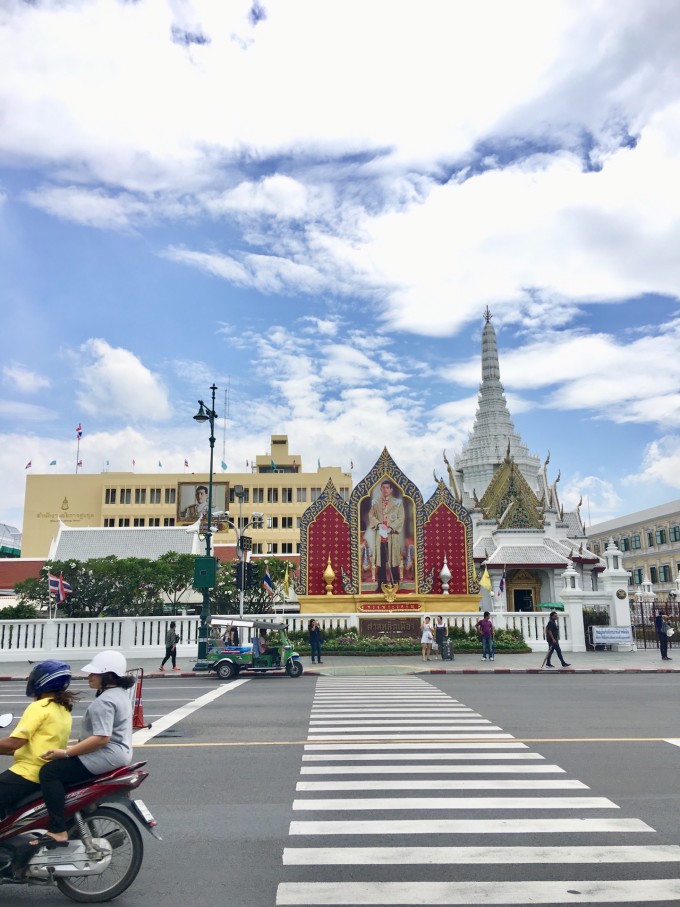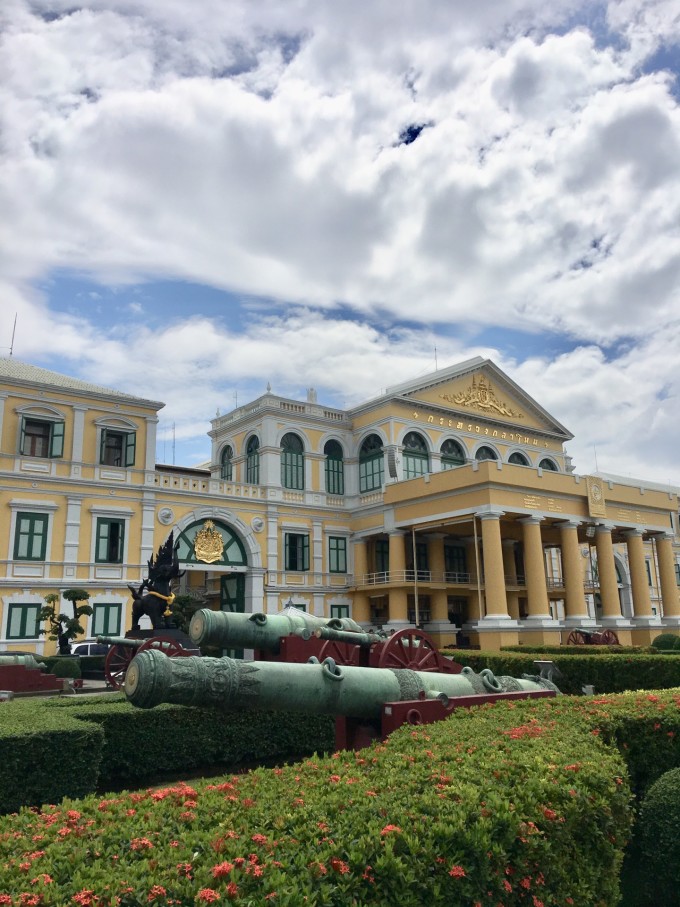 Wat Pho, 100 baht a person, next door at the Grand Palais, the temple has a Buddha Woyu above the altar, is a Bangkok city's largest reclining Buddha.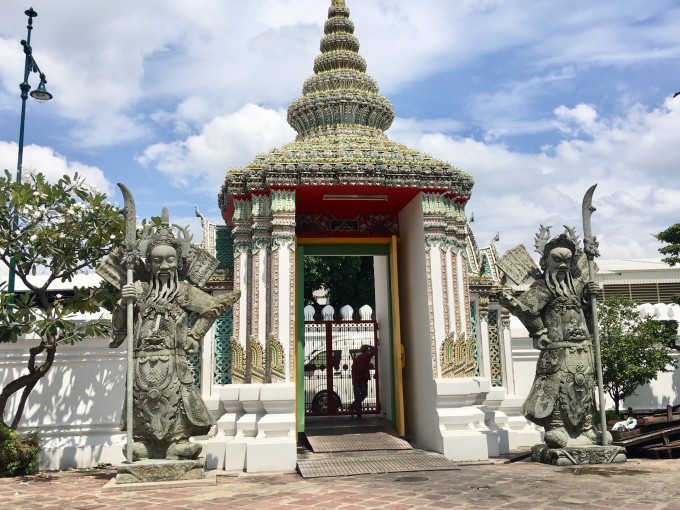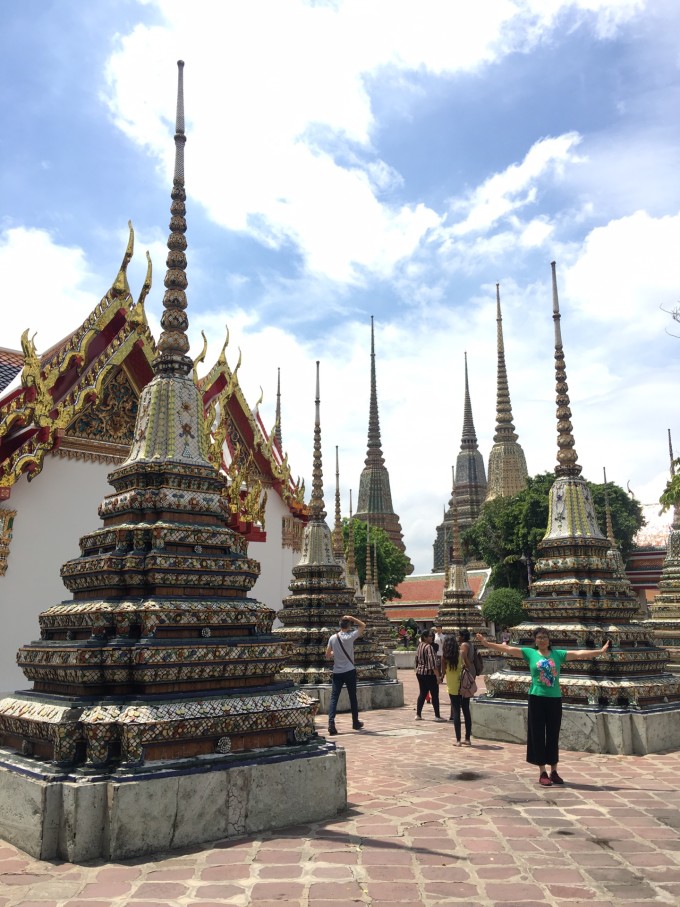 Reclining Buddha in Tallinn , the mother photographed signs posture, hands open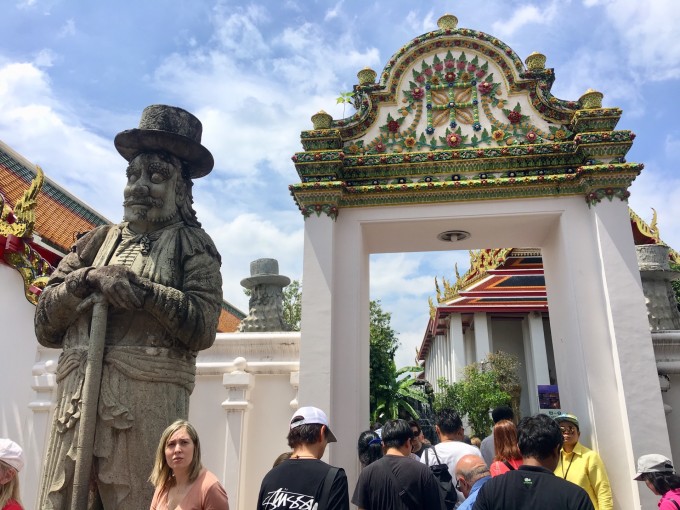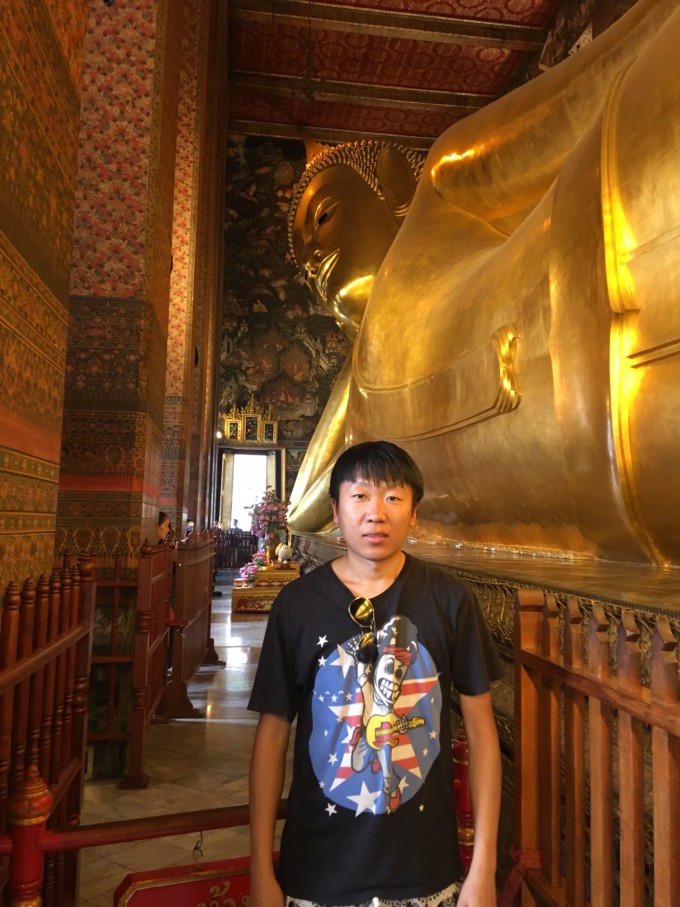 Wat Pho
Take a photo of Maomao with a sluggish expression. You need to take off your shoes when you enter the door. There are special pockets. Put your shoes in your pocket and take it with you.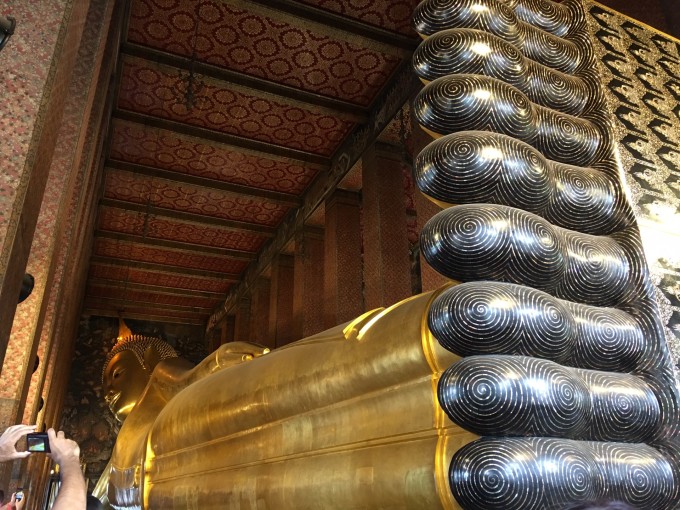 Wat Pho
The reclining Buddha almost occupies the entire space of the Daxiong Hall. The reclining Buddha is 46 meters in length. There are 108 bronze bowls in the temple that symbolize the Buddha to Nirvana. The soles of the reclining Buddha are decorated with 108 auspicious patterns made of pearl shells.
The reclining Buddha is the posture of the Buddha in Nirvana, with his right hand resting on his head and lying on his side. The body length is too long, so only the position of the soles of the feet can take a picture of the reclining Buddha.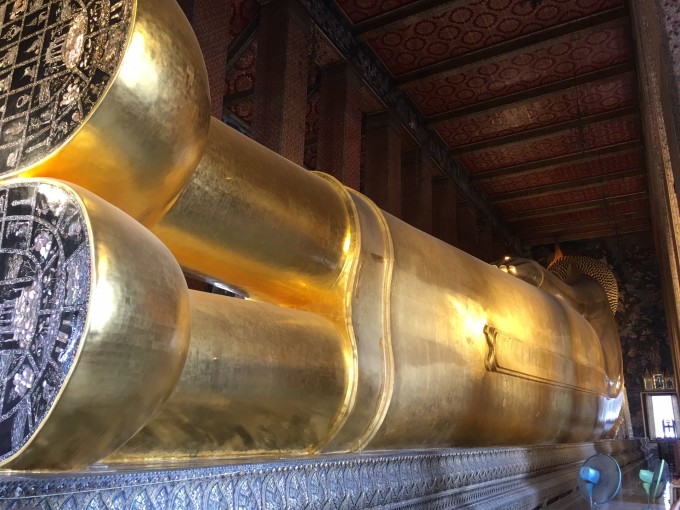 Wat Pho
Hee hee, I like to shoot behind the big Buddha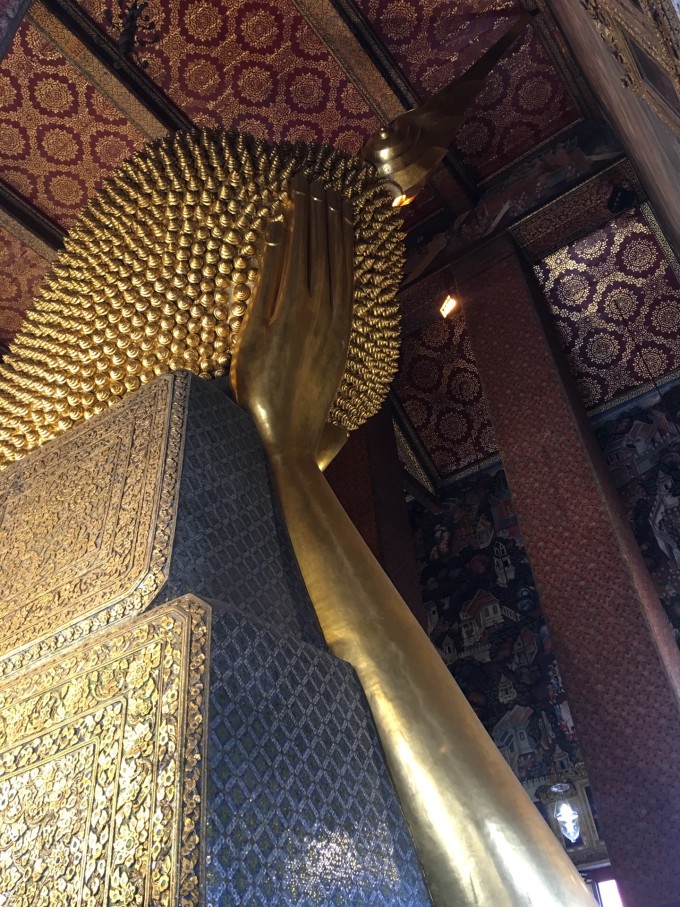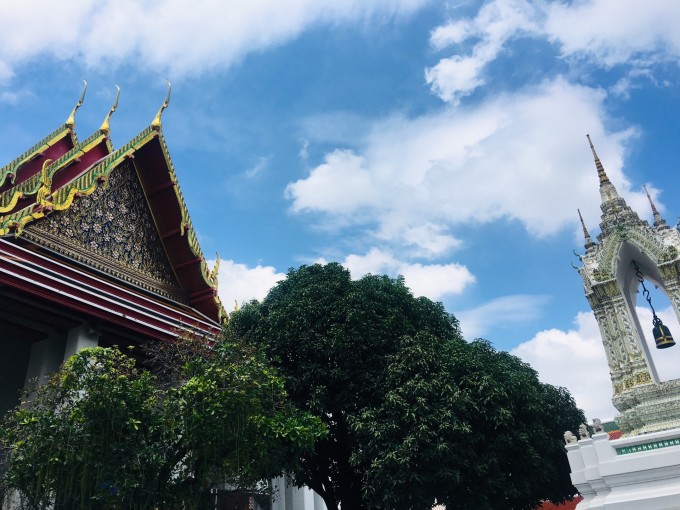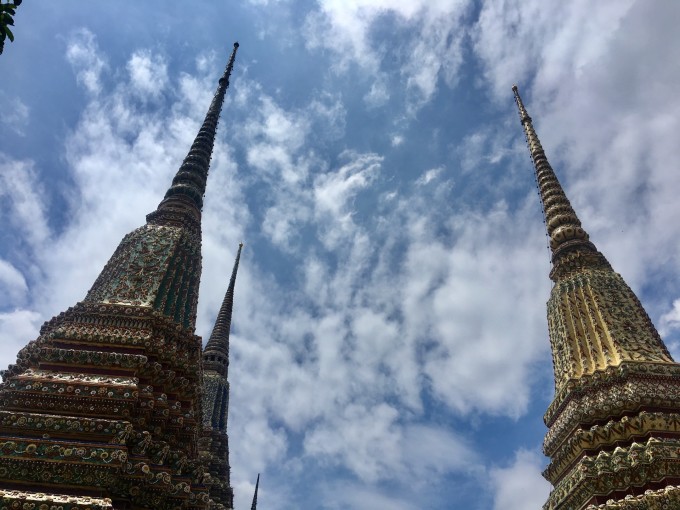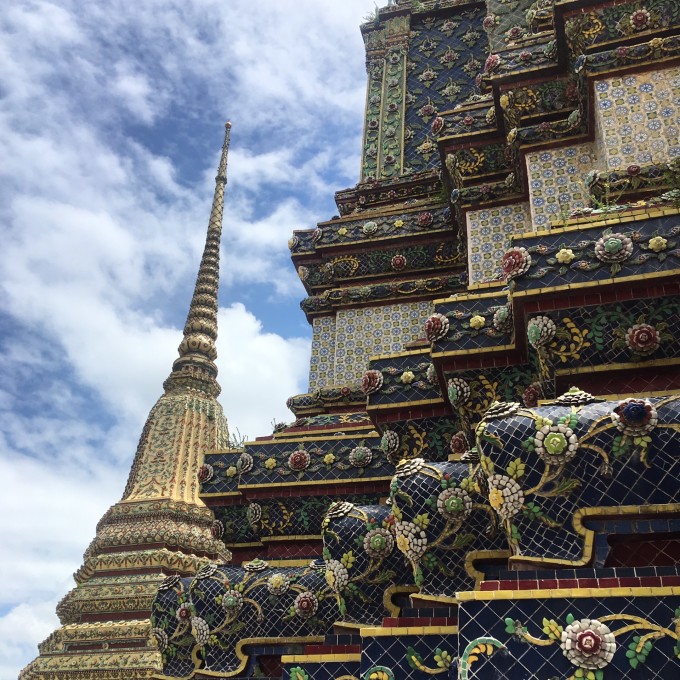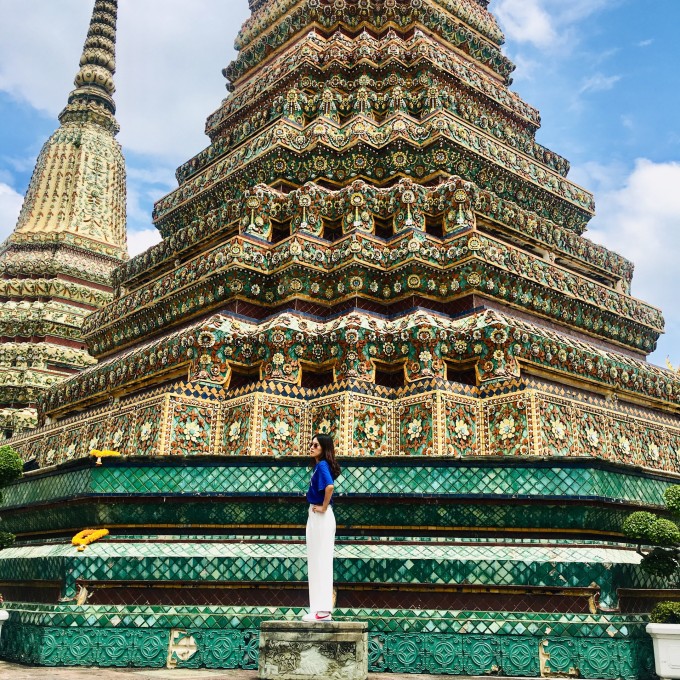 Went around all morning, had lunch nearby, the taste was quite normal, I didn't remember which one it was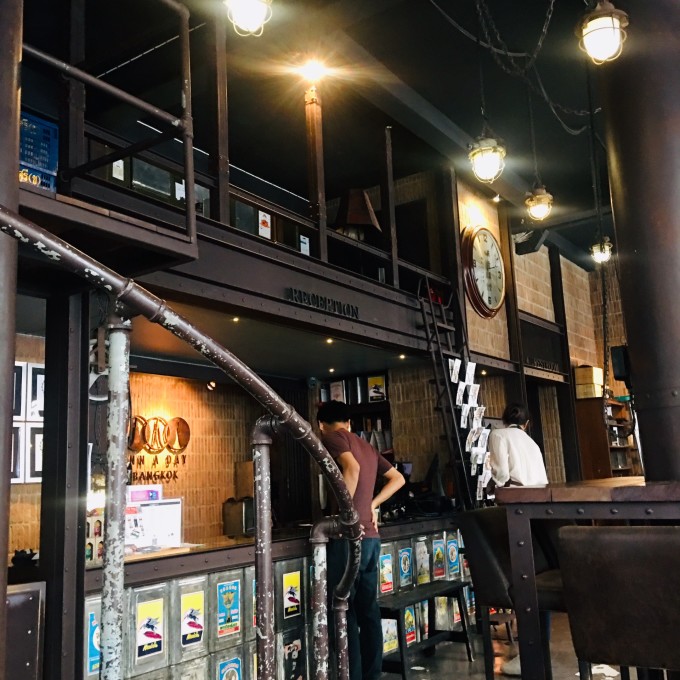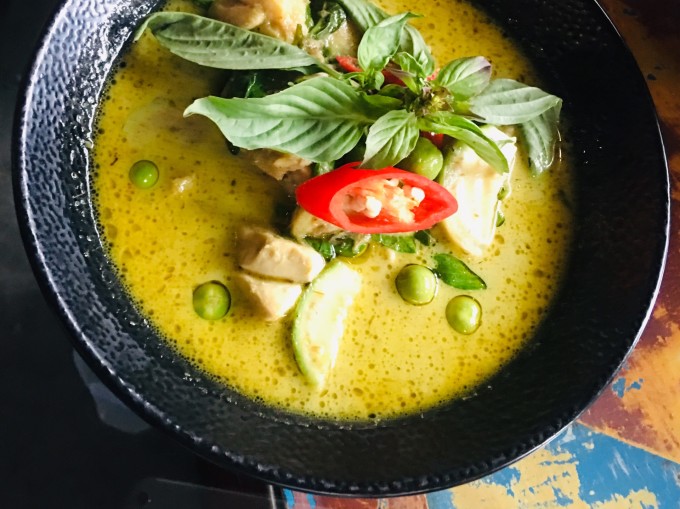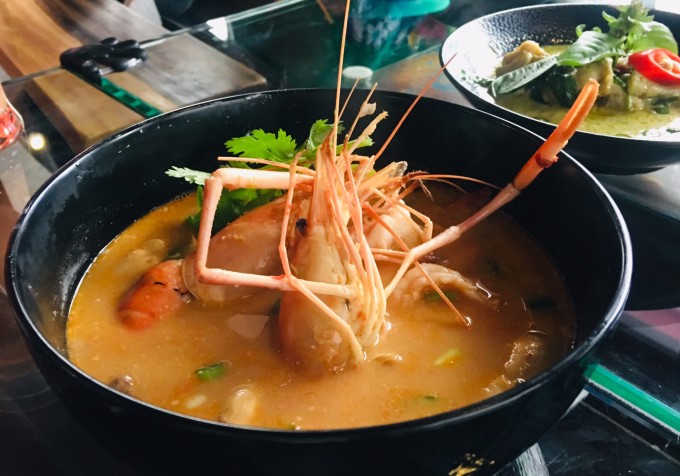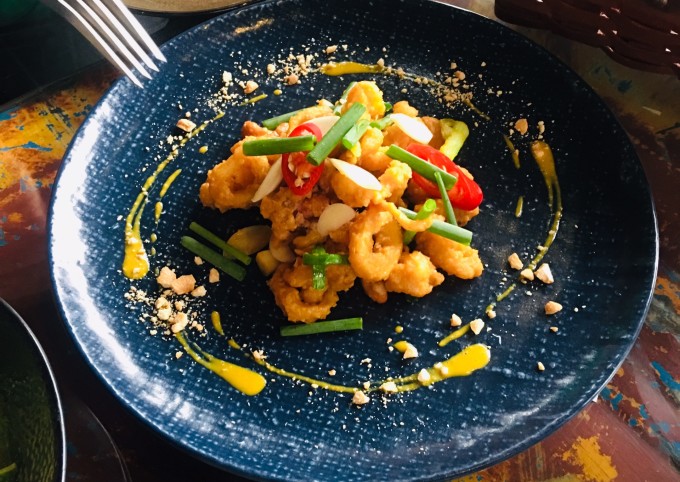 The next stop is Wat Arun. Walk from Wat Pho to Pier 8 on the Chao Phraya River. It costs 4 baht to take a ferry to Wat Arun. Personally, I think Wat Arun is still very beautiful. The white pagoda is under the blue sky. The silhouette is very beautiful, and the golden light of the larger palace is more refreshing and refined, and its scale is second only to the grand palace.
Wat Arun is the commemoration of Thailand on behalf of 41 kings, national hero Zheng Zhao temple, he had led his army to expel Myanmar enemies, to save the rivers and mountains, and created Thonburi dynasty.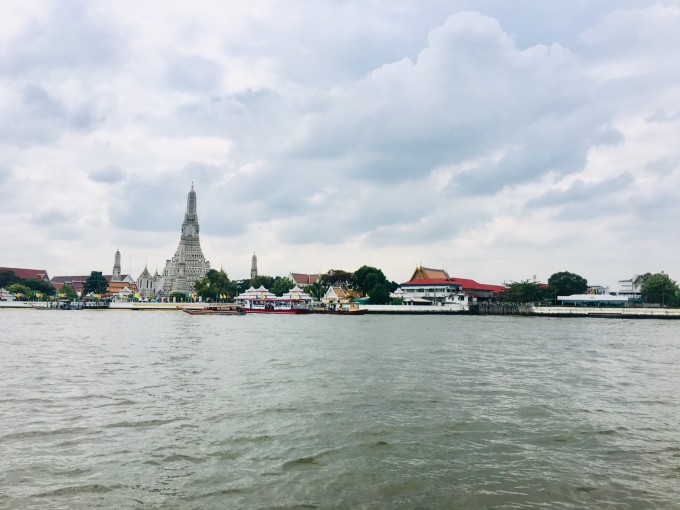 Wat Arun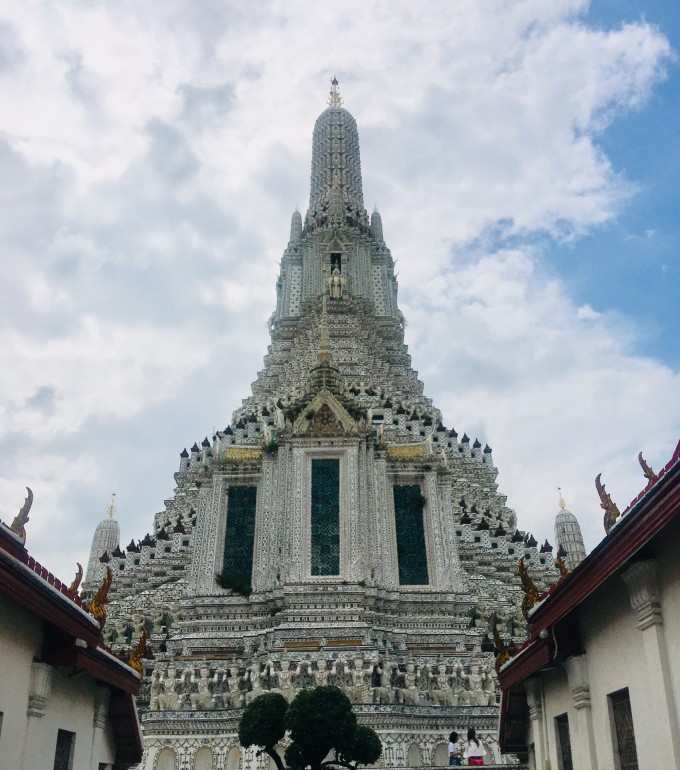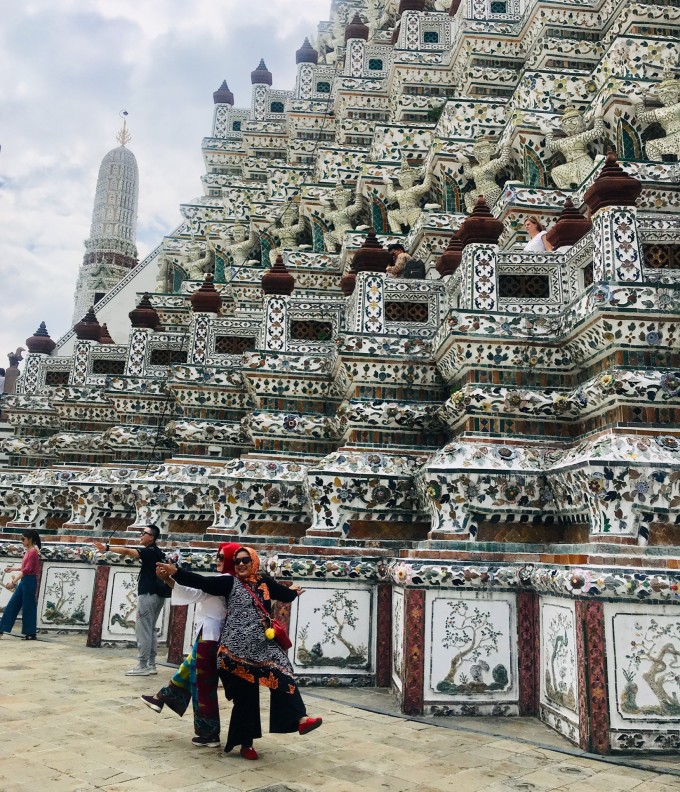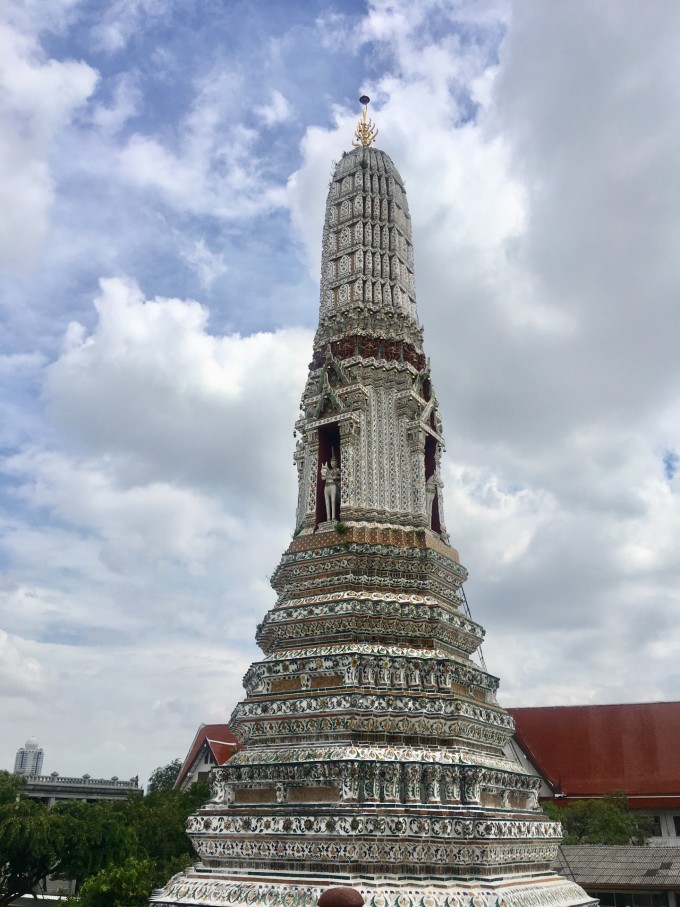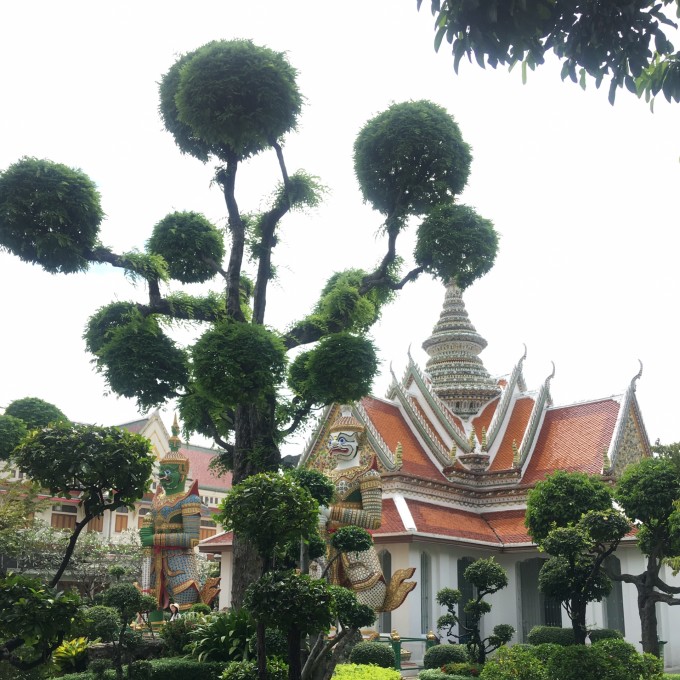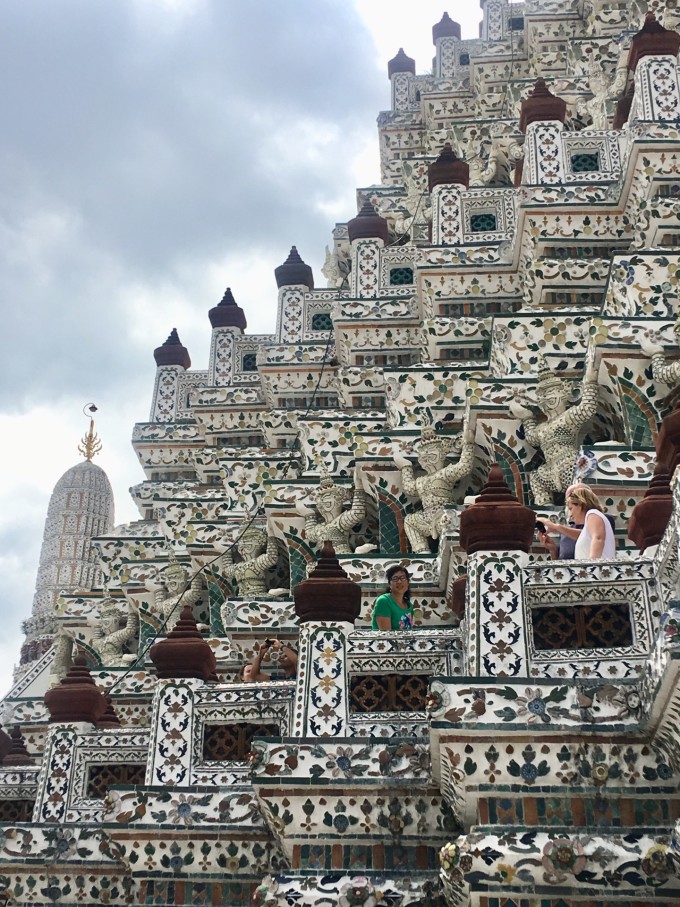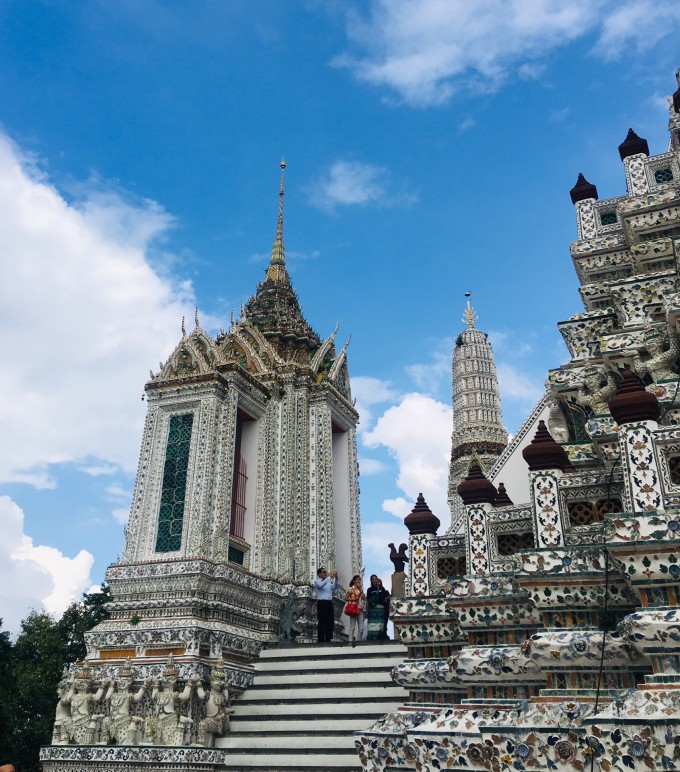 The next stop is Chinatown. Chinatown is on the opposite bank of the Wat Arun. You need to take a boat from the Temple to the other side.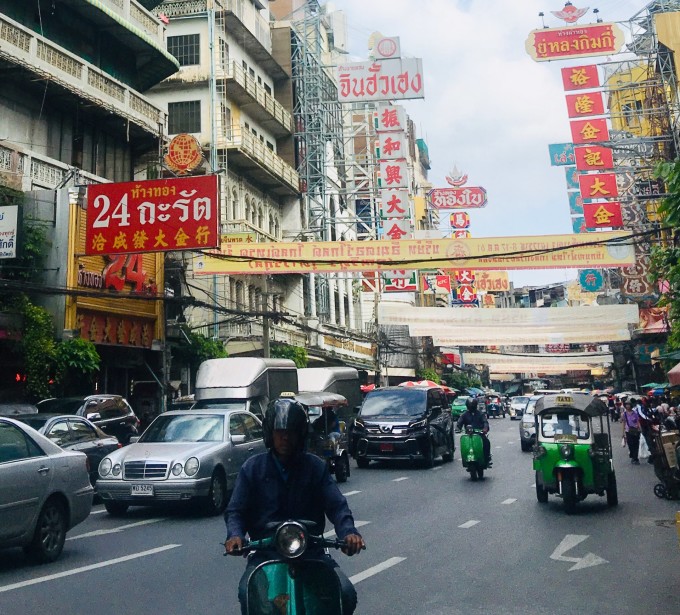 Chinatown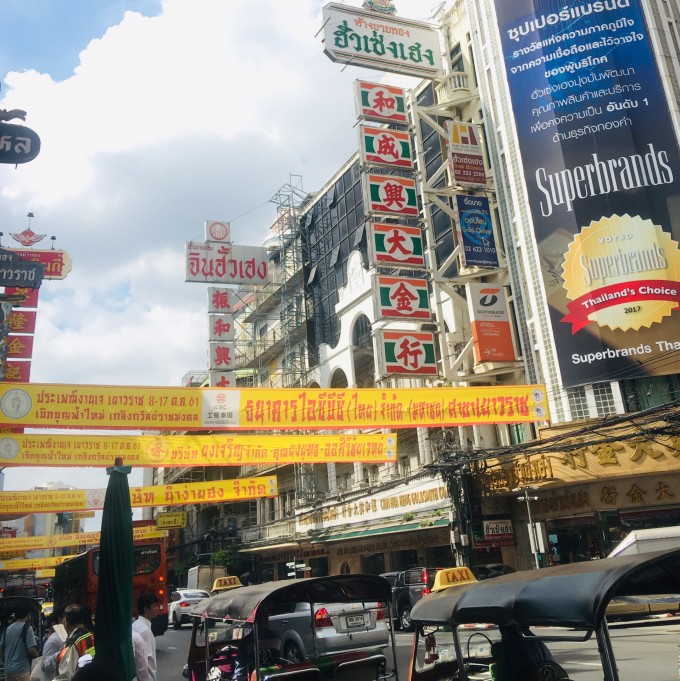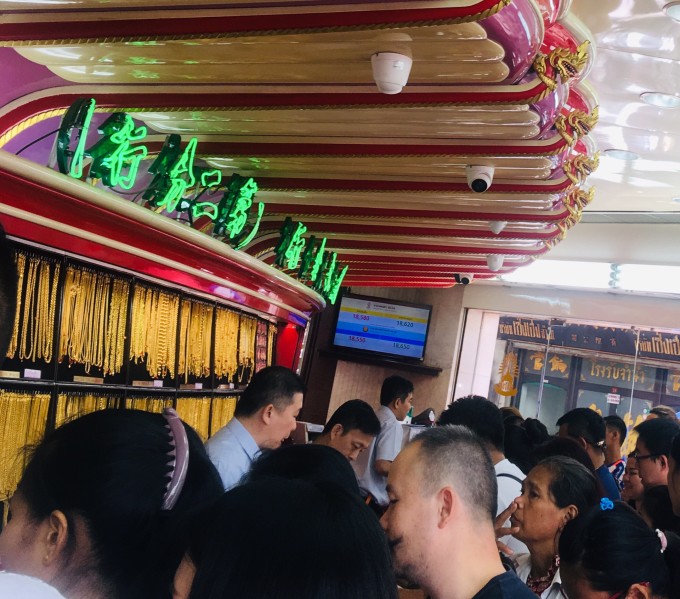 It is said that Bangkok 70% of the distribution of gold shop in Chinatown, since "Chinatown Holmes' fire, so wanted to see what kind of Chinatown, if it does not then all gold shop, the store a lot of people, do not feel too much fun, we returned to Siam Go shopping near the center, then go back to the hotel to make corrections, and prepare to return to China the next day. This trip ended smoothly. At this point, I can finally take a long breath. It took a year and a half to finally finish writing the protracted travel notes.



Regret and look forward to the next check-in destination
1, the travel choice eleven, but the Similan Islands not to opening hours;
2, may be due to the night bazaar a few fireflies open a week, did not go to distant locations;
3, Thailand 's Muay Thai did not watch the show, mainly tickets are a bit expensive;
4, the next one would like to go to Chiang Mai - Pai , small fresh taste, especially want to experience at Chiang Mai Loy Krathong;
5, Thai local night market there are too many, next time be more careful arrangements for a few nights to go shopping;