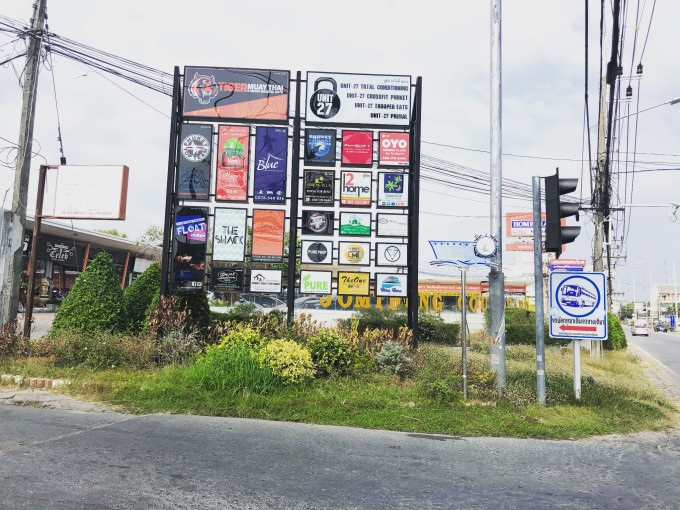 Boxing Stadium Street Sign Street Sign-I always feel that it is very ritual to see it.
I am a very tangled person. The same applies to the choice of boxing gym before the training trip.
But fortunately, looking back now, there are no particular mistakes.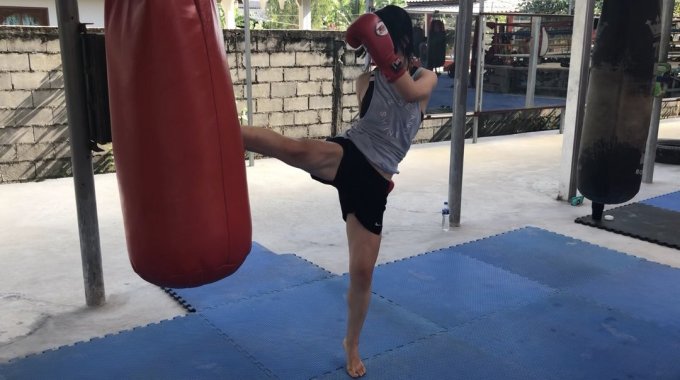 Very white little white.
Muay Thai: From the end of August 2019 on Muay Thai private lessons, intermediate replace Thailand coach. I have attended more than 20 private lessons. More than a month before departure, 3-4 Muay Thai classes a week were added.
Ba Rou: I haven't learned it. Because I saw that there was a Barou class in the class schedule, I thought about taking two classes before I set off.
Aerobic: It takes about 1 hour to run for 10km. Can't swim hahahaha.
Strength: equipment or weight training. The muscle content is 25kg. The fat content is 15%
anyway, out of enthusiasm for fighting, I set out.
Training time: January 20, 2020-February 8, 2020
Training period: 8:00 am-7:30 pm. There are 4 hours of rest in the middle.
Training location: Phuket -Chalong District-Boxing Stadium Street and nearby.
Training venues: Muay Thai-SuwitMT class and private training, Muay Thai-DragonMT Dragon Hall private training, Barou-Evolve large class
Training frequency: an average of 3-4 classes a day.
I try not to skip the Ba Rou class, so it is usually 1 or 2 Muay Thai lessons + 2 Ba Rou classes. The weather was so hot, after a few private lessons, there were no more classes. No running, no strength training. Beginning three days because too excited, 5 a day practicing, then there is no class in order to catch fully extended, then a few of my Vincent The hungry muscles of the body are sore. It feels like a walking lactic acid. Using Muay Thai oil, it is really grilled like roasted meat. After slowly adapting to being lazy, the intensity of about 3-4 classes a day is within a tolerable range.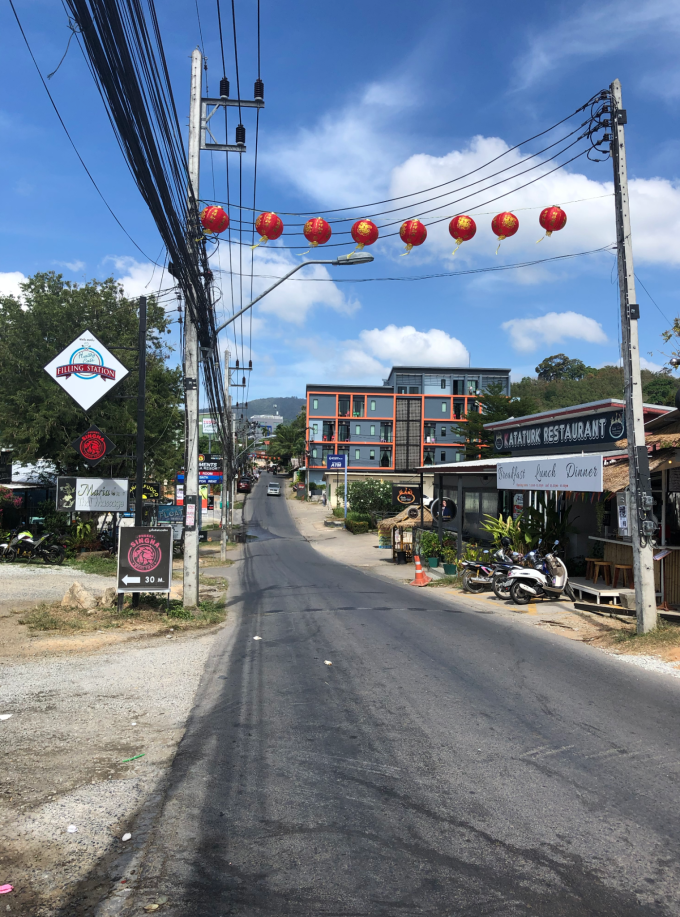 Boxing Stadium Street
Before I set off, I searched for strategies on various forums and websites, searched for store contact information and sent various email consultations, but found that the information was far less complete than the strategies for popular attractions. There are also many strategies for tourists after the training experience. I also posted a post about finding a female partner, but I received many consultations from young ladies after I returned.
Maybe write down what I saw, maybe there is a little bit that can help my friends who are preparing to go to Phuket for training.
Prior to Phuket I always thought that all of the restaurant in boxing hall or near the street, but in fact, Phuket entire island is full of Muay Thai culture, can be seen everywhere boxing posters, boxing hall but also throughout the whole of Phuket . So if you want to take a walk to the beach sooner or later, training in Boxing Gym Street is very inconvenient. The distance to the nearest beach is about 6km.
But the most famous restaurants are in Boxing Stadium Street, so let's start with Boxing Stadium Street.
Tiger Muay Thai & Mixed Martial Arts
· Because of the good marketing, the people trained in the tiger restaurant make me feel that they don't have the off-season
. The fighting atmosphere is full, and the peripheral equipment is also available. The big tiger head back home, everyone knows that you are the one who has been to the tiger haha
. But because this place is so famous, it has become the first choice for many tourists who want to experience fighting for a week or two
. So I heard The coach here will easily treat you as a tourist to train
. It is more suitable for friends
who have a short training time and experience Muay Thai . Or a coach who knows, come directly to the coach for private lessons~
· Because of my series of reasons , I skipped his house without studying the tiger carefully.
· I heard that Tiger has good personal training coaches. Some CMT coaches went to Tiger.
· Regarding the recommendation and contact information of the Tiger's good coach, I have confirmed with the young lady who has trained at it and will update again~
The oversized face of the tiger's house.
It looks like a restaurant next to the restaurant. More expensive than other homes.
Tiger Muay Thai's Weibo official accounts are all available. There is a dedicated operator. It is very convenient to contact his home.
No specific contact information will be given.
· It is suitable for players
who have a good training foundation and find a more powerful pair training. · It is said to be the most powerful MMA on the island. Of course Xiaobai can also practice.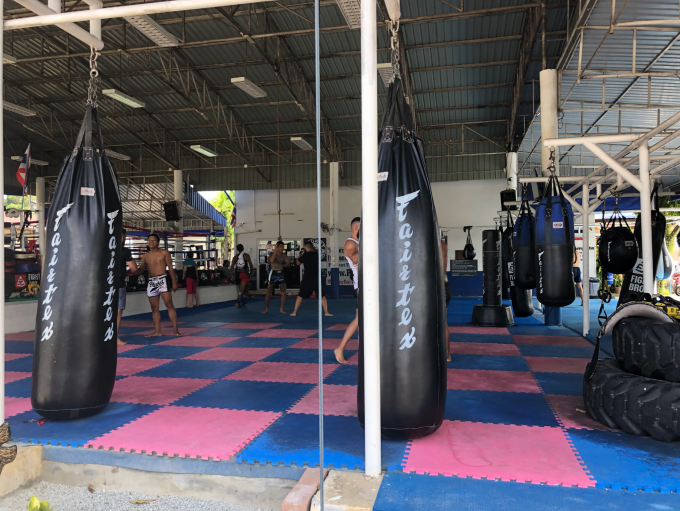 One day after class, it was like noon, and some people were training.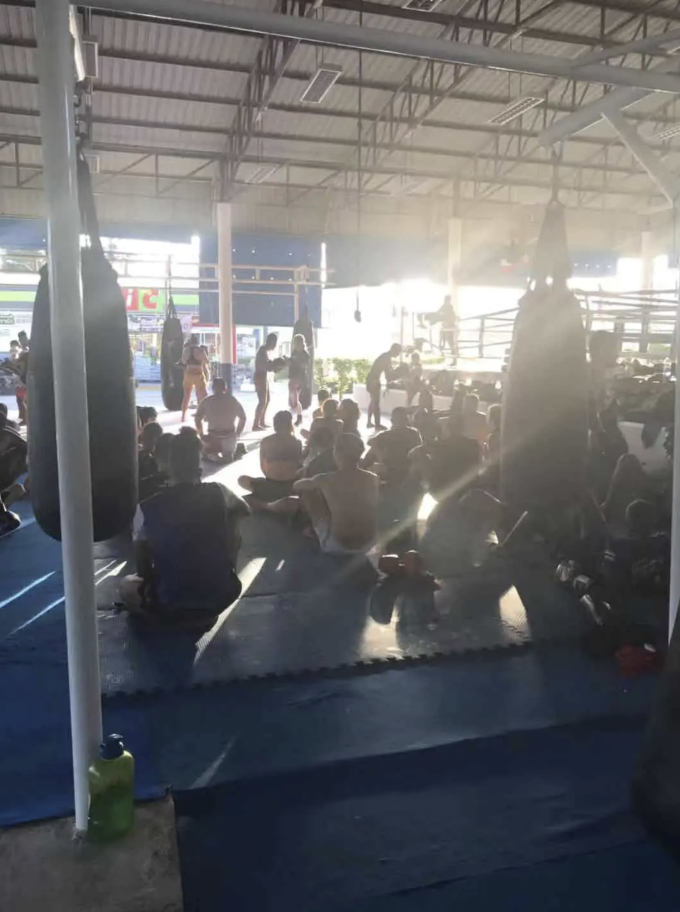 Boxing class is a big time. There are many people waiting for each PTT team. In
Muay Thai class, everyone is divided into several teams. Waiting for target shooting, there are about 5-8 people in each team. It is estimated that the team of the coach you like will have to wait a little longer. You will also be able to see the parents taking pictures of their children.
Before going, training in PTT always gave me the feeling of a place of pilgrimage. But during the winter, PTT is really crowded to overflow.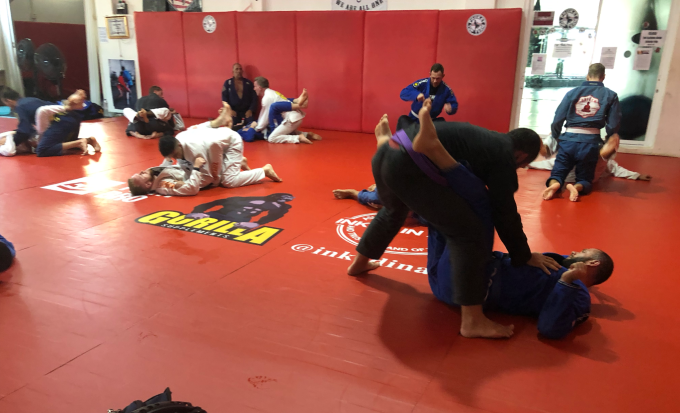 PTT morning Barou class In
Barou lesson, you can see a black belt sitting and watching everyone. It should be a coach and a room of players in Rou.
Wuyangyangyangyangyangyangyangyangyangyangyangyangyangyangyangyangyangyangjian........ The fighter... As
expected, PTT is more than just the MMA holy land in my heart. However, it is indeed more suitable for players who have a foundation and go directly to practice.
Some information learned through email and PTT customer service:
The content of the big class includes A regular Muay Thai class consists of:
· warm-up: running, skipping rope, stretching
· bag work 3-4 rounds 3 mins each
· pad work 3-4 rounds with a trainer 3 mins each
· sparring 3-4 rounds with other students in the class 3 mins each
· clinching 3-4 rounds 15 minutes
· sit-ups
· end of class: announcements, shake hands with trainers and students
他家的The class schedule seems to rarely be adjusted. It is the one in the boxing gym that I have seen, the earliest time to start class every day.
Winter is the peak season. It is best to book your accommodation in advance. When I was more than half a month in advance, many room types were gone.
Payment only accepts PayPal or cash. At that time, two girls in two weeks bargained, and no discount was given.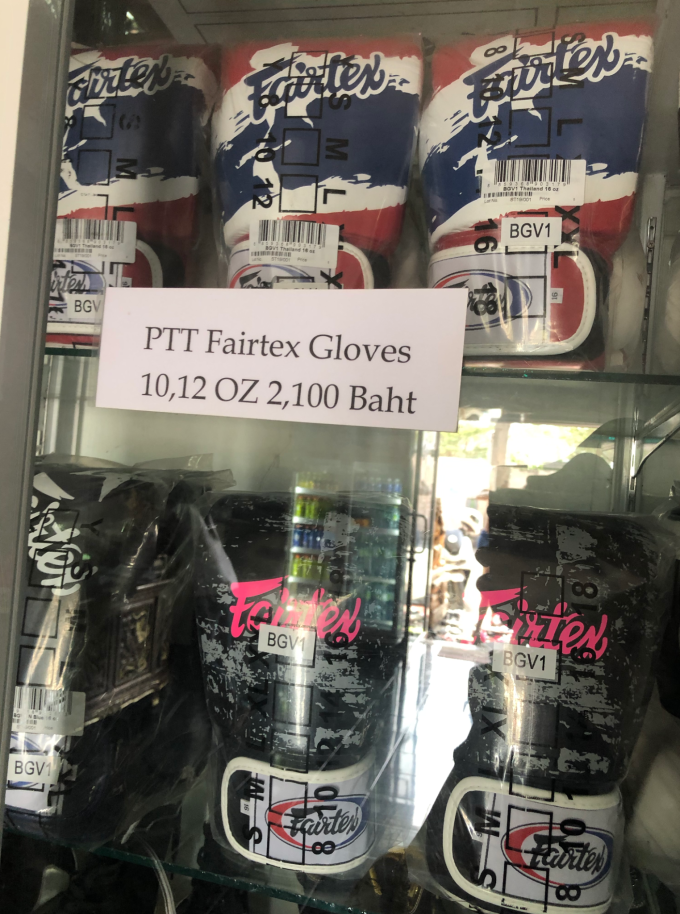 PTT's boxing gloves are on sale.
I bought a T-shirt for 500 baht. Boxing pants are 900 baht. There are also many training suits, and the price in my impression is from 500 baht, and Filipino gloves start at around 2,000 baht.
Because he has a lot of homework, the price of class hours is not expensive. But it is really difficult to train all the lessons every day. The intensity is too great. The difference between the PTT home and other homes is that the private lessons of his home can only be reported by members who have signed up for the big class.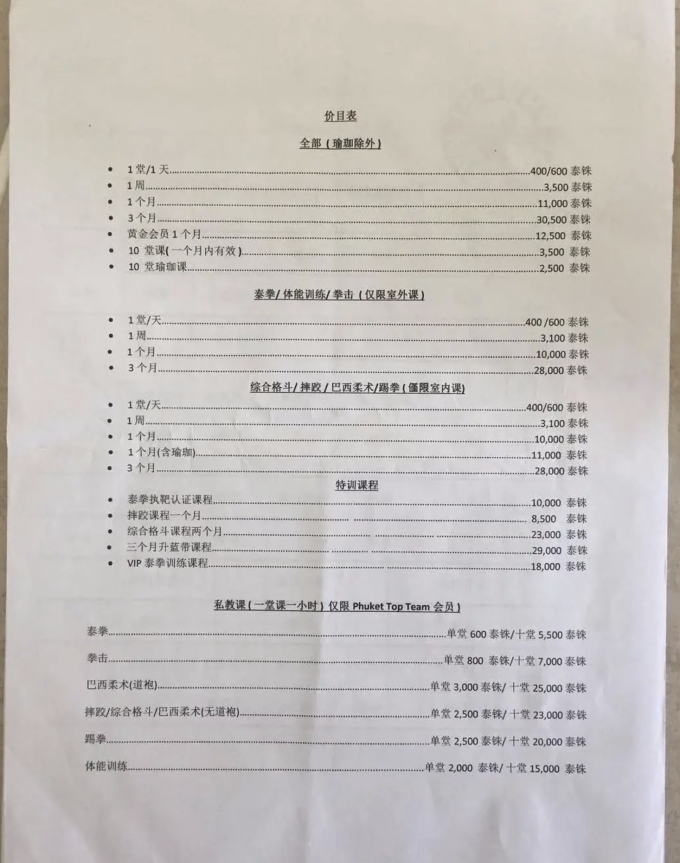 Official class schedule: https://phukettopteam.com/timetable/full-timetable-layout
Price list: https://phukettopteam.com/prices/training
official website: https://www.phukettopteam.com/
email: findmeafight@gmail If you
are interested in .com , please consult. The email reply is relatively timely.
The Longquan Gym, also on the street of the Boxing Gym, is a well-known restaurant, and the Internet celebrity coach Vicharn teaches classes here.
I took 3 private lessons in Dragon Hall, with Vicharn and Beer.
Vicharn is a lot of Internet celebrity coaches mentioned in many guides. His class is very full and he must make an appointment in advance. I had an appointment with him at 1:00 noon. It was really too hot and too hot, so that on the third day after two days of 10 exercises, I was extremely slow and difficult....vicharn also helped me to record a video. Corrective action. But it's a bit difficult for me to get it, and I can't find the action essentials. It may be too tired.
When he was in class with Vicharn on the first day, he taught a kick arc. Although all the coaches would say that kicks must be shaken, Vicharn demonstrated in slow motion how to turn his hand and throw a punch and then throw it back. This technique really helped me find more kicking power. So my standard for finding a coach is still the experience and grasp of the details of the action, which can better make up for my weakness of self-esteem.
(Add a sudden thought: my suwit coach helped me distinguish the difference between top-knee swing and kick-swing, one is high swing, the other is low swing. Great details.)
Every time I go to class, because I always don't stand wide. , This will make my center of gravity more unstable, vicharn will take the three ropes on the ground in Tuli, and let me stand inside the ropes to make movements. Therefore, he is indeed a coach who has studied the details of movements.
The third class was Beer's class. He taught me some practical movements, but did not teach the details of the movements. The actual action is great, but you need to practice more until it becomes your natural reaction. So I feel that I'm not suitable to take the actual combat class now, and Mrs. Ring is too slippery.
One thing I have to mention is that a private lesson is one hour. Although I arrive early, the actual lesson is usually about 10 minutes, just like my last lesson ended 10 minutes earlier, and there is no Let me stretch. In the middle of class, the coach will also chat with other coaches or go to the bathroom or take a break, so in fact there will be no one hour of class time. It's not that I don't need to rest, maybe my attention is entirely on how the mat is so slippery, trying not to fall.
Because I am in the country Thailand coach, when I played in each class will take at least one hour, a break of 2-3 times (see my progress), each no more than 2min. After class, it will take 10-20 minutes (because I'm tired, so the training is slower) for me to practice basic physical fitness, such as muscle strength of the legs and ankles, and some self-stretching.
Domestic coaches are really very, very serious coaches. In each big class, he will communicate with the particularly good classmates who can play the game and train separately.
To summarize the above: the teaching is very good, you can try and correct your actions. Long-term training may require more communication with the coach, which may last longer.
Because I didn't train for a long time for a few months, I didn't attend after 3 classes.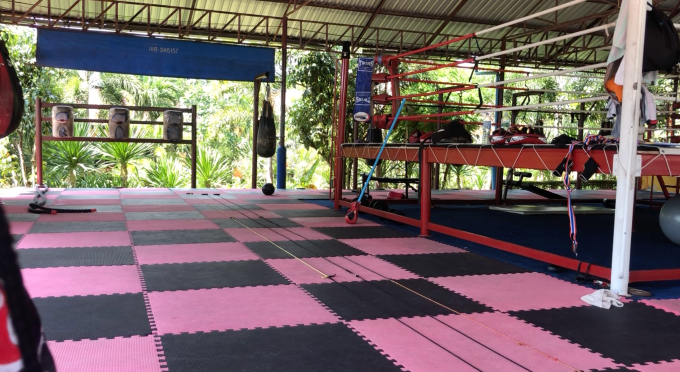 The venue behind the Dragon Pavilion.
In my impression, there are 4 arenas in the back field and 2 arenas in the front field.
I stepped on two of the arenas in the back court. The arena is very large, but the surface of the arena is very slippery. I always slip. For example , when I turn my hips , I always slip. I ca n't step on the solid ground and I can't support myself. Maybe other self-important or accustomed students will not do this.
There are a lot of sandbags and everything, but they are...very broken...surely it is the old mansion of the manager's Fengshuang...
There is a large concrete pavement between the mats in the backyard. The mat is always stepped on when running around the field to warm up.
On the left hand side of the picture, there is a mirror on the opposite side of the ring, and you can make gestures against the mirror.
There is a class where the target used by the coach is relatively new.
Accommodation is about 10,000-12,000 baht a month. About 8,000 baht for two weeks.
There is cleaning at the front desk. There are refrigerators, hot showers, TVs, and small sofas.
You can rent a house alone without reporting training courses.
Official website: http://www.phuketdragonmuaythai.com/
Exuberant Chokchai Muay Thai
Wangsheng is a restaurant recommended by many people, the teaching quality is very good, and there are many good coaches. It is also the only Muay Thai training school certified by the Education Bureau. So its target master certificate is officially certified.
The coaches trained by his family are almost all excellent, and there are many famous coaches. When you hear that this coach came from CMT, it feels like you heard that a classmate came from Qingbei.
But I do not know road because why many coaches leave his home CMT, do not go home with class, I heard Vicharn CMT is trained. Many friends also said that his family is now a bit in decline. I started contacting and making reservations about a month before I set off. During this period, the coaches I contacted all left-really, the changes were too fast.
The CMT restaurant is not on the main street, but in an alley, passing by while running. The venue is very large. Seeing that there is a prosperous restaurant, it is recommended by many people and the teaching quality is very good. But I do not know road because Why, many coaches from his family leave CMT to take classes in other homes, and many friends also say that his family is a bit declining now.
The CMT restaurant is not on the main street, but in an alley, passing by when running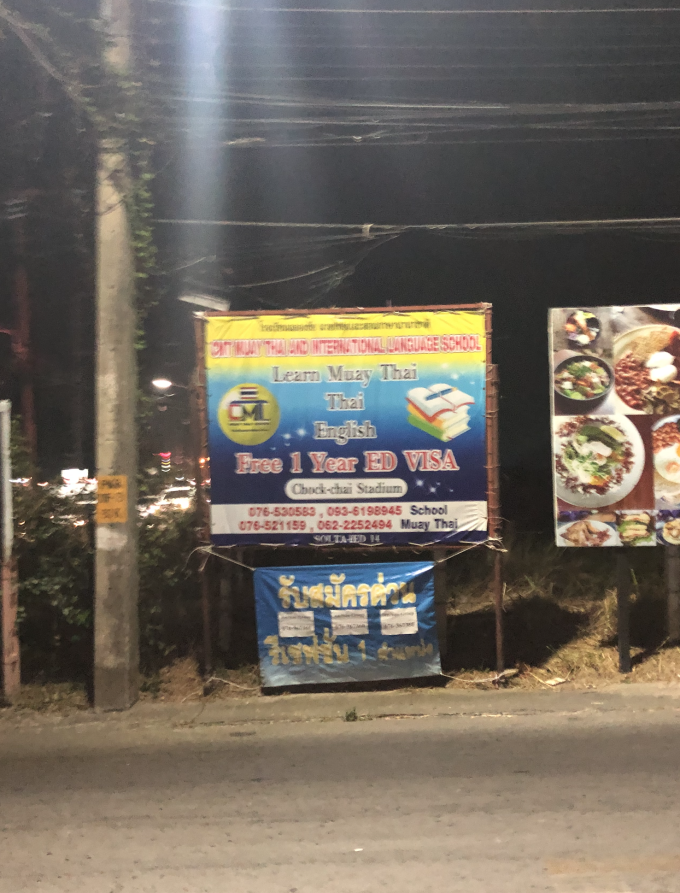 CMT's home is at the intersection.
A coach recommended by a friend who has trained in CMT:
Yao, a 50-year-old heavyweight uncle. I teach very seriously. You can ask him for private lessons.
Provide accommodation: 9,000 baht for two weeks. The accommodation and environment are very good.
Email: cmtmuaythaischool@gmail.com The
reply is very slow. After I had booked all the itineraries, I received his reply. Buddhist Department operations.
Evolve is a new building, originally a gym, providing fitness and healthy catering. Make a Thai local coaches to teach Muay Thai, please Bajocian a black belt instructor, see the MMA ins are done.
Bajocian because I wanted to practice, but not every restaurant has Bajocian course, a lot of restaurant Muay Thai coach is Thai , but Bajocian coach did not locals. In general, Ba Rou instructors also need to be invited separately, so there are not many restaurants with Ba Rou classes.
I learned at the time that there are Barou's restaurants: TigerMT, Phuket top team, and AKA, all of which are mixed martial arts centers. I also found a Gracie Hall on googlemap, but in the past, I found it was a Muay Thai gym.
Then this is the new Ba Rou class offered by Evolve. It rescued me who didn't want to go to the crowded ptt. After I went, I found that this was a very correct decision.
In fact, every coach has great skills, but for teaching, whether the coach is willing to teach, and whether he can communicate clearly the skills is another matter. So when choosing a coach, you still need to find the one that suits you.
Evolve's Barou coach is called Jaime. He is very nice and funny. He often makes us laugh, but at the same time he is very attitude. I am very serious about teaching, because I have a lighter self-respect and can easily complete control movements compared to other students, but I sometimes have a little difficulty. So the coach taught me a lot of details to help me maximize the leverage or explosive power of my skills. The charming place of Ba Rou is probably here~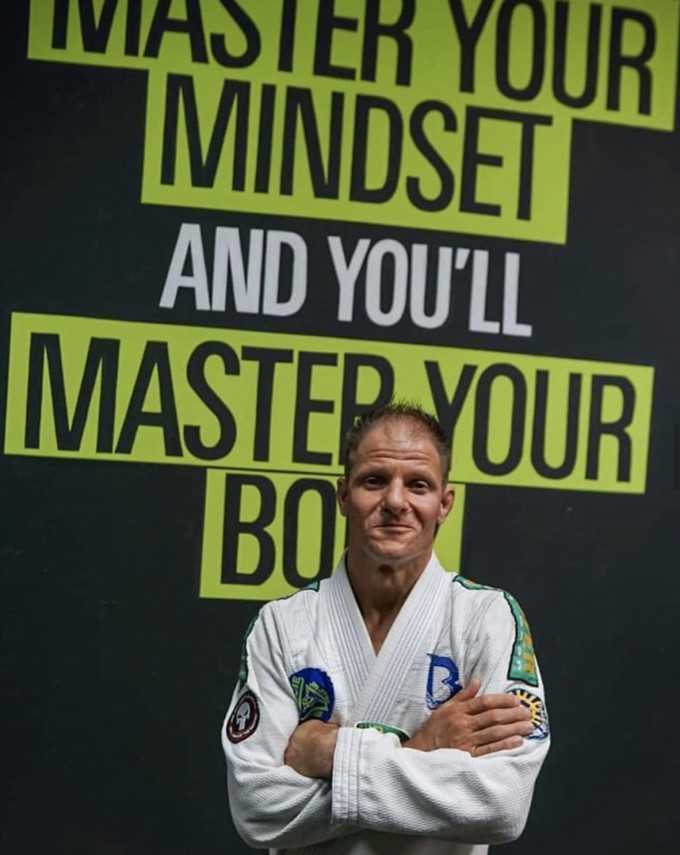 Black Erba Rou coach Jaime's
big class training process:
· Basic movement training, shrimp line and crab line, roll forward, then roll, and then kick over Z-line, etc. (I really want to train and cry in retrospect)
· Technical teaching module, After each teaching, everyone will make their own combination of exercises. Jaime will run around the house, personally instruct each group, each student's movements, very responsible. Techniques and exercises range from about 3-5 times per lesson.
· Then it's actual combat, 5 minutes round, and then change to roll. Each lesson varies from 4-5 rounds. Saturday's open mat will have an hour and a half of actual combat.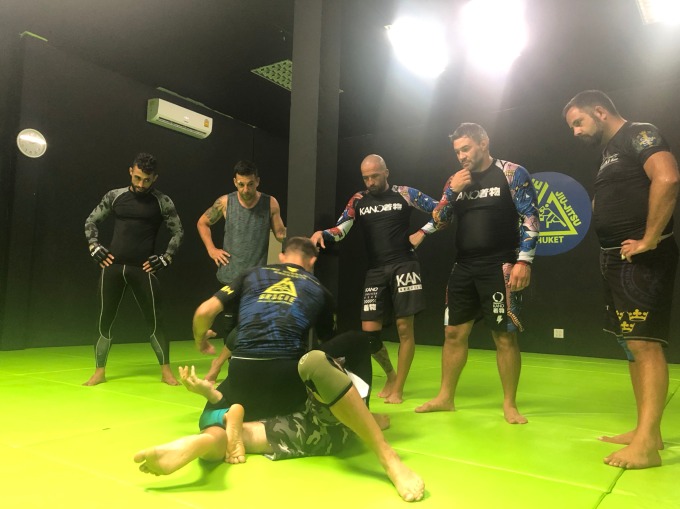 In the teaching before the open mat on Saturday, the middle one is coach Ba Rou. On the far left of the picture is Evolve Muay Thai coach. The second from left is a coaching background. The first right is a purple belt, and the second right is a black belt. The uncle who was demonstrated in the middle was also a black belt, I remember it was a black three. There is also a second uncle Hei who has not been in the mirror. They are all very powerful players...
Bahrou has a lot of technical details. The important details the coach said yesterday, I did miss the next day. Then I took a lot of videos and notes. Collecting means that I have learned it. That's it. Hahaha.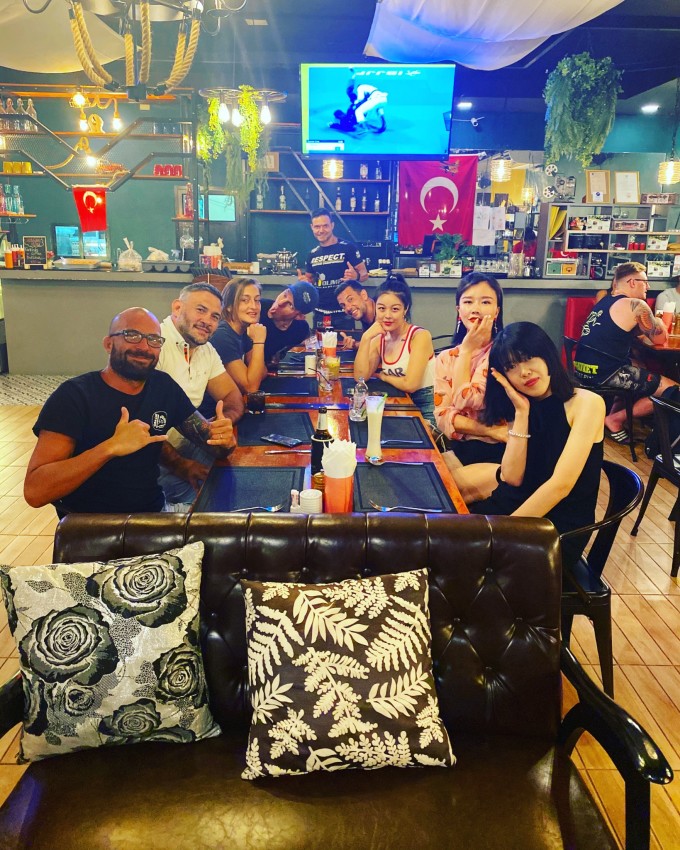 Mrs. was very sad during the days of the breakup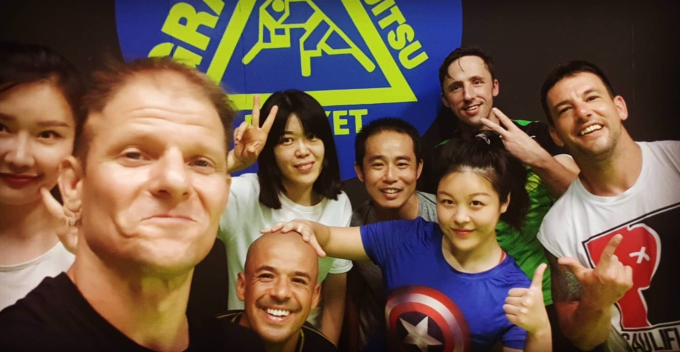 Morning no gi class
. A week and a half before I went, I met three uncles in the same class with black belts and one purple belt. There is really almost no such possibility in China. Really lucky.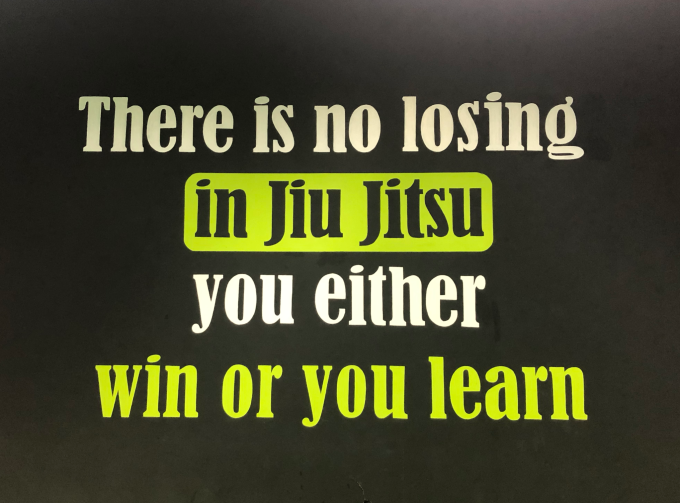 I love Team Gracie very much. Before I went to Phuket, I saw the old man's famous saying: Be so strong that nothing can disturb the peace of your mind. – Carlos Gracie Sr. is a philosophy of life that sees everything through.
In the course of Evolve training, Jaime coach and classmates gave me very, very, very much encouragement and support,
allowing me to find a lot of confidence.
Let me see the unique shining point on each person.
Let me believe that I can, and seem to be capable, to get better.
Allow me to reconcile with myself and the world.
I'm just like that, I found my balance.
Fighting makes me feel too much. Let me learn how to live in a hurry.
Thank you Jaime and every one of the fighters who encouraged me and walked with me. Thank you Evolve.
At the farewell, coach Jaime told me, remember everthing i taught you ok? Almost cried at that moment.
you inspire me more than Jiu Jitsu,
I will remember it with my heart and bring it into my whole life.
Evolve课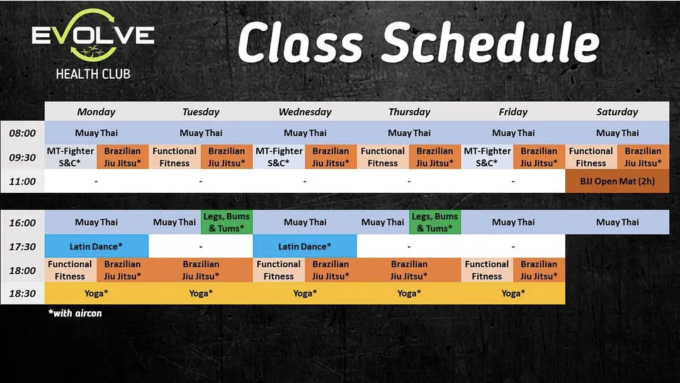 EVOLVE timetable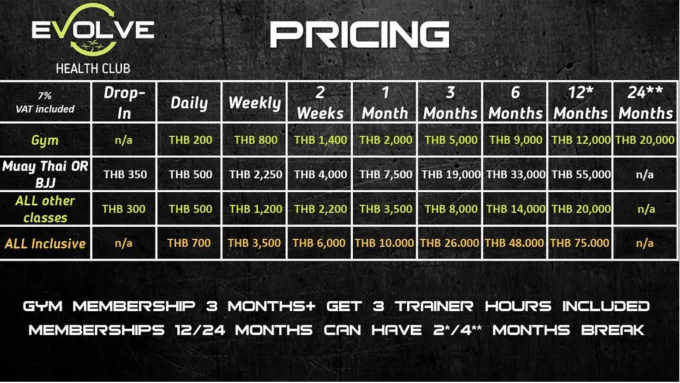 EVOLVE large class price list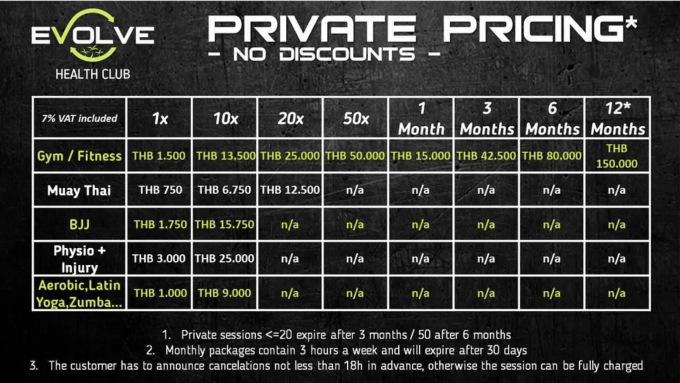 EVOLVE Private Lesson Price List

About the Muay Thai coach of Evolve family:
According to the professional young lady who trained together and had private lessons at Evolve, said: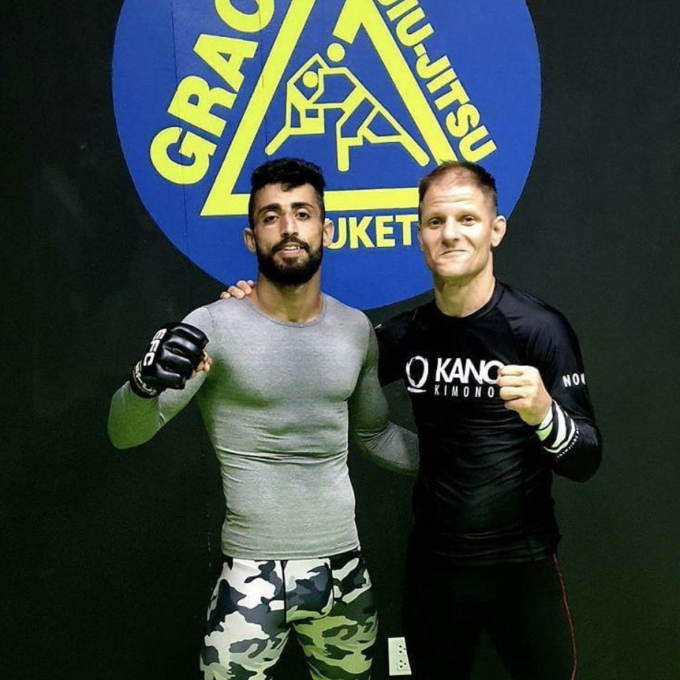 The left is MMA & Muay Thai trainer Ashkan, the right is Bajocian coach Jaime
a fight MMA coach, called Ashkan, not the Thai people, see the poster should be playing regularly. It is said that Muay Thai teaches very well, is very responsible and is a coach who can help with details.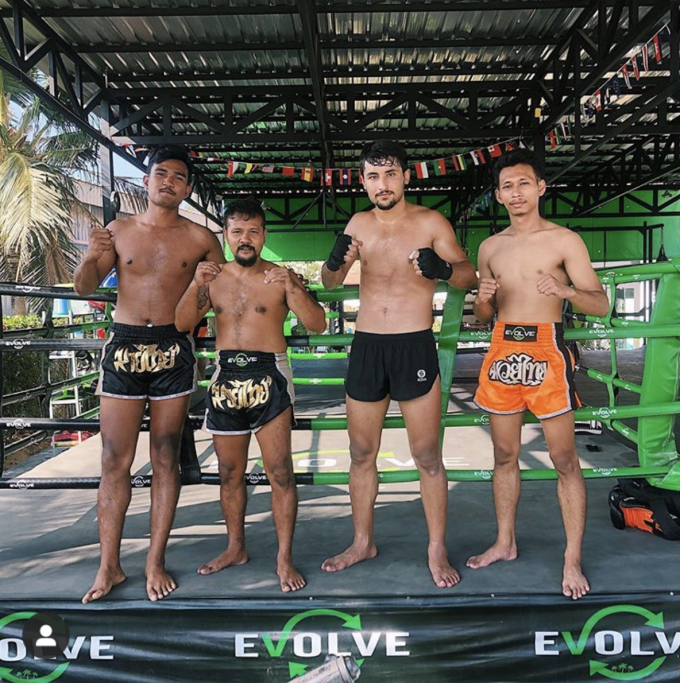 The second from the left is Meo
has a Muay Thai coach, it seems to be called Meo, not high. It is said that he taught very seriously and was the coach of the original CMT. Will teach a lot of movement details. Recommend one.
Evolve's contact information:
Tommy, the owner of Evolve's whatsapp: +66 95 298 0011
Evolve ins: evolve health club
Barou coach ins: jaimebjjmma
You can see the daily training in the restaurant and sometimes send technical instruction videos. Class is one and a half hours. Every time we finish class, we will play ins in the restaurant for half an hour hahahaha. Once the little brother Switt at the front desk saw me playing ins at the front desk after class. Jaime was standing and holding his mobile phone at the equipment behind. Switt said, whats wrong with you guys. Hahaha. But what Jaime insists on passing on ins is not only a training life, but also a lot of belonging.
Trained in Suwit for 3 weeks. I don't know if the training atmosphere in other restaurants will be the same. It is also like a big family to me. Because the opposite of the boxing gym is where everyone stays. So every day, everyone looks up and sees their heads down. They can't call their names, and they know that they are from a restaurant. After hitting the target every day, we would hit sandbags or practice air strikes in front of the mirror. Then there will be classmates or coaches who will come to guide me, tell me where there is a problem with the action, what to pay attention to, and the reason, and how to practice and correct it. Everyone is very nice! There are crack with the Chinese teaching foreign teacher, every time I see we will use Chinese say, walking, walking. Hahaha very funny.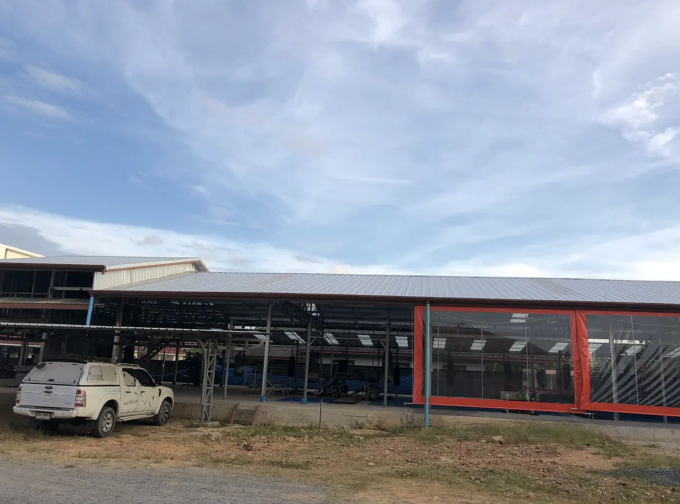 Suwit boxing hall is opposite the outer room accommodation
venue is the new soon, there are some fitness equipment. Seeing that the boss is still inviting workers to decorate, it should be adding facilities.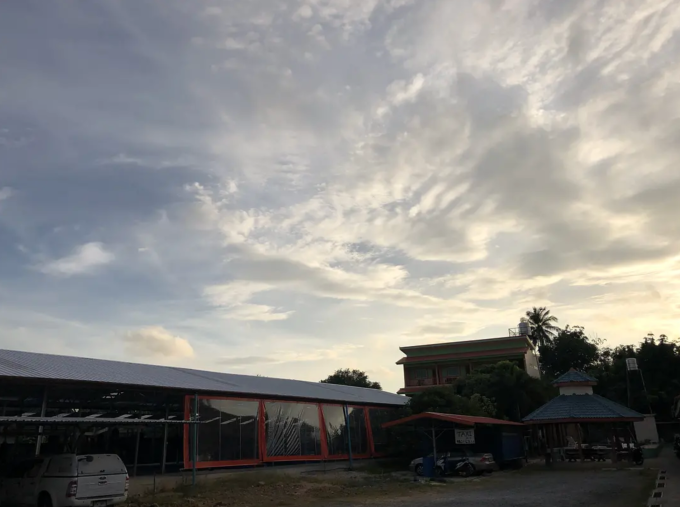 There are swimming pools and outdoor showers outside. Many foreigners like to soak in the swimming pool under the big sun. The sunburned skin is red and sunburned. I am very confused about this...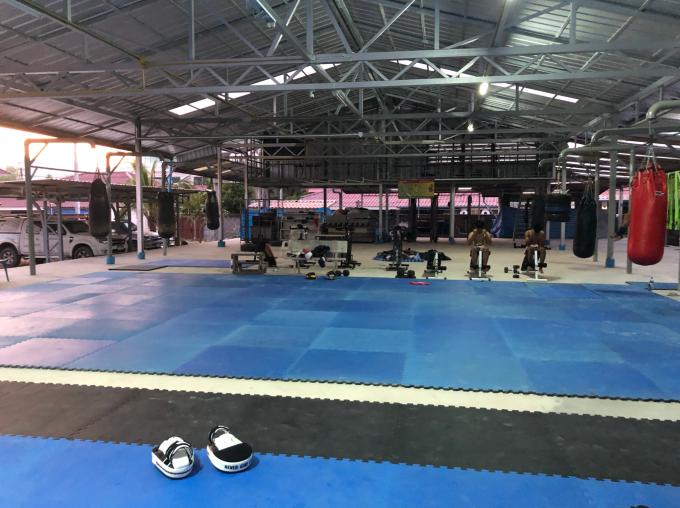 There are
two rows of sandbags in the Suwit boxing gym. I like the red one the most. It is softer hahaha.
The shop owner would sit at the white table every day, set up a computer, and watch everyone go to class. After we finish the class, he will also have a private lesson. Because the boss is watching, the coaches are generally more attentive to teaching.
Once the boss is away, a Chinese brother said, obviously not the boss at the time playing with his coach's intentions to play.
I have also listened to many people before, and read many posts and said that there are many such phenomena. In fact, it's normal. Although there are many details about the Thai boxing style, it is no longer familiar to the coaches who practice every day. It is normal to be tired with such movements every day. I usually go to the canteen to buy food at work. Like I train every day, sometimes I want to be lazy or something.
Many restaurants do not have an owner watching. I guess this may be a common phenomenon, but suwit usually has an owner watching, so coaches rarely do this. Suwit's boss is more serious. He will let his family watch him unless he goes to the hospital. He even wears a mask in the restaurant to watch everyone attend class for a few days. Once I was sitting and resting. The boss saw that I was not practicing and my coach was busy, so he arranged for other coaches to take me to play. A very good coach (Kru) taught me a lot of details. Suwit's boss will always pay attention to ensure the quality of the teaching received by each classmate. Once I made a video, I shot the boss arranging coaches to take classmates. He is a very hard-working boss.
I really find it difficult to accept a coach who can't correct my wrong actions and help me maximize my strength, so I will ask my boss to change coach. But the coach who took me with Suwit is super good. They will tell me what to train today, how many hands, or what time to start, whether to punch first or target first. Sometimes I finished playing and I wanted to find a coach to help me practice a few even kicks. He was very willing to take me. Later, he was used to asking me if I wanted to kick today, and sometimes he would help me add legs. I miss training life so much! (I won't write this travel note!)
Sometimes my coach is busy, I don't bother to practice sandbags, and Master Zu has time (Master Zu is usually super busy, and his private lessons are super full), Master Zu will come and take me hit. Master Zu has a lot of actual combat experience. He will use gloves directly as opponents to simulate actual combat and lead students to fight. The things he teaches are particularly interesting and valuable, such as the front hand fist facing the eyes, and the back hand fist facing the cheekbones under the eyes. and many more. But I don't think I have the ability to train directly with Patriarch.
Boxing may need to be more optimistic about the movement demonstration, and I think about it, there are many movements that I don't go well, but sometimes I don't deliberately train, thinking and pondering can find the inertia of physical coordination. But the amount of training is important and necessary.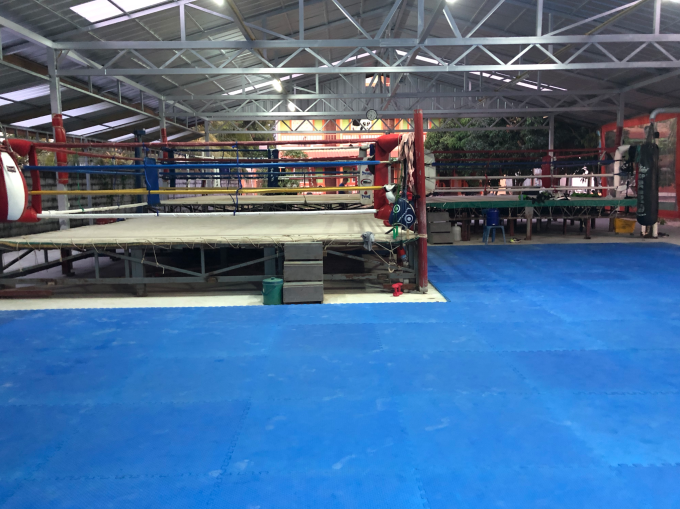 This was taken the day before I was leaving. After staying for a month, I felt that this was my original life. After sitting in the restaurant for a long time, I was a little sad and a little embarrassed. I don't know how to go back.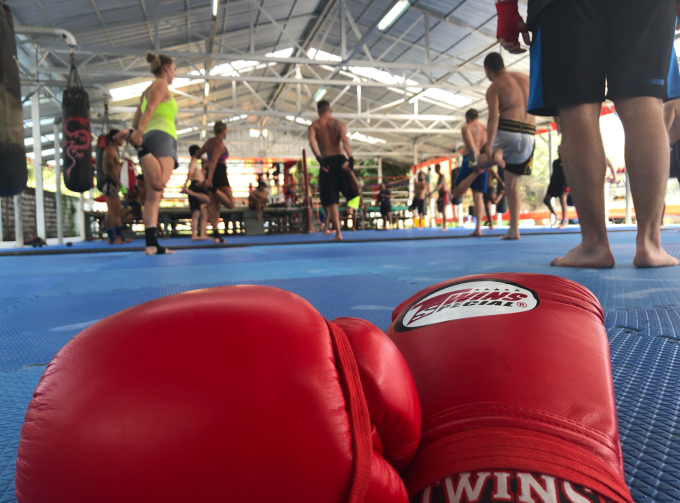 The training course process of Suwit stretching before class in the Suwit boxing gym is different from that of other companies. I learned that the major classes of several companies are that a few coaches take everyone to run, warm up, play sandbags, and then divide them into groups to take targets. Stretch.
Suwit's training process:
Run together or skip rope.
Then led by a coach to stretch before class.
After stretching, you will be assigned a coach who will bring you to chase you for training hahaha.
Or you can practice your movements in the mirror first, or hit a punching bag.
The coach takes the training with 1v1, usually 4-5 rounds, about 40 minutes.
If you want to continue playing, or take a break to continue playing, you can go directly to the coach, or find another coach who has time.
After most students have finished playing for 40 minutes, the coach will organize everyone to do physical fitness, usually sit-ups or push-ups. Sometimes everyone gathers in a big circle, doing sit-ups with each other's foot support, and high-five after sitting up. Sometimes it is a classmate to a classmate, supporting each other. Count in turns, from 1-10, in the language of each country, after each count, everyone will follow along, exhale by the way, and complete a sit-up. Then China uncle would take some of the idioms tease everyone, everyone on the downtown each other. The atmosphere is particularly good.
Basically take two classes a day, the coach will understand you, and then just follow him in class. Changing coaches requires a familiar process.
Suwit has many coaches, even if you count them down, they are all very good coaches! After I and China try classmates. Recommend a few coaches:
Master Zu:
· There are many students who ask him for private education, so it is best to make an appointment in advance.
· His class is very practical. He will fight you directly with his gloves, simulating actual combat scenes, and if he comes to fight you, how do you fight back.
· He also teaches a lot of details in slow motion. I have a lot of movements that I couldn't find coordination, such as a single step and a heavy punch. Because I jumped in the air, there is no ground support to turn around and throw a heavy punch, so find the inertial coordination of the body. I made many mistakes many times, and finally found it. Fortunately, the coach is more patient.
· Because there are more actual battles and the targets are harder, I feel that I have not yet reached the level of daring to fight with Patriarch.
· The players who came from afar to fight against the ancestors were all professional players.
· Zu Shiye is a national athlete, and his previous record is not only about the rank of the belt. I did not find his account. If I find his name, I should be able to find it.
Kru Pik:
· A coach with rich teaching experience! Because he can see at a glance where your actions are still short of, and for him, actions have become a system. There are high swings and low swings. If you don't correct it, I really don't know that there will be such a big difference in strength. When he corrects my knee-hand shake, he will also tell me the difference with other shake hands. I think if he doesn't really love Muay Thai, then he is very good at doing things. This sense of system is very similar to my domestic Muay Thai coach. But I think Kru may have more experience, after all, I met more students.
· Kru's target is a bit hard, but it's not particularly difficult to hit. I think it must have a good foundation, and then a good choice to practice with him.
· Because after every round, the coach watched me do push-ups. Do special exercises. Improve basic ability to increase the ability of Muay Thai.
· Very, very good coach. I have not studied combat with him, but China uncle very much recommend him. Because I can play with this coach, I can quickly correct movements, and I am very smooth.
Warm-up coach:
· This coach I have not practiced with him. But the two Chinese The uncle recommended him, one with him for private class, one with him for big class, and the shop owner also practiced with him.
· I gave this coach the most sure recommendation.
· So I won't describe the details, the action details and actual combat skills are definitely not a problem.
· I will definitely find him to practice next time.
Taoist coach:
· Is the coach who mainly took me. I really hit his target very smoothly. Grand Master taught very well, but I always couldn't hit his target. So I have to practice more before I can come back to learn from the ancestor.
· There are two local Thai people also told me in coach class priests. There is a Thai girl is to practice with him Thailand The girls played very smoothly, very relaxed, and their movements were very standard and beautiful. When I can't figure out some actions, I like to watch her play.
· The person is very nice, even after finishing class time. Will also take me to practice consecutive kicks. Because in the country, I will kick 30-50 legs, and sometimes add 10 to 10. But Thailand seems rarely kicked, I guess we are all practicing heavy kick. I always feel shortcomings. After communicating with the coach, he often took me to add legs.
Coach with half-length tattoo:
· I took a private lesson with him. The target was too painful, and I was too tired, so I didn't continue to add classes.
· The coach is very serious in class and the person is super nice.
· Several domestic players who are playing games also have lessons with him.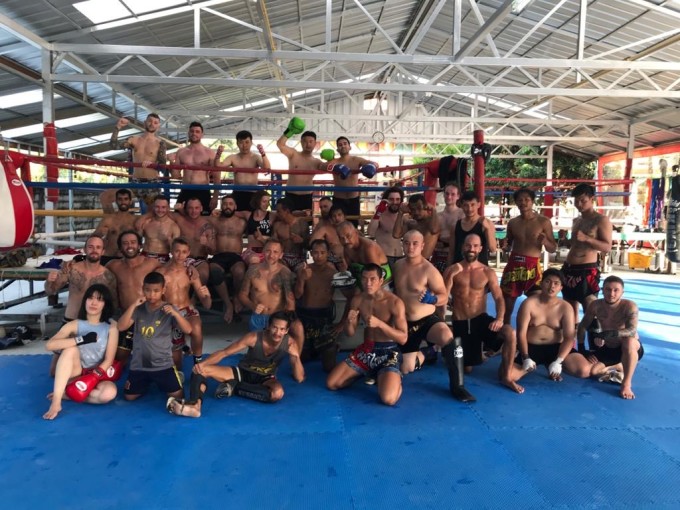 Group photo in Suwit Boxing Gym One of the
few group photos. The morning training is over. This is probably Tuesday. Each new week, two days before most people Doha ha ha ha ha.
Then it will be significantly less hahahaha.
Maybe everyone is tanned and looks a bit fierce, but I think it is much better than the other group photos. There are many smiling soldiers. Everyone is really kind, and there is no such arrogant arrogance hahaha.
There are many Thai locals and children we are here training. Plus my four Chinese Person, other than European and American people look, are Thailand locals.
When I went there because it was winter, there were a lot of people, and there were a few players who came to experience, most of them had training background. The two eldest brothers behind me are contestants. The eldest brother on the far right has 8 years of training background and comes to Suwit for training almost every year. The first row and third from right are professional fighters. Fell behind two rows on the right is in China two big brother teaching in China will practice Sanda. There are more close wrestlers in the back two rows.
In the last week, almost all of them were professionally trained players.
In the second row, standing on the right is the disciple of Master Zu. In the same row with him, third from right, is a very good coach with many details and experience, he is highly recommended! His name is Kru Pik, and he can be found on Facebook.
Next to the coach with the green waistband in the middle, there is a coach kneeling on the ground. He is the coach who takes everyone to warm up every day and takes the boss to class every day. According to him in class Chinese uncle preaching particularly good.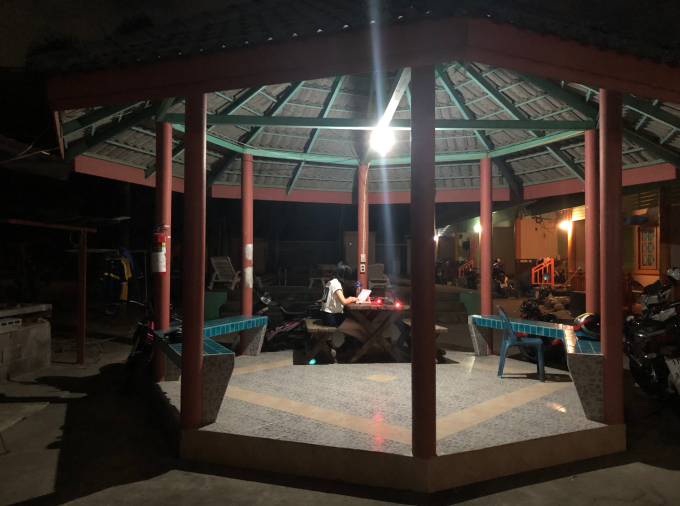 There is a room on the right side of Suwit's yard. It's not hot or cold, it's more comfortable than the room, just sit in the pavilion and write something.
Some coaches play the super nice guitar at night. What impressed me most is inside Friends Monica to marry Money background sound Nagqu . It's very nice.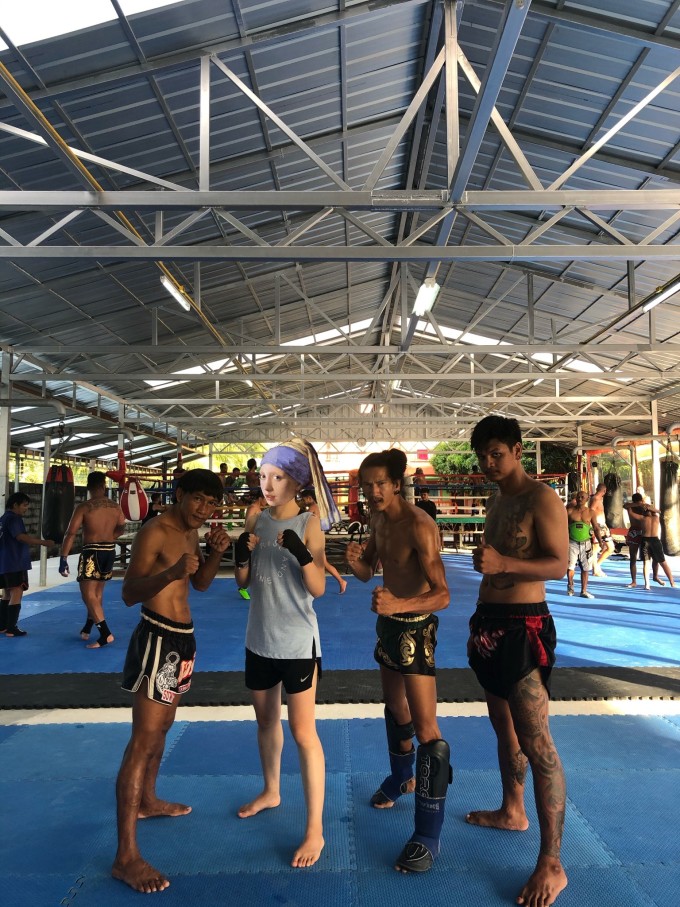 My left-hand braid Taoist instructor is mainly training me. Don't look at him being fierce. Once I saw him carry a small panda shoulder bag when he was riding a motorcycle when he was off work, and then he hung it around his neck and wrapped it around his back. I laughed for a long time, really not like a fierce Muay Thai fighter. On my right is the coach Zu Shiye, a very powerful national team player. The young coach on the far left is the apprentice of the ancestor.
Suwit's timetable:
Every Monday to Saturday
morning training starts at 8 am and
afternoon training starts at 4 pm.
Sometimes on Saturday morning, I will go to the beach for training.
Suwit's price:
accommodation is not only sold during the peak season, and there is no consultation during the off-season. I talked about 8500 baht for two weeks. It is about 14,500 baht per month. The price is not transparent and there is no official website to check. There are too many people to bargain with the boss. Although bad bargain, but because of the recent outbreak stranded in Thailand 's friends with the boss said no money, the boss to accommodate a very favorable price. Very humane. China-Thailand friendship! Like the boss.
Key points: 8,500 baht includes training costs and accommodation costs.
The price of private lessons is so cheap that there are no friends. It is half the price of private lessons in the restaurants on Boxing Stadium Street. You can ask the boss directly~
wechat: Kittsak
whatsapp: +66 82 597 9455
This restaurant is also quite famous, at least I have seen 3 articles recommending it. But his home is not actually on the main street of Boxing Stadium Street.
I have forgotten the characteristics of his family. Those interested can look at the official website.
Official website: http://rattachaimuaythai.com/

In addition, there are some new restaurants on Boxing Stadium Street, such as the Lions Stadium.
Outside Boxing Hall Street, not far away, there is Snibi Muay Thai, and there is a seemingly good restaurant not far from the river bank. Did not go in to explore.
Friends who are not in a hurry to start training can check out ~

Boxing gyms in other areas:
It is also an MMA restaurant, in the Rawai district to the south, which is relatively close to the right coast.
Looking at the information on the official website in early January, there was also a coach from the UFC professional team leading the class. Muay Thai, Ba Rou, and MMA are all taught.
The Chinese uncle went to the AKA restaurant and said that the sandbags inside were brand new. The venue facilities are very luxurious.
But his home is a bit more expensive than Boxing Stadium Street. I contacted their home two weeks in advance and did not have accommodation.
According to the course flow of the email communication, the class is together, and for every 3-4 students, a coach will follow up.
Because I haven't been there, I don't recommend any coaches.
If you are interested, you can search TripAdvisor (the TripAdvisor of overseas app stores seems to have more data).
There are other players who have been there writing reviews and recommending coaches.
Email: info@akathailand.com
Jaroenthong MT Phuket &Hero MT
This restaurant is my home two Thai coach recommended me.
Because these two houses do not have Ba Rou, and the restaurants with Ba Rou are very far away, I don't know how to ride a small motorcycle. I can only give up.
My country Thailand coach, teach very, very good, the training intensity is relatively large. So I think his recommendation is worthy of reference.
Because they are not very famous in China, it is estimated that the price will be better.
E-mail: gawinwats.kpgroup@gmail.com
Both of these can be found by searching their names on Facebook, and you can contact them by sending messages through imessage. No barou
About eating, drinking, housing and transportation, horse killing chicken, equipment protein powder and medicine
Phuket eat in Thailand is not cheap. Feeling and Beijing almost.
There are many restaurants on Boxing Stadium Street, ranging from 10 to several hundred RMB per person. Pizza, barbecue, fitness food, vegetables and fruit yogurt salad , boiled all, Chinese stir-fries, grilled fish, reduced fat fitness very friendly. Protein powder shakes are also available everywhere.
Some stores support Alipay and WeChat, but will charge a handling fee. Each house is different, about one-tenth the appearance.
Most stores only support cash. There are ATM machines on the street. There will be a handling fee, and the maximum fee should be 150b. Because I take 3000 and 5000 are both 150b fee.
There are many supermarkets, 711, full-time, miniC. The cheapest is superCheap, there is one opposite the gas station not far from Boxing Stadium Street. A mention of mineral water 45b, 6 large bottles. Almost none of the restaurants and boxing gyms have free water. So you generally need to stock up some mineral water. I once bought a 3b box of mangoes. And it's delicious! So cheap to have no friends!
Probably a few hundred meters from the main street of a small road looks like, there is a Chinese from owning a restaurant, Sichuan hot pot. It is said to be delicious, and many friends like to eat it. I didn't go to dinner because of counseling. The corridor is full of beautiful star lights. Very atmospheric.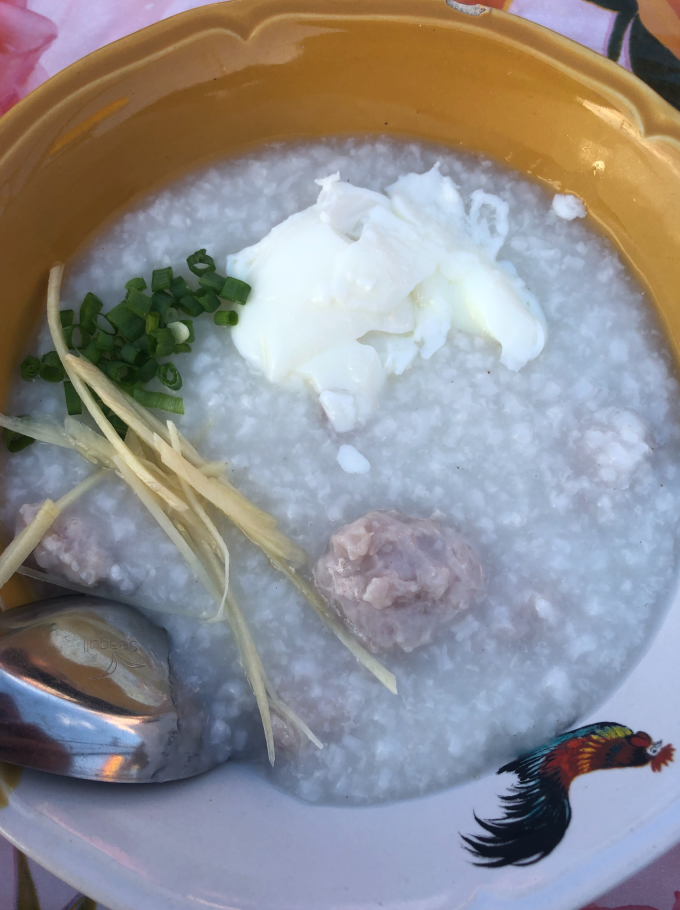 Ginger porridge
A breakfast at the roadside outside Boxing Stadium Street. Ginger is a bright spot, remember to add it. Mixed with the taste of bone soup porridge, it is very Thai. Slightly Xin. It's delicious.
tonys: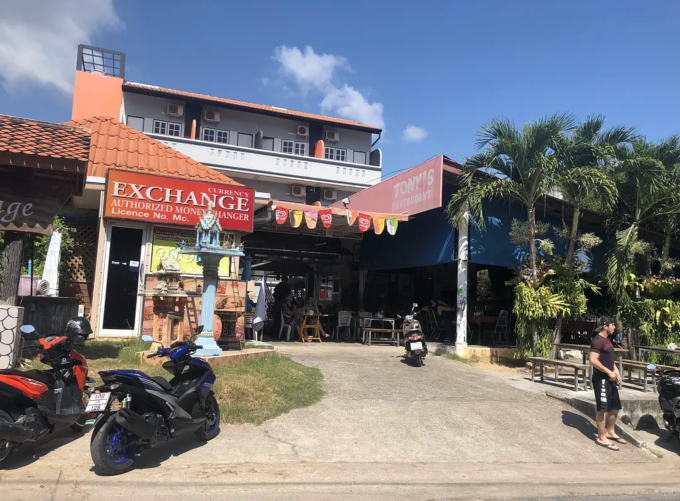 TONY'S is extremely slow to serve, but it's really cheap and delicious.
Tonys should be more famous. It looks like you can walk less than 200 meters from ptt to the inside of Boxing Stadium Street. There is no big brand. Need to pay attention. cash only.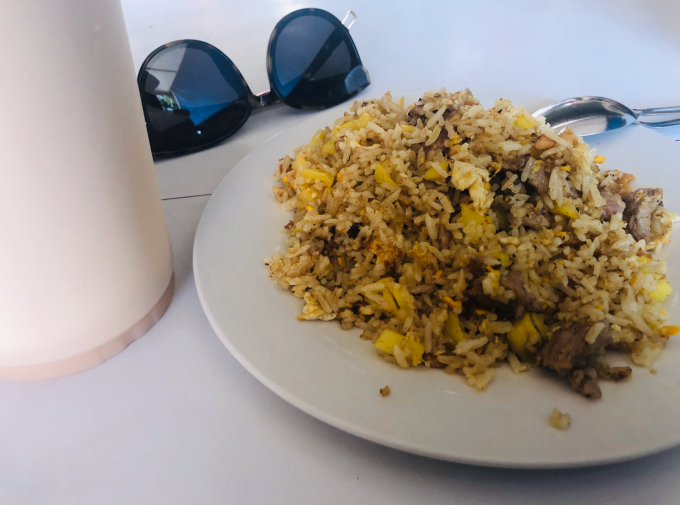 Pineapple rice: I have eaten pineapple rice from several restaurants, but tony's is the best. Cashew nuts are very fragrant and crisp. The pineapple is very fresh and the powder is very fragrant. (But sometimes chefs have different effects). 60b copies. Medium portion.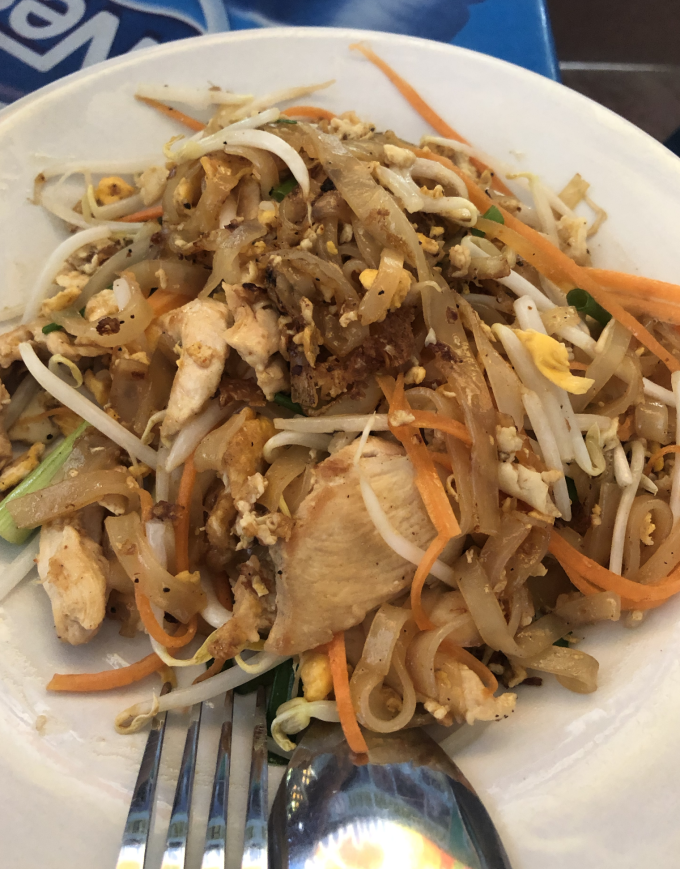 Thai style fried noodles: It is very important to look at the ingredients in the restaurant and the effect of the chef on the day. I tried the bean sprouts once and it was very fresh. The sweet and crisp bean sprouts lettuce and the oily aroma of fried noodles are mixed together, which is especially delicious. 40b.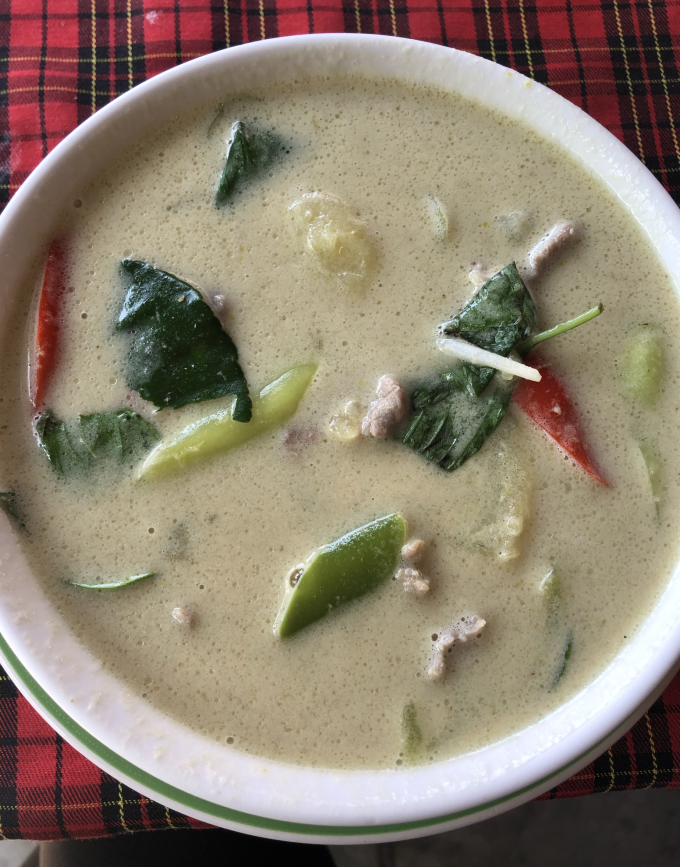 mamay's coconut soup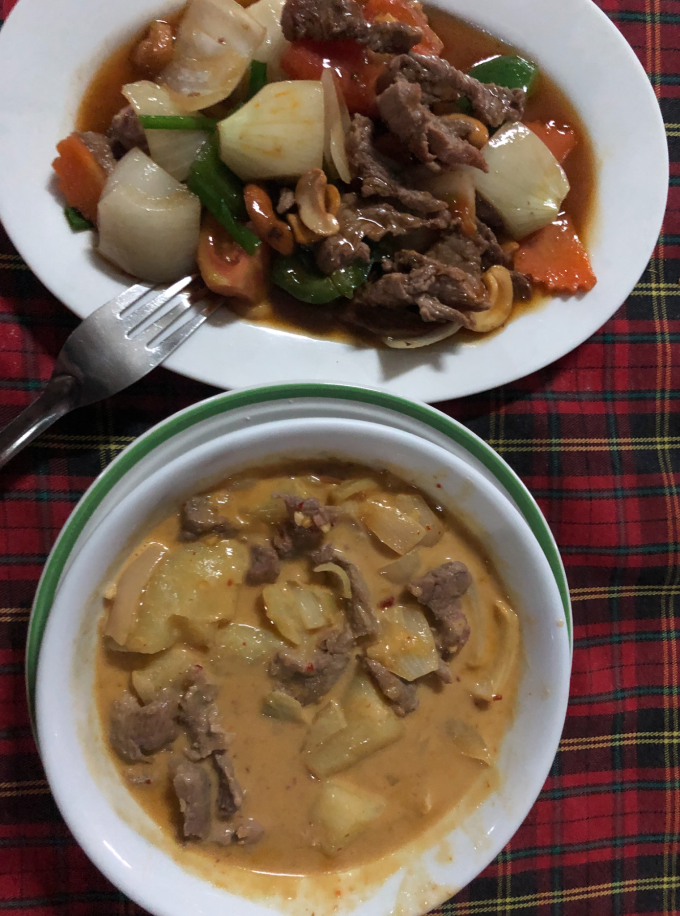 Mamay soups-some of the less spicy
mamay soups, the potato is a bit spicy and the coconut is a bit oily. But they are all delicious. It has a Thai flavor, but it is not too heavy. 50b.
Everything else is ok, rice bowl or something. The beef is very dry and not very tasty.
Omlet's omelette is not very recommended, um...
kata turk: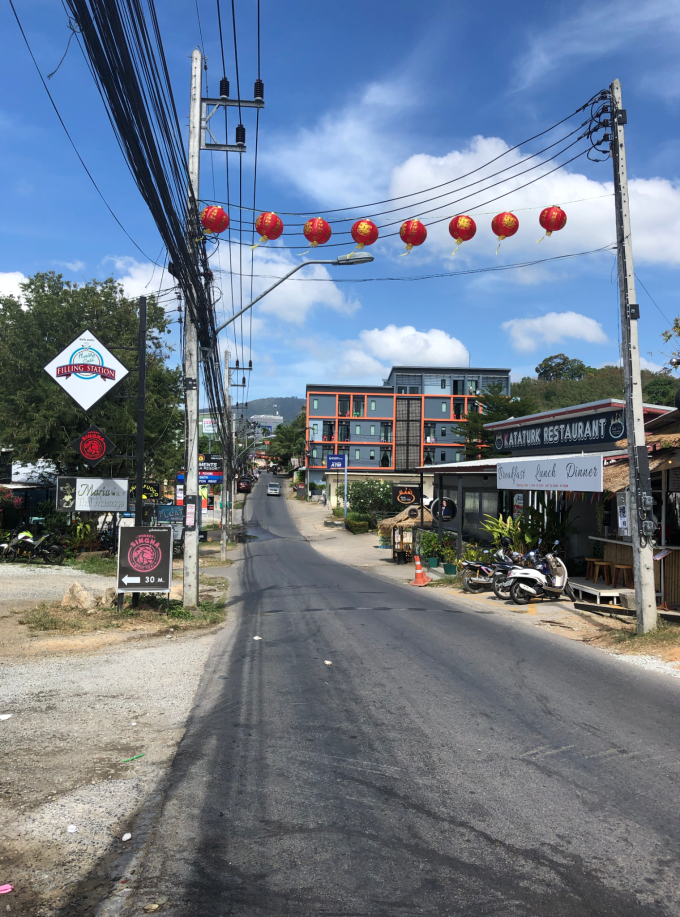 There is a right side of the kata Turkish restaurant. More features, there is a Turkish cake, you can try. There are also good points on TripAdvisor. The desserts of Melaleuca jam are particularly well received. Must eat!
Prices start at around RMB 60 per person.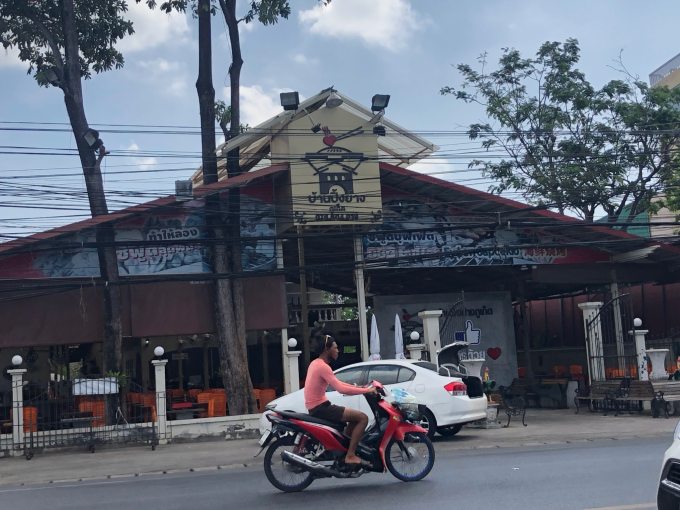 Seafood buffet
A seafood buffet outside Boxing Stadium Street. Many locals eat here, one in 199b. Drinks are paid separately. Charcoal hot pot needs 200b. Mineral water, a large bottle of 80b, is much more expensive than the outside, which is probably a way for their family to make a profit.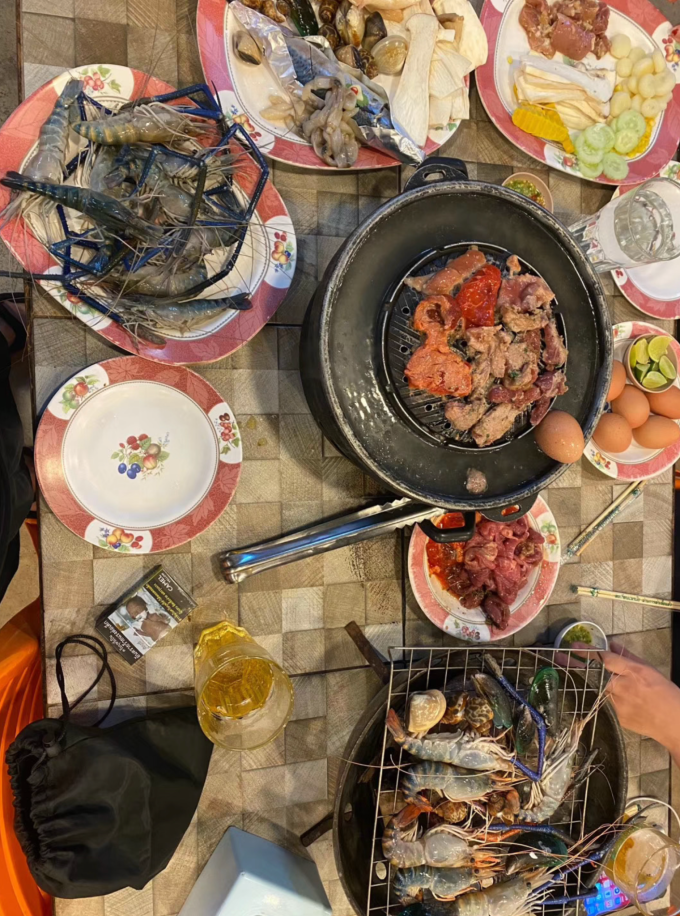 I went there twice and basically only ate beef eggs and some fruits. I will eat about 3 large plates of beef each time. There is a kind of beef marinated in coriander and the tender beef five recipes are really delicious. I really support the wall in and out. Everyone says that I am growing up... But although I usually eat a lot of carbohydrate and sugar, it does not gain fat.
Because I am allergic to seafood, I would not recommend it. The overall dishes are relatively fresh. Recommend the seafood sauce. Compared with the hot and sour Thai style.
I live in Suwit Boxing Gym because the price is very cheap with training. The accommodation is just opposite the boxing gym, which is very convenient. The room is huge, because the coaches themselves live here, so the house even has a kitchen. Air conditioners, refrigerators, water heaters, televisions, and some equipment are also available. Maybe the equipment is older, but I don't think I would mind if I don't watch TV anyway. But the accommodation at his home cannot be booked separately, and training can be booked separately. Maybe when there is no one in the off-season, you can try to talk to the boss.
Generally, the boxing gym will provide the option of accommodation, some are in their own house, and some are sold together with the course, but they are accommodation in other homes.
You can find the pictures and prices of the accommodation on the official website of each boxing gym, or contact customer service for consultation.
Taking PTT as an example, a week's stay starts at 3000b. You can roughly refer to it. Some stores have different prices during off-peak and peak seasons. Some stores are always peak season...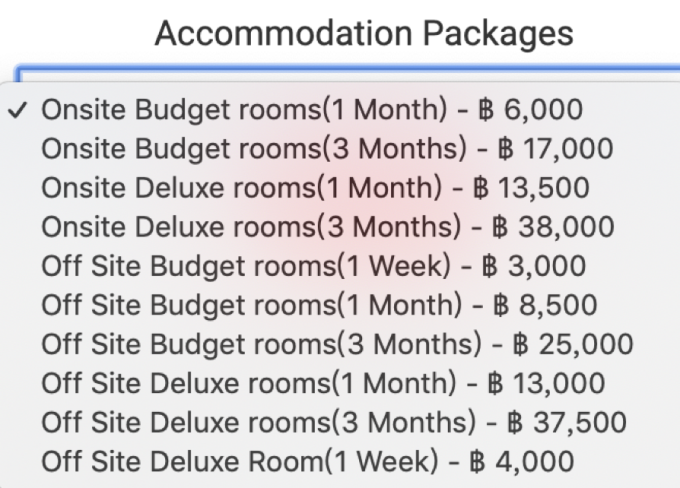 In peak season, accommodation on Boxing Stadium Street is generally 600b/700b for one night or more. It is relatively cheaper to book for a whole week or a whole month, because most people come for medium and long-term training. May be used to selling like this.
I understand that the environment is better, Blue Hotel, Anchalina Hotel. 5 days and 6 nights, about 1400 RMB. It can be found on Ctrip, Fliggy , agoda, booking, airbnb , googlemap, and there are many.
I remember Thailand accommodation does not offer some of the island is a hot shower. Boxing Stadium Street is generally available. Air conditioning, water heater, refrigerator, TV, desk, wifi. Some rooms of PTT are shared bathroom. You can choose according to your needs.
Some hotels require prepayment, and some hotels cannot refund after payment. There is also a little rule difference from the ordering platform.
In terms of distance, living in Boxing Stadium Street is not far from any restaurant on the street.
If you live off the street, you can ride a small motorcycle. Renting a motorcycle is not expensive, about 150b a day.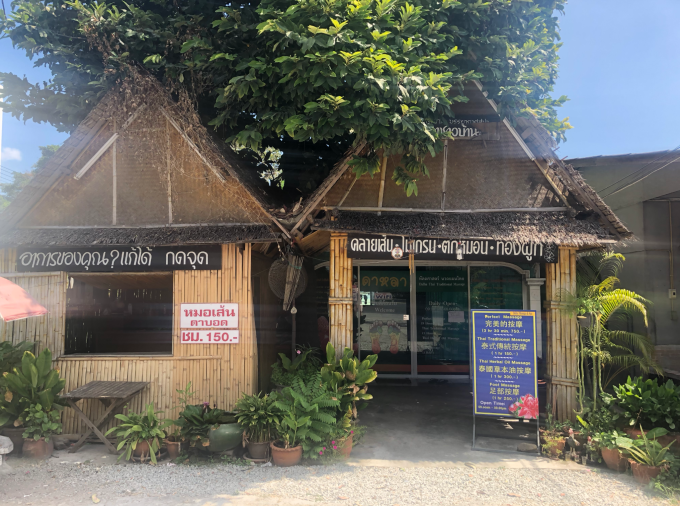 The horse-killing chicken shop recommended by the coach is good for relieving muscle soreness after training! use!
This is a shop recommended by Suwit coach. The horse-killing chicken shops on or near Boxing Gym Street are basically spa-like, aromatherapy, and music. The press is also very soft. I have told my little sister many times to be heavier because I am very sore, but it has no effect. So I didn't feel relaxed, and my body was still aching and tired.
Except for the shop owner and proprietress (probably the shop manager), most of the horses and chickens in this shop are blind, 150b an hour. There are other options such as adding essential oils. It is very similar to Chinese massage for the blind in China. The pressing process is more painful, but you will feel very relaxed after pressing. The boss and the proprietress are the best, but they generally don't show up.
The boss and the lady boss are super nice. I hurt my ribs once and wanted to see if I could relieve it. I pressed it better, but it still hurt, because it hurts when I breathe. I pressed it at the door. When the lady boss saw it, she squeezed it for a long time and asked if I was better. When the boss came back, he called us in and told us how to press. It is really obvious that the muscle force is very different. Later, I discovered that I was actually suffering from a bone contusion and inflammation, so only some muscles were relieved, and the bones still hurt.
Address: This horse-killing chicken shop is on the way to Nai Harn Beach, starting from Boxing Stadium Street, passing the clock turn of Wucha Road, passing an international school, and you will see a mosque, diagonally opposite the temple, 711 and Quan Opposite time. cash only.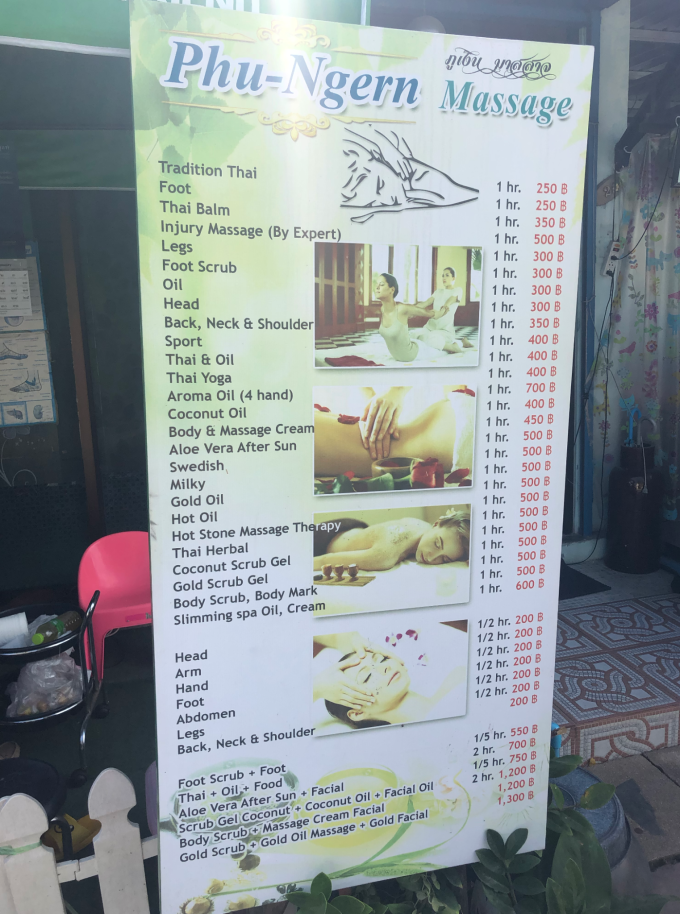 Most of the horse-killing chicken shops on Boxing Stadium Street are around this price. I asked a few, and they were all cash only.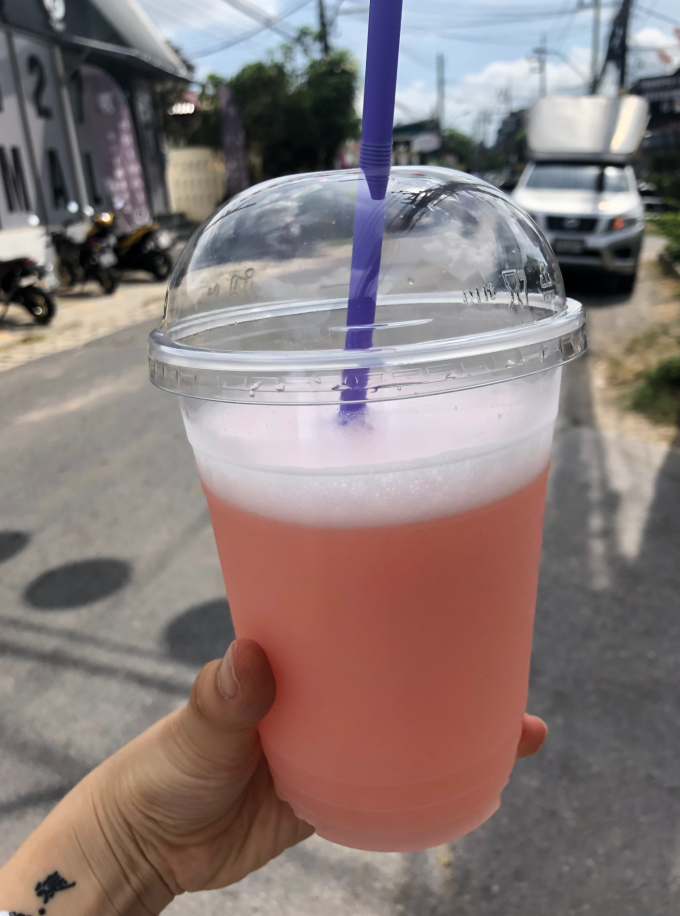 The
picture on BCAA 50b is a shop with two middle-aged girls on the side of the road. The people are super nice and they help me out a lot every time. BCAA sells a spoonful of 50b. Add mineral water. You can also add juice.
Many restaurants and roadside shake shops offer protein powder shakes. Usually 50b a spoonful.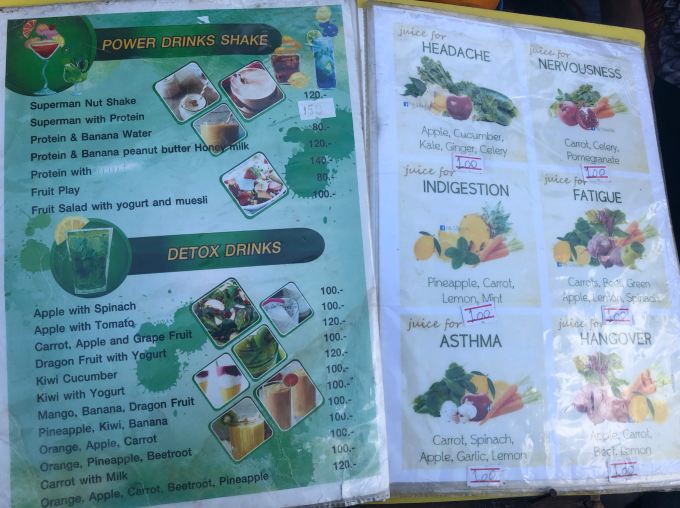 The price list of a shake shop with internet celebrity dogs is said to be delicious, not often passing by and not drinking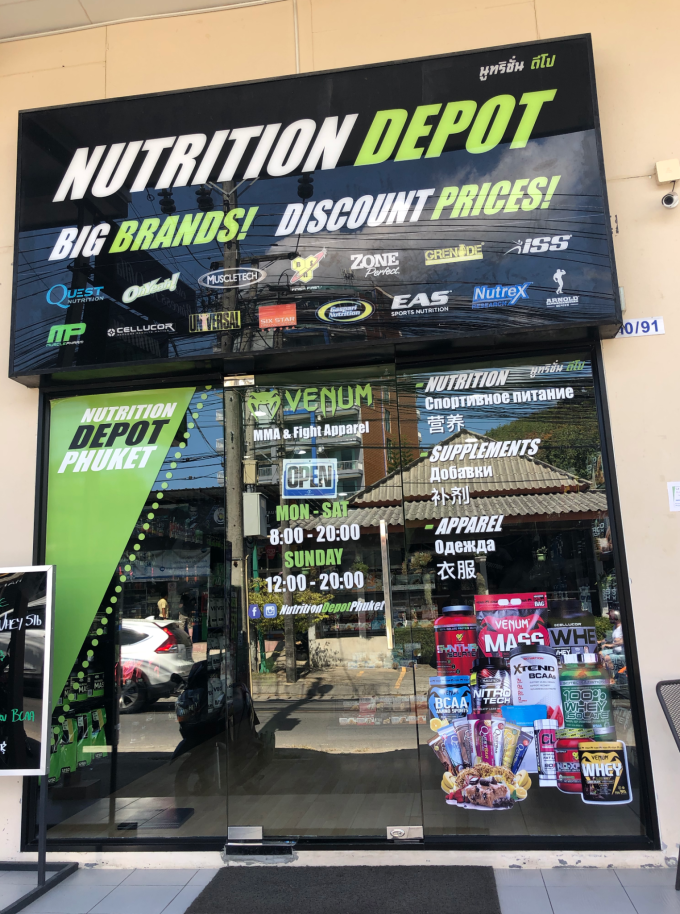 There are several protein powder shops in Boxing Stadium Street, but they are expensive! and cash only
3 weeks of training, it is obvious that the body has muscle expansion, so it is important to drink some supplements to help the body recover.
I remember that the smallest can of protein powder was about 1,200 baht, and it was a bit like a drink. You can buy low-fat high-concentration cans in China. There may be differences between brands, but I still think it is more expensive than domestic ones.
Protein bars are even more expensive, starting at RMB 40, a medium weight.
Pharmacies also sell supplements at similar prices.
Because I saw highly suspected fake n95 masks ( produced in Shanghai ) in a pharmacy , it might be better for everyone to compare things in the pharmacy.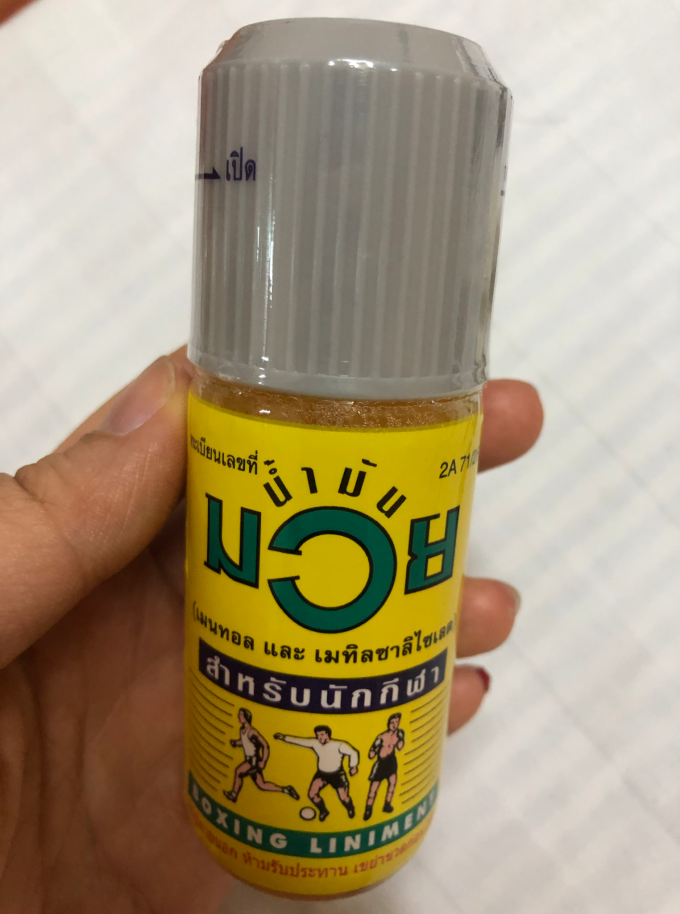 Muay Thai oil is very useful. I bought the 65b duty-free shop in a medium bottle, which is cheaper
. The drugstore on the roadside of Boxing Stadium Street, 711, Quanshi, local shops on the roadside, and duty-free shops will sell it.
There are three types: small, medium, and large. I bought a medium bottle and have seen prices ranging from 59b to 79b.
Muay Thai oil is to relieve muscle soreness. In the first two days of training, applying it is simply roasted to the point that the air conditioner must be turned on and the air is blown to relieve it.
Green grass cream has similar effects, but I feel that Muay Thai oil is more professional.
Pharmacies are basically cash only. Some can receive Alipay or WeChat, but a handling fee ranging from 3-7 points is required.
I didn't use Tiger Brand Oil, so I bought two bottles from the drugstore and brought them back.

About the environment of Phuket
heat! It's hot! very hot! Very hot!
During the few days I went, it was very hot. Big sun, special roast people.
But the water is cold at night.
If you go to the Big Buddha to watch the sunrise, you must wear a thicker dress. I hesitated for a long time that day and didn't bring it. As a result, my head was bald.
I saw many trainers running on Dafo Road or Nai Harn Beach. When the temperature is right in the morning and evening, running is quite comfortable. There are also people who have seen the great heat of running at noon, very powerful.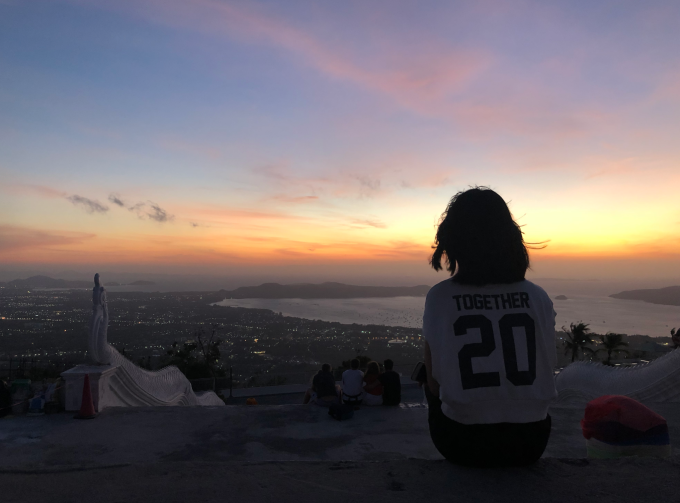 Big Buddha frozen to bald head at sunrise
, the quietest and hopeful moment of the day

I didn't find anything particularly interesting. Did not go to net red banana East Beach, said that many red zone, there are a lot of delicious seafood.
I went to three night markets: Chalong Temple Night Market, Puji Town Chaofa Night Market, Puji Town Pedestrian Street Night Market.
Originally wanted to go to chaofa, but accidentally took the wrong path on the road and walked to the Chalong Temple night market and pedestrian street.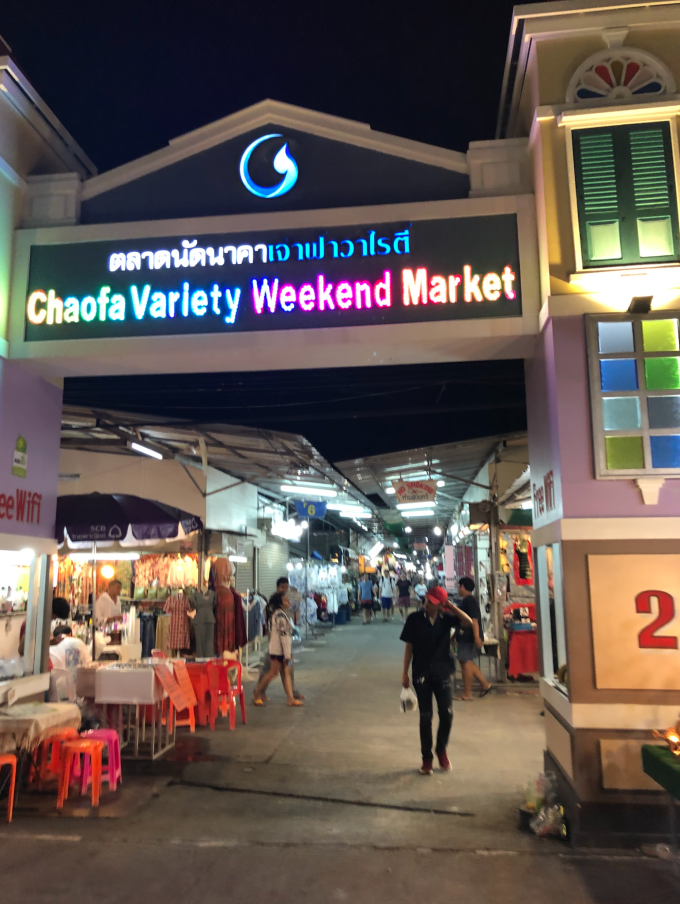 Chaofa weekend night market
I still feel that chaofa's food stalls are a bit less, it is a large wholesale market, there are many similar voluntary wholesale goods. It starts at 4 pm on Saturday and Sunday.
Chaofa is in Puji Town. It's about 30 minutes from Boxing Stadium Street.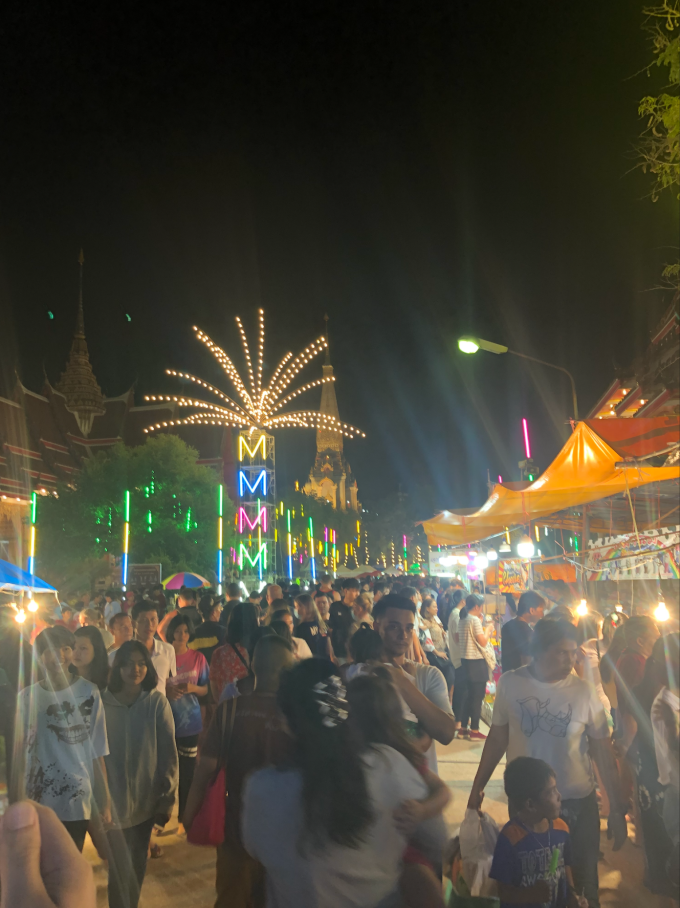 Chalong Weekend Night Market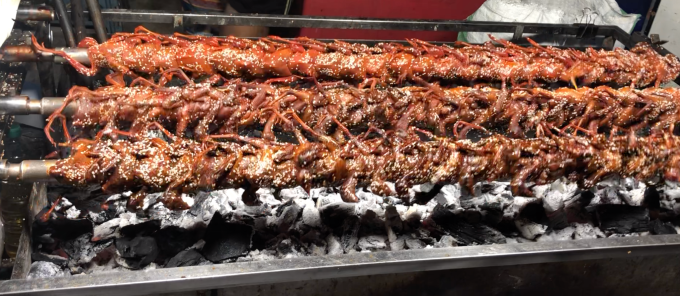 Chalong Weekend Night Market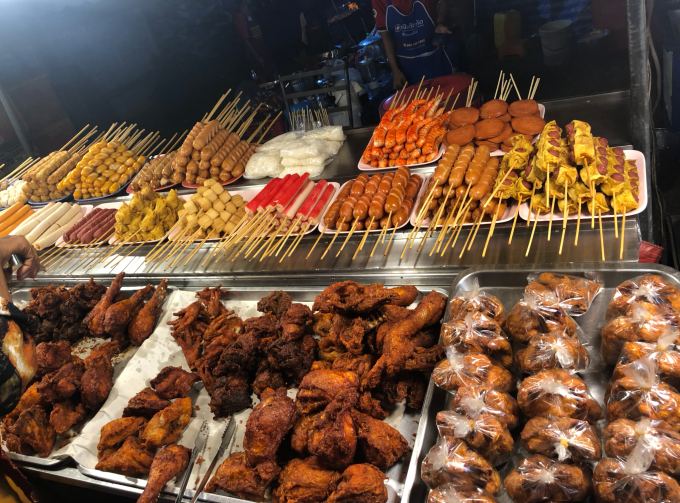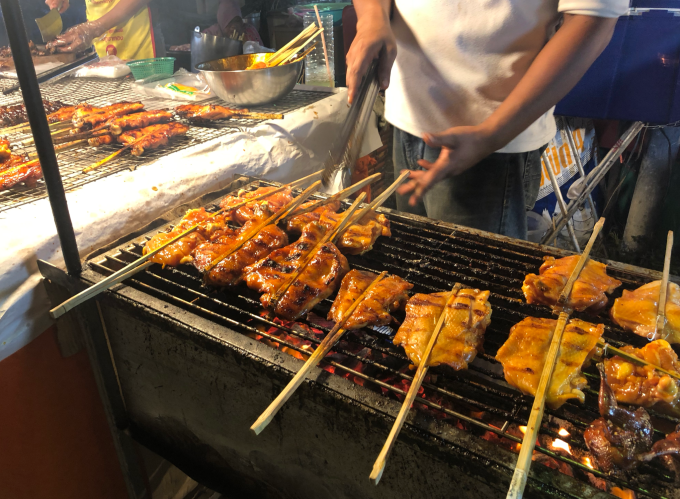 Chalong Weekend Night Market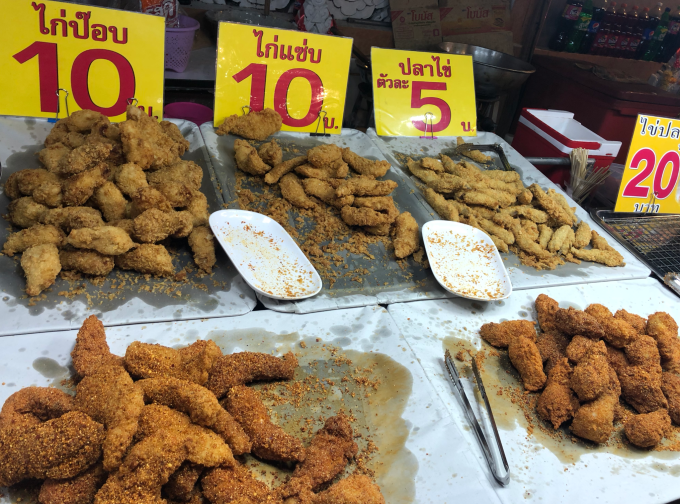 Chalong Weekend Night Market
Chalong Temple Night Market has the most stalls, and there are more food stalls. There are also some who sell flowers, grass and clothing. Just behind Chalong Temple. Very close to Suwit. It is about 2km away from Boxing Stadium Street.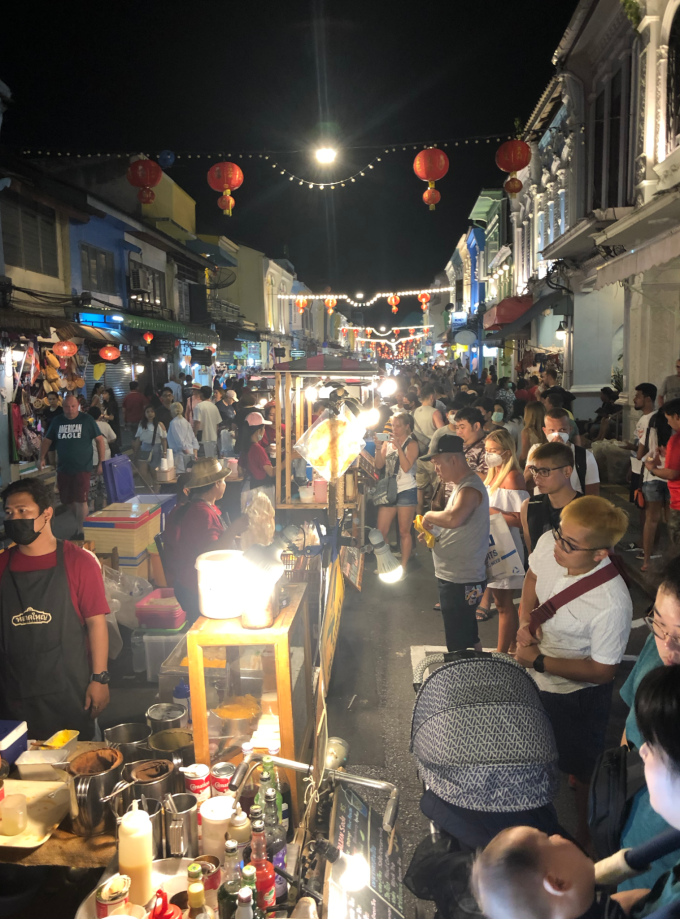 Dapo Night Market in
Puji Town The Dapo Night Market in the pedestrian street of Puji Town may be influenced by the atmosphere of the shops on both sides, and it has some cultural atmosphere. ? Like Bangkok 's Grand Palace and the night market in Chiang Mai 's Sunday market. There are many artists who sing. You can make a washable tattoo on the spot. There are also many paintings and goods that sell handicrafts. It is about 3km away from chaofa, you can go shopping if you are interested.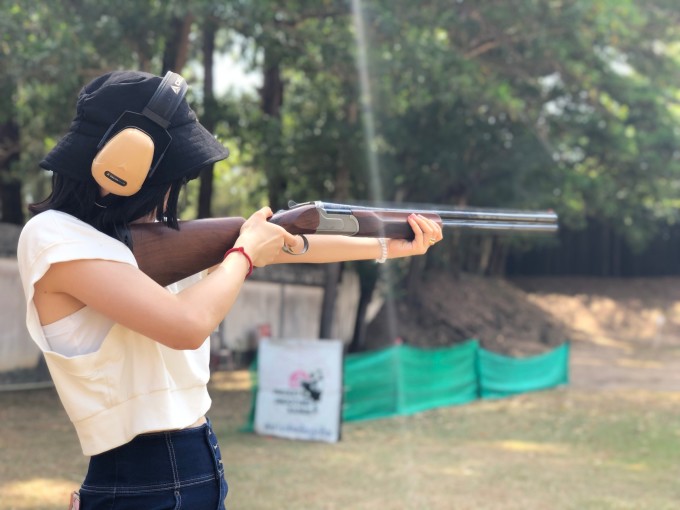 Shot.


That's probably it. Thought of adding more.
The training life like a dream is over. Will definitely go again when there is a holiday.
Soldiers with questions, please leave a message or private message.
On March 8, Zhang Weili defended the grassweight title. It is really inspiring. Not only achievements, but her spirit gives people the power to move forward.
True goddess
Muay Thai Brazilian Jiu Jitsu Phuket boxing hall MMA
© This article belongs to all juvenile broken hand, any form reprint please contact the author.