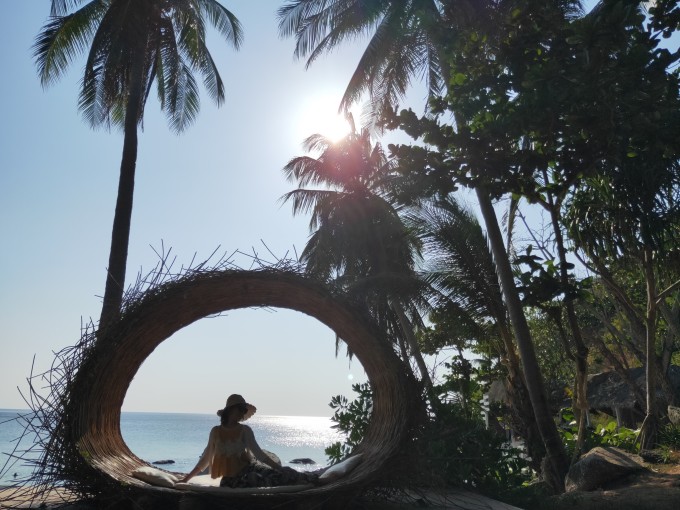 This is my first hornet's nest Travels, from 19 years old to go to Italy to study, it relied on a hornet's nest predecessors travel writing helped me to free exercise of Europe more than thirty countries, or half-baked by my high school English in a foreign country It's a little bit powerless, and I haven't written any travel notes. First, because my literary talent is not good enough, and second, I am too lazy. The Thai After I came back, I caught up with the panic-stricken new coronavirus at home for half a month, and felt that I didn't want to have some memories in the future but just left some scattered photos without stories, so I have this first travel note.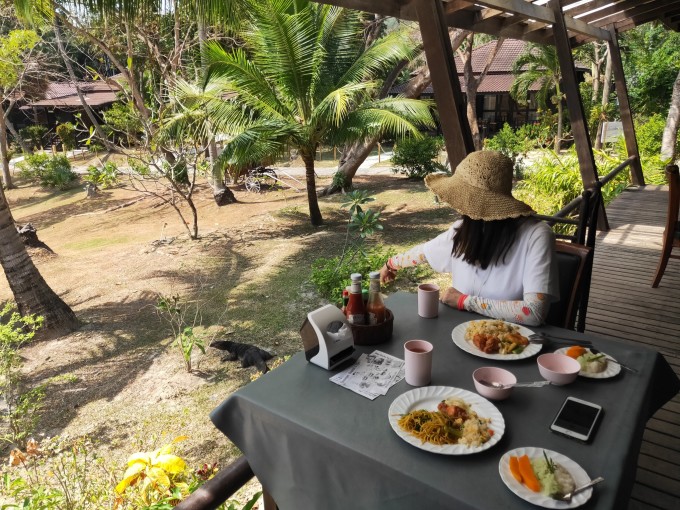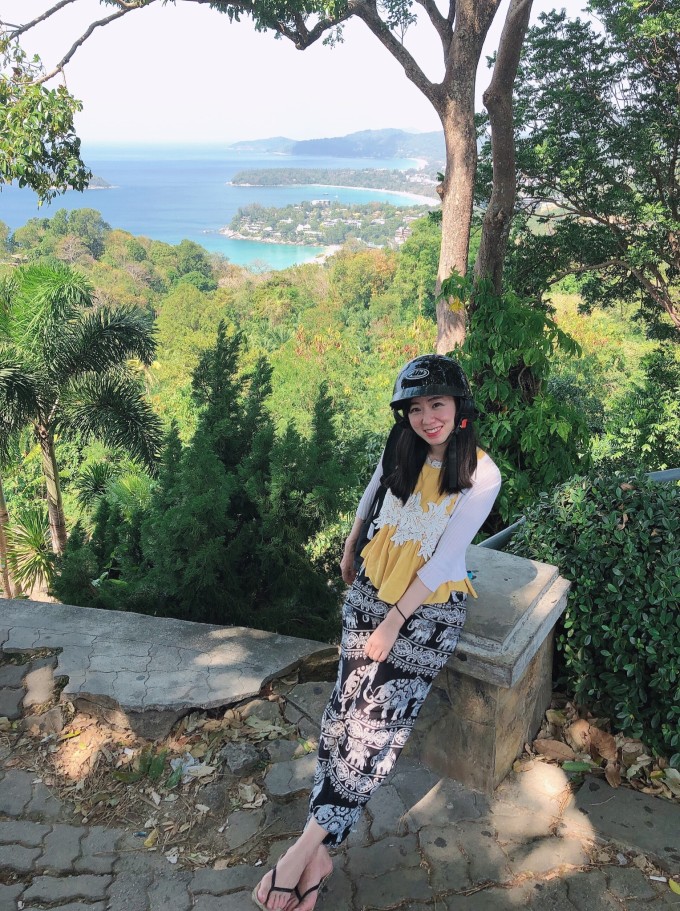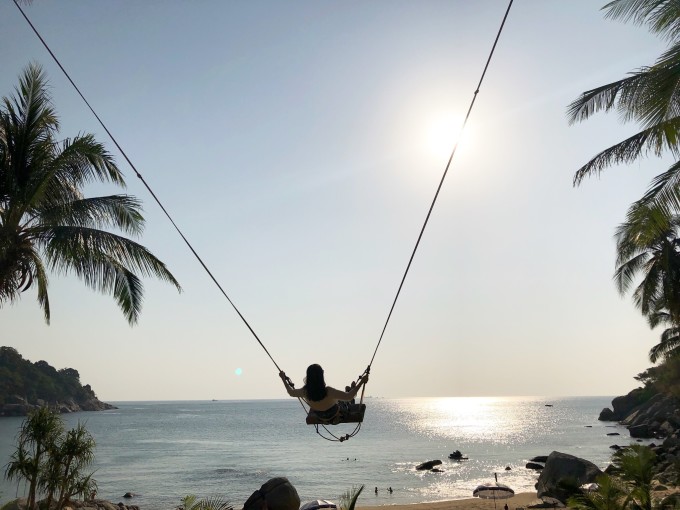 18 Chinese New Year went to Hong Kong Chaozhou and Vietnam , have been prepared for 19 years Spring Festival to go out again, and who knows in November found that she had the baby, so peace of mind at home child care had finished the Spring Festival, five or six months pregnant when listening to people say is out The best time to play, the belly is not so big, the pregnant mother is not so tired, and the fetus is relatively stable, it is unlikely to be accidental, but when I think about my mother and my mother-in-law, I don't even have the courage to talk to them.

. So the baby was born smoothly in August 19th, and I have never been there . Then there is the life of the cow for three hours a day, feeding every three hours and feeding every three hours. Although the baby brings a lot of joy to our whole family, I still yearn for the self in travel. Since the baby's dad can only go out for more than 20 days before and after the Spring Festival, if he does not seize the opportunity to go out this time, I am afraid that he will have to wait another year, so he secretly discussed with the baby's dad about going abroad to play and let him go. Do ideological work for my mother-in-law, because if I leave, my mother-in-law will take the baby for me 24 hours a day . In the past, my mother-in-law came to help me with it during the day and morning. I would rest at home and buckle the phone, and then we would bring it by myself at night, so I felt tired every day and had no freedom. If you let your mother-in-law bring your baby 24 hours a day, you still have to get up to feed your baby three hours every night, and you are afraid that your mother-in-law will not be able to eat it. But in the end I found out that I have the best mother-in-law in the world who has the best skills in bringing a baby, and let us play with peace of mind without saying a word, so I have this long-awaited mother-in-law.


Thailand is OK . I booked this trip one and a half months before departure, so in order to be able to go out and play with confidence, I worked hard to meet the baby's daily milk intake and insisted on sucking out a bag of milk and keeping it in the refrigerator. Nursing mothers still have many scruples when going out to play, such as



I need to use a breast pump to pump milk once every three hours. No matter where I am doing or what I am doing, the milk will swell and hurt, and I can't do anything. But even so, without the pressure of the baby, my laziness still caused me to suck from three hours one to four hours, and then five hours later, so that the amount of milk was getting less and less. After returning to China, it could not meet the baby's daily needs. , I need to give her one or two more milk powder every day to make her full. But later, as the baby sucked more every day, my milk came back in more than a week, so I think mothers who have enough milk before don't be afraid. If you want to go out and let yourself out, give yourself a holiday like this. If you come back and let your baby suck more, you can still get it back. For example, I now had returned to the same amount of milk before going out to say so much digression, pay close attention to the chase ticket 1. Luoyang



- Bangkok . Luoyang This third tier cities, has a direct flight to Bangkok aircraft, Spring Airlines, a person 779 yuan. Spring Airlines is a low-cost airline that is very strict about boarding luggage. One piece per person, 7kg per piece, no more than 40*30*20cm in size, ordinary check-in boxes cannot be carried, so we only save money. I brought a small 5kg suitcase, and then spent 100 yuan extra shipping.
2. Bangkok - Phuket . Thailand VietJet Air, flying for one and a half hours, 256 yuan per person.
3. Phuket —— Zhengzhou , Thai Lion Air, the baggage allowance required by this airline is the same as that of Spring and Autumn Period, and the volume is no more than 40*30*20, but other passengers seem to have brought ordinary cabins to board the plane, so this Airlines may not be very strict. A ticket is 1080 yuan per person.
A total of 2115 yuan per person. Visas completely forgotten now Thailand



Visa on arrival free things so Taobao do individual tourist visas, 248 a person. It's very convenient, and it takes a week to sign out. Phone cards because we are just in Thailand eight days, so buy the Happy card 8-day tourist card, overall very good model, traffic 15GB of 24.8 yuan each. Language I want to say I was still worried about my scumbag English, but! I found that I seem to speak the most Chinese over there. It's amazing!




Hotel
This time I stayed in a homestay and two hotels. Overall, they were very satisfied and highly recommended.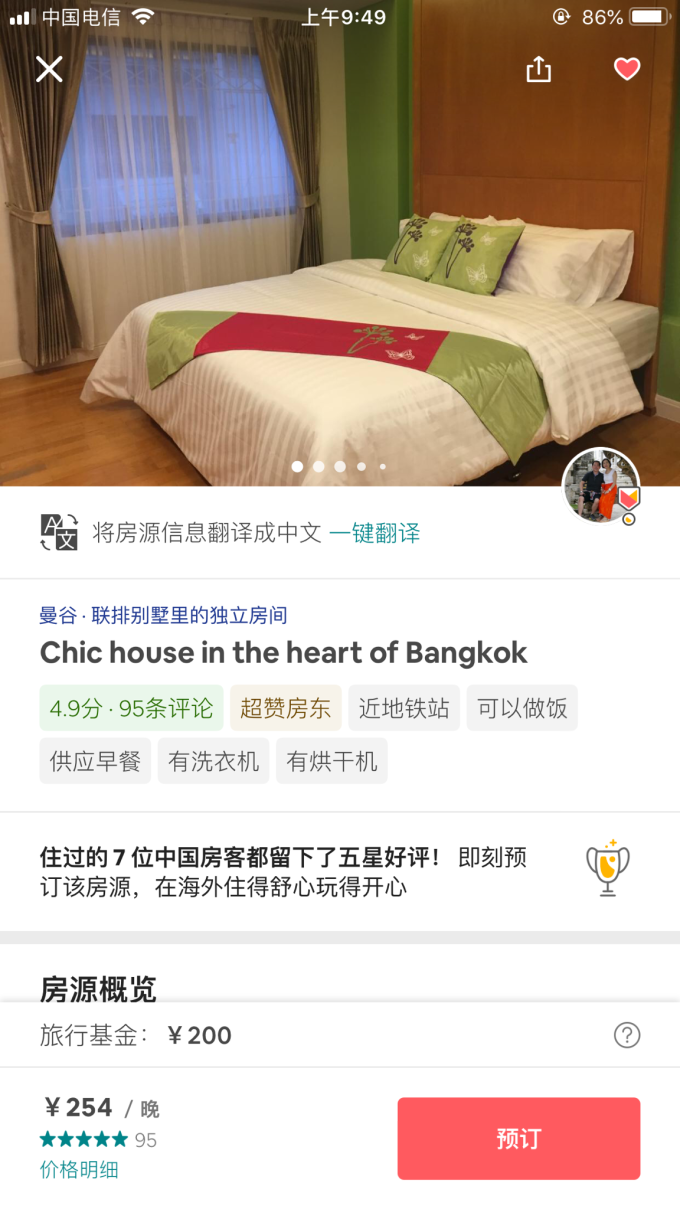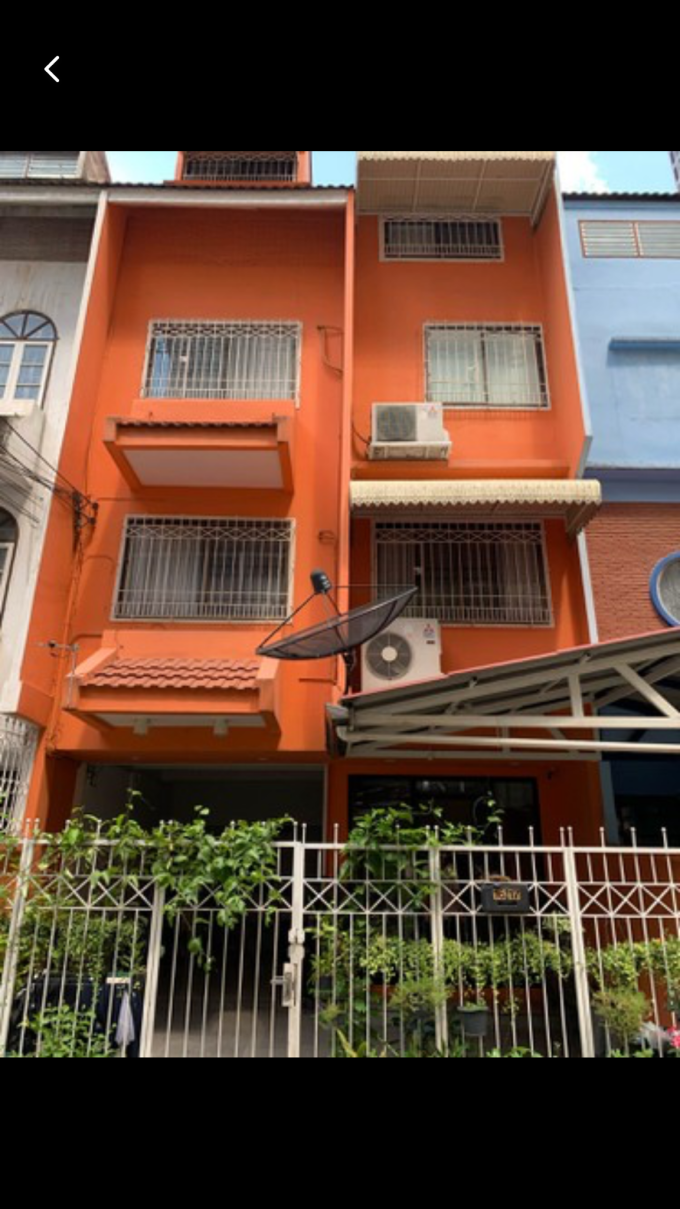 Bangkok -right next to the shopping mall Terminal 21, the location is very good, next to the BTS and MRT, the traffic is very convenient, there are two 711 next to the hotel, it is very convenient to do everything, we have several meals in the next terminal The food on the 21st floor is cheap and delicious. The landlord is a pair of Thai couples forty or fifty years, but stayed for three days and have not seen the landlord, there is a whole house not speak English assistant to help them manage the usual chores B & B, in short, I think the past few days to live It was very comfortable to come down. But we stayed for three days and then used new customers to reduce 75, a total of 830 yuan, the price is still good. Phuket - Patong East China Sea


Days Hotel by Wyndham Beach, because when we went it was 280 yuan a night with breakfast in peak season. Normally, 200 should be able to get it. Good location, away from the Jiangxi cold and Patong East China Sea beaches are a few minutes walk to the front desk there are Chinese-speaking Thai little sister, what a stress-free exchange. The interior of the room is similar to our 7-day express hotels. There is a swimming pool upstairs, but because our schedule is too full, we have never seen it.


Emperor Island-Banzhi Hotel. The price/performance ratio is good on the island. There are 4 hotels on King's Island, and Banzhi ranked third in terms of price. When we went there during the peak season, we booked a superior room for 708 yuan a night. The reason why they didn't order the cheapest superior room is because I heard from other friends' travel notes that the room in the superior room is relatively small, and there are more bugs and geckos, so I added 100 yuan to order this Room type. I am very satisfied overall, the room is large, and I didn't see any bugs. The rocky beach in the hotel is said to be the best snorkeling spot on the entire Emperor Island. This is also the main point of my choice of Banzhi Hotel, which will be discussed in detail later. Travel on the first day - landing in Bangkok the next day - Grand Palace, terminal21, Night Train Day - Siam shopping district, terminal21 Day 4 - Bangkok






Fly to Phuket, Jiangxi. It is cold.
Day 5-Emperor Island.
Day 6-Emperor Island.
Day 7-One day strolling around on motorcycles.
Looking at NUI BEACH , our itinerary is actually so simple, but why do we do it every day? feeling so tired are twenty thousand steps backing it, the father of her baby cockroaches tired every day, ha ha ha

First arrived in Bangkok~~~
Alas, I didn't expect to write travel notes before I went, so I didn't take any photos of the airport, which is really incompetent. We thought that there was heavy fog on the day we set off, so when we arrived at the airport at 4 o'clock in the afternoon, we were stunned to take off until after 9 o'clock in the evening. We came to the airport to be an airport express, and then we were just one stop away from the MRT. The homestay, stupefied is the homestay that cost 600 baht by taxi. Because it was early Thailand , the airport saw a lot of taxis, but at that time are not on the fear of being killed, so we have a special taxi information desk at the door at Exit 7, where the staff said we should go to bed and breakfast about For 600 to 700 baht, I thought about it and didn't want to toss at midnight, and the price was acceptable, so I asked the staff to call the car for us. When the car came over and saw VIP-taxi written on it


, The driver came down and gave us a bottle of mineral water. I knew it. The price should be relatively high. It is estimated that the ordinary meter taxi should be cheaper than ours. So if you go, ask the driver before getting on the bus: By meter? If the driver agrees, you can just get on. Below is the car we made. The starting price is 150 plants, and then 16 baht per kilometer.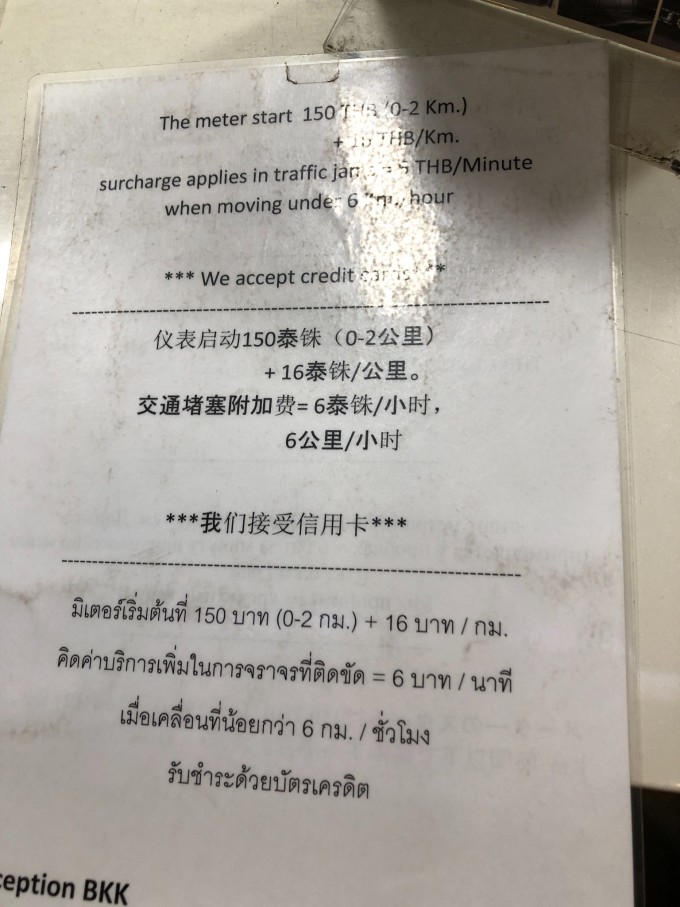 I arrived at the homestay just after 2 o'clock in the middle of the night. It's already over 3 o'clock when I went to bed. I wanted to sleep a little longer in the morning before setting off. Who knew I was knocked on the door by the housekeeper at 7 o'clock in the morning to wake up Up. Because I confused with another person in the room, we would have given better than some rooms now live, I was expecting when we came back and back to the room at night, who knows we wake up early in the morning to put each other for a moment the room which is really It's a bit unprofessional. After thinking about it, I only slept for more than three hours in total. Forget it, get up and go to the Grand Palace.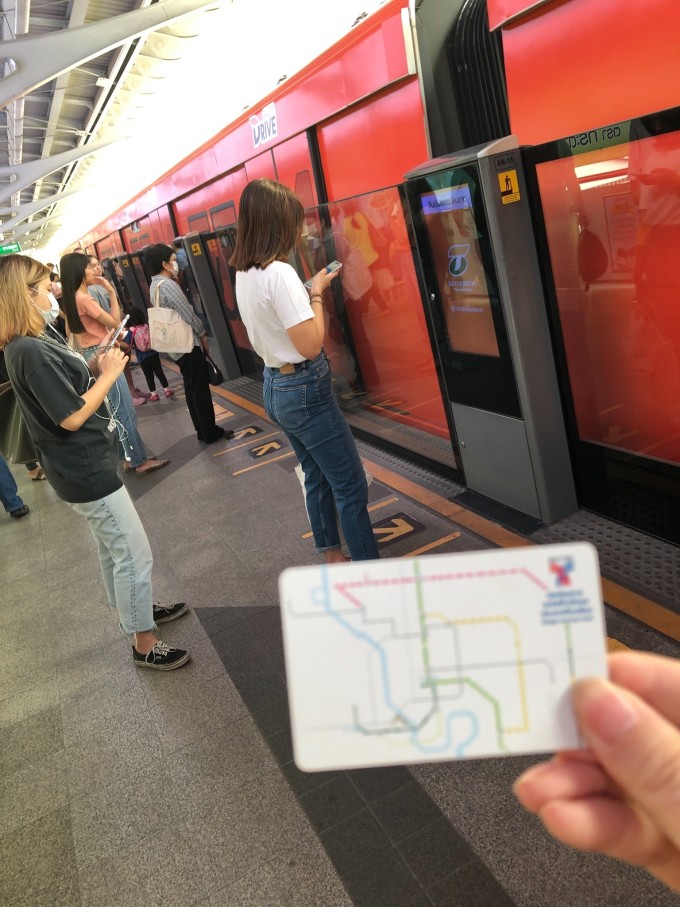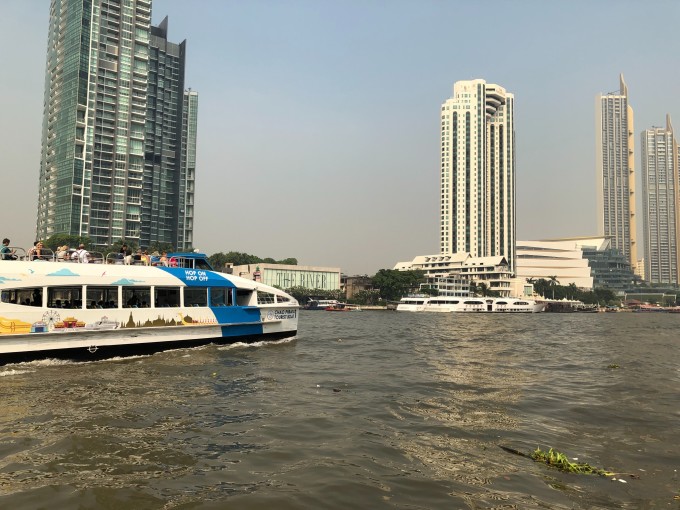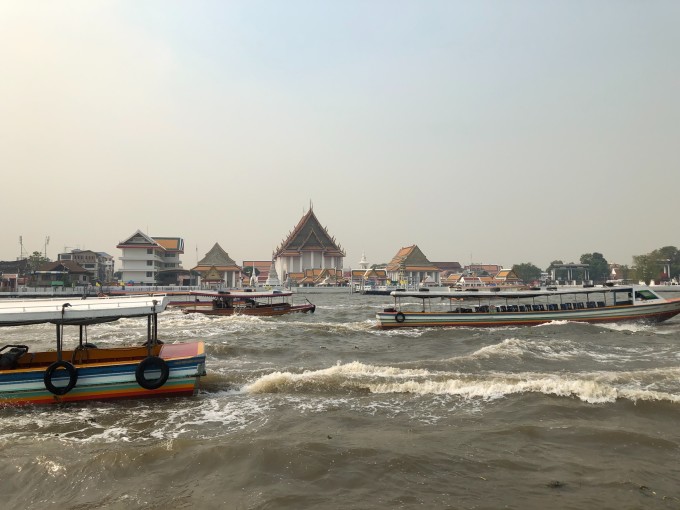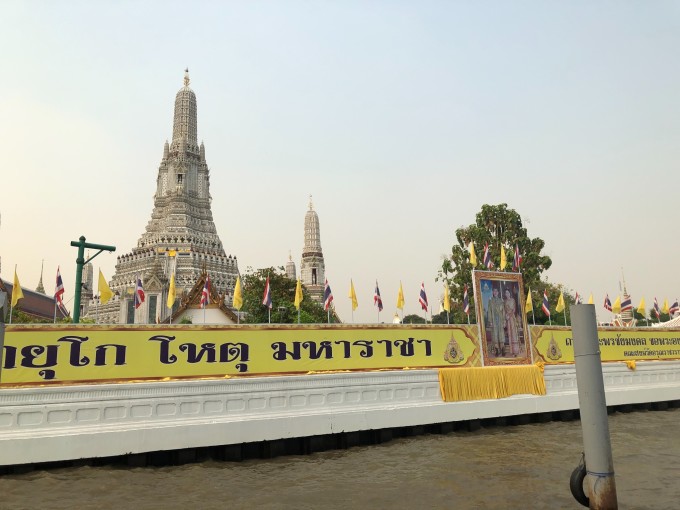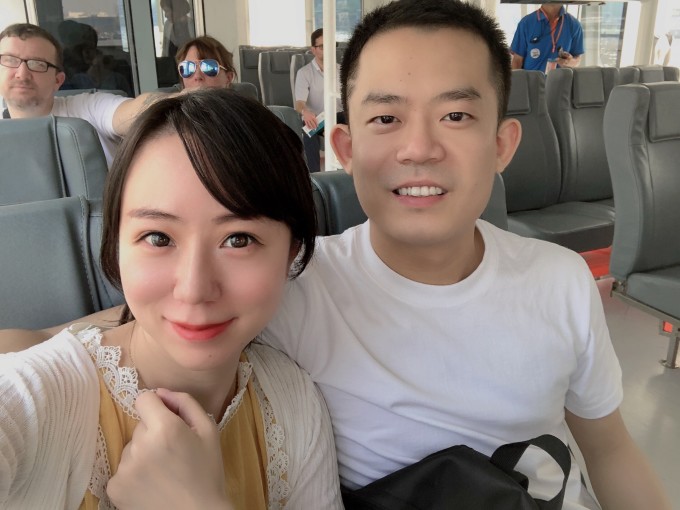 Go to the Grand Palace, take the BTS and get off at Saphan Taksin Station, exit No. 2, then change to the bus, the orange flag boat we made, and the bus will go down to N9 and go straight, and then follow the flow of people to the Grand Palace. 500B tickets for one person, only cash. Pay attention to the requirement of long trousers when going to the Grand Palace. You must not have a bare shoulder or a back. Girls wear skirts that are over the knees, even ripped jeans. I just wore ripped jeans and forced to buy a pair of pants in their store. 200B, it looks okay, but at night when I went to the train night market, I found that there were all 100B, and the style was more than that of the Grand Palace.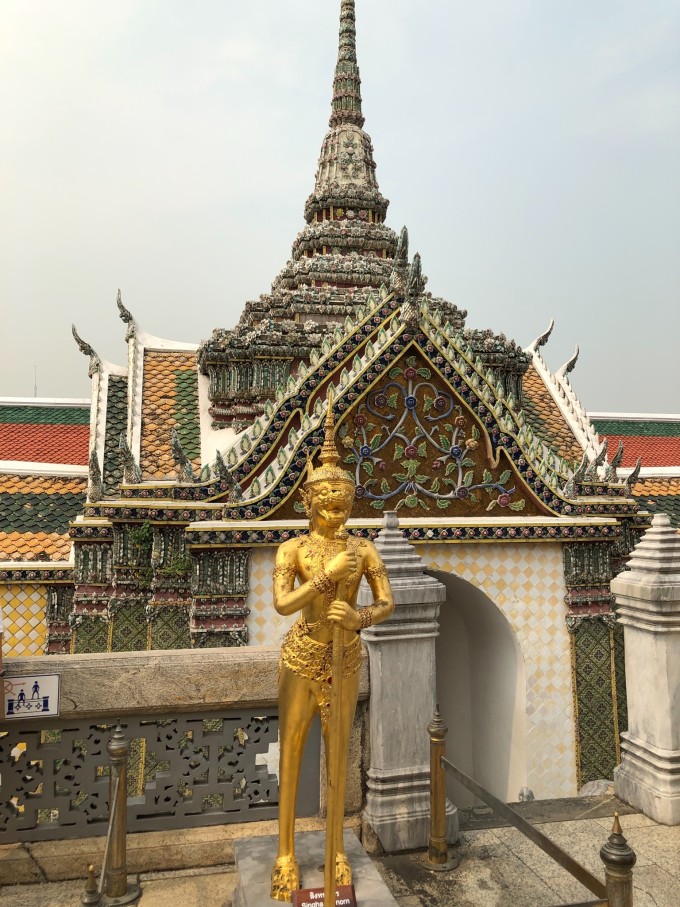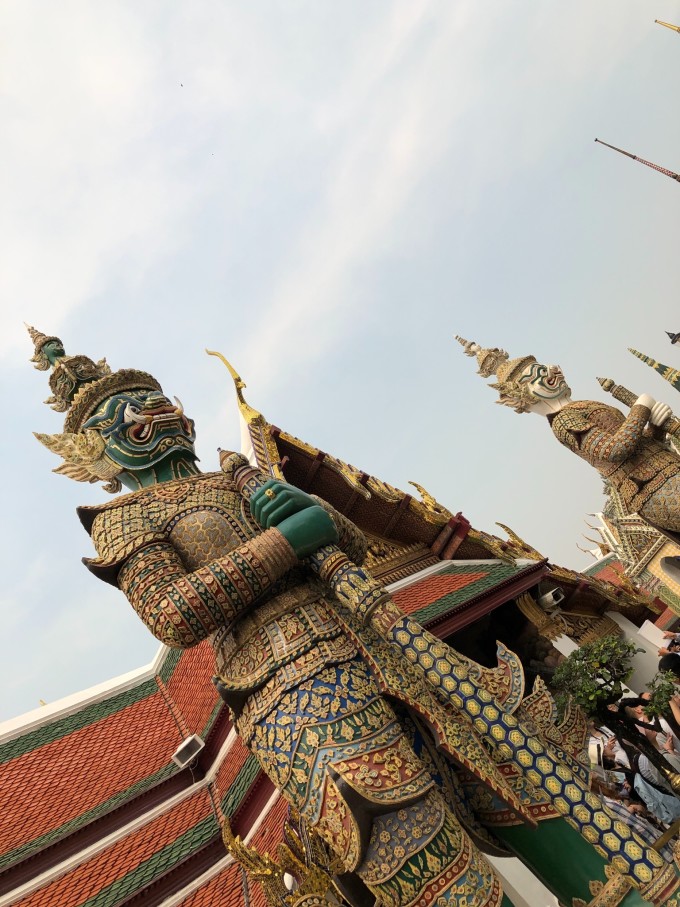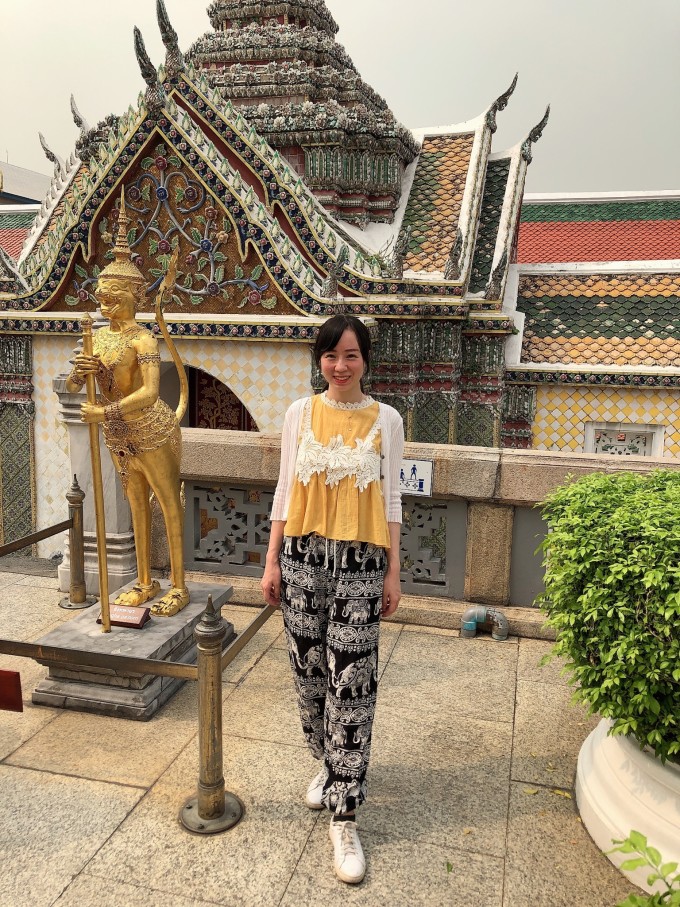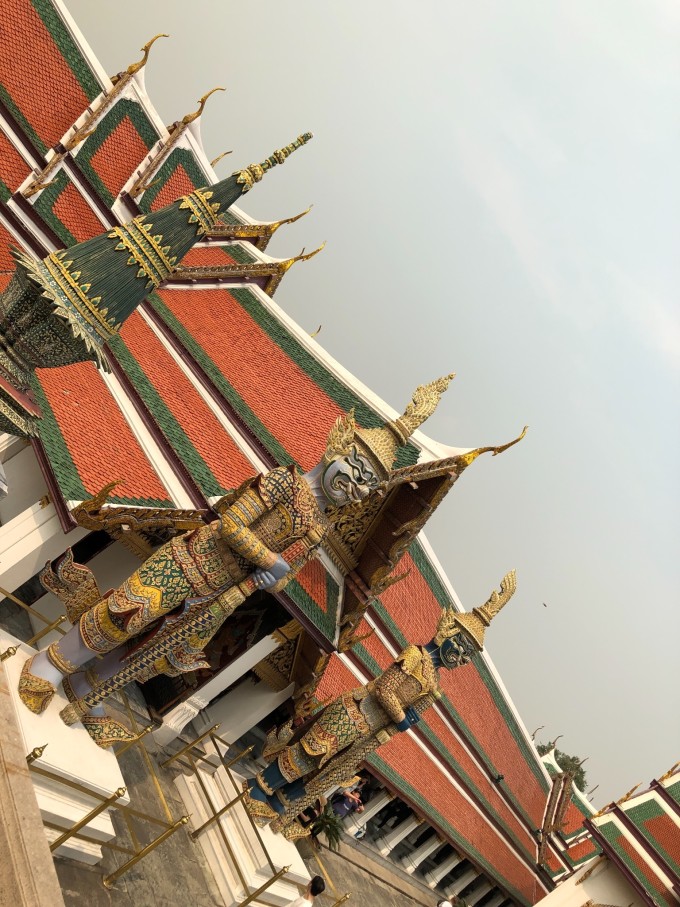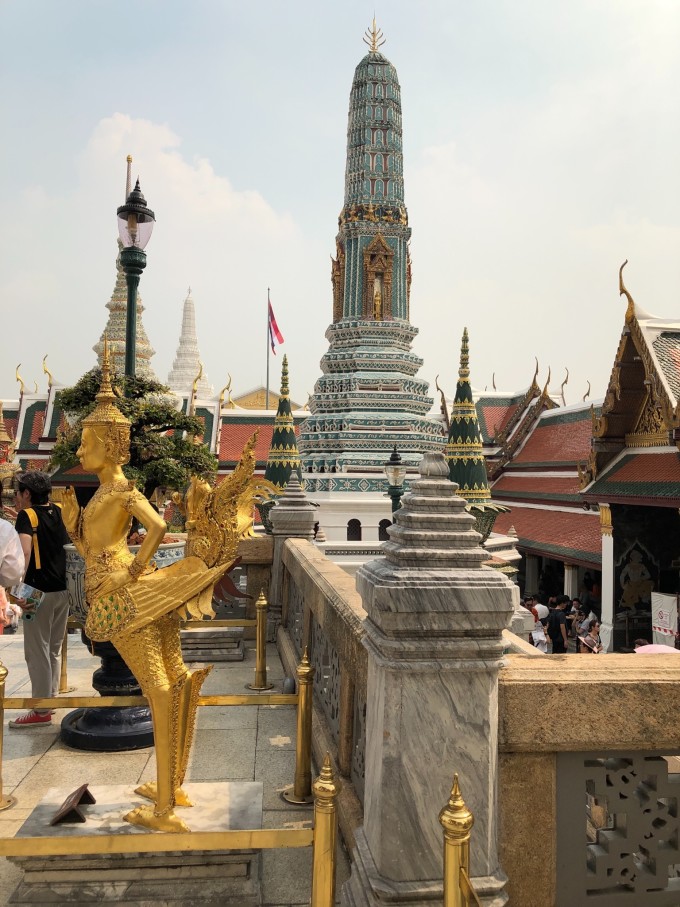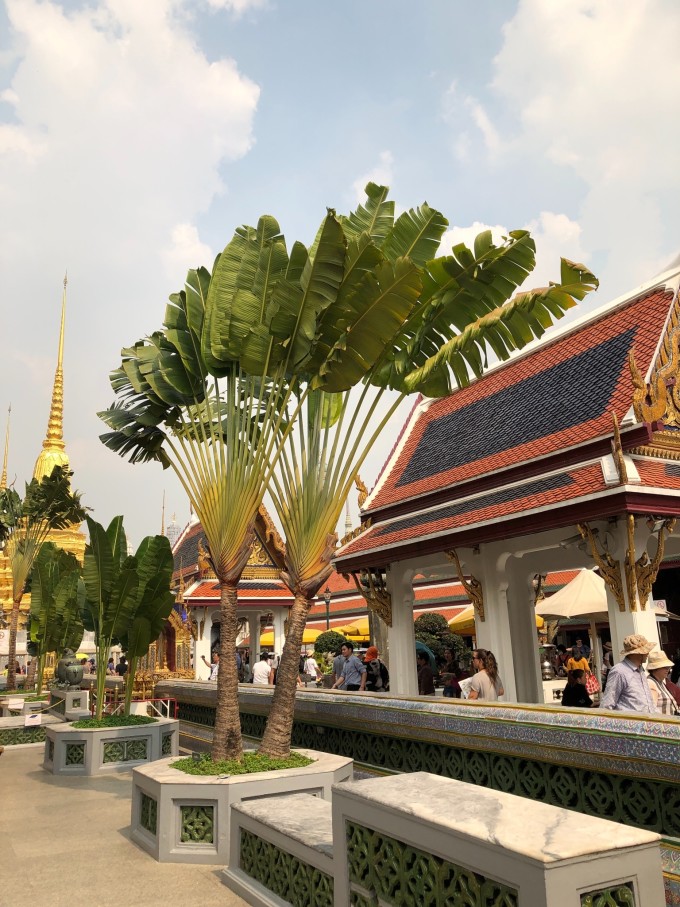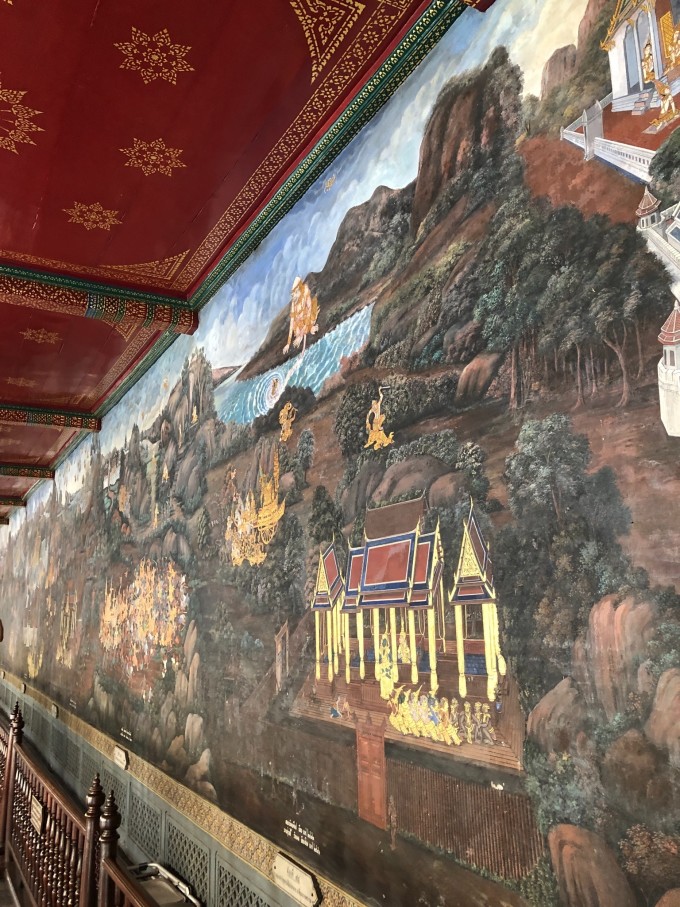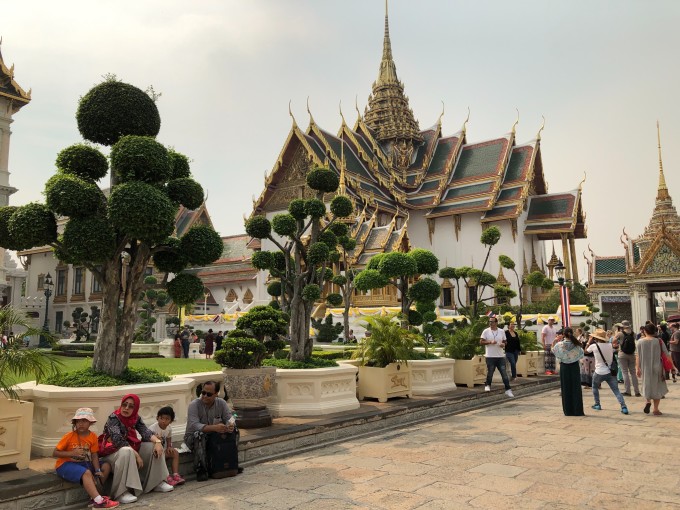 Sorry, the pictures have not been refined, it is too lazy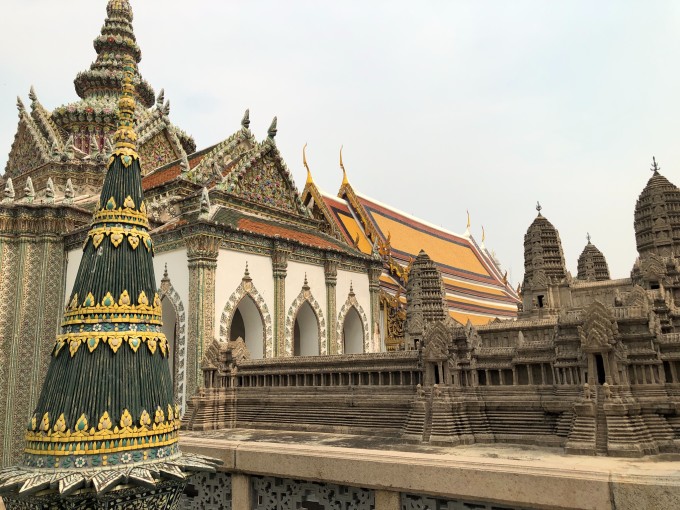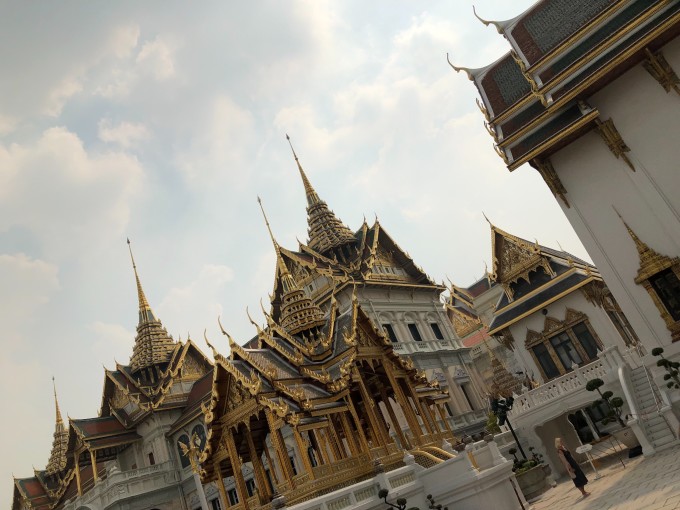 Visiting the Grand Palace, when it is too hot, flushed face, sun tan, but too many people, the building with us again in Luoyang White Horse Temple Later, the newly built several temples like , so it is uninteresting, and finally It took more than an hour to go out. Out of time already 12:00 and more, hungry think there are close to home on a Michelin recommended list of Thailand

Restaurant: Kura Apsorn Restaurant. There seem to be two stores in this one. We went to the Jiefangbei one more than a kilometer away from the Grand Palace. It was easy to find the store name by directly navigating on Google map.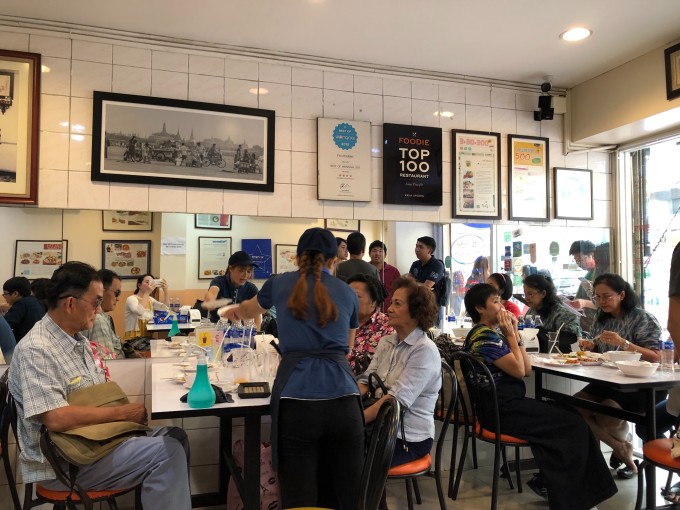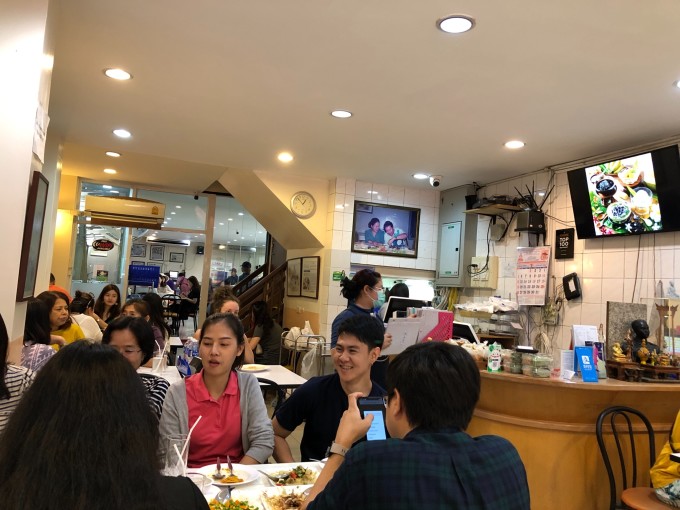 There were a lot of people, but we hardly waited to be seated. The turnover rate is still very high. There are a lot of tourists come here especially, of course, we did see a lot of Thai workers to dinner here.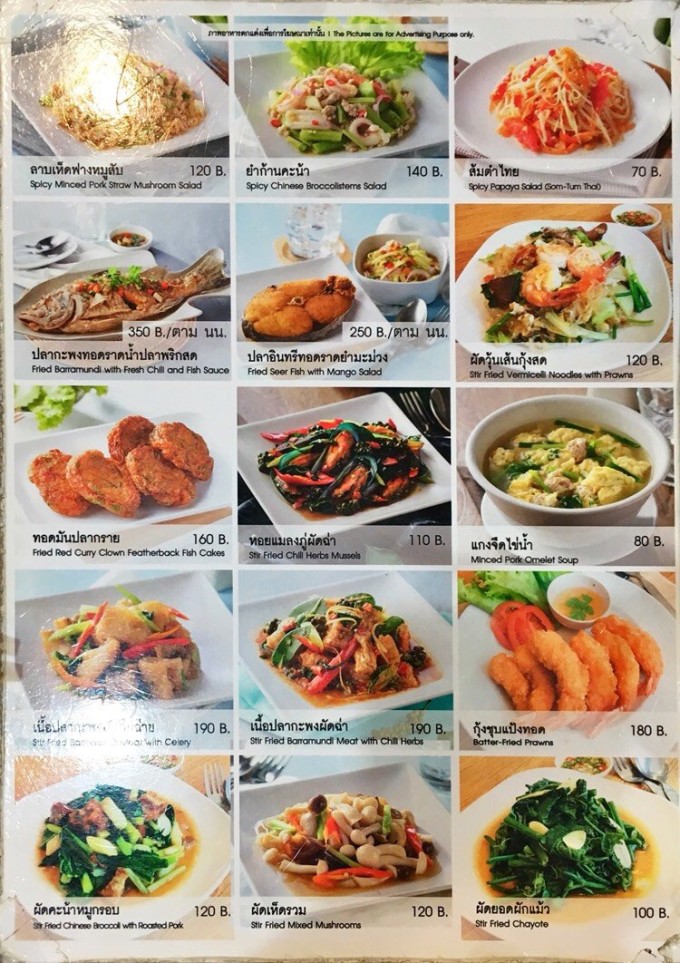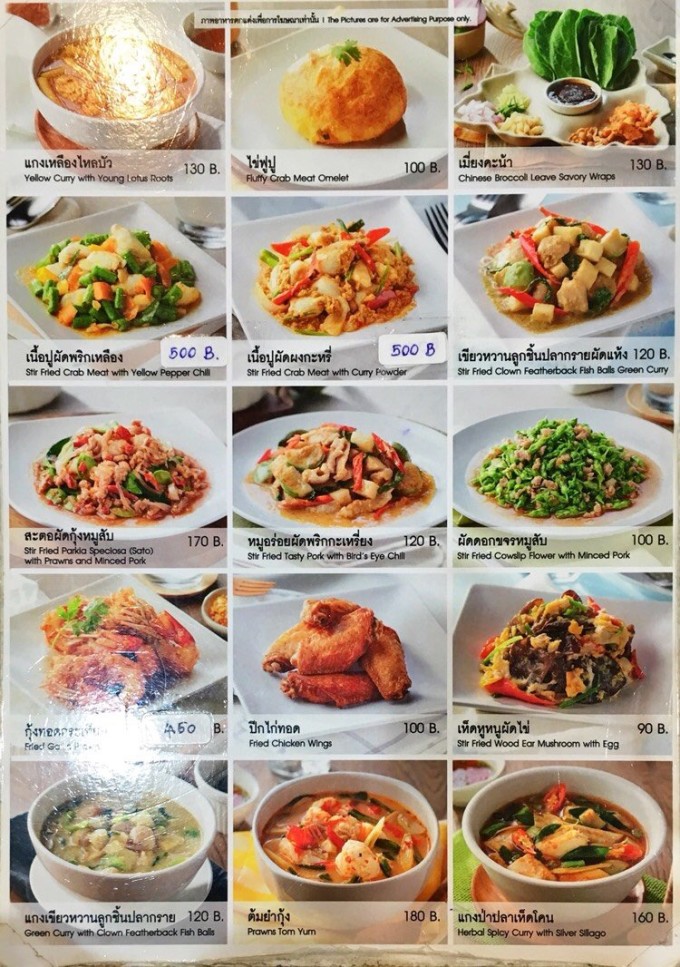 I found this menu on the Internet. I didn't take it at the time. You can refer to it. By the way, their new menu seems to have Chinese, which is very convenient.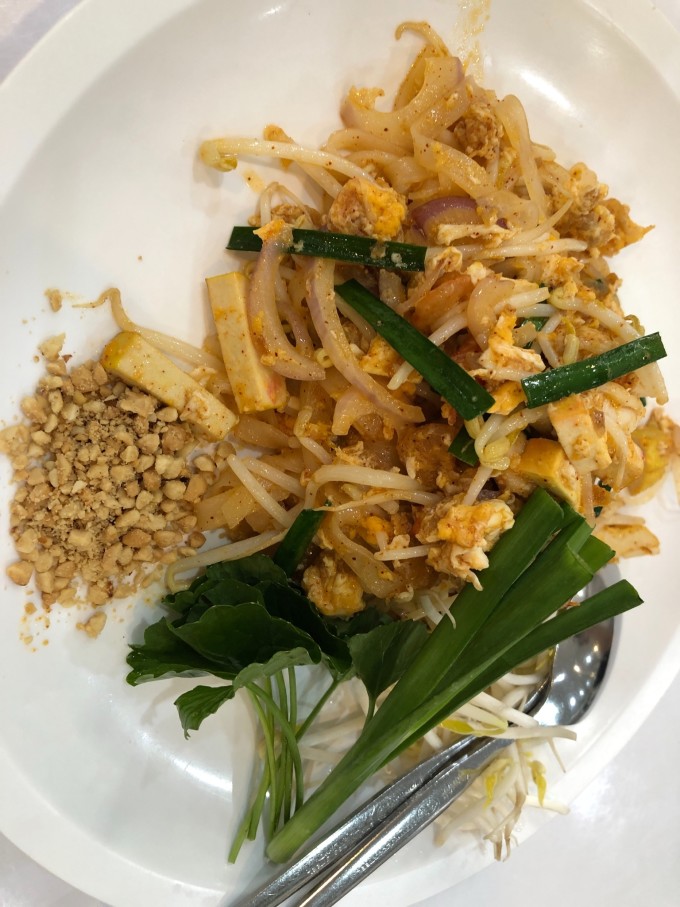 I do not know Thai people eat or how small their surface with flour amounts are extremely rare, especially in particular less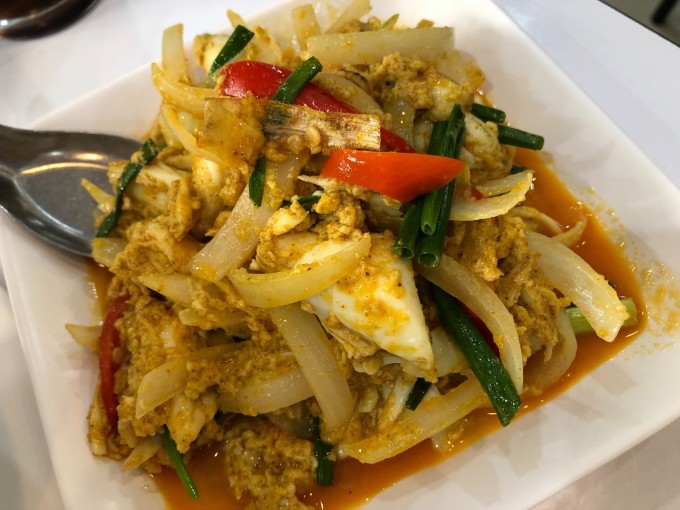 This curry crab 500B is about 120 yuan. To be honest, the price is not high and the meat is not a lot. The key is very small. I still like to eat the domestic breaded crab that is just steamed and very fresh.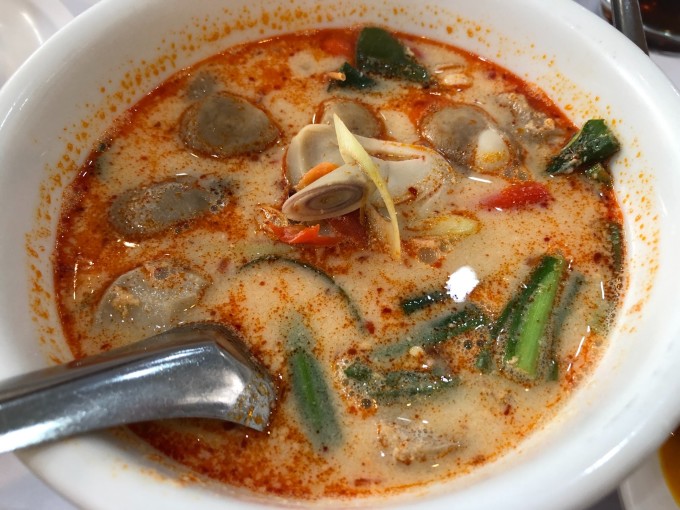 I do not like to eat Thai Tom Yum Kung soup, personal preference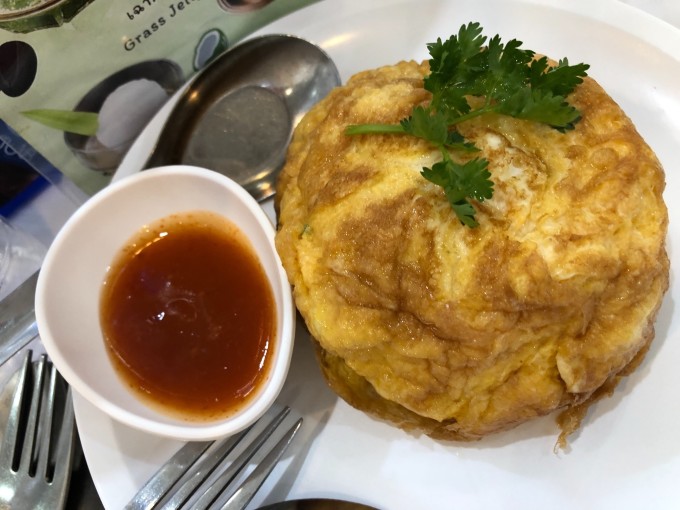 The crabmeat omelette is a dish I think I'm the best point where to eat, because he was very ordinary, nothing do not like the taste when the bill with a credit card and Alipay, but are collected at a 2% fee like this We ate more than 200 RMB for a meal, but it was so-so, I didn't think it was so delicious, haha. After dinner we went again to jump MRT station, there is more than 1 km of it, this trip most of us can not go by car, I do not know why then back to the hotel and fell down asleep, sleep 6 Get up at more o'clock to pack up and prepare to go to the train night market.


Ratchada Train Night Market where travel agency clocked in~~

Transportation: MRT Thailand Cultural Center Station (Thailand Cultura Center) Exit 3
a subway station you can see the black population pressure pressure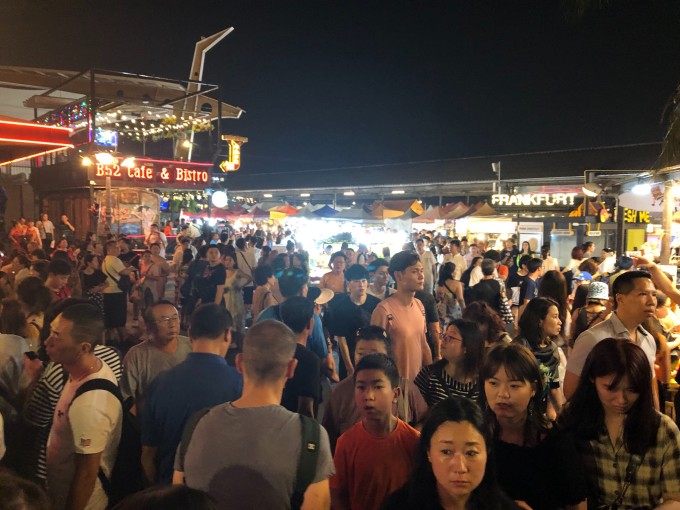 There are too many people. Since the vibrato became a hot spot, it has become a must-check-in place for travel agencies. People have to post people when they walk. In addition, although the train night market is large and there are many stalls, almost everything is sold. Many are similar, what volcano ribs, grilled fish, skewers, shaved ice, etc. I turned around and I really didn't want to eat it. In addition, the environment was too noisy to make people feel a kind of irritability, so we only bought a few skewers of their grilled pork and chicken skewers (the key is still very bad Eat) I decided to go back to terminal 21 next to the hotel to eat.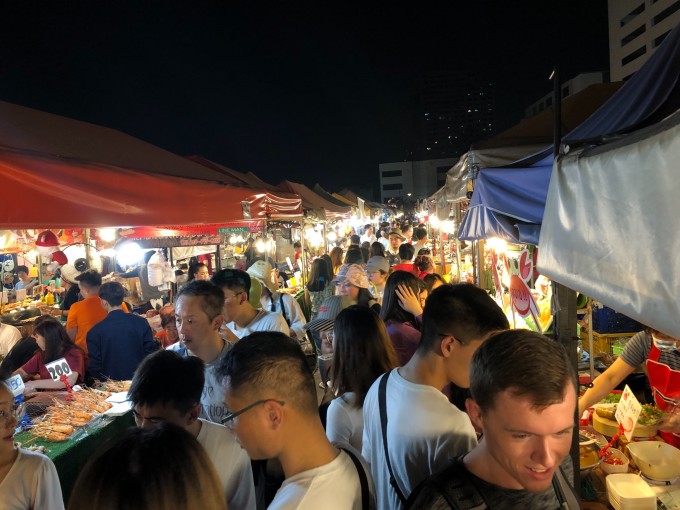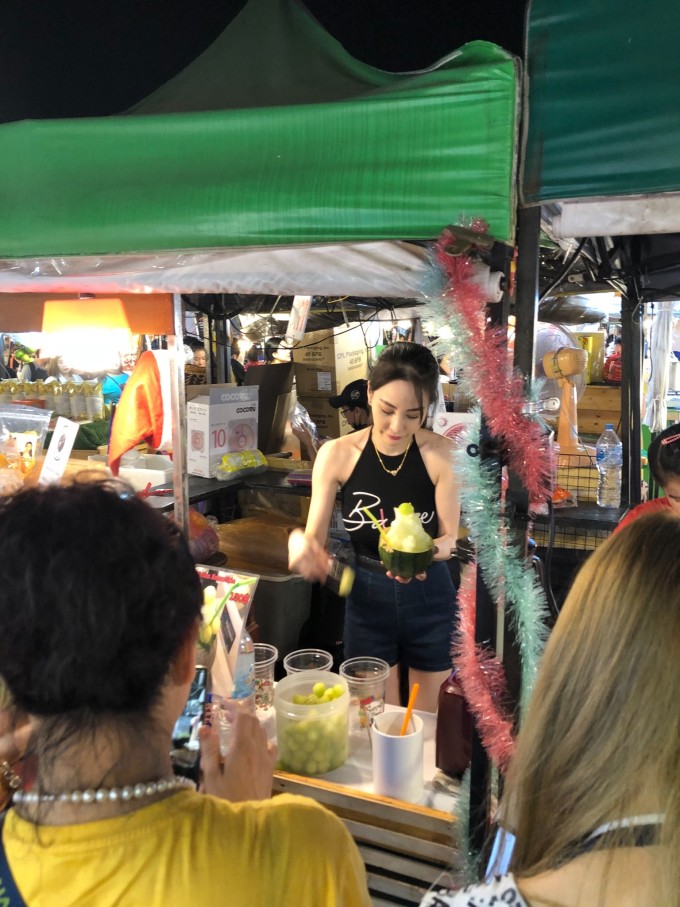 To train the night market actually wanted to see fruit beauty Haha, although the girls but I also love to see beauty. I was saying that I didn't find the fruit Xishi today and I was going to leave. I turned my head, damn, isn't that? I am still very white, thin and beautiful, hahaha.

The location of this mall is very convenient for transportation. The BTS station is called ASOK and the MRT station is called Sukhumvit station. There are nine floors in total, with 7 floors above ground and 2 floors underground. The entire mall is built in the style of a terminal building, and each floor is a national theme. There are many niche brands here, so it's actually quite good to shop.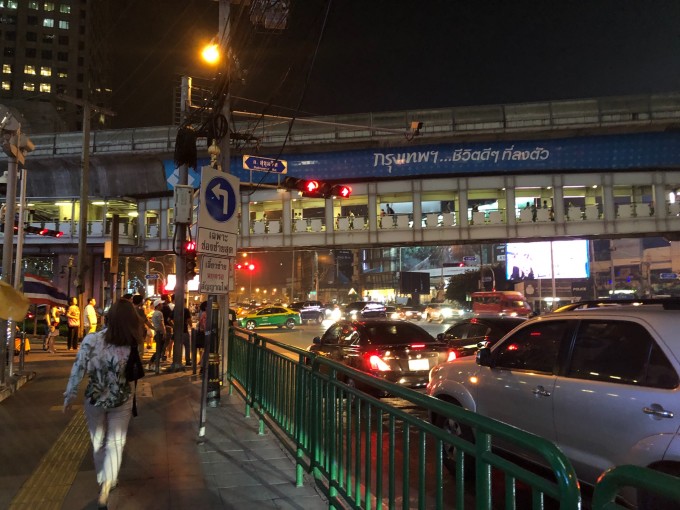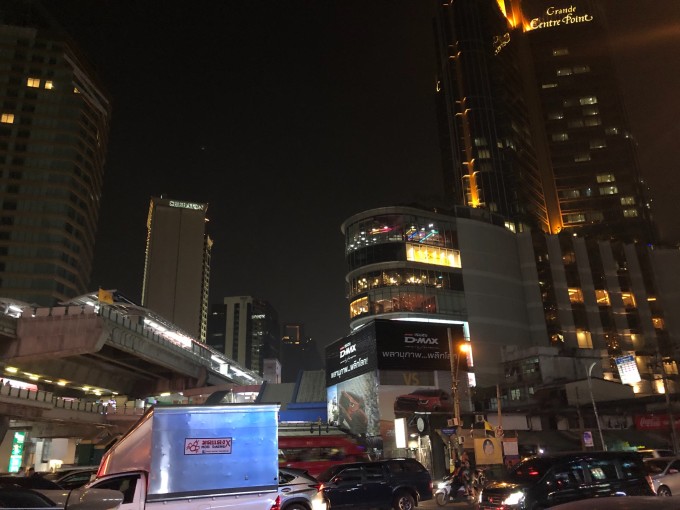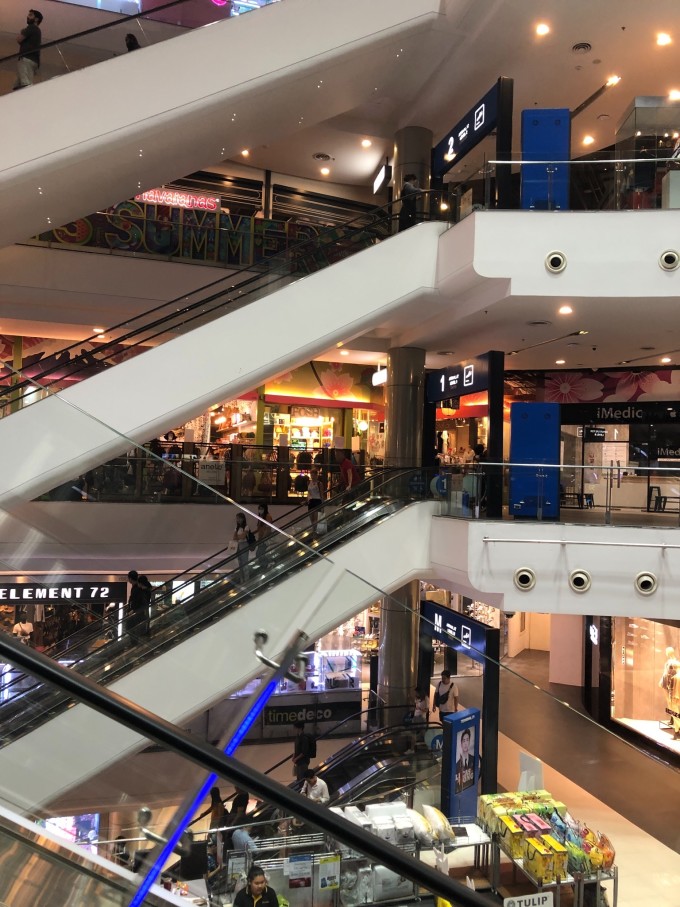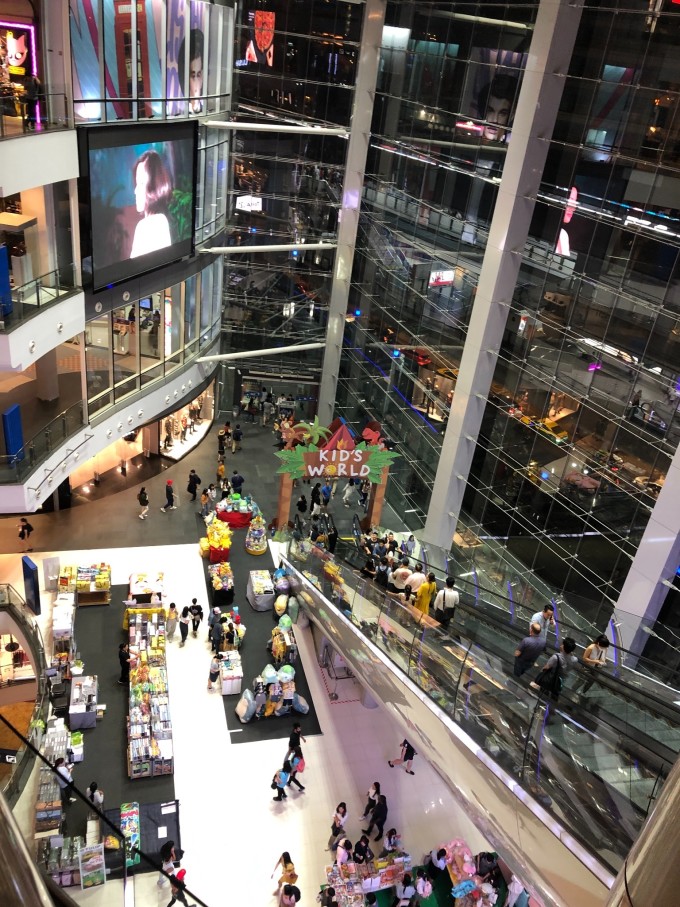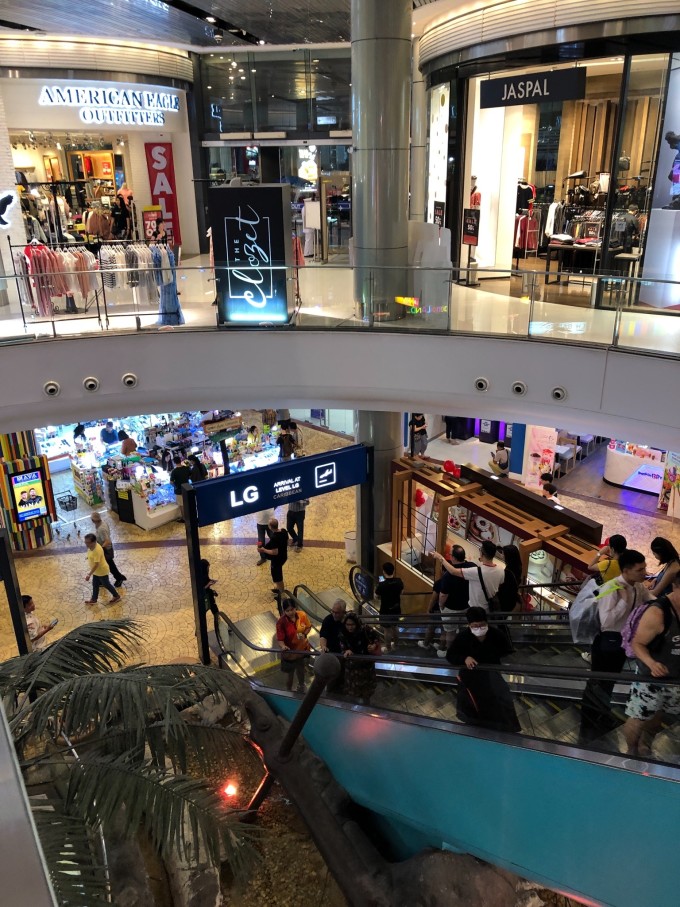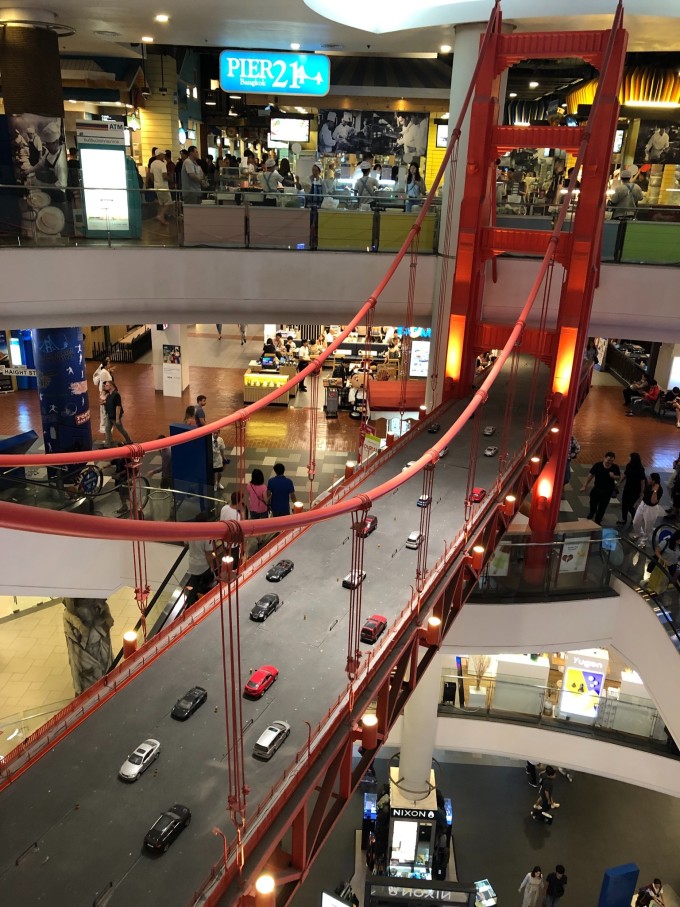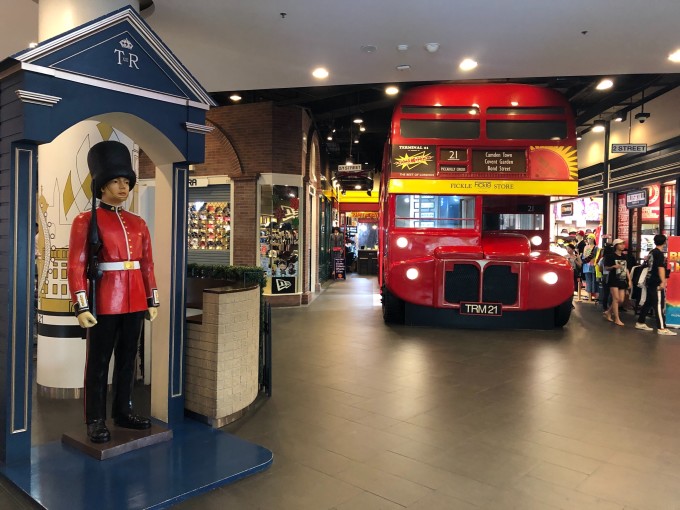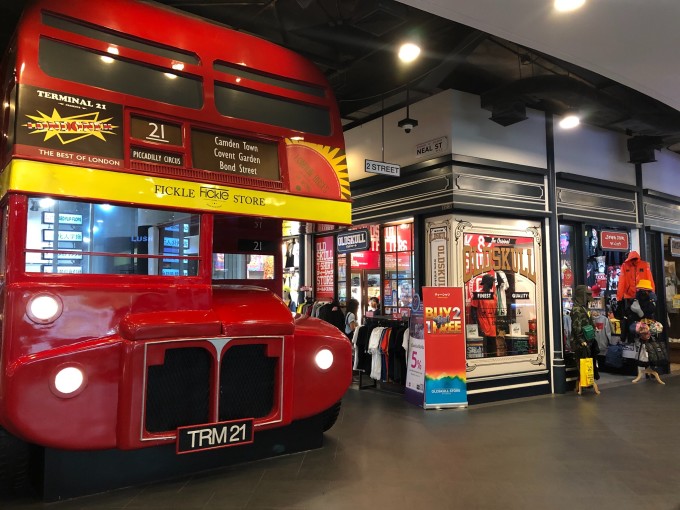 But the thing I recommend most for Terminal 21 is their fifth floor, which has a lot of discounted food, just like our domestic food generation. Go to the counter to recharge a card. You can return if you can't finish it. Then you have this card. You can eat whatever you want. Most of the Thai snacks can be eaten here. Although the portions are not large, they are very cheap. In this way, you can eat more. Most of our meals in these two days It's all solved here, because it's really convenient.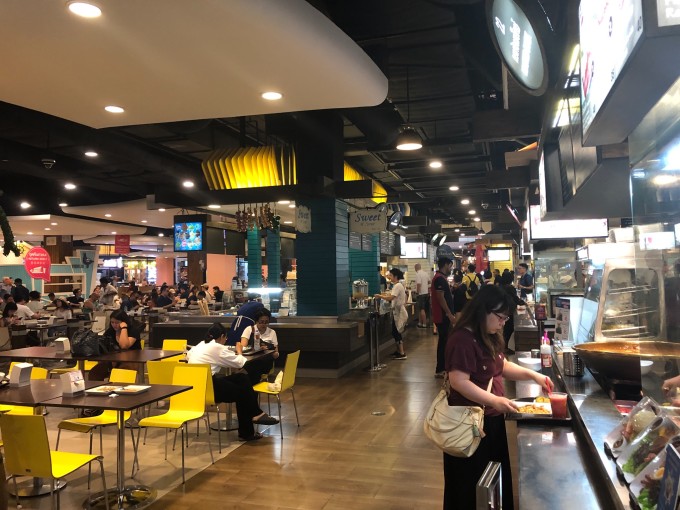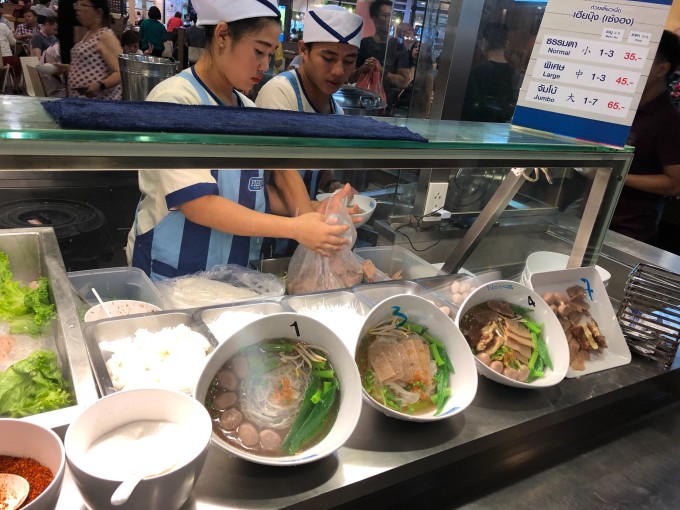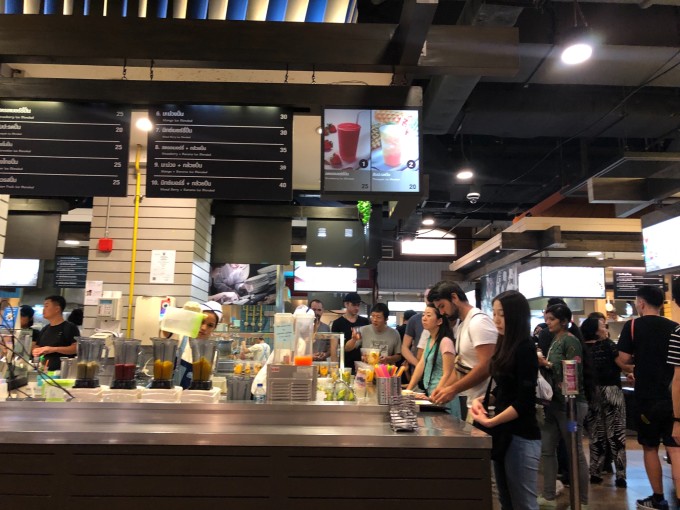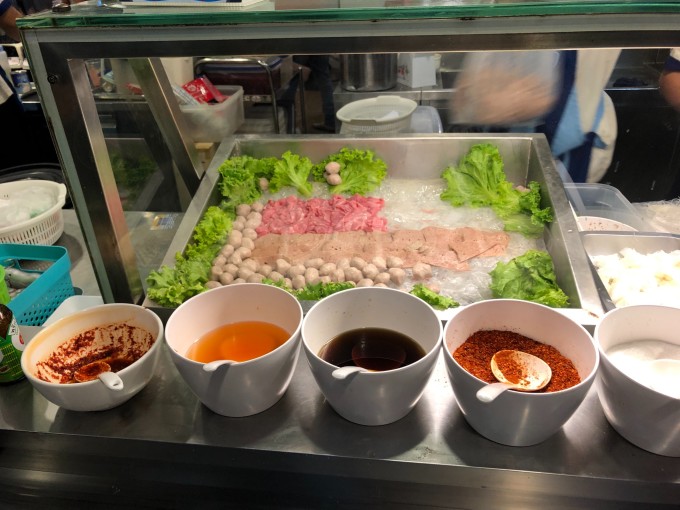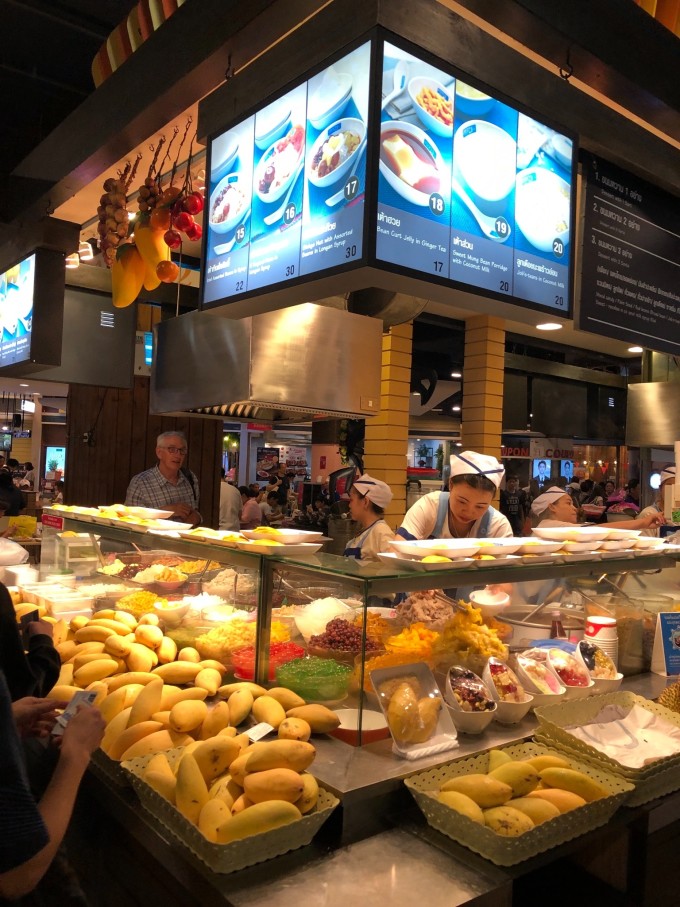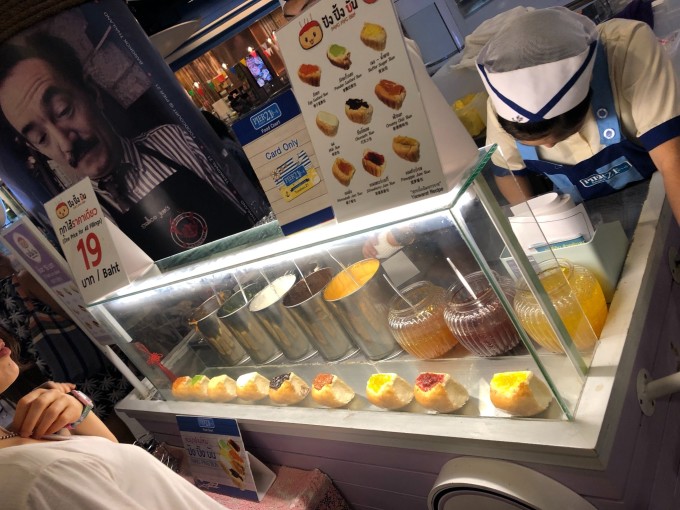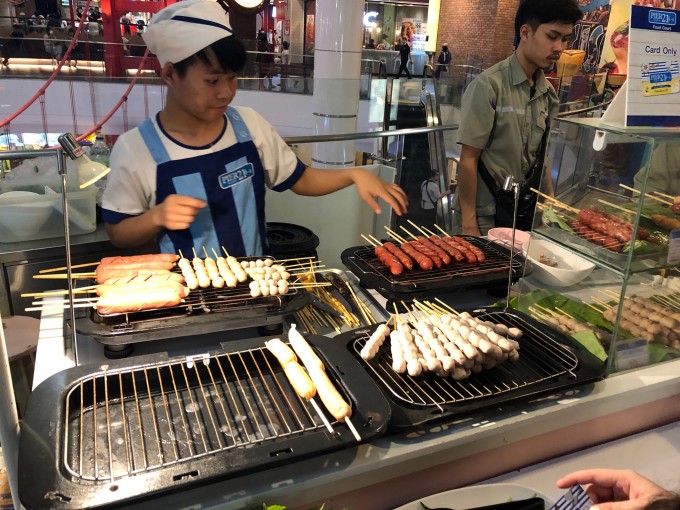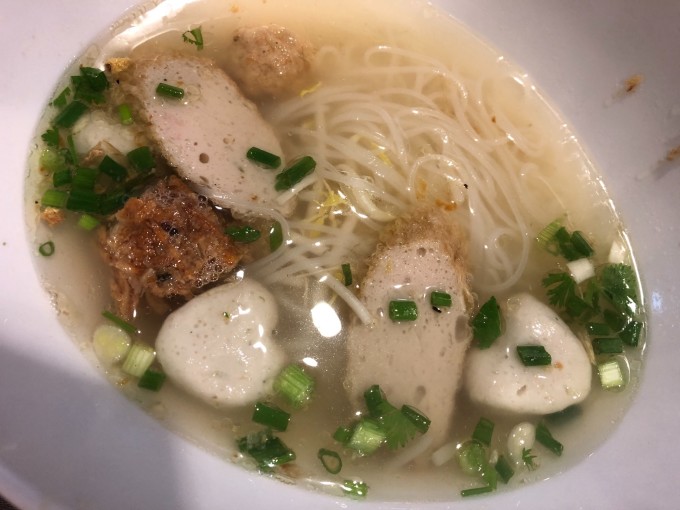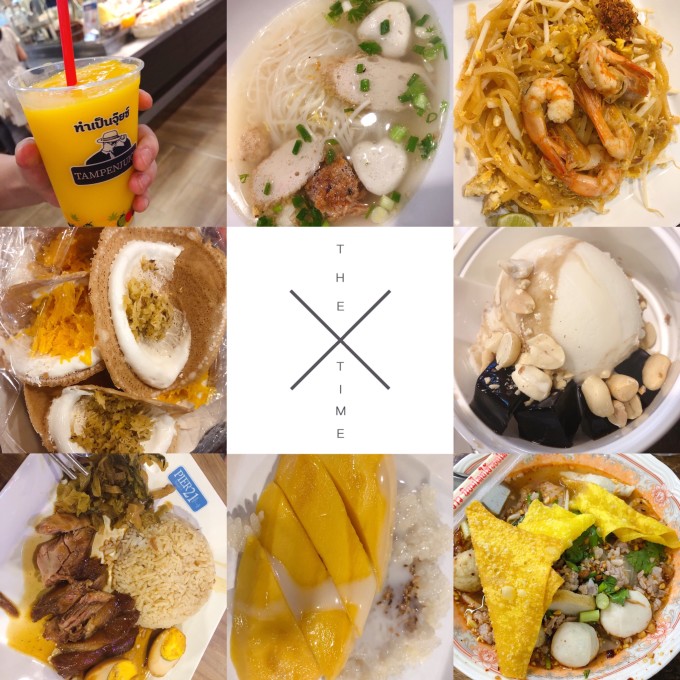 The freshly squeezed fruit milkshake here is really delicious, many flavors, mango strawberry, etc., and then sticky rice is also delicious, coconut ice cream is also good, very pure coconut flavor.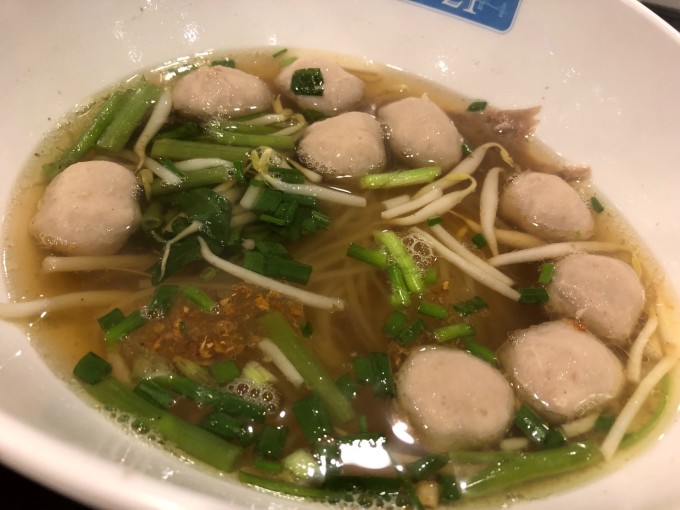 Do not know why people travel to see the feel Thai dishes are especially good, but really do not think to yourself after eating habits in Thailand like most is that they these fish powder or flour the beef, fish balls fish cakes are not genuine like domestic supermarket goods with no fish taste, especially fresh soup of the soup is particularly tasty, but it is the component of the powder is too small, I estimated that a girl can eat three bowls ha ha ha, I'm her dad and baby are Greedy ghost, I ate a lot of food at 21 at night, but was hungry again at 11 at night, so I ran to 711 downstairs at the hotel, which was next to 21. There was an uncle who pushed a cart to sell barbecues. There were chicken crispy bones, Chicken beef and pork are really delicious, much better than those eaten at the train night market. Recommend to you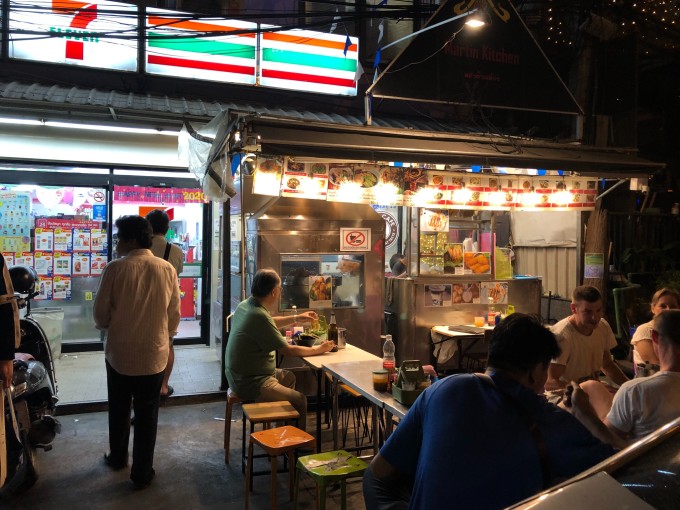 The door of 711 sells fans, and when we arrived on the first day, the door opened at 2 o'clock in the middle of the night.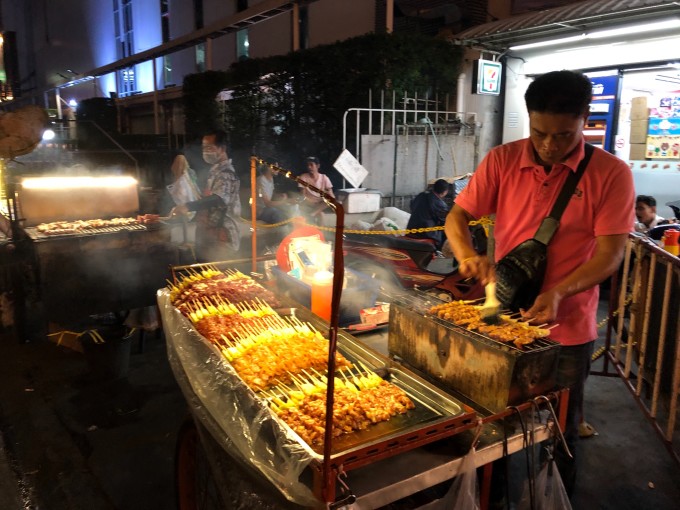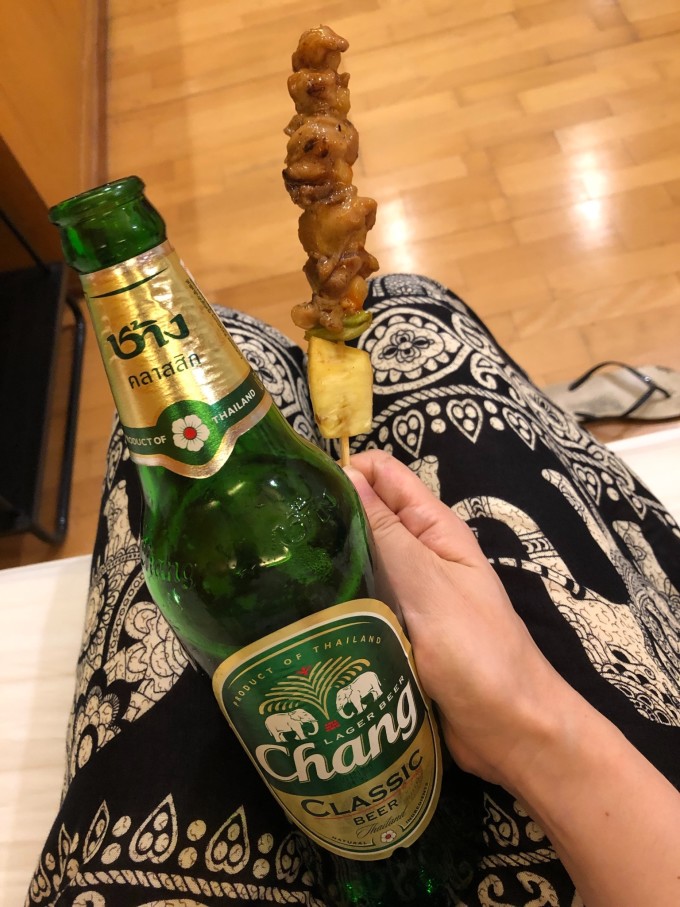 Because of pregnancy and breastfeeding, I haven't had beer for more than a year. I really miss the taste. I can finally eat barbecue and drink beer when I come out to relax. It's so cool, hahaha~

I can't figure out the Siam Square in the east, west, north and south~~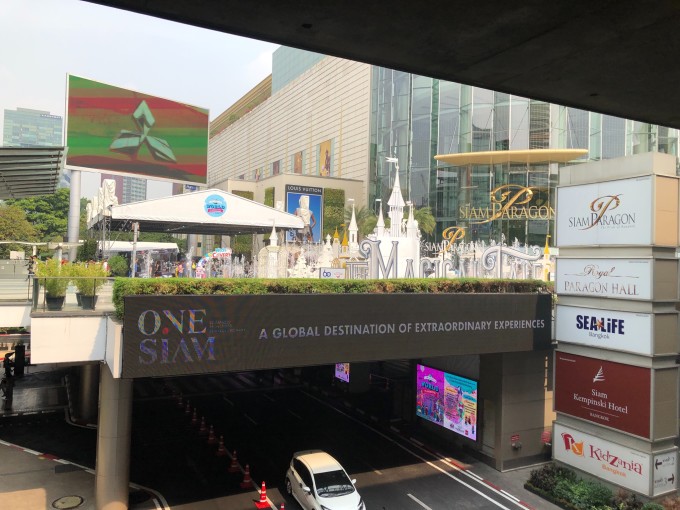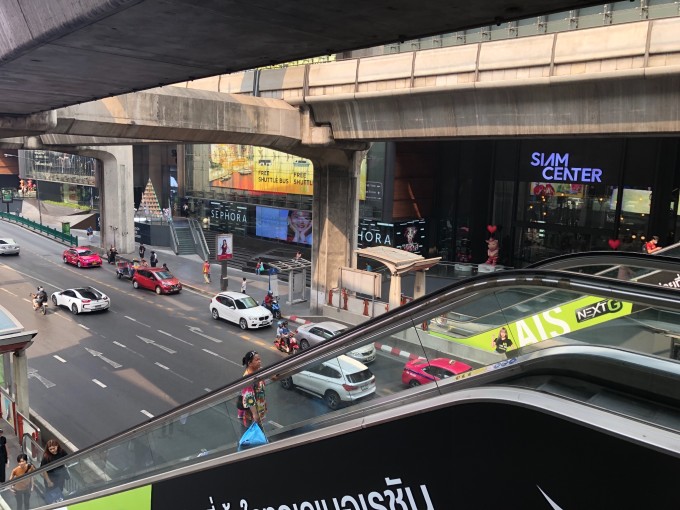 There are really a lot of cars in Thailand . I often see traffic jams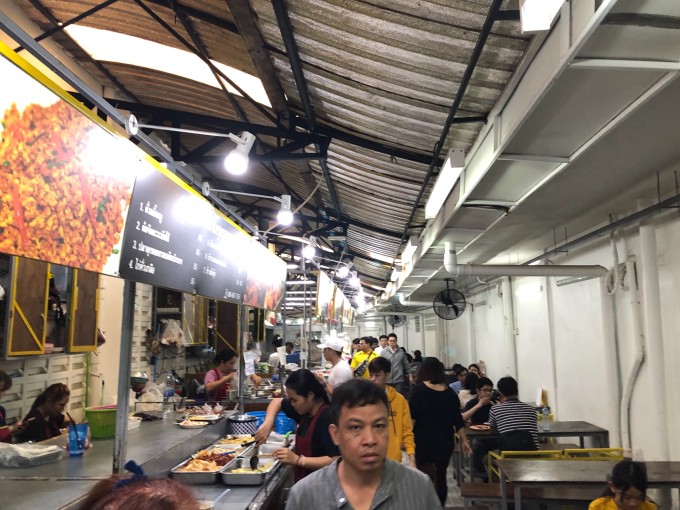 Not aware reached a small alley, which are all nearby office workers in there to eat, the environment is simple, but it should be relatively Thai people generally eat.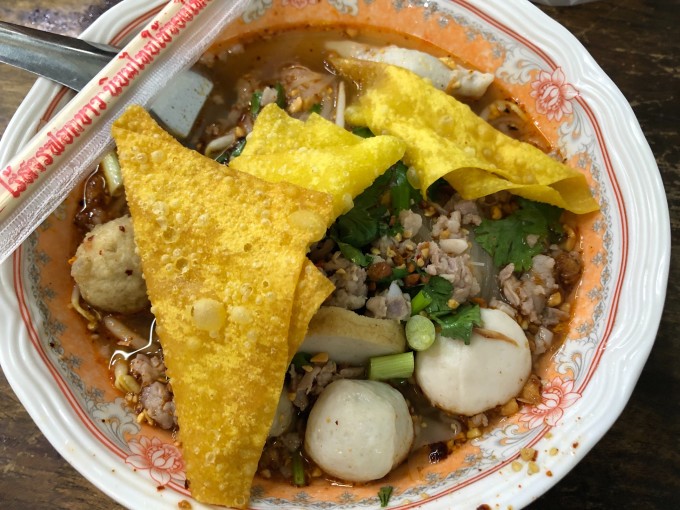 I ordered another bowl of noodles. This time the portion is quite large and the ingredients are very large. The 50B is really a bargain.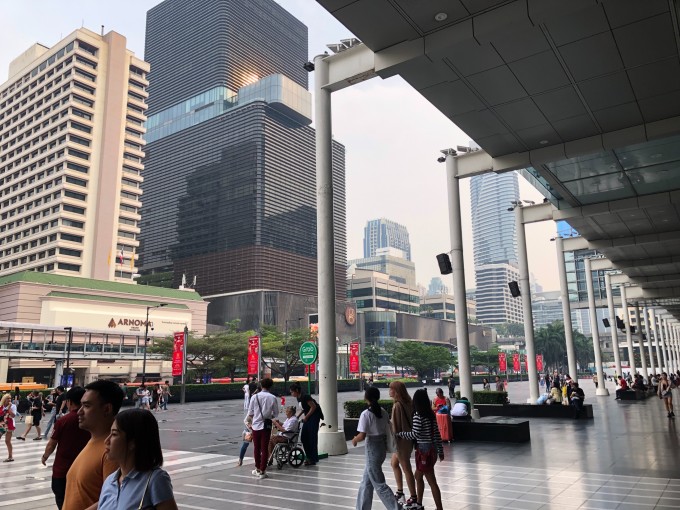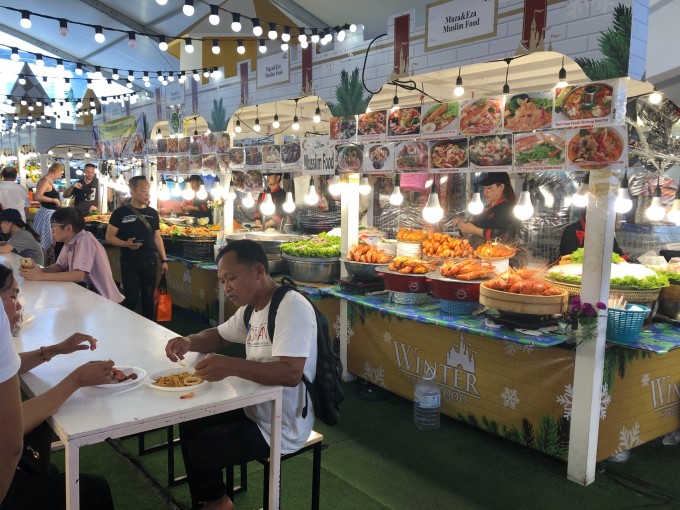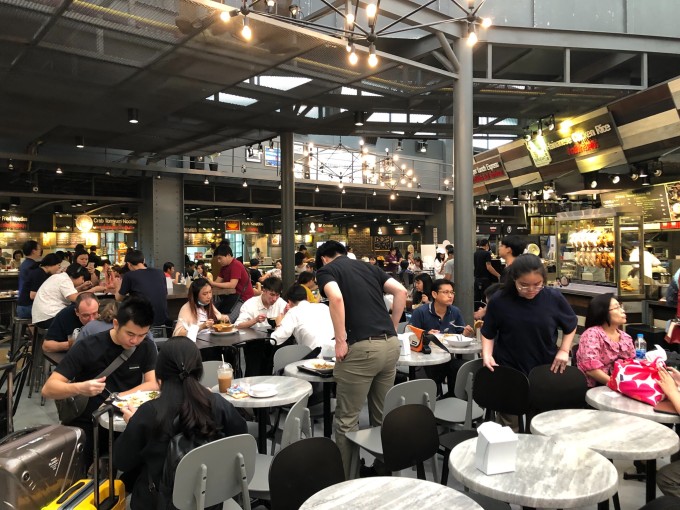 Siam Square shopping center is too much, I walked I do not know what went abroad outside the micro-channel and Alipay really have many benefits, this mall upstairs Food Republic Alipay has 10 generations of 60 Voucher Voucher, everyone can get one, because we have eaten so we bought desserts and drinks on it, a bunch of things only cost 10 yuan, really earned~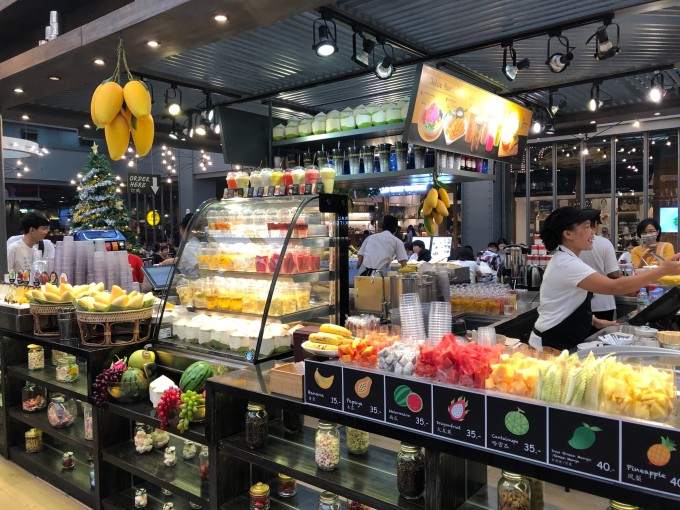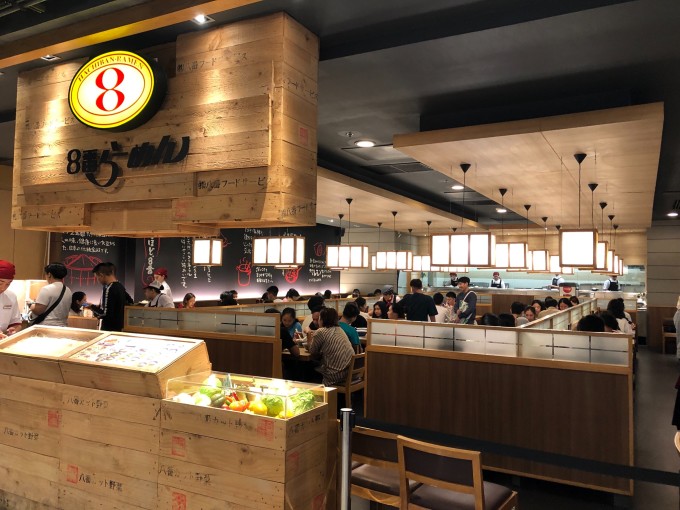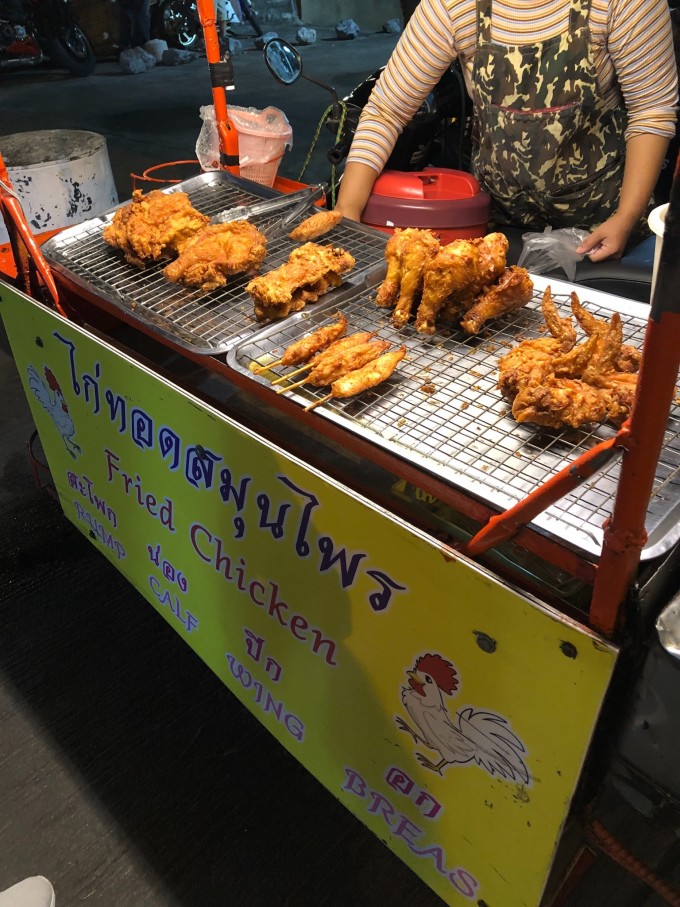 In Thailand eat the most is the roadside fried chicken, really particularly good, but also cheaper, do not lose KFC, you went to buy a certain taste.
The end of today's eat, drink, starting early in the morning Phuket myself -
to go to Suvarnabhumi Airport Just do the BTS first and then change to the airport special line, which is very convenient and cheap. I arrived in Phuket in about an hour. I heard that transportation in Phuket is very expensive, so I booked a pick-up early in the morning with 88 cars. All the airport pick-up personnel are waiting at the entrance of the arrival hall of the international terminal. There are special aunts waiting there. There are a lot of signs with names on the front railing. Go there and find your sign. Then she will notify the driver to come and wait a few minutes to get on the bus, which is very convenient.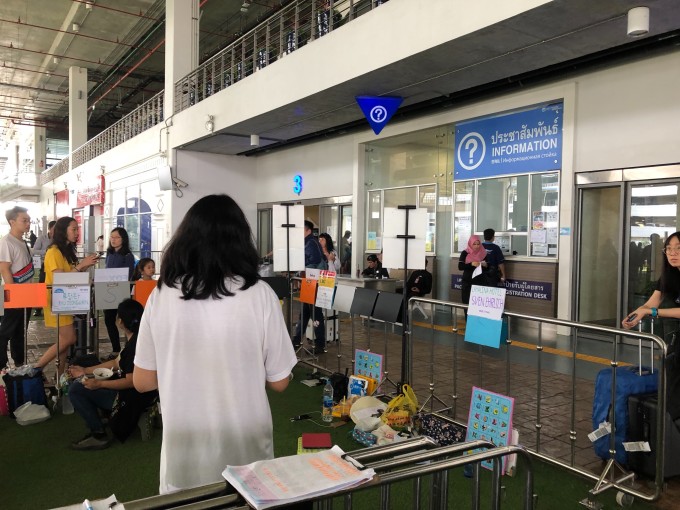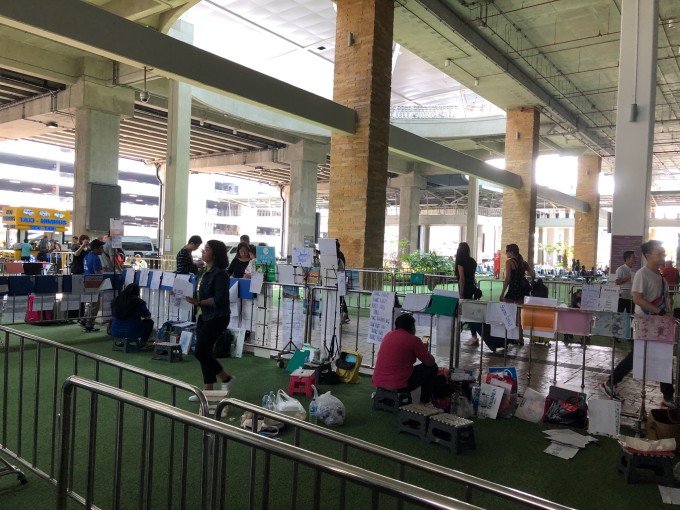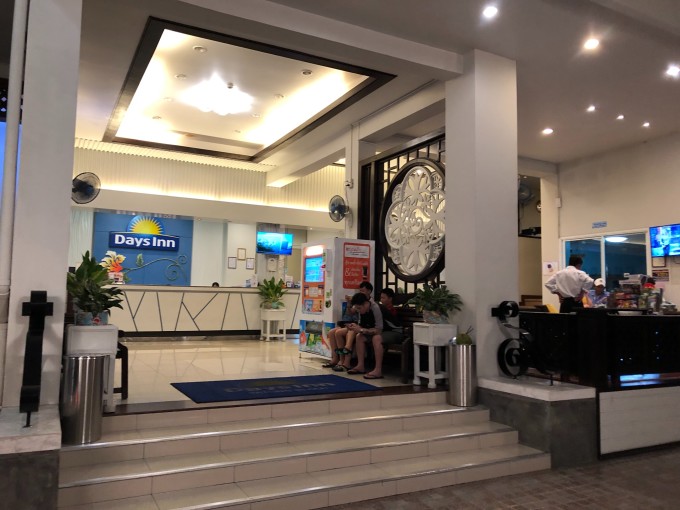 This is what we live in the hotel, Patong from East Beach and Jiangxi walk a few minutes of cold are recommended.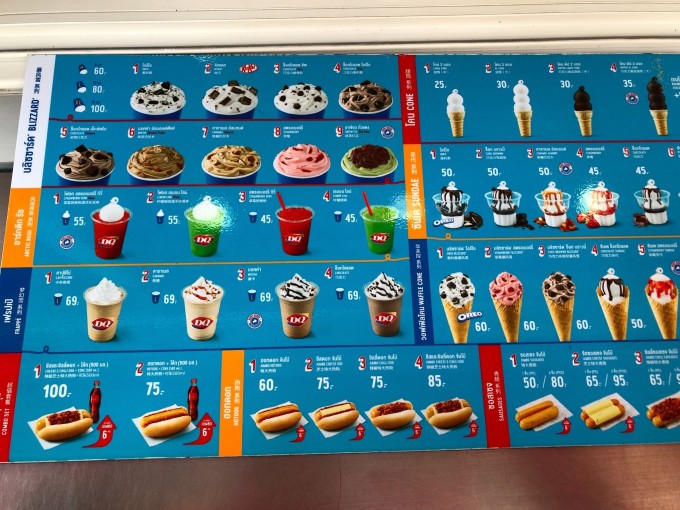 Phuket DQ than I in Bangkok to eat more expensive, of course, still a little cheaper than domestic.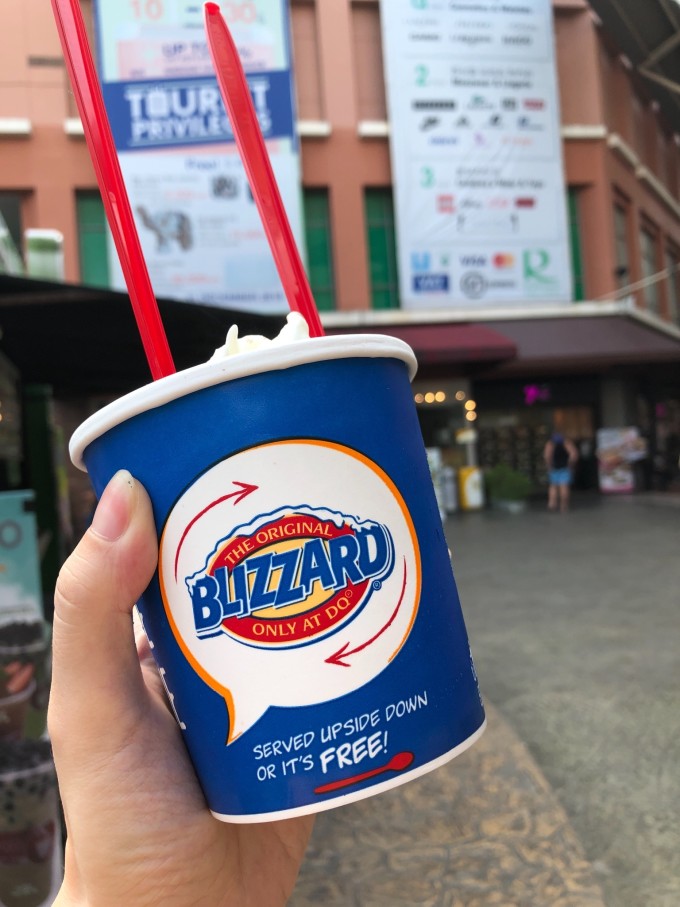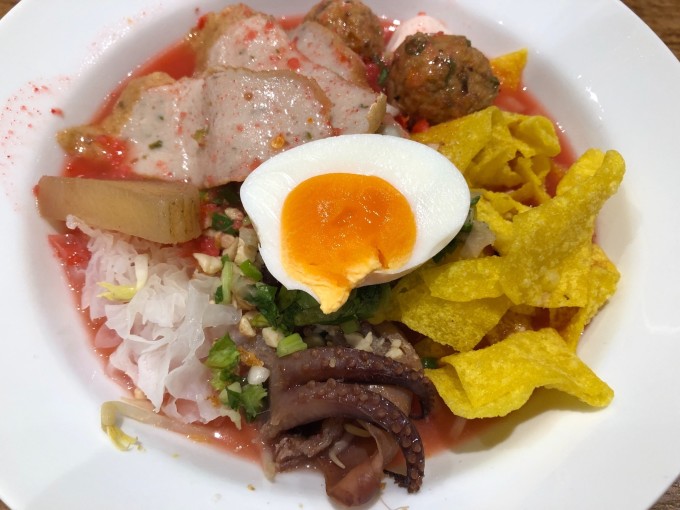 The reddish pink soup is my Thai food most unpalatable of a powder, and I really can not tell what it is to describe the taste, sour not pull a few strange, we must not like me to easily try , stroll around Jiangxi cold, eat this meal to hurry back to the hotel to rest, but also to walk at night to see the show Simon


Baby is so bitter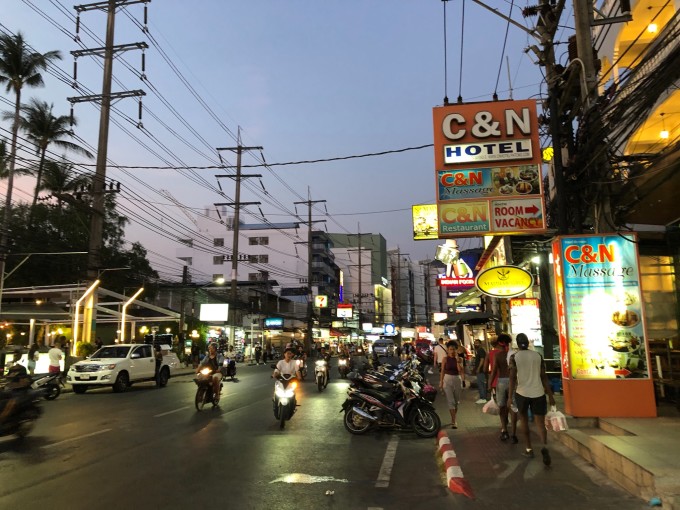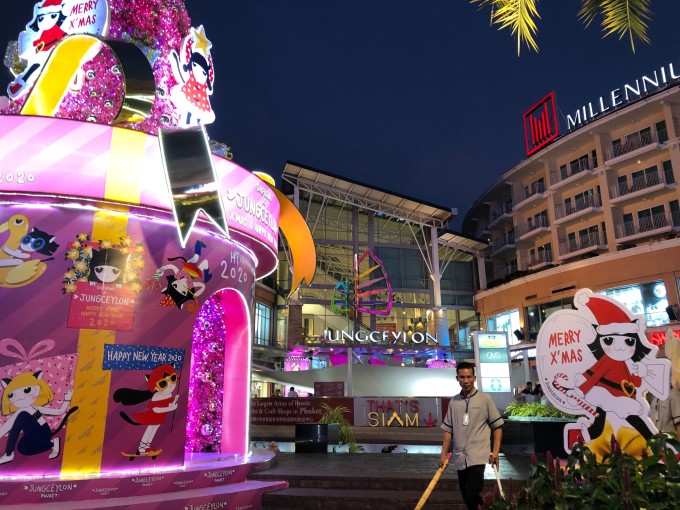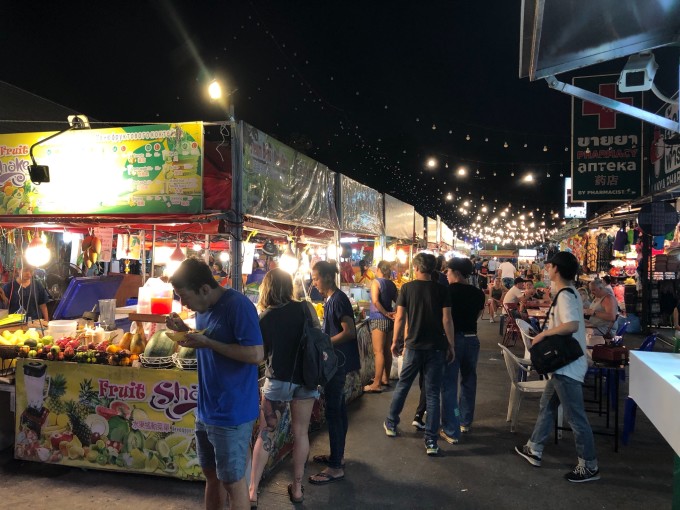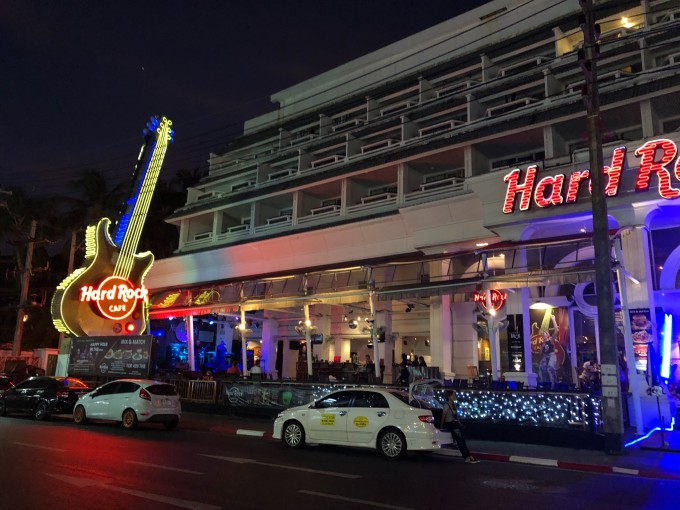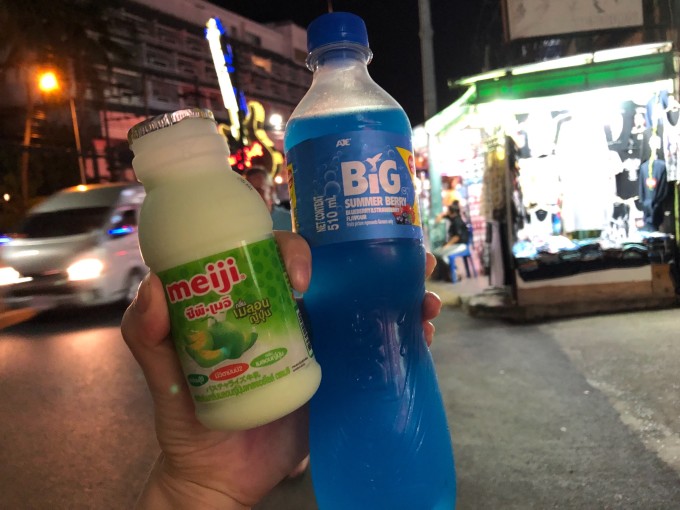 Because of Jack Ma's father's red envelope, he bought these two bottles of water for only 2 cents, haha!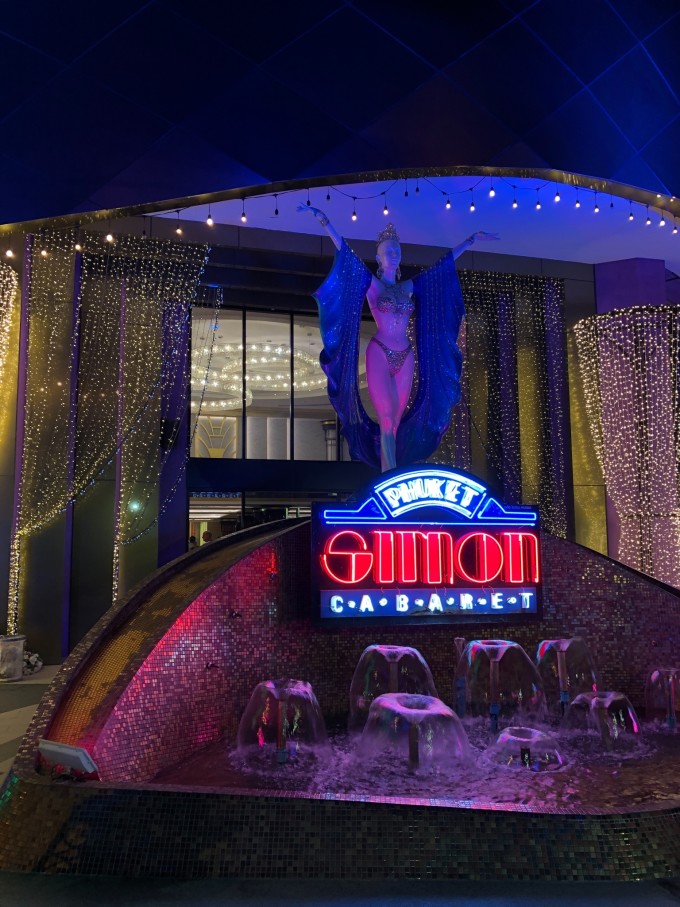 Simon Cabaret, we booked VIP tickets on Taobao in advance, more than 70 people, to pick up the tickets at the scene, the position for us is still good, very satisfied. The individual demon looks pretty from a distance . Although they are lip-synching, the costumes and choreography are still pretty good. Photos and videos are not allowed during the performance. After the performance, they will let everyone take pictures and group photos at the door. If you take a photo with them, you need to give a tip of 100B. Note that it's 100B for one person. If you stand next to two ladyboys, you'll have to give 200. Because I don't have makeup, I didn't take a photo with them, and I was afraid of being compared by them.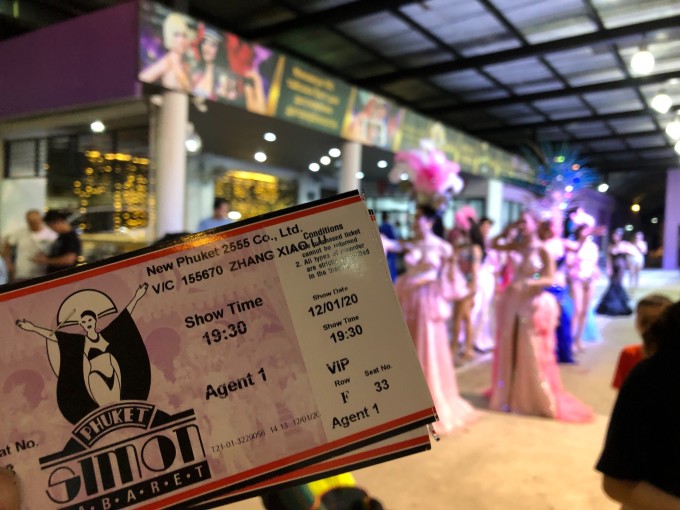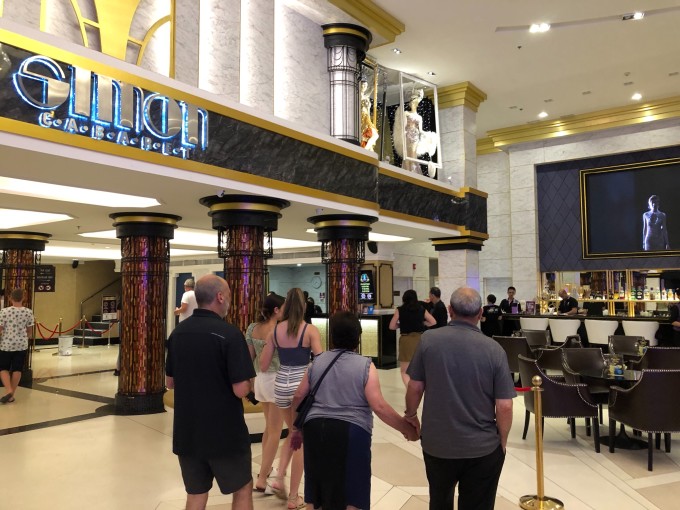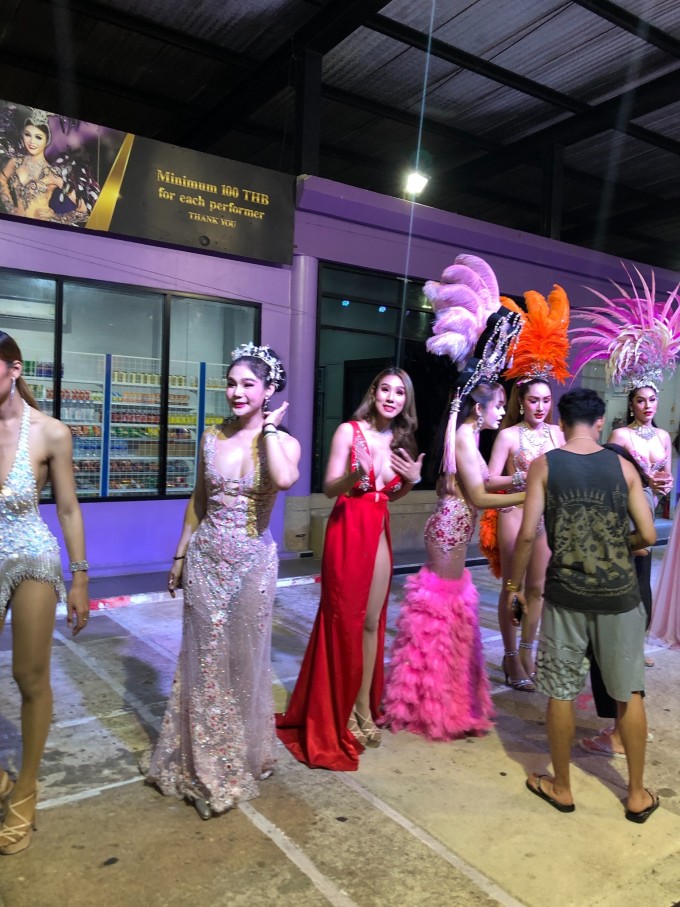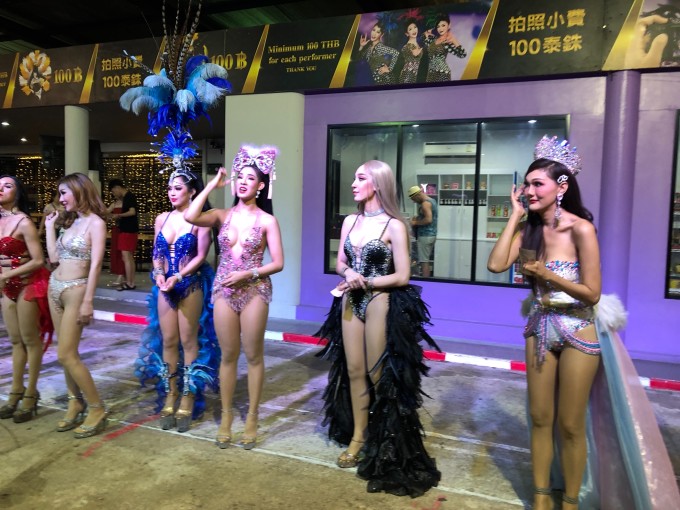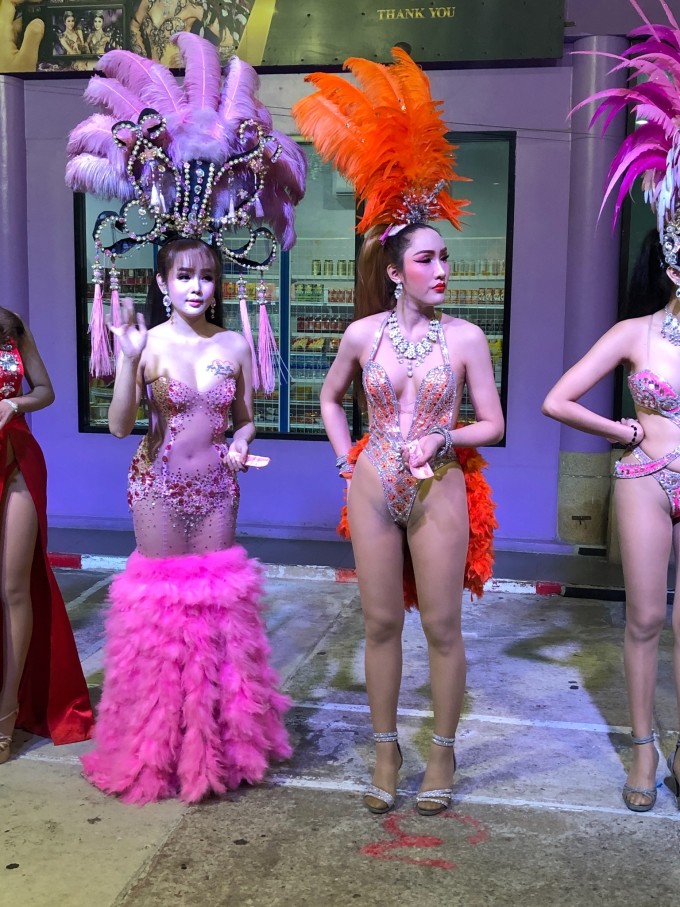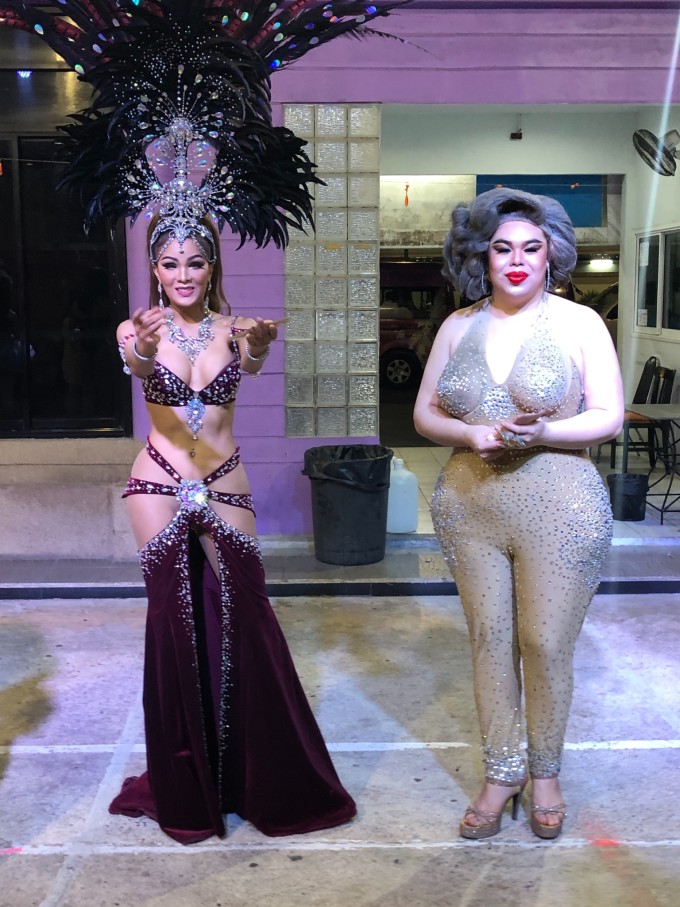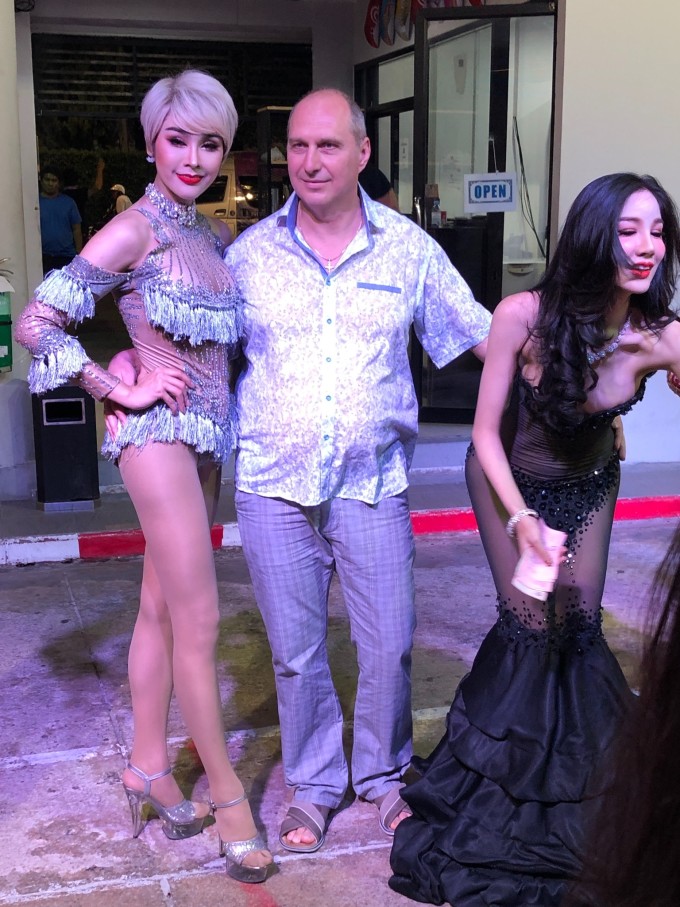 This short-haired ladyboy was the best performer at the time and danced the best, but when he came out, he could still tell it was a ladyboy.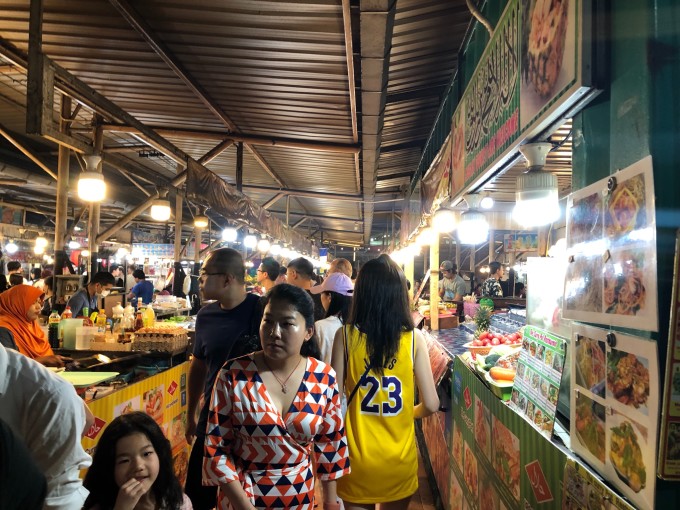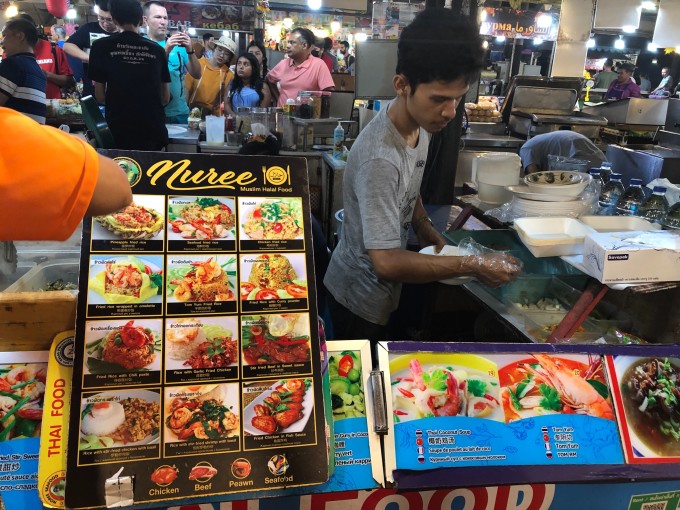 On the way back to the hotel, there was a night market with a lot of people. I ordered a seafood pineapple fried rice 120B and seafood fried noodle 100B. The quantity was large and the taste was average.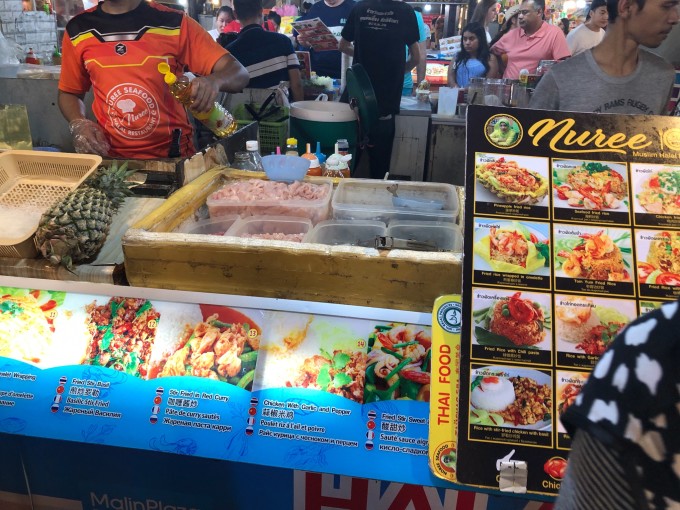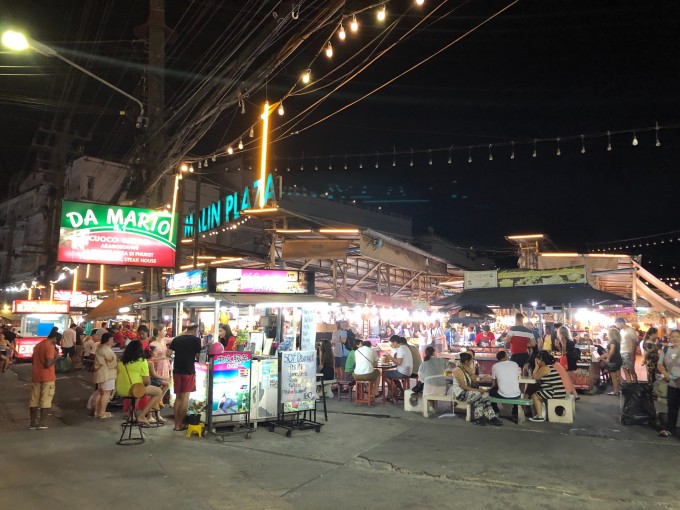 I finally walked back to the hotel. I was so tired. I had a rest. I have to leave for Emperor Island early tomorrow morning.
Finally going to Emperor Island, yeah yeah~~
Wake up early at six o'clock in the morning, because the driver came to pick him up at 7:20, and then two groups of guests were picked up on the way to the pier. The meeting point at the pier was more than 8 o'clock. Although we arrived very early but because we had to wait for other guests, we waited until 9:30 to lead us on the speedboat.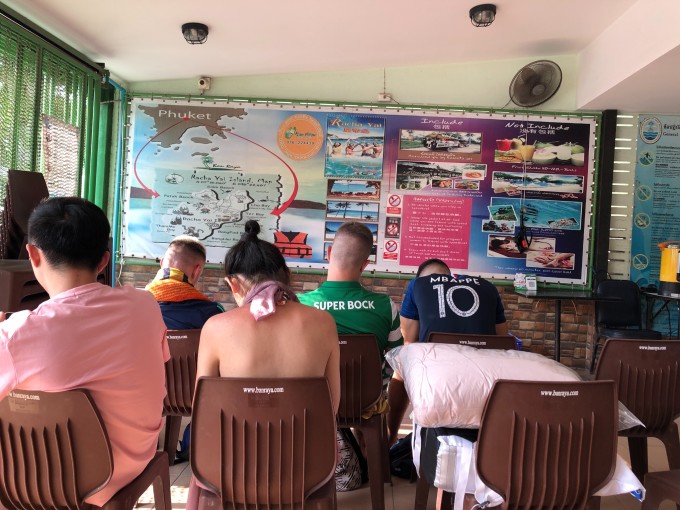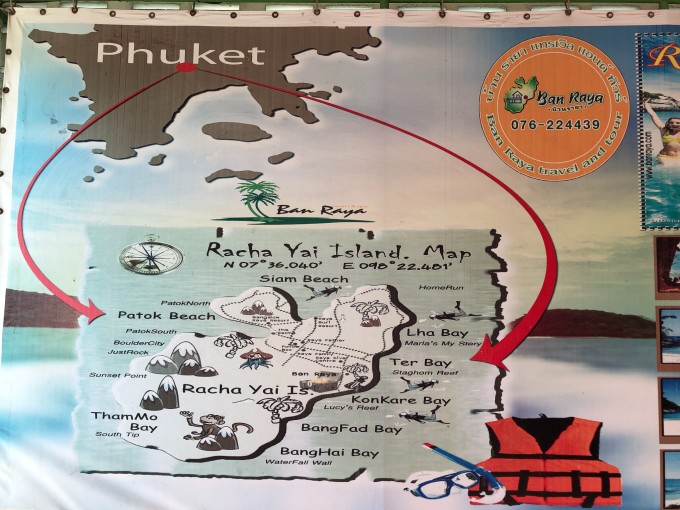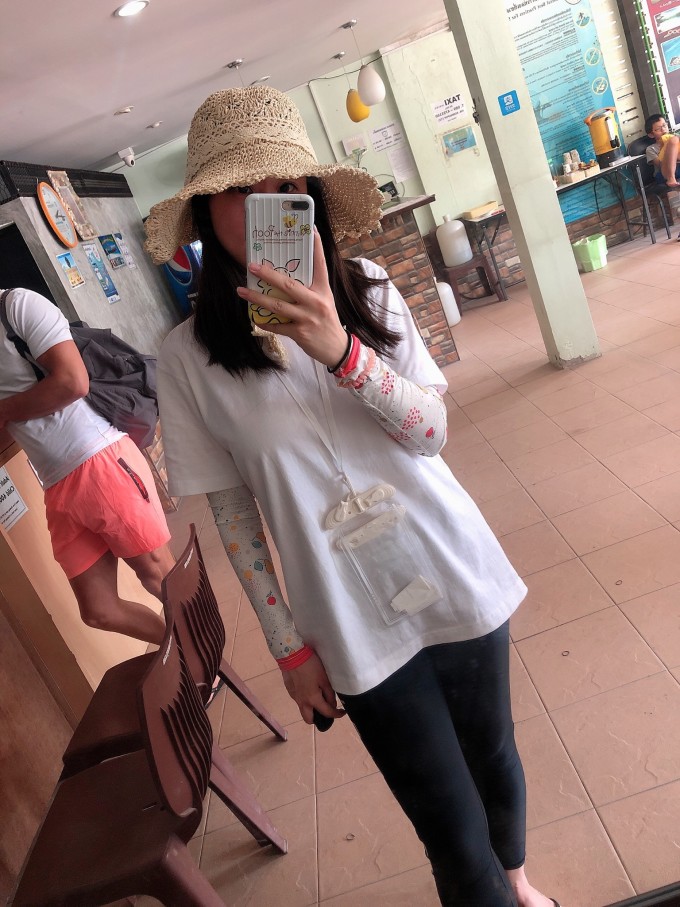 It is recommended to change into a swimsuit or diving suit directly in the clothes, or change into a diving shop, so that it is convenient to go snorkeling directly by boat without having to find a place to change clothes.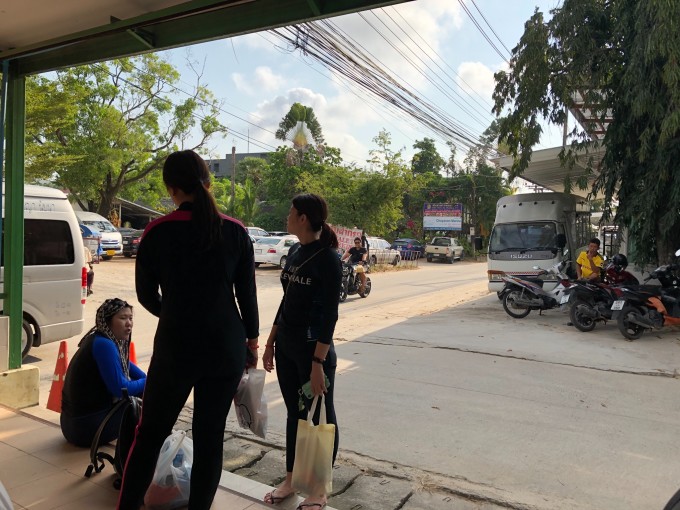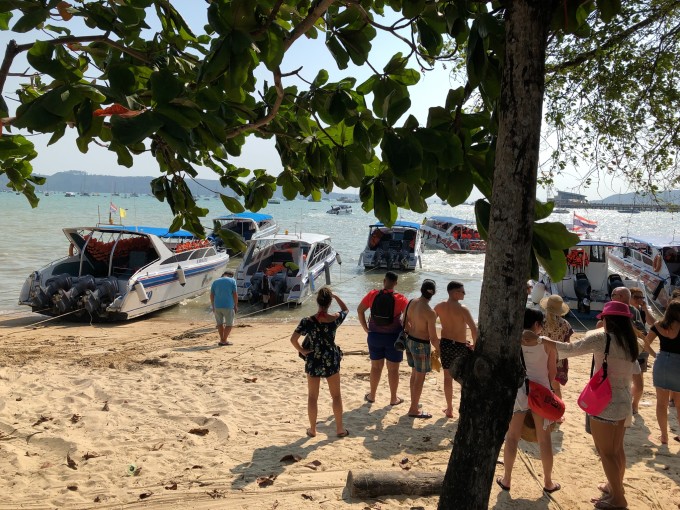 It had better put on slippers, because when the boats to the water and walk a few steps, I think we have a boat uncle wear sports shoes all wet We are the emperor island over night, that is, my own island on a given class Chicago hotel, then followed them for day trips to people on the island, the guests followed the next day they returned the next day trip to Phuket . The hotel can also provide speedboat transportation to and from the island, but it is much more expensive than this. I highly recommend the overnight tour I chose in Taobao, because it is specifically for the Banzhi Hotel. The dive shop we waited for at Phuket Pier is Banzhi's own dive shop. Phuket



It takes about an hour to get to the Emperor Island by speedboat. If the wind and waves are a little bit heavy, it is indeed a little seasick. You can take some motion sickness medicine and sit on the back half of the ship, so that the shaking is relatively small. After getting off the boat and want to go snorkeling, follow the tour guide and take the boat to snorkel, because I have read other travel notes before and heard that the snorkeling spot they went to see did not have as many fish as the Banji Hotel's own rocky beach. Coupled with seasickness, we did not plan to go directly to the hotel. For those who go directly to the hotel, the staff of Banzhi Hotel will come over to the speedboat to pick us up as a special means of transportation on the island-tractor. You can reach the hotel within ten minutes. The main reason for recommending this overnight tour for Banzhi is that the lunch they packaged at noon is a buffet in their own hotel in Banzhi. Most of the lunches packaged by others are in the cliff restaurant next to the beach on the island on the speedboat, so you have to wait until the lunch is over before you can go to the hotel, and we can go directly to the hotel and check in, and you can go directly to the hotel after a short break I have lunch, which is very convenient and save time.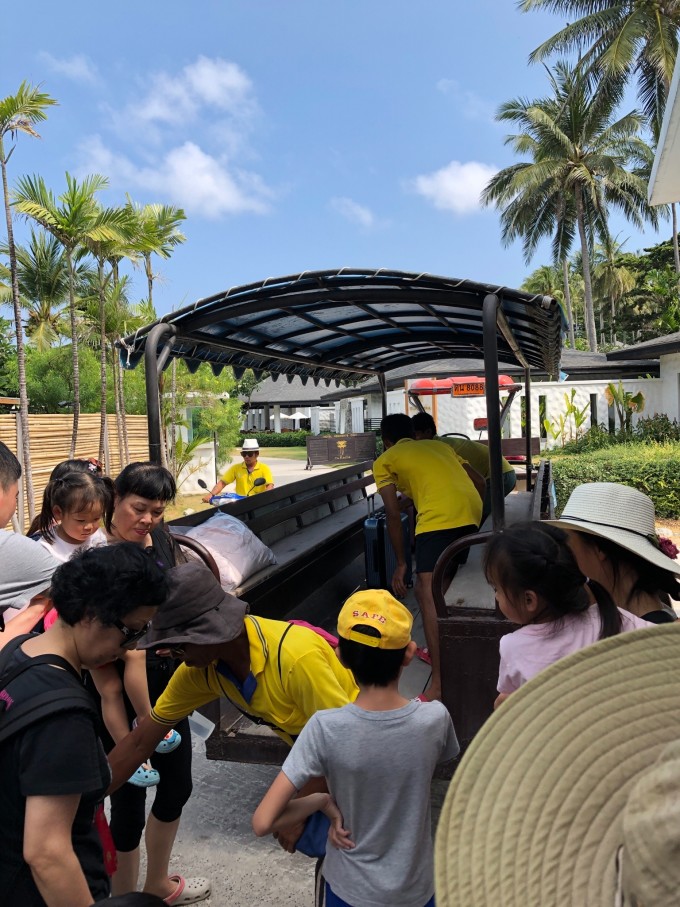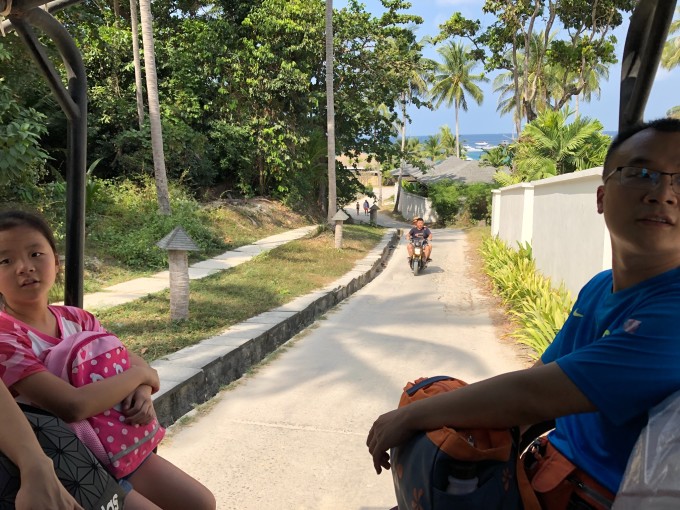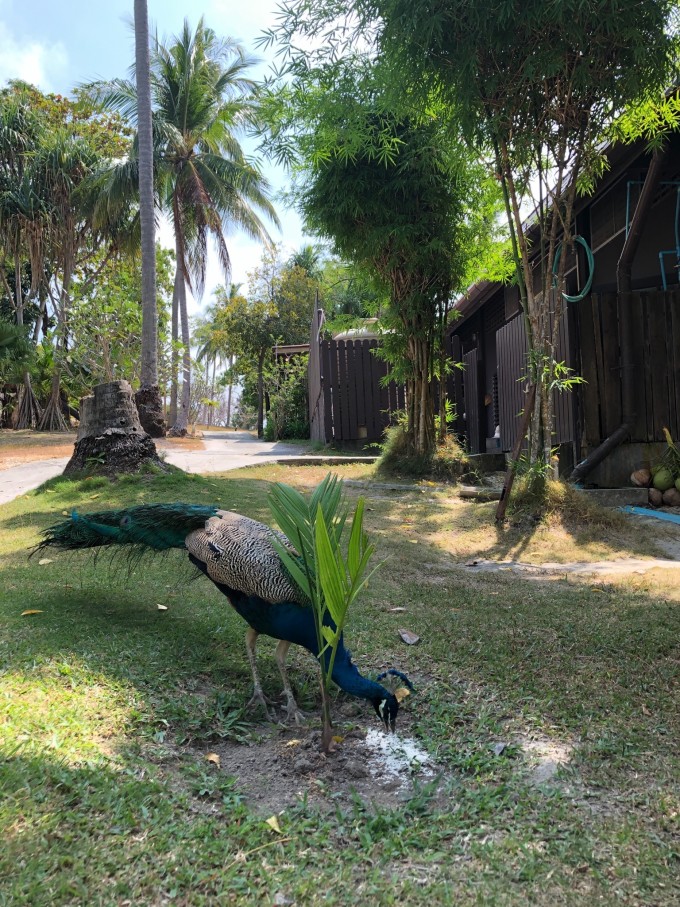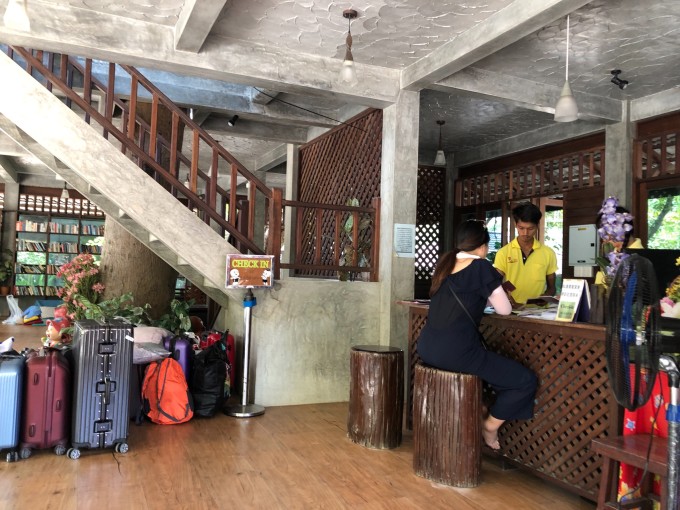 Check-in place, there are two waiters who speak very simple Chinese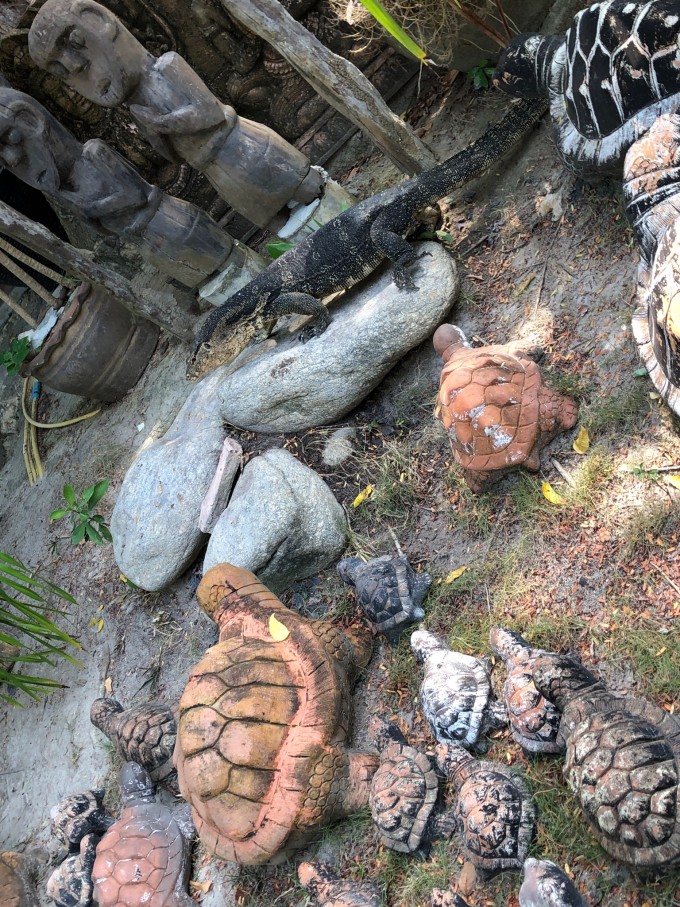 There are really big lizards everywhere on the island, they are not afraid of people, haha, we are still very excited to see them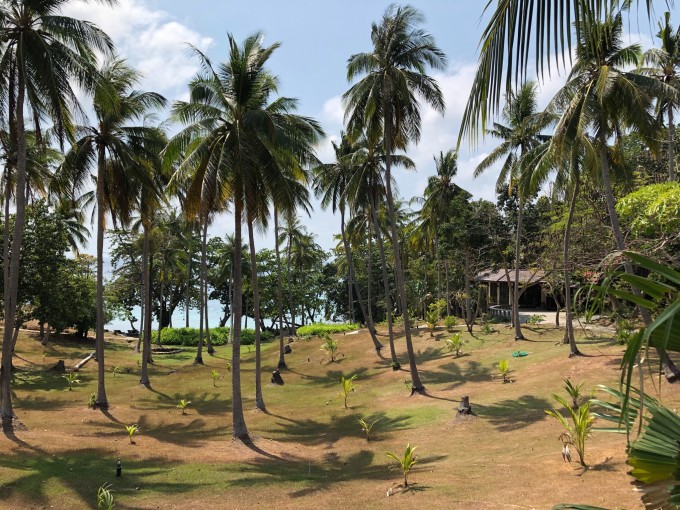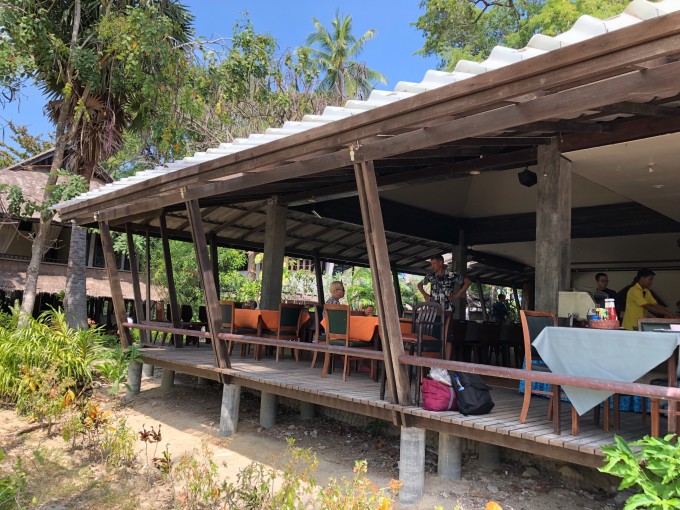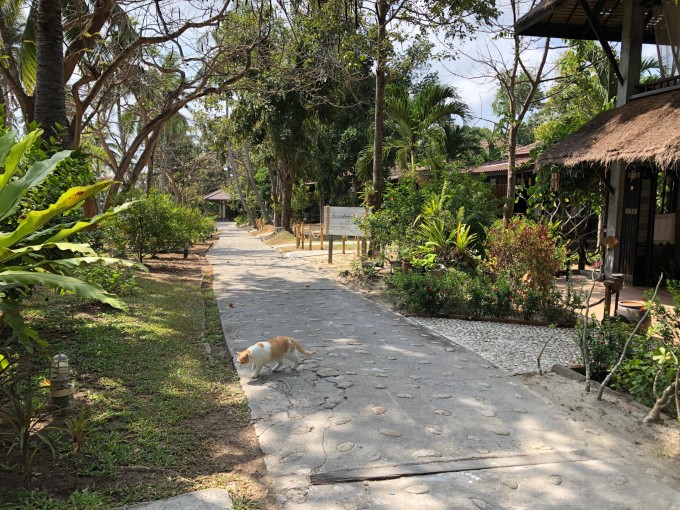 Kittens and peacocks can be seen everywhere in the hotel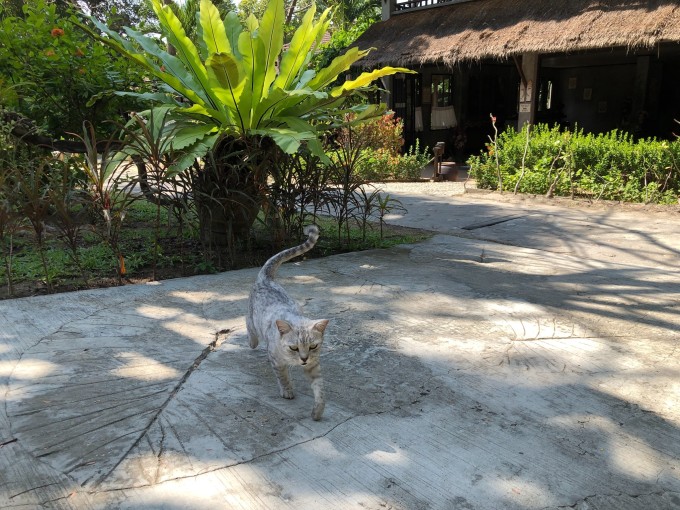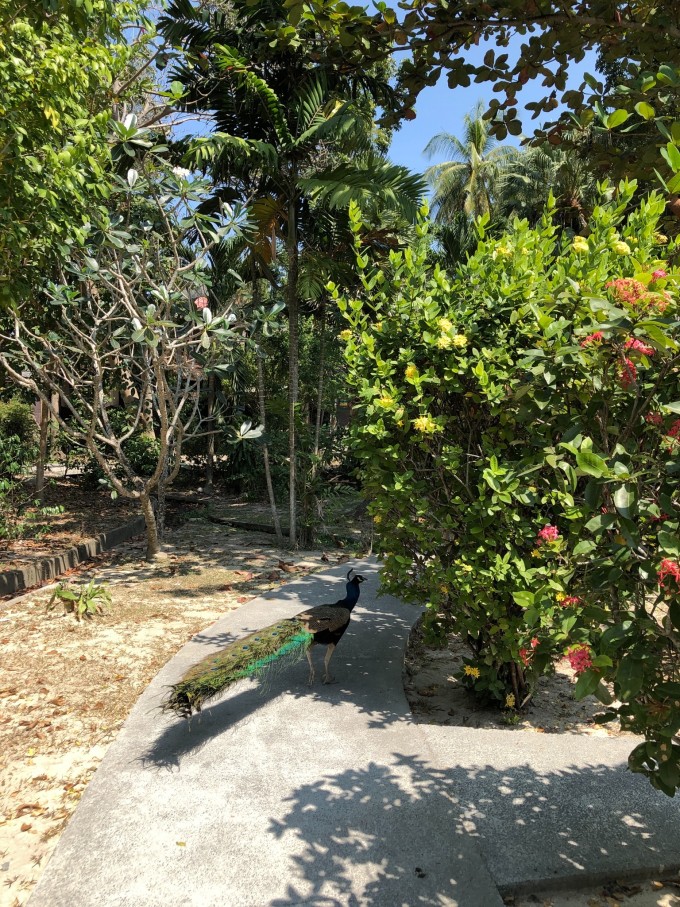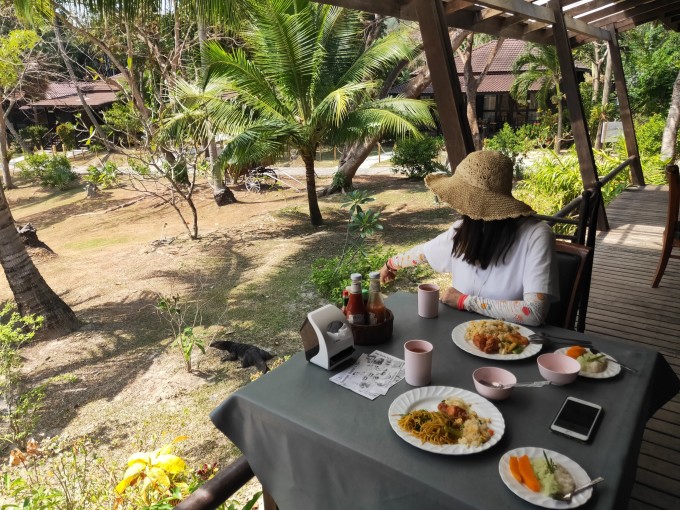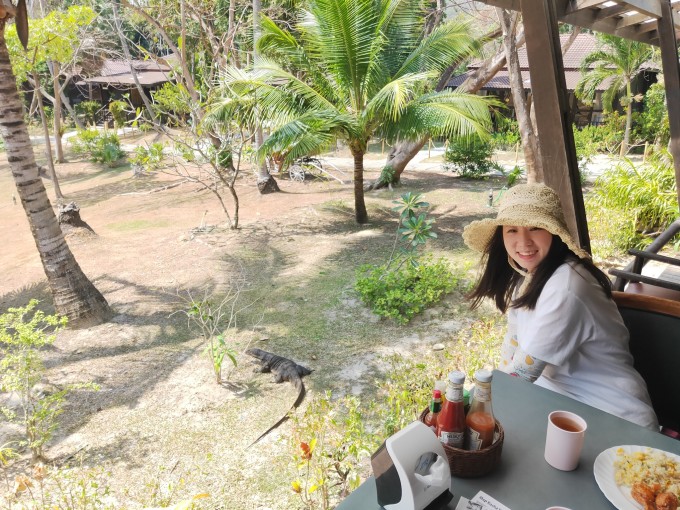 The buffet at noon in the hotel is very simple, rice, chicken drumsticks, fried noodles and so on.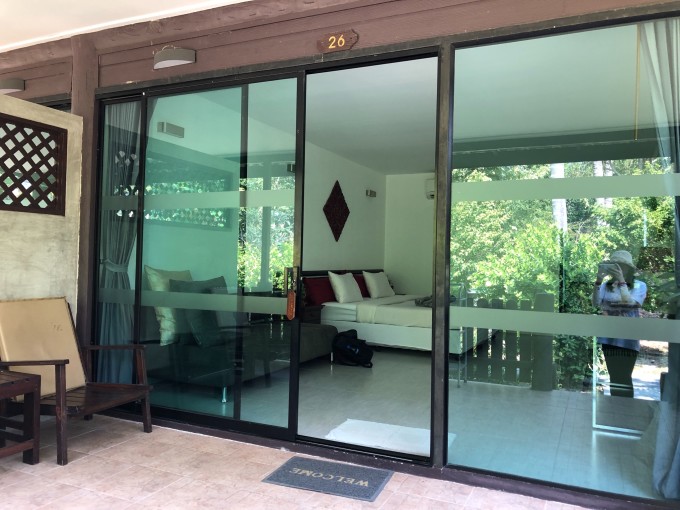 This is the room we live in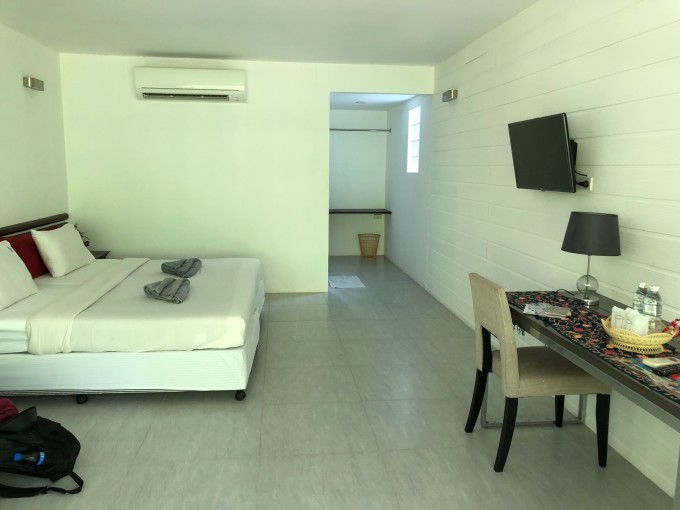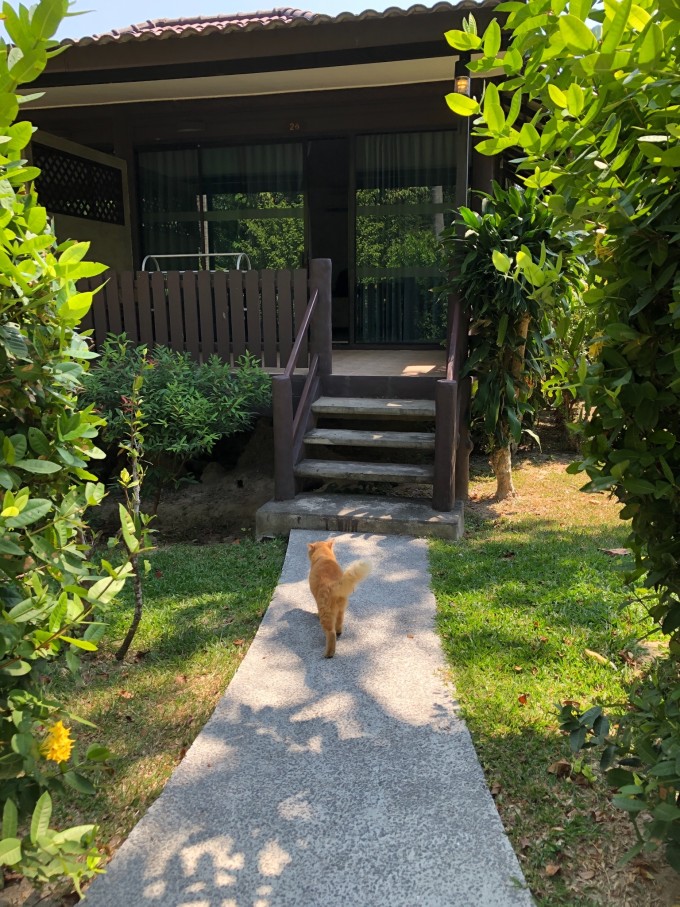 Ahuang who has been walking into my room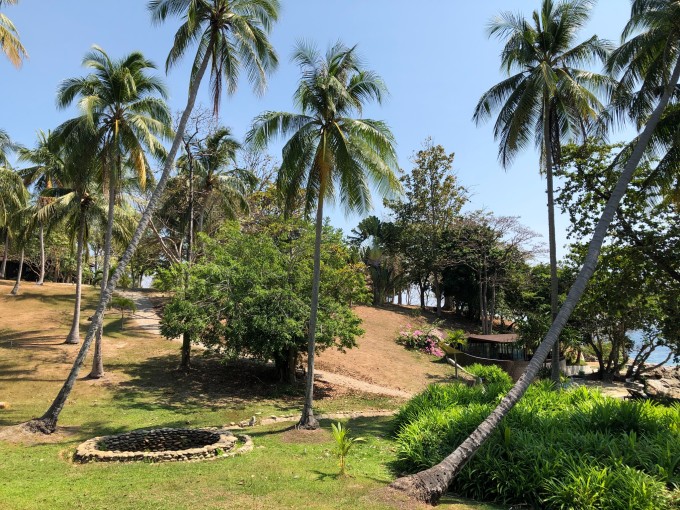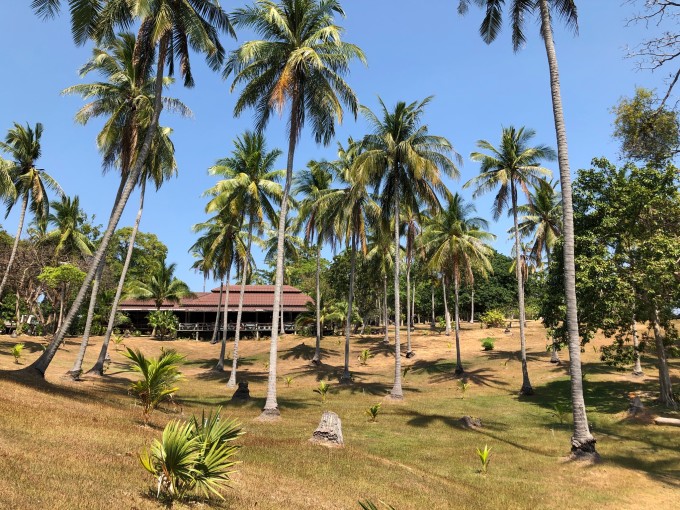 After lunch, at noon in the room to rest for a while, could not wait to go to this island to prepare the best snorkeling spot, it is Ban Raya hotel own rocky beach side go snorkeling. Change into your diving suit and set off with a snorkeling mask.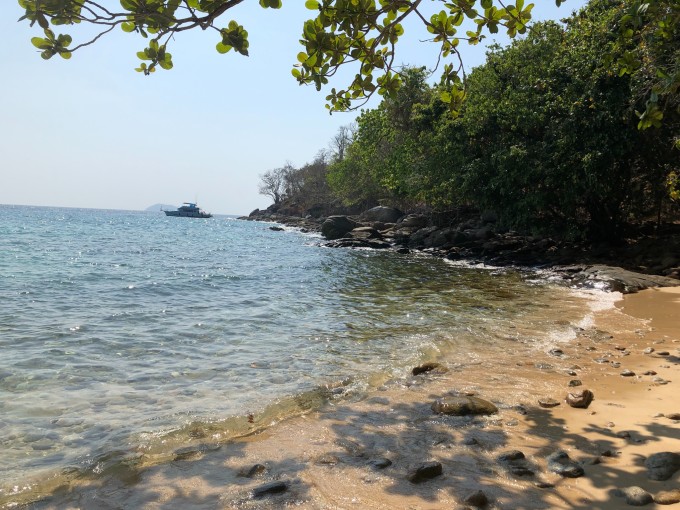 Next to the snorkeling, there is a rescue suit 80B and a snorkel mirror 100B. We brought a snorkel mirror and rented another. But neither of them rented rescue suits, you still don't follow us to pull, safety is first, haha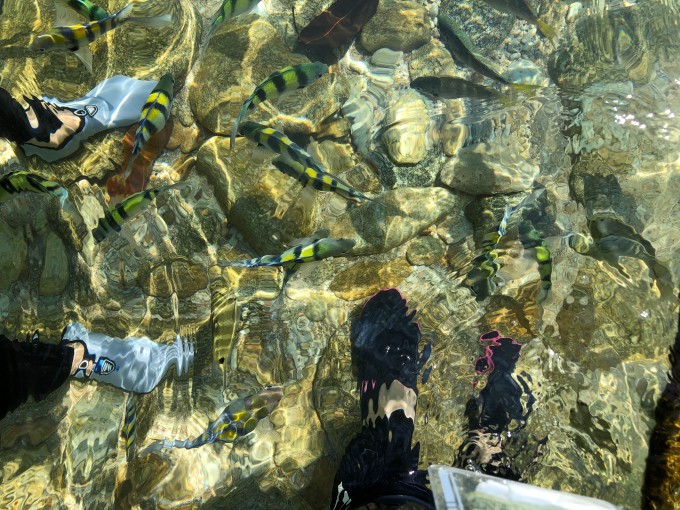 There will be a lot of small fishes coming around below the knees of the water. They are not afraid of people. Forgive me for never snorkeling. It is the first time I have seen so many fishes. I am so excited.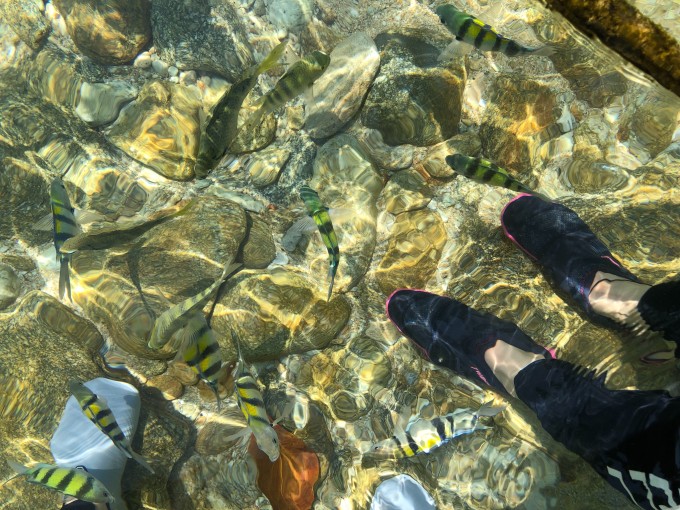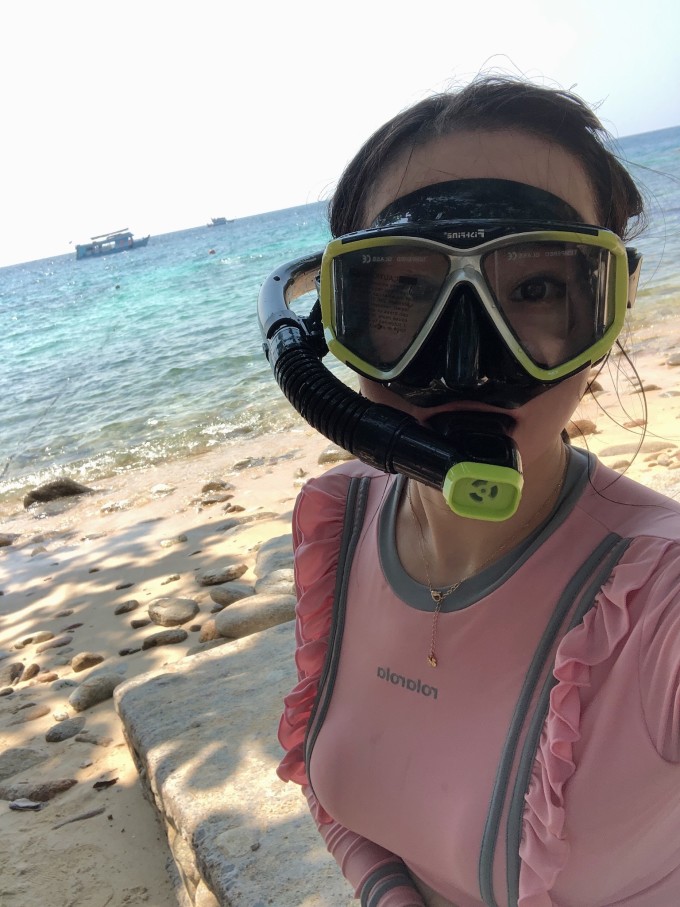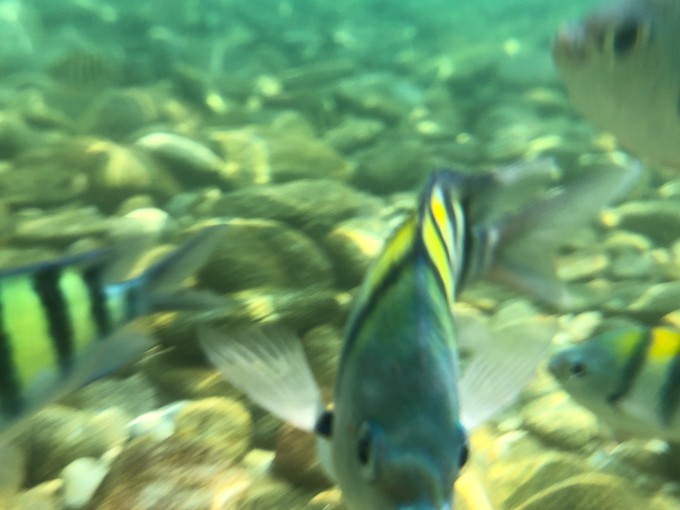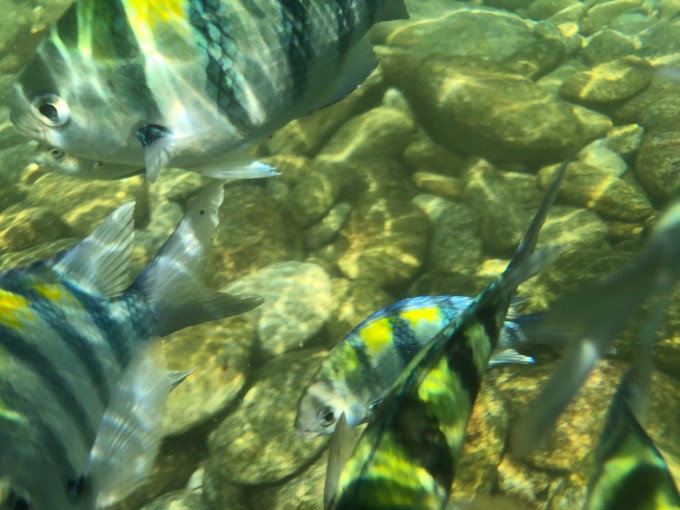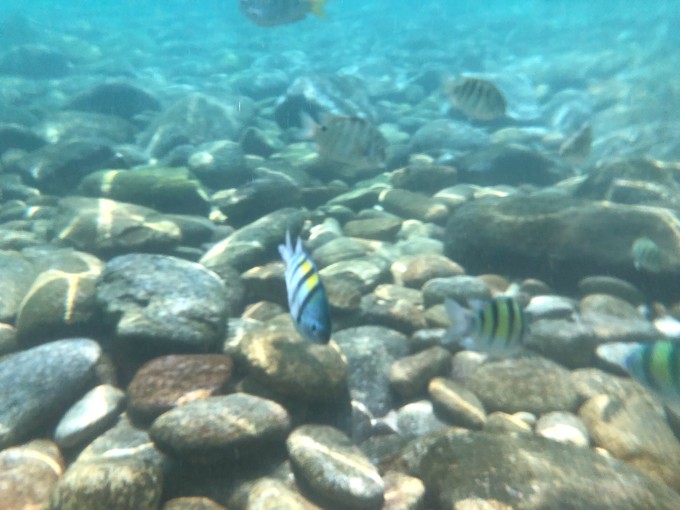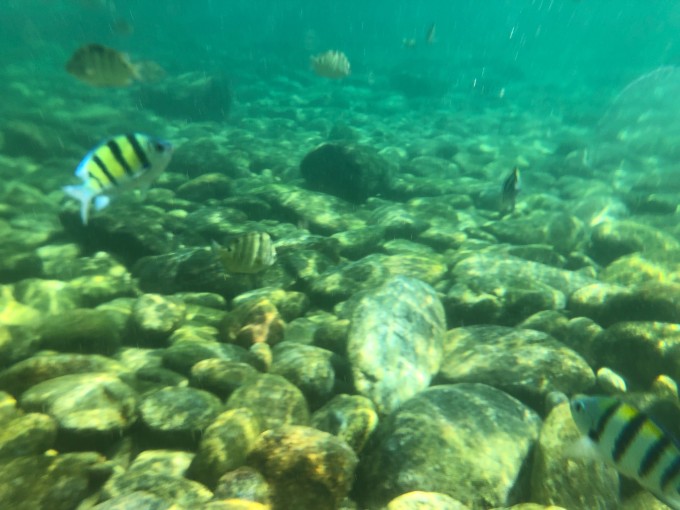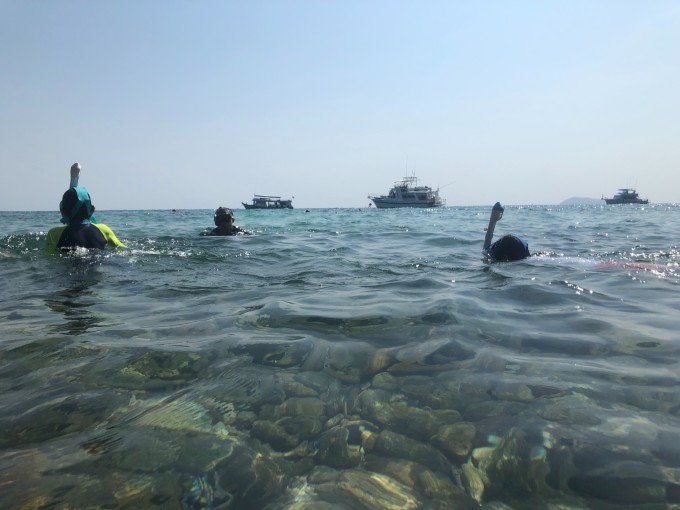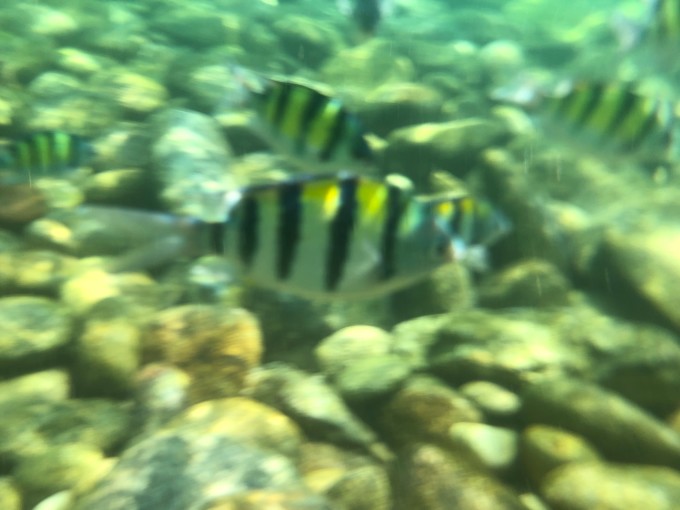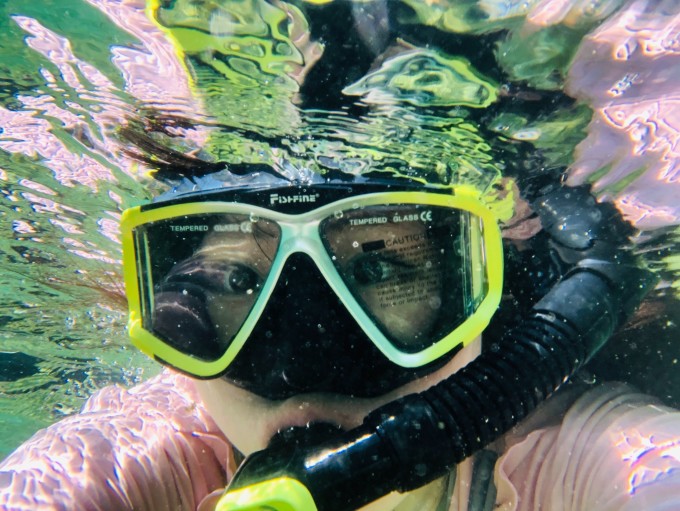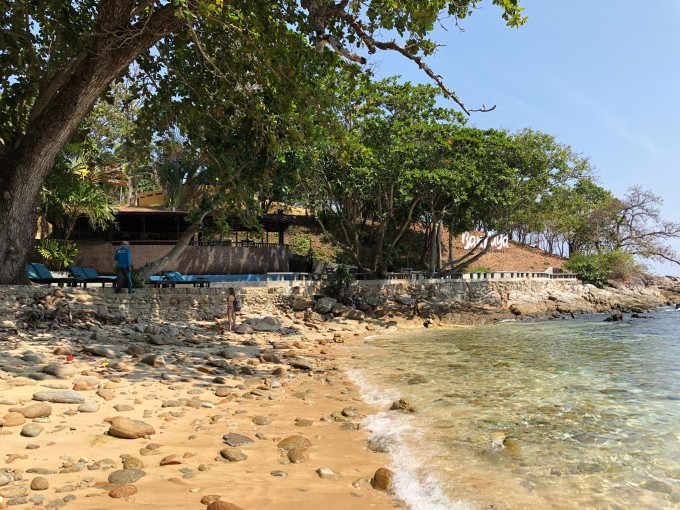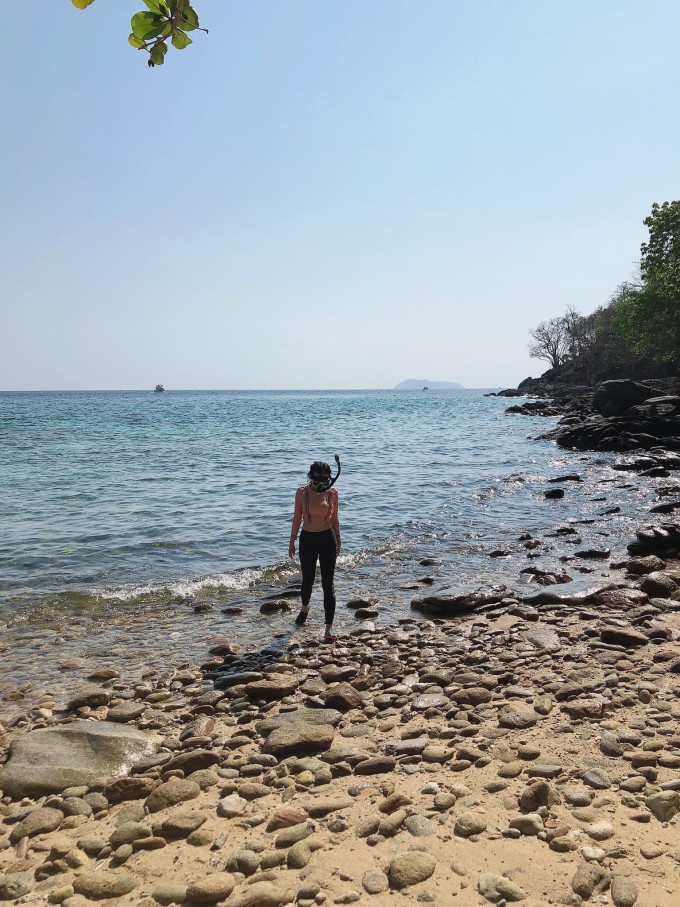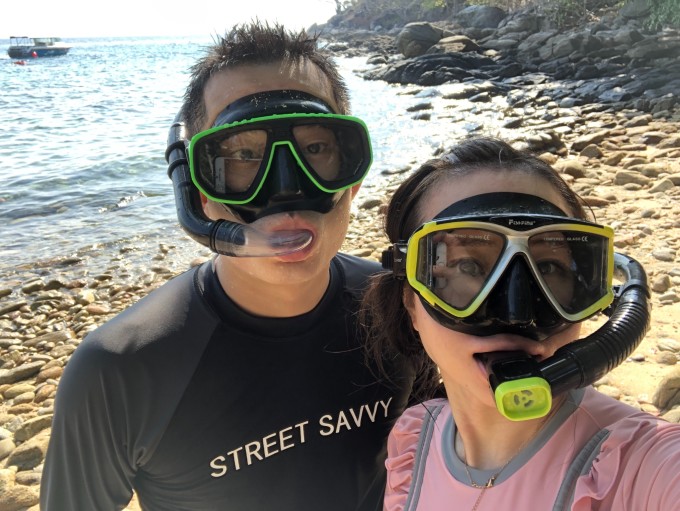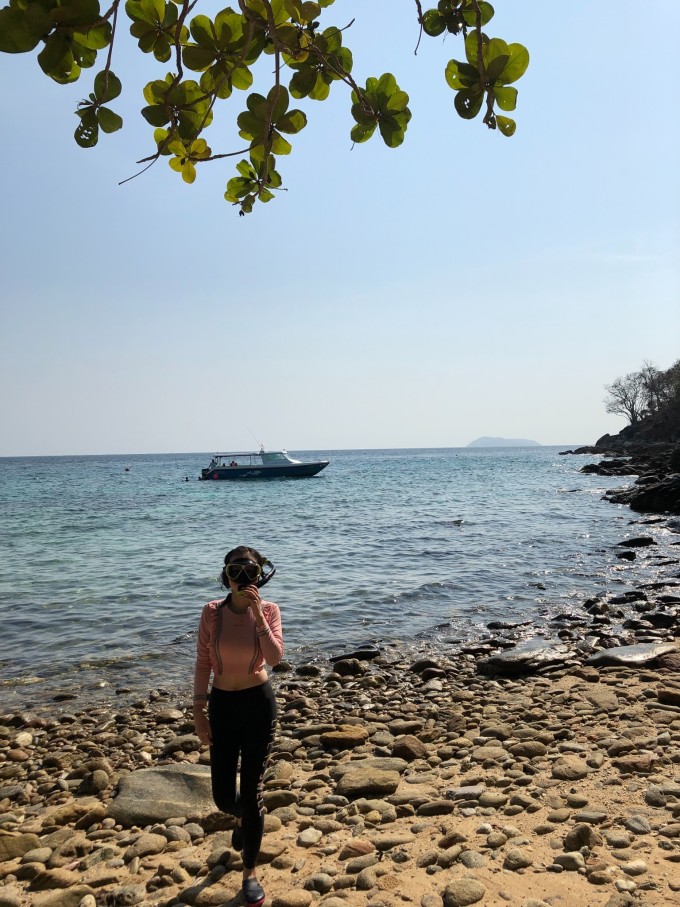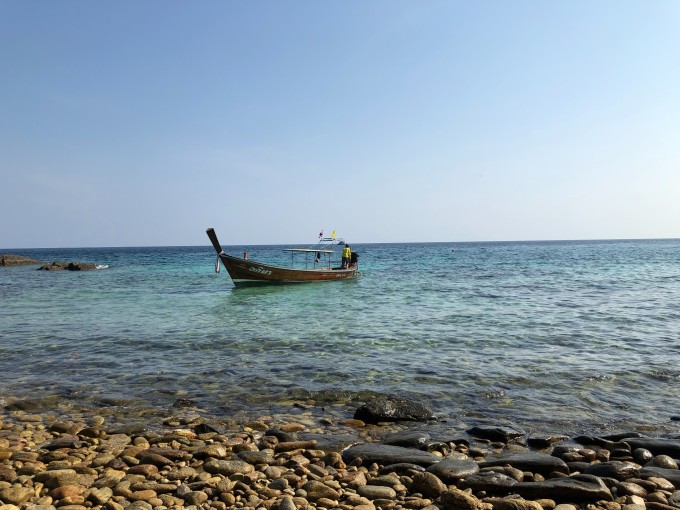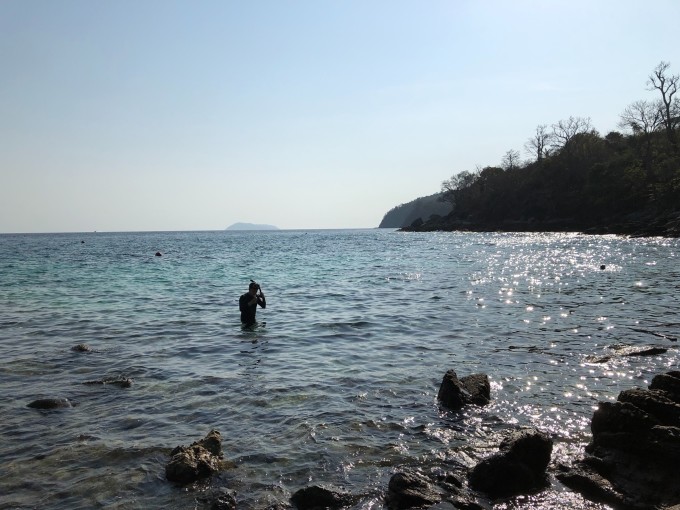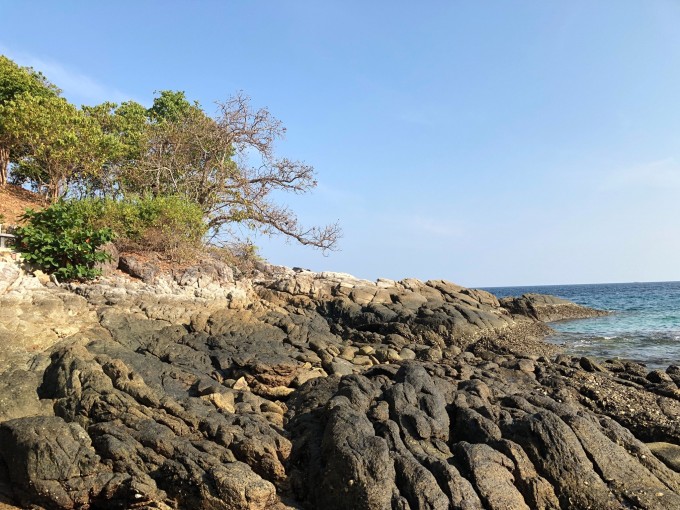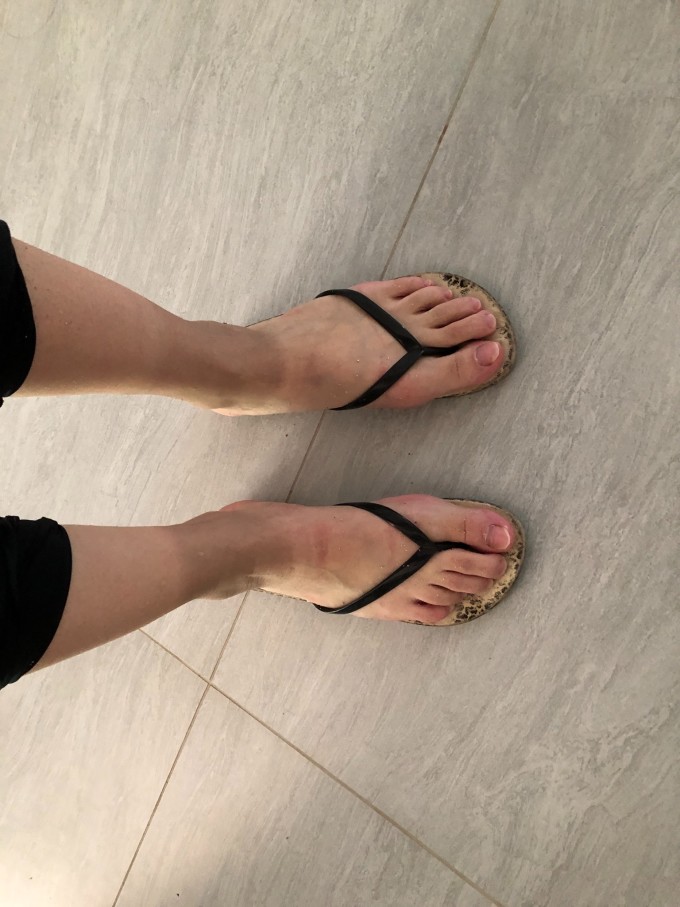 Hahahahaha, because I was fully armed, I regret not buying long-tube snorkeling shoes. Just look at my ankles, and it was done in one afternoon.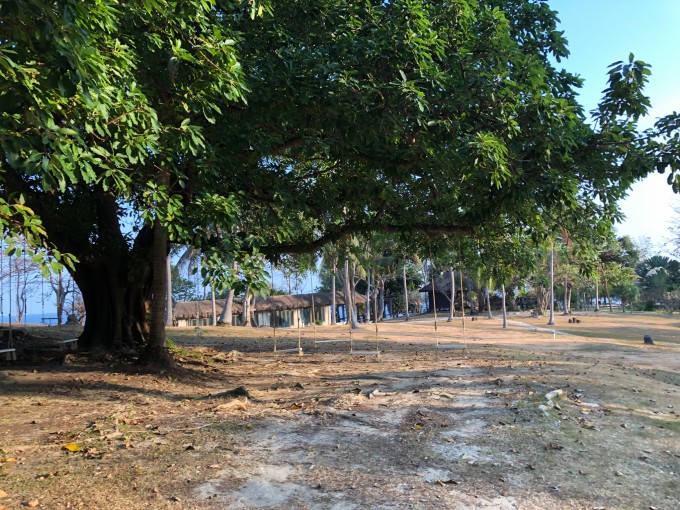 After snorkeling, I went back to my room and took a shower, then hurry out and stroll around.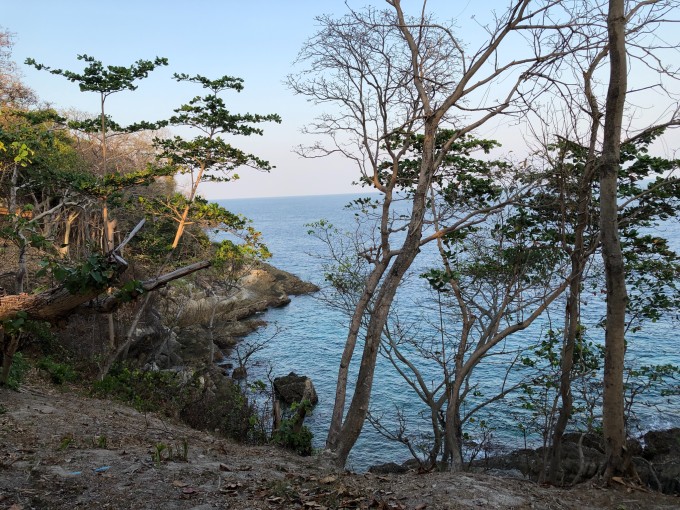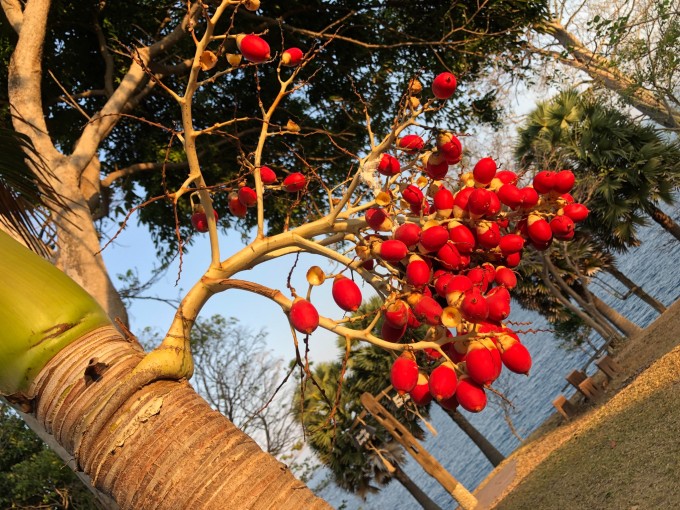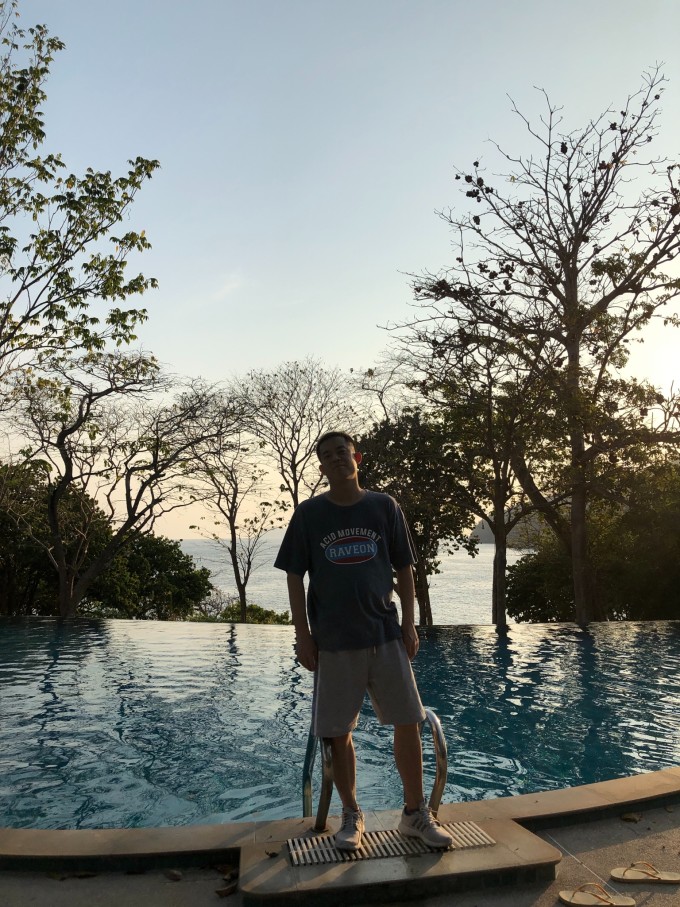 The infinity pool of the hotel, because the time on the island is relatively tight, so we did not swim here, reading travel notes, many friends have taken a lot of beautiful photos here, can only wait for the next time~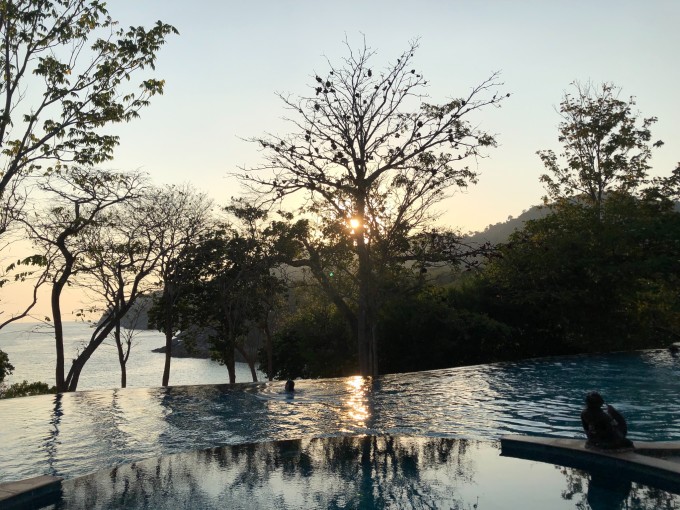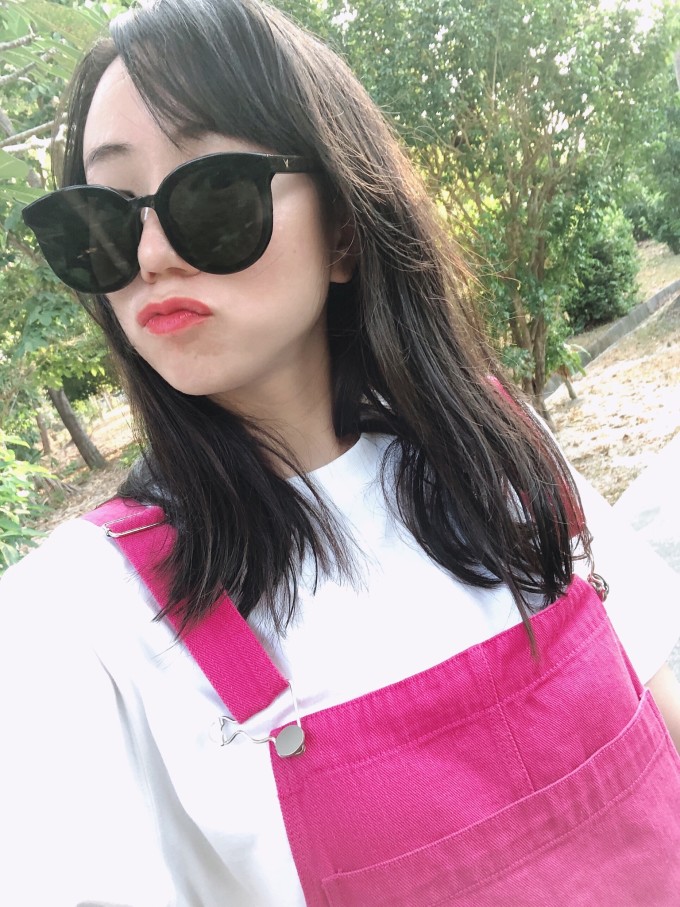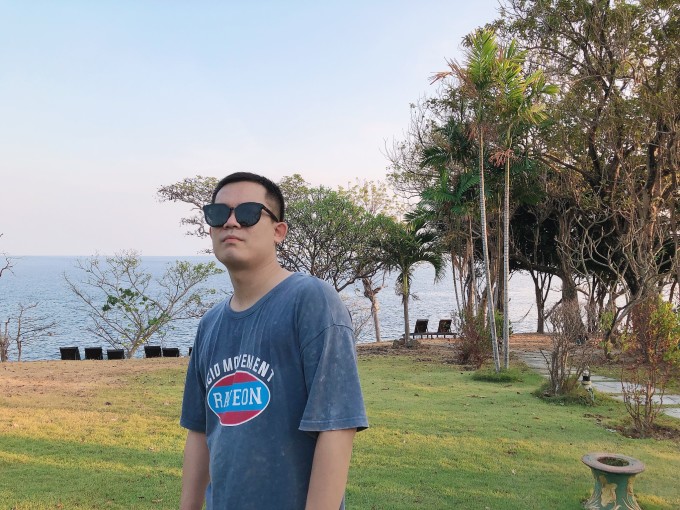 Haha, we were bored and took all kinds of funny photos on the grass in the hotel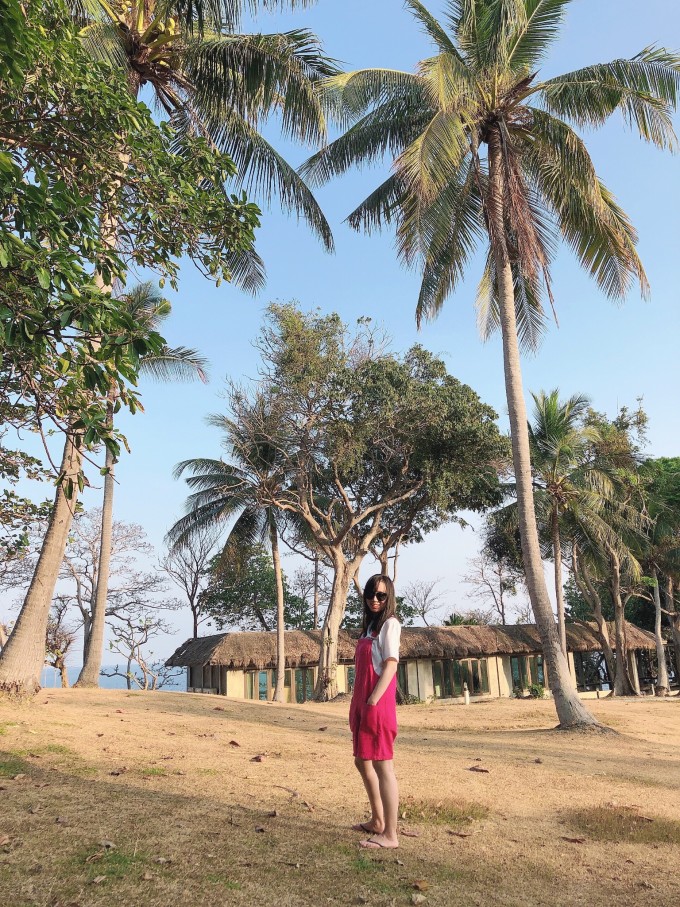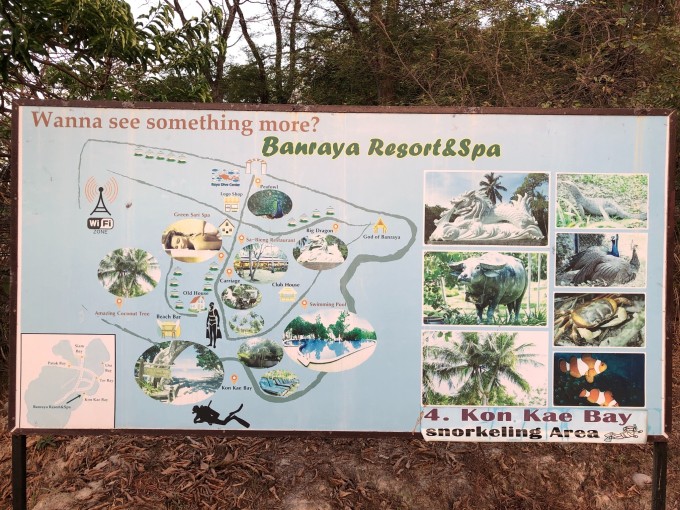 To give you a better description of the Emperor Island, I borrow a hornet's nest of other friends of the Raiders give us a brief introduction of if mind, tell me immediately deleted oh emperor island two beaches, A against the Swiss ah Bray Hotels, B Facing the Racha Hotel. There is a wharf at B, which is a pontoon bridge connected by buckets. Most day trip guests go to the island here. The sand on the beach is very fine, the sea is clear, and the waters separated by ropes can be launched. The scenery is beautiful and the sea is very shallow. There are no trees on the beach, you can rent deck chairs and umbrellas. The width of Bay B is about 200 meters, with mountains on both sides. The location on the north side of B1 is the cliff restaurant, which is actually halfway up the mountain. The environment and price are average, about the same as




Phuket Slightly better food stalls.
A Swiss ah against Bray , no pier, beach sand is very good, slightly wider than the Gulf B, with trees and free loungers, not be the sun . The sea in Bay A is very shallow. It is estimated that the sea is waist-long after going out more than 100 meters. Wave is slightly larger than B. You can snorkel directly from the beach, and you need to swim a long way to see the fish. There are a lot fewer tourists in A than in B. There will be day trip guests playing on the beach for 2,3 hours at noon. Most of them are European and American Hebangzi, China few people. There is a restaurant on the beach, which tastes good, the price is slightly higher, and the service charge is about 300B per person.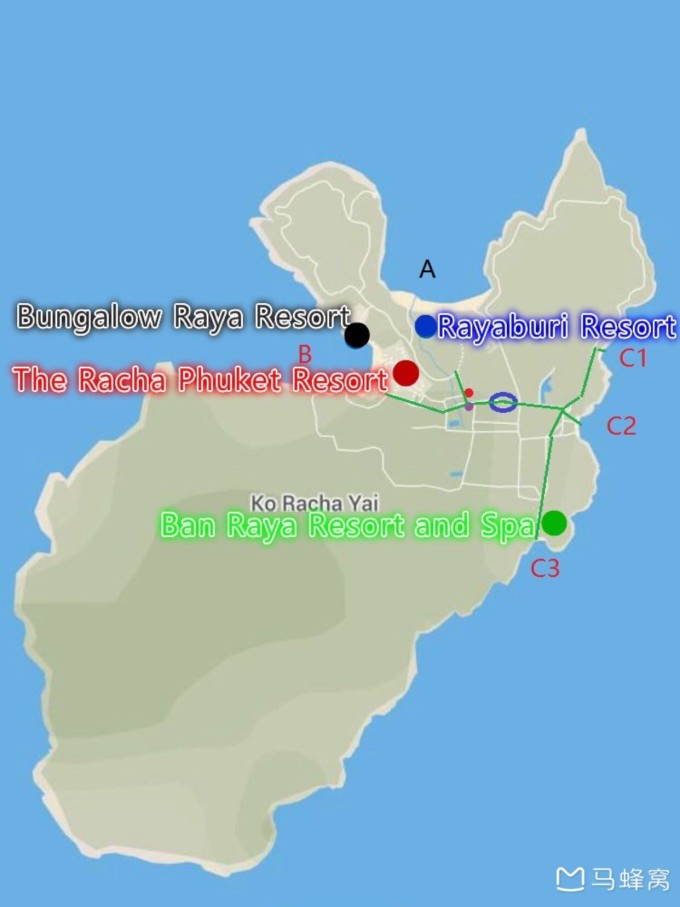 There are no beaches in the 3 bays east of Emperor Island, all of which are stones, so you can go snorkeling. C3 belongs to the Banzhi Hotel, which is the rocky beach I went to this afternoon. The bay is only a few tens of meters wide. After entering the water, you can see the fish a few meters away. Those who don't know how to swim can just stand up and bring children to experience. If you are not staying at the Banzhi Hotel, you may be charged. The bay of C2 is about 100 meters wide. There are deck chairs on the side, which may need to be rented. Many of the photos below are C2 bay. We took it before dinner. There are few people and it is primitive. It is especially beautiful when the sun sets. The width of the bay of C1 is slightly smaller than that of C2, there is no beach, no deck chairs, and you can snorkel in the sea. The water depth here is about 7.8 meters, and many fish and turtles can be seen. C1 and C2 are free. If you live on the island, you can come by yourself if you are well-watered. Because we really don't have time on the island, we actually want to go to C1 to take a good look. Service facilities: The red dot in the picture is a small supermarket with regular items and reasonable prices. You can buy water and drink. Corea position belongs Bray





The back door of the hotel. If you are coming from Racha, you need to go north from the bifurcation of the tennis court at the purple origin. There is also a small restaurant next to it. When I saw the staff on the island come to eat, it should be that working meals are not sold to tourists. There are also meals for tourists on the menu. Walk east along the green line, and you will pass the houses of residents on the island. There are several restaurants in the blue circle for tourists, and many hotel guests come here for dinner. The price will be lower than the hotel. At this shop with red lanterns on the north side of the road, the waiter can speak Chinese.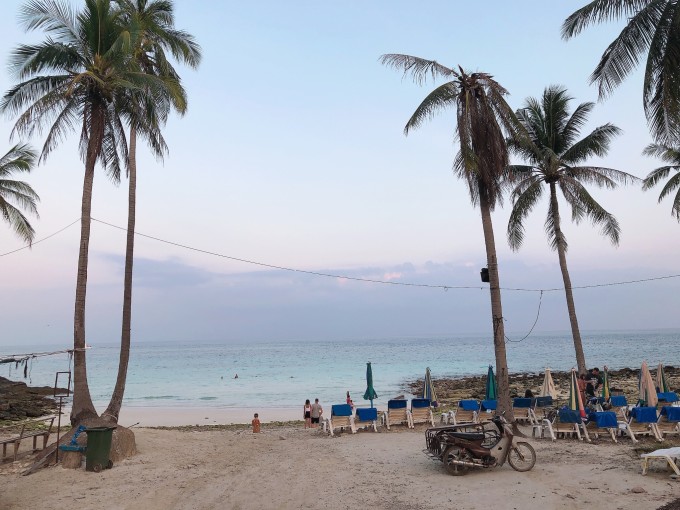 C2 bay is beautiful.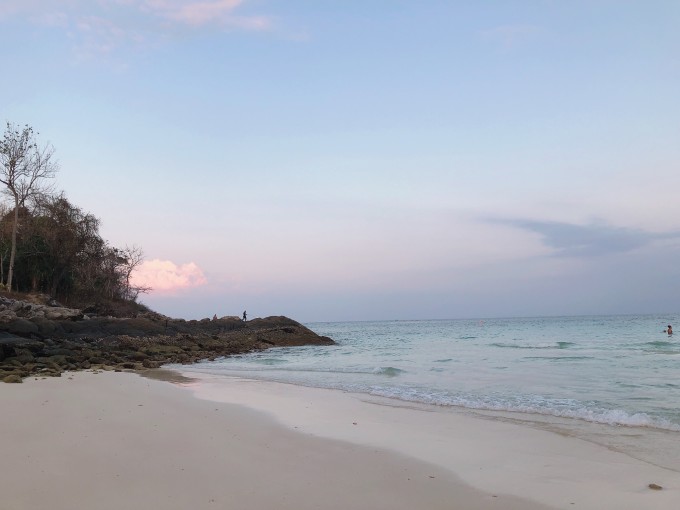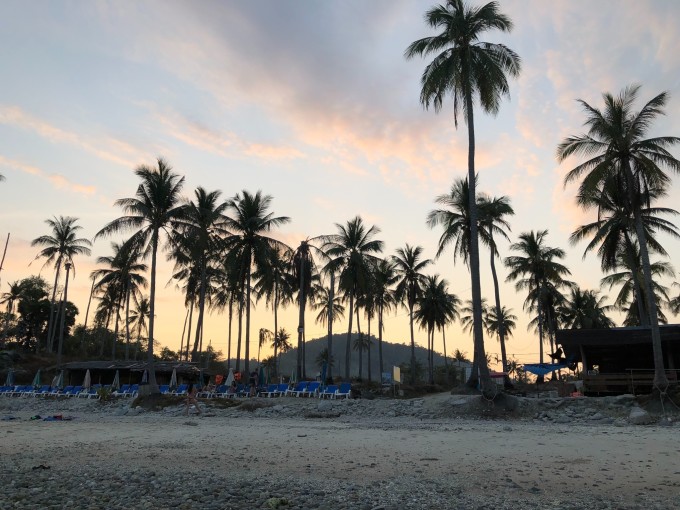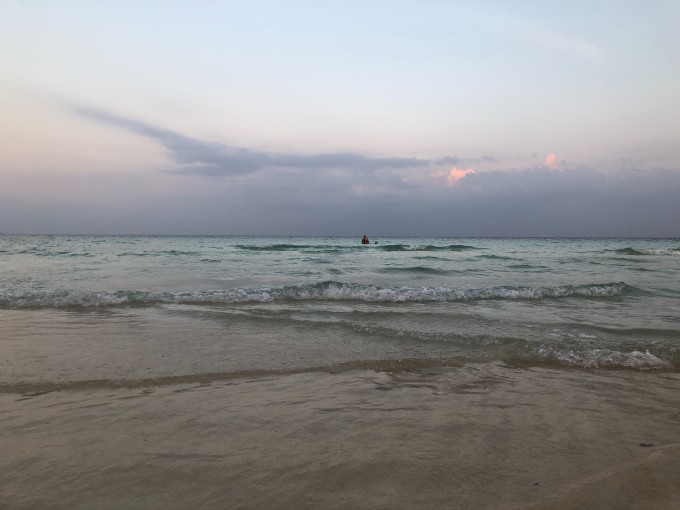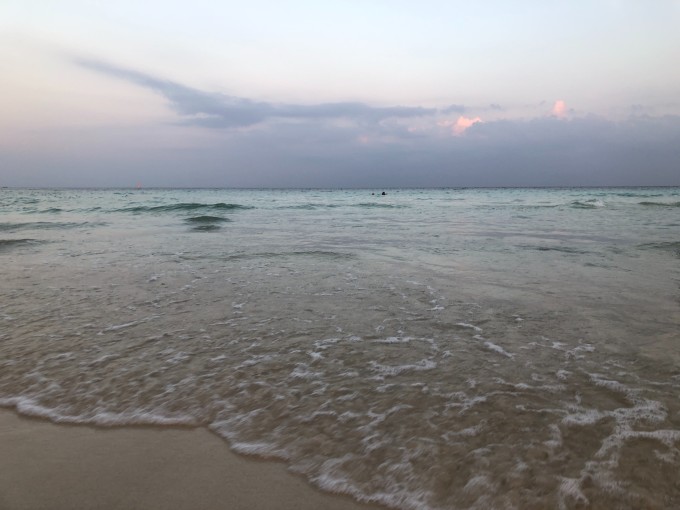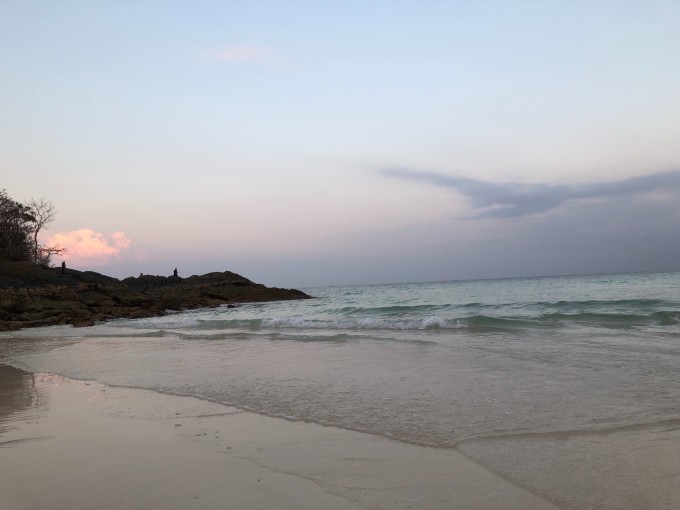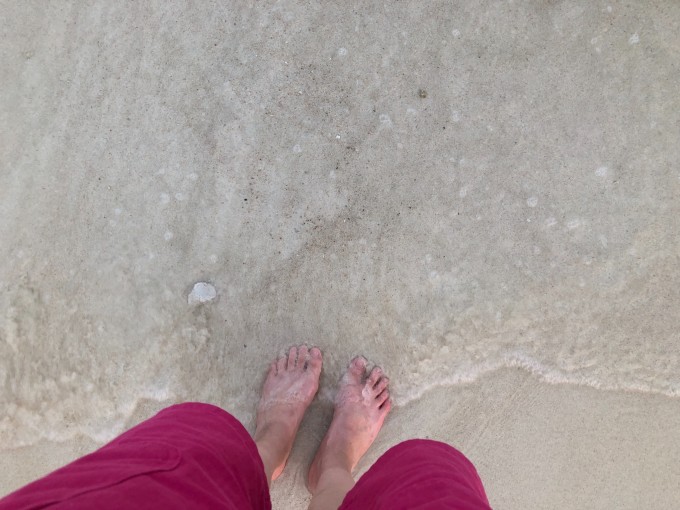 Look at this sandy beach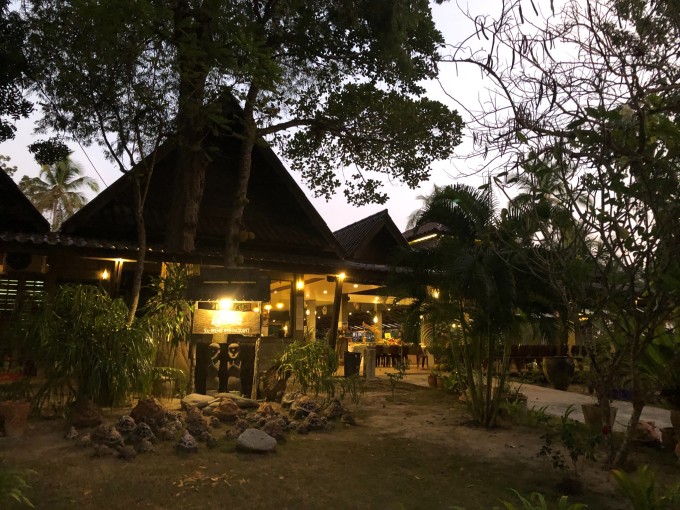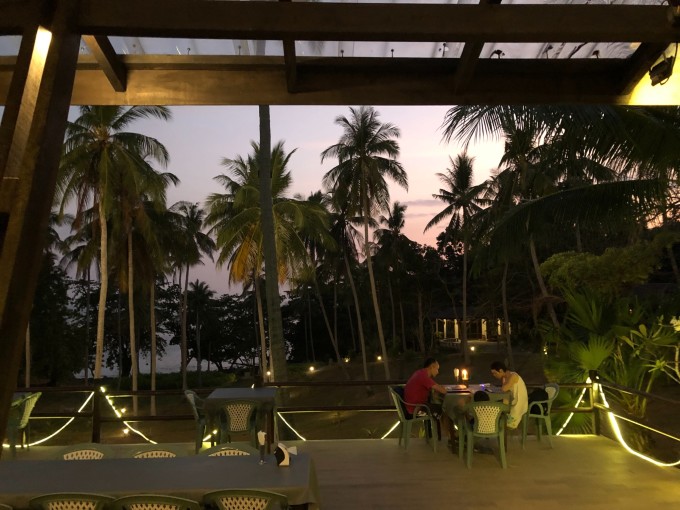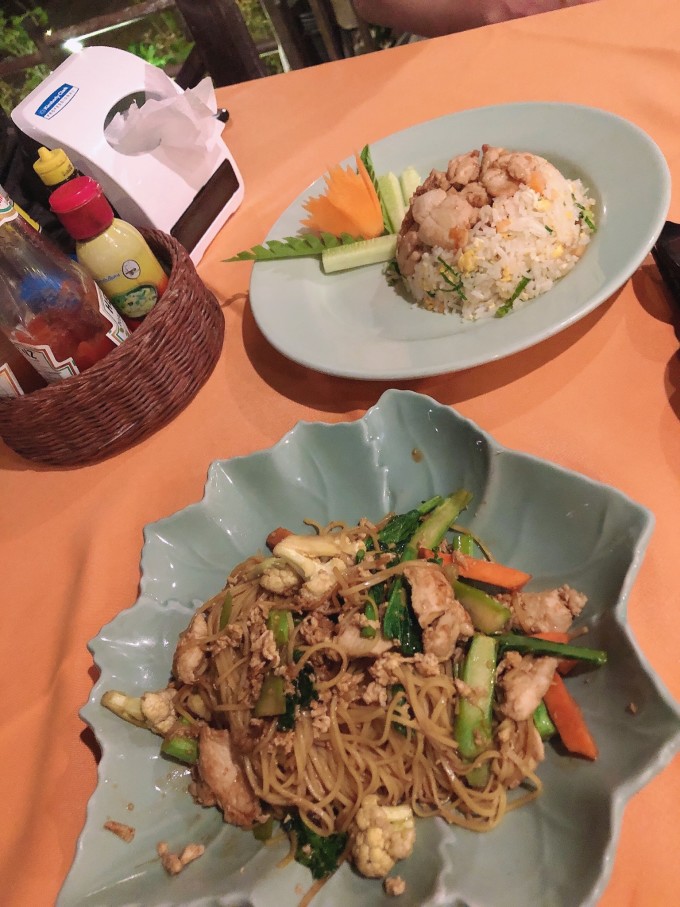 Our dinner is very simple, fried noodles and fried rice, both 180B. After dinner, we went back to our room and rested until 9 o'clock. We were going to see what the rocky beach was like at night. Hahaha, we really didn't waste any time.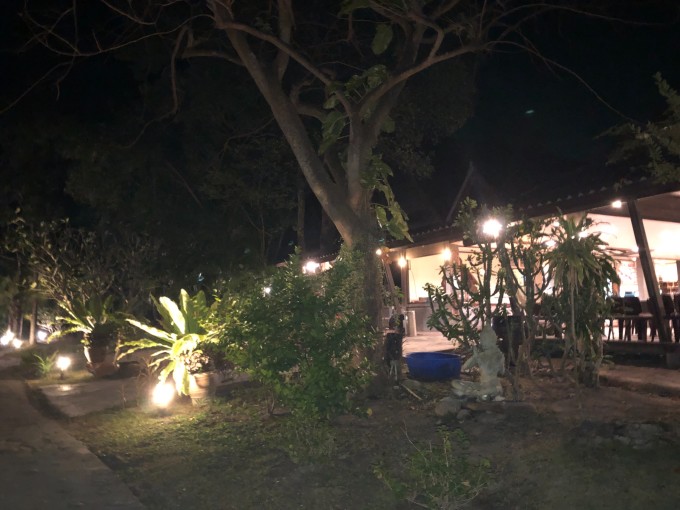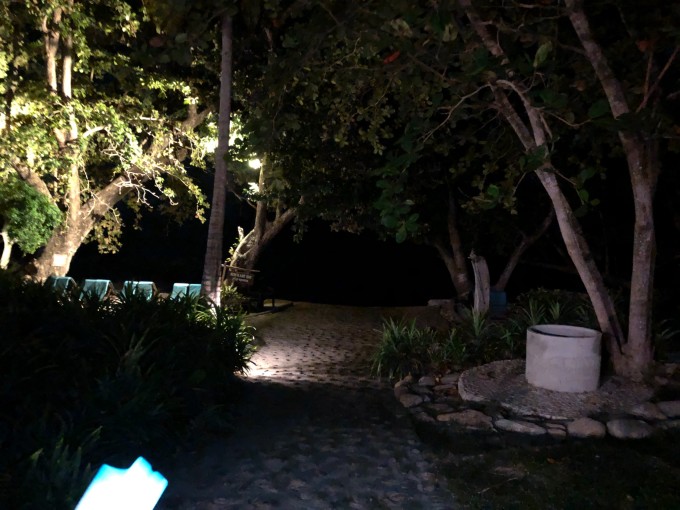 The road to the rocky beach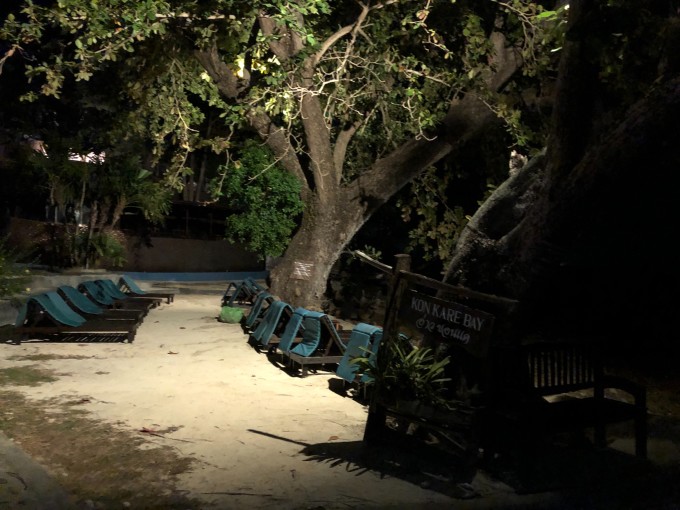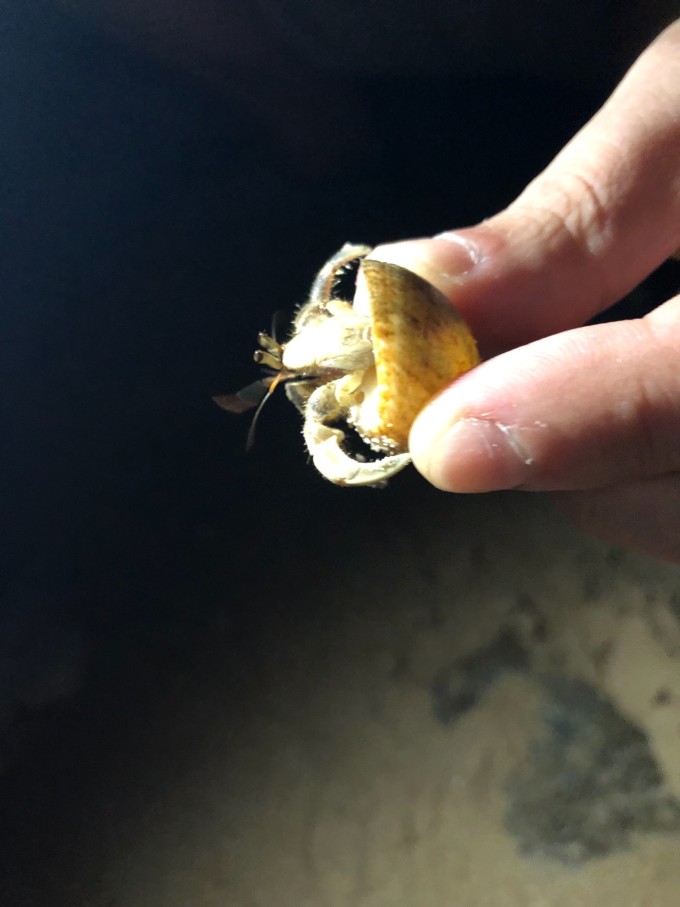 At night, the rocky beach is full of hermit crabs, so I am afraid that I will step on them accidentally, densely packed.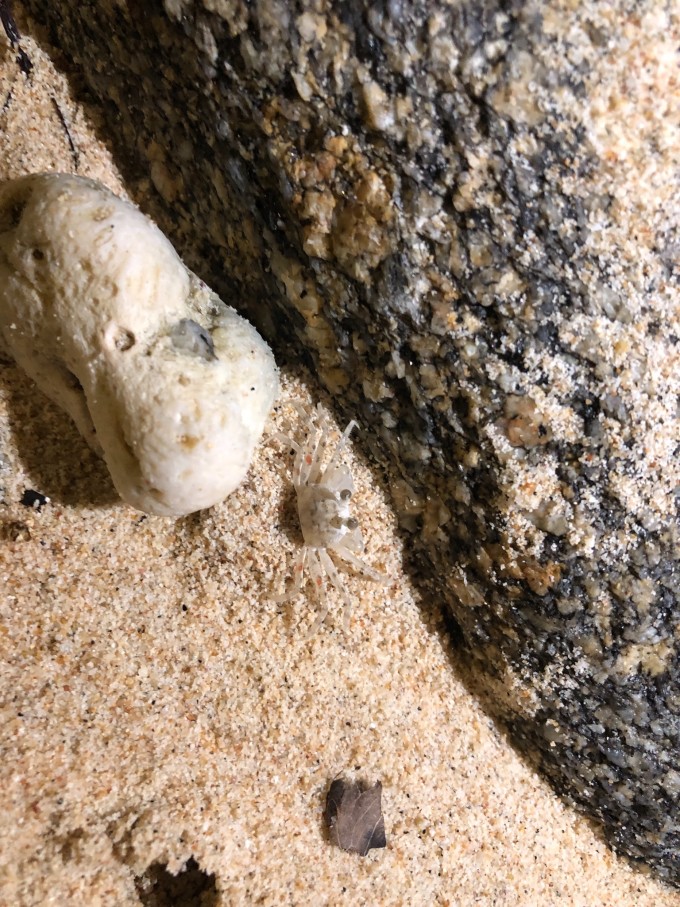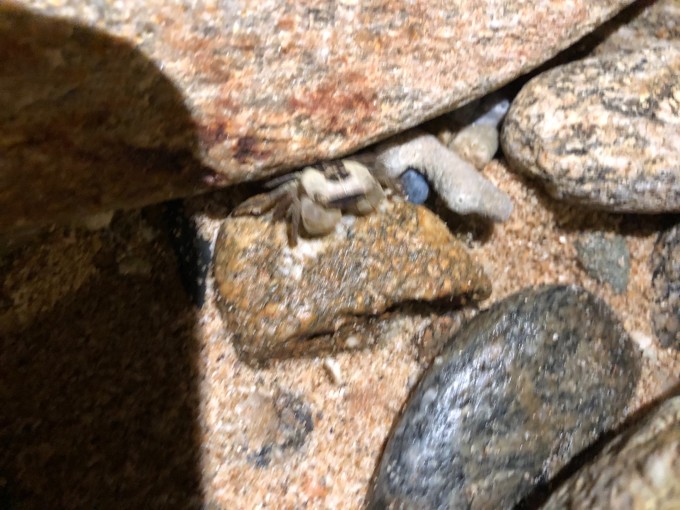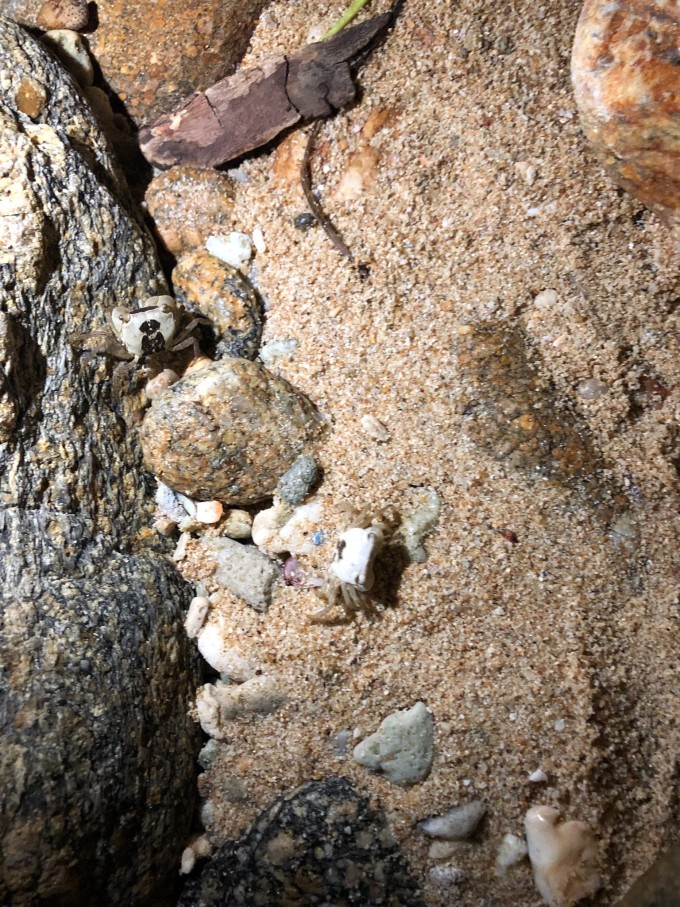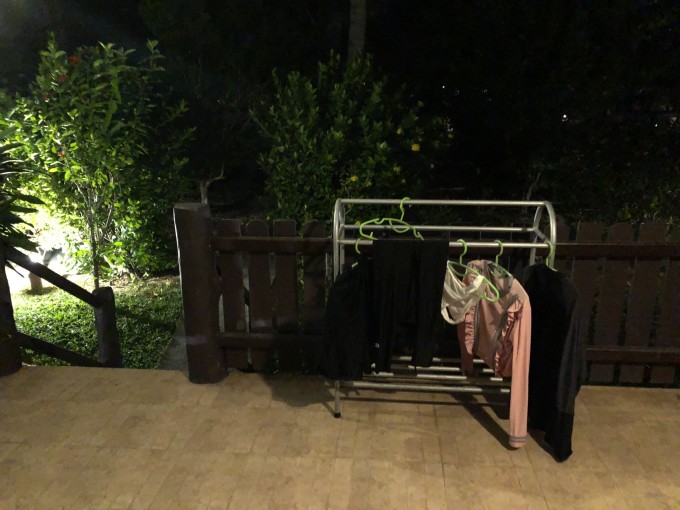 Go to bed, good night.
The next day I got up and went to the restaurant for breakfast. After taking a few photos, I decided to walk to Recha Beach where we had taken a boat to the shore.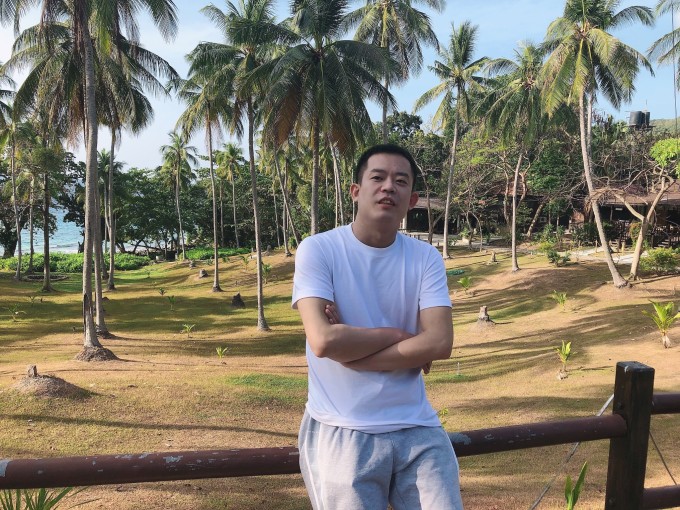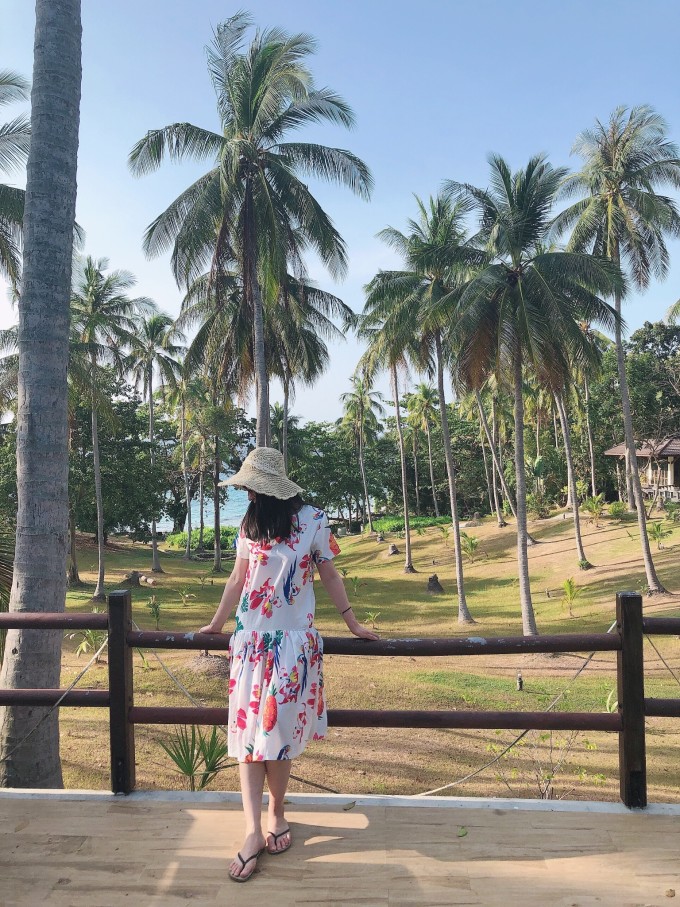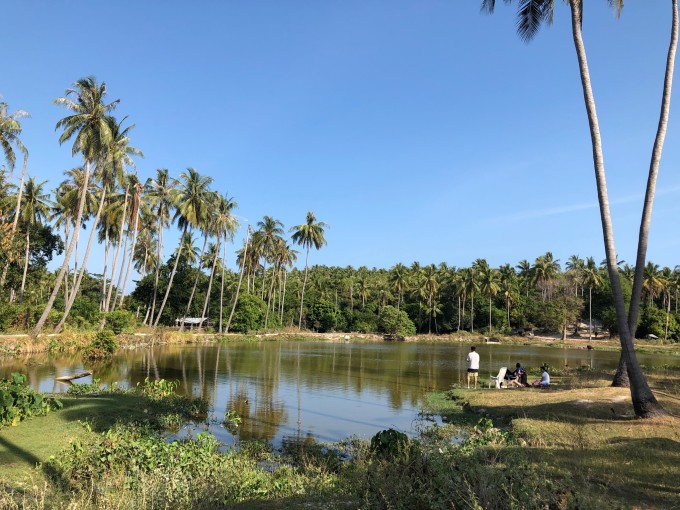 Even so our fellow citizens in the sun fishing presumably people is to live a good vacation a few days, as we too catch up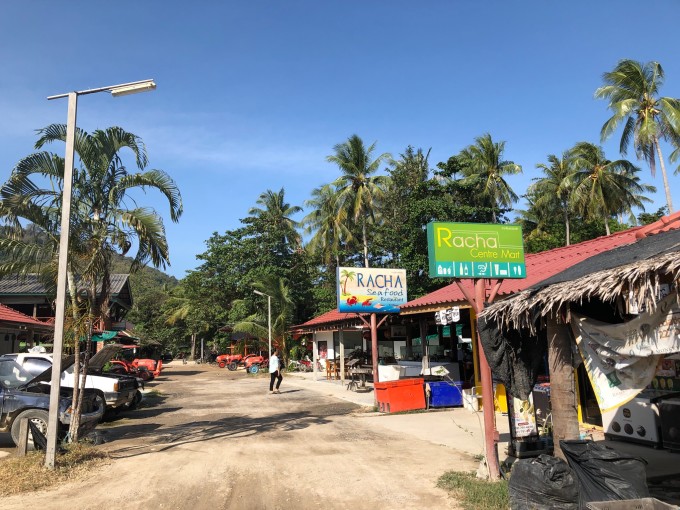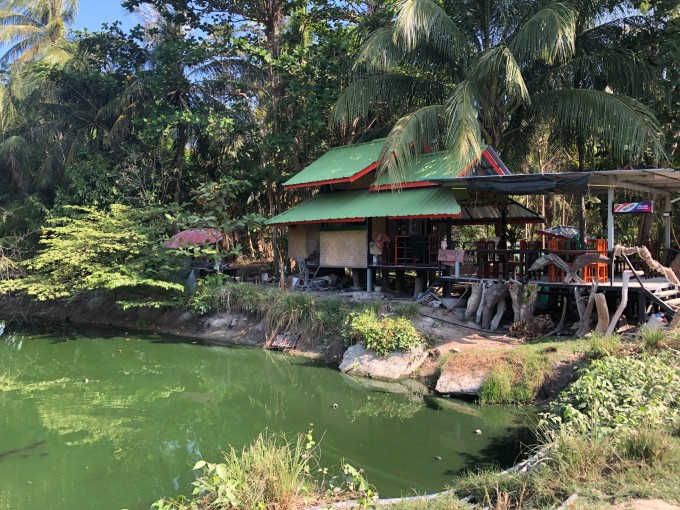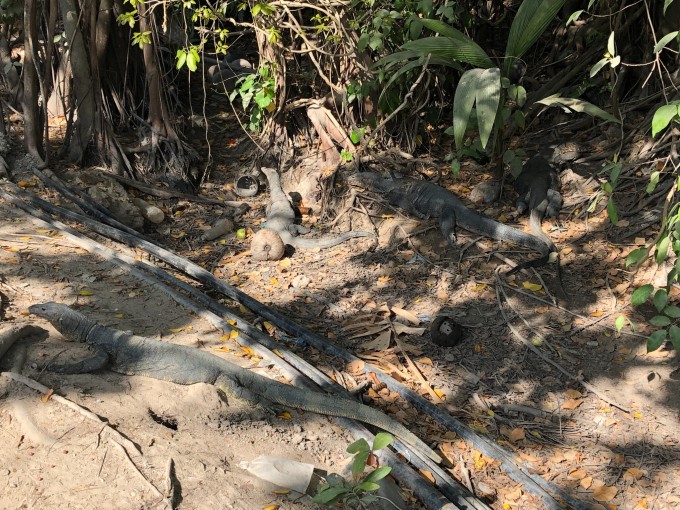 Walking on the road when almost strayed into the big lizard nest, Kazakhstan Hami dense Ma Ma all lizard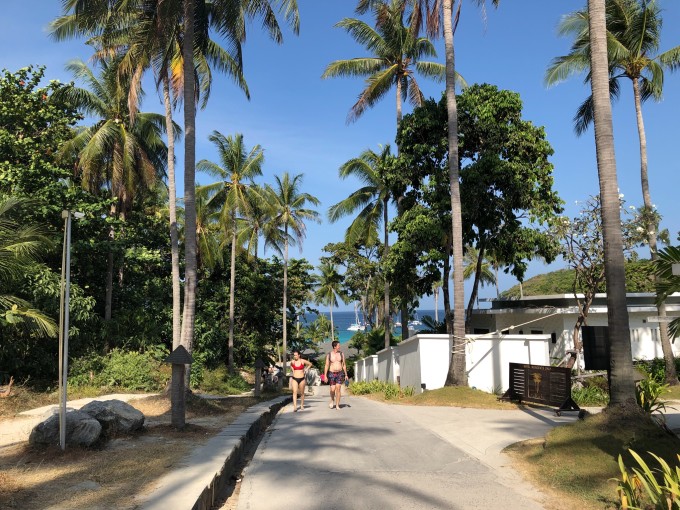 Racha Hotel on the right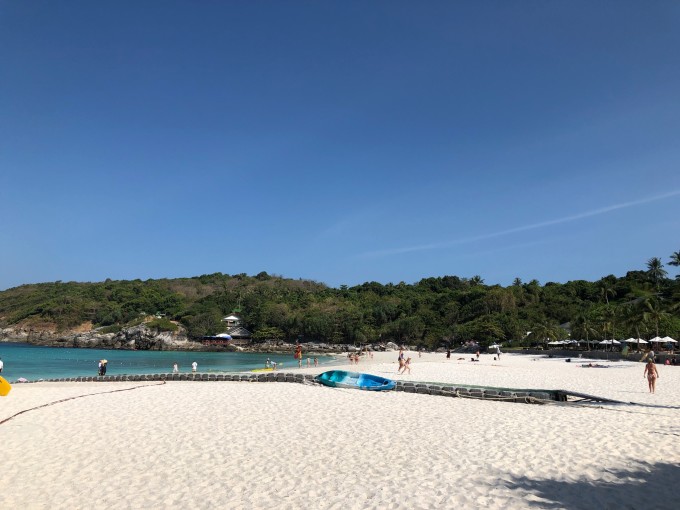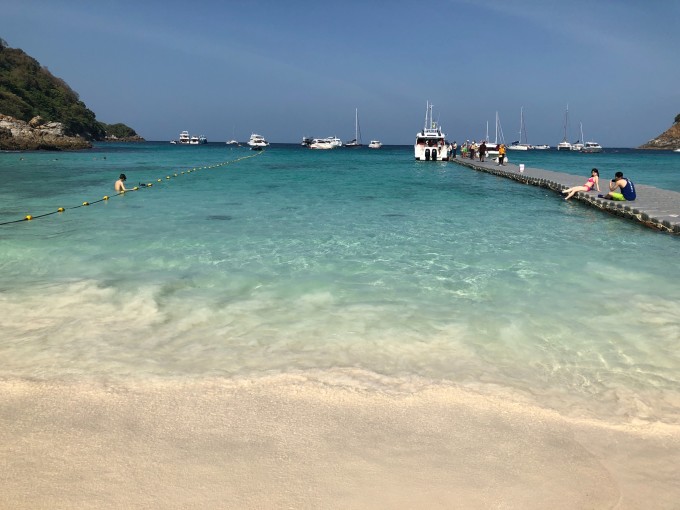 The water is still very clear, and the sand is particularly fine, which is really good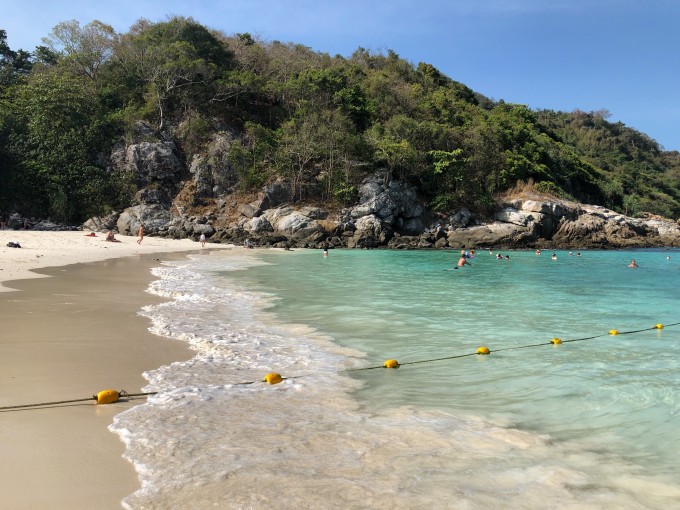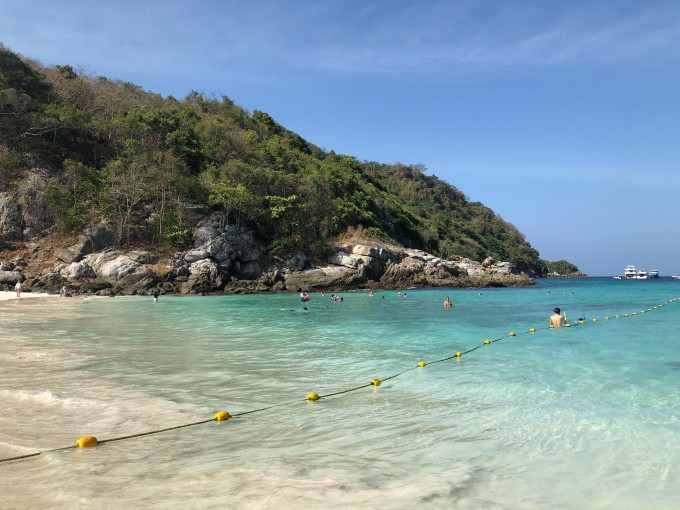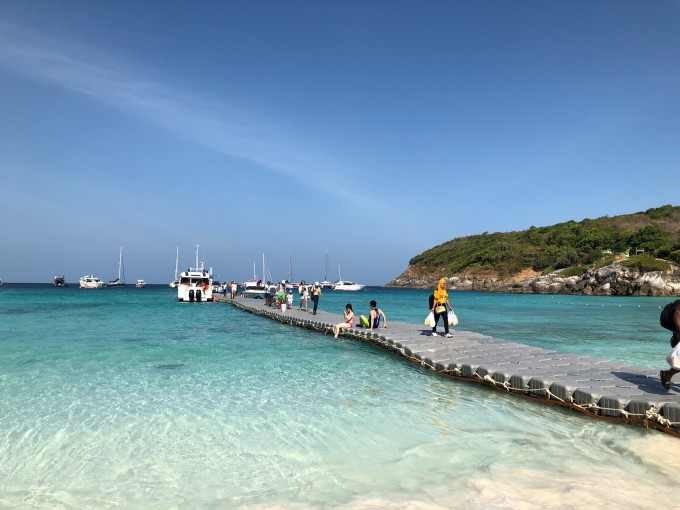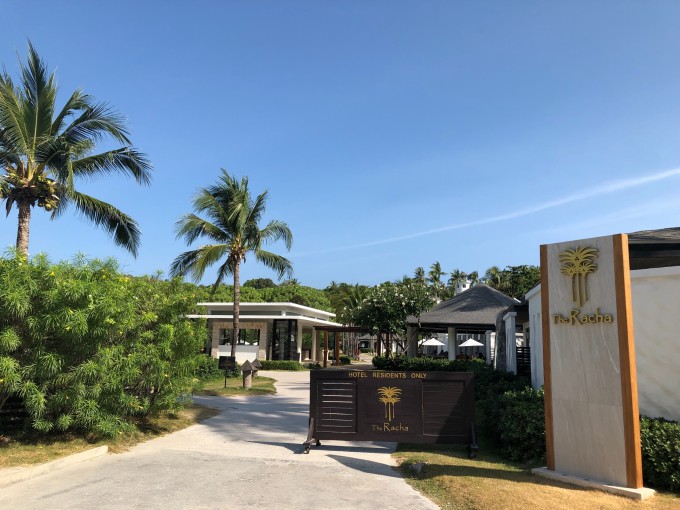 Racha Hotel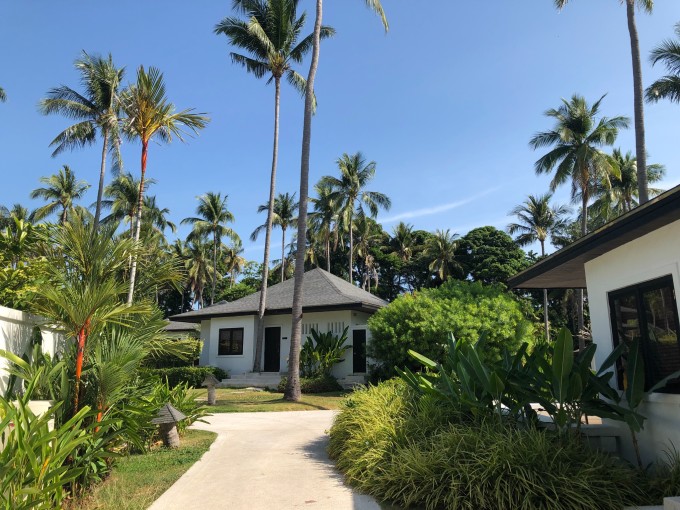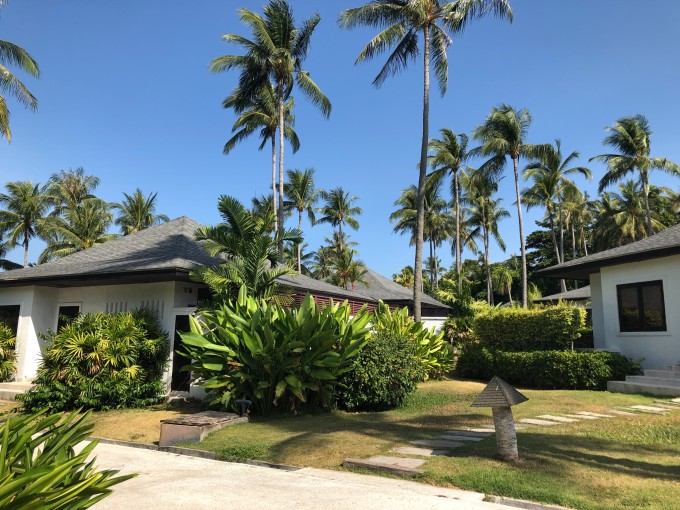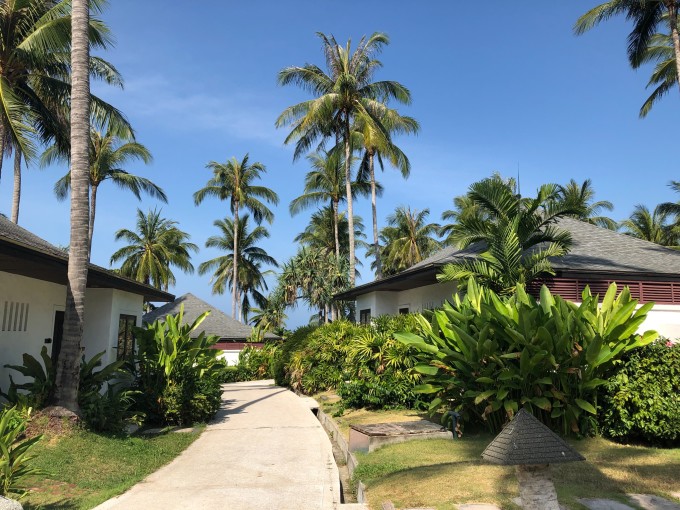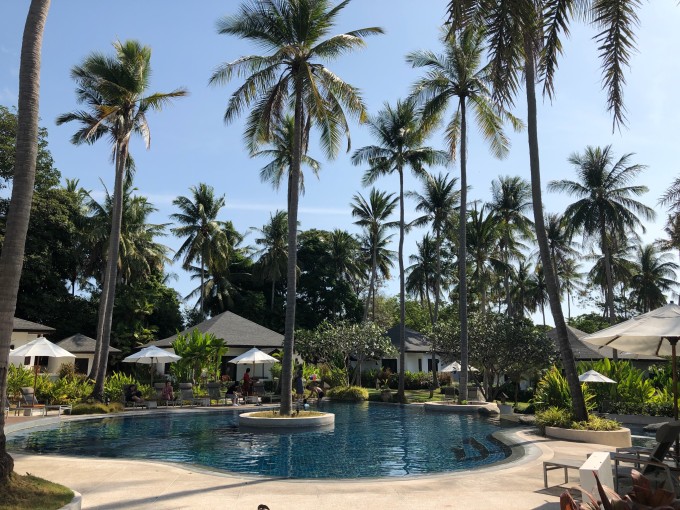 After going to Racha Beach, we went back to our own hotel, because we were going to go snorkeling for a while before leaving.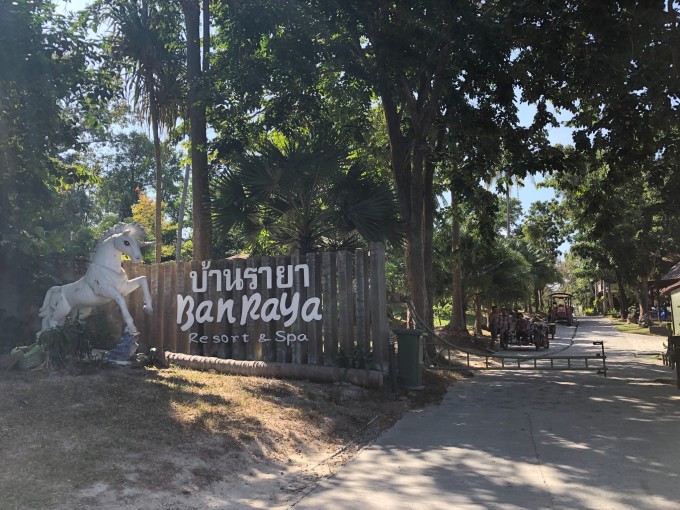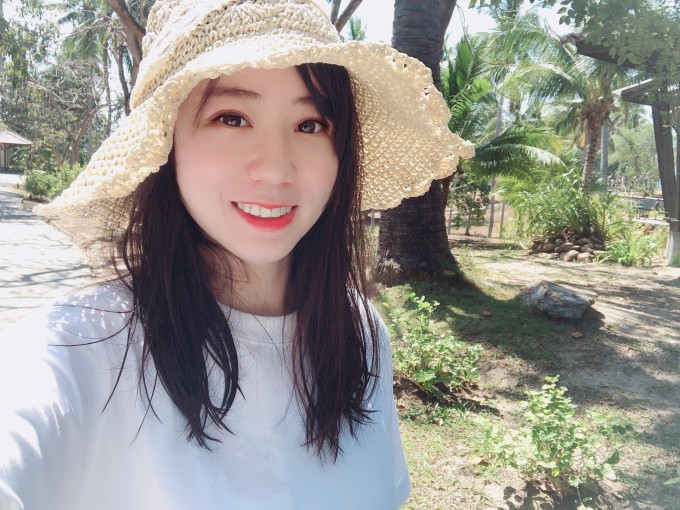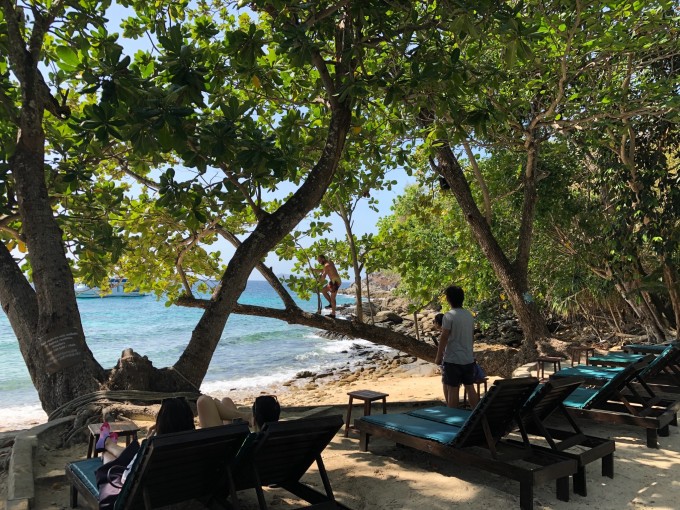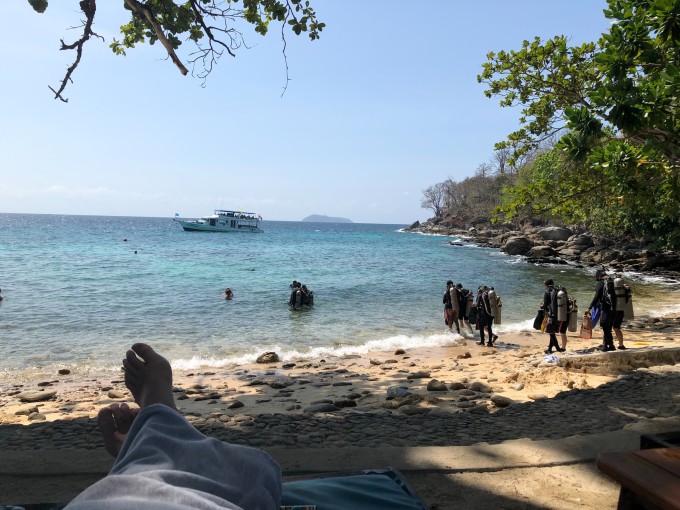 There are a lot of people who experience depth will come here to go to the sea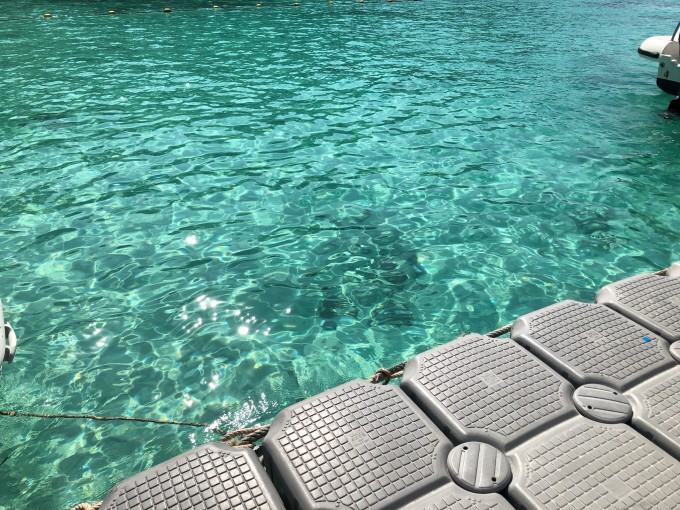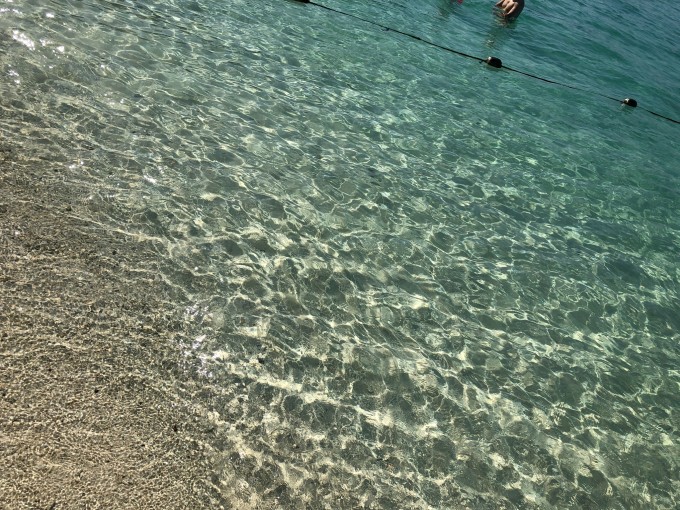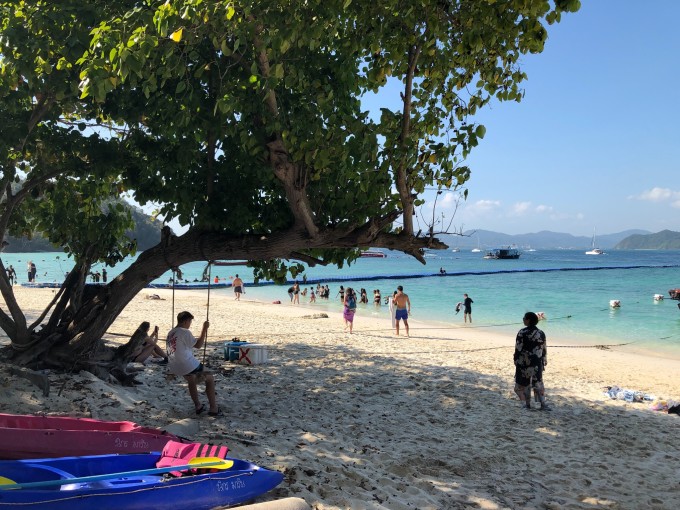 Our day trip return trip will go to the Coral Island, and returned to the emperor island of Phuket on the road is on the way, a lot of the coral island people, mostly Chinese people, can play a lot rides on that, water quality Also not bad.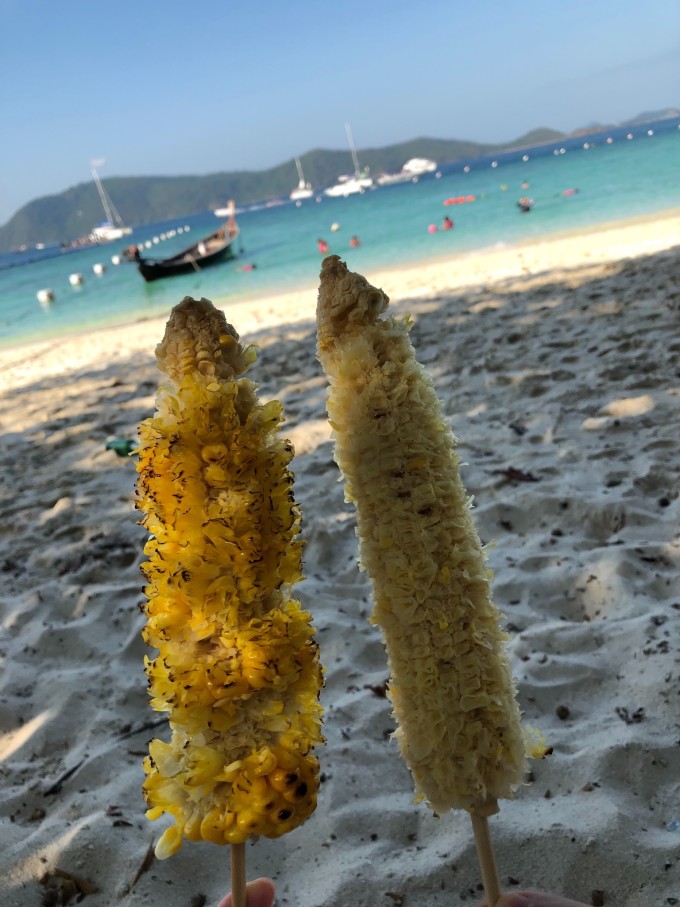 The corn my baby and her dad ate, a corn 100B seems
Coral Island map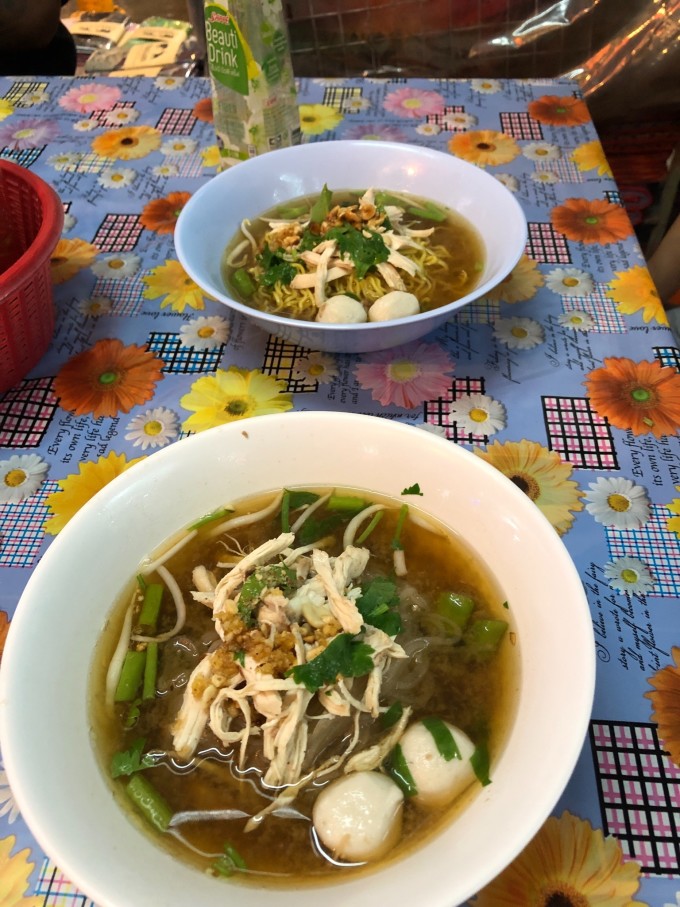 Evening back to Phuket, can not wait to go to the Jiangxi on a cold stalls near the eat this meal, 60B bowl, we were eating three bowls also did not eat, but also eat a lot of fried chicken. After dinner, I went around and went back to the hotel to rest. The next day I rented a motorcycle and wandered around, haha
In Jiangxi, a street in the cold near the rented a motorcycle, I want to 300B, 250 I said, what he agreed. Haha, thanks to reading other travel notes, I know that it is usually the price. When renting a motorcycle, he asked for his passport to be pressed down to him. I said that the ID card would work, but he disagreed, so he had no choice but to hold the passport. In fact, I think it's dangerous to press a passport, because after reading other travel notes, I know that some compatriots accidentally damage the motorcycle and demand a high price to pay a lot of money. If you don't pay, you won't give your passport. This is especially troublesome. Rent a motorcycle owner would say some simple Chinese, he took a motorcycle all over, just in case my dad to let him baby front of their face photographed motorcycle, so afraid of them and correct me



There are many gasoline bottles on the road. The closer you get to the city center, the cheaper it is. We can see 35,40,45 from 30B bottle. In the end, I was really afraid that it would not be sold any further, so I added a bottle of 40. We ran a day and one bottle was enough anyway.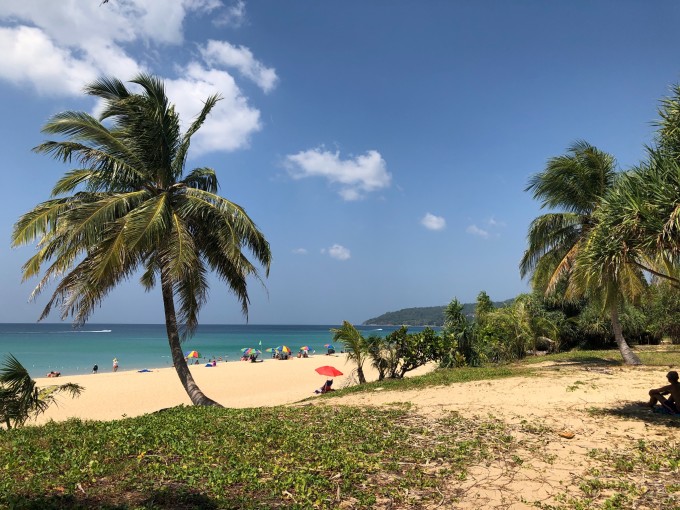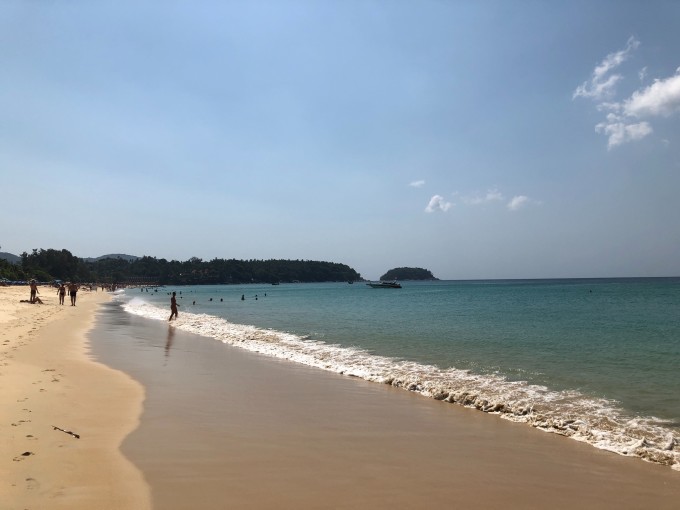 Phuket Sea on the island than the emperor certainly not, but much better than I imagined, at least compared Nha Trang is much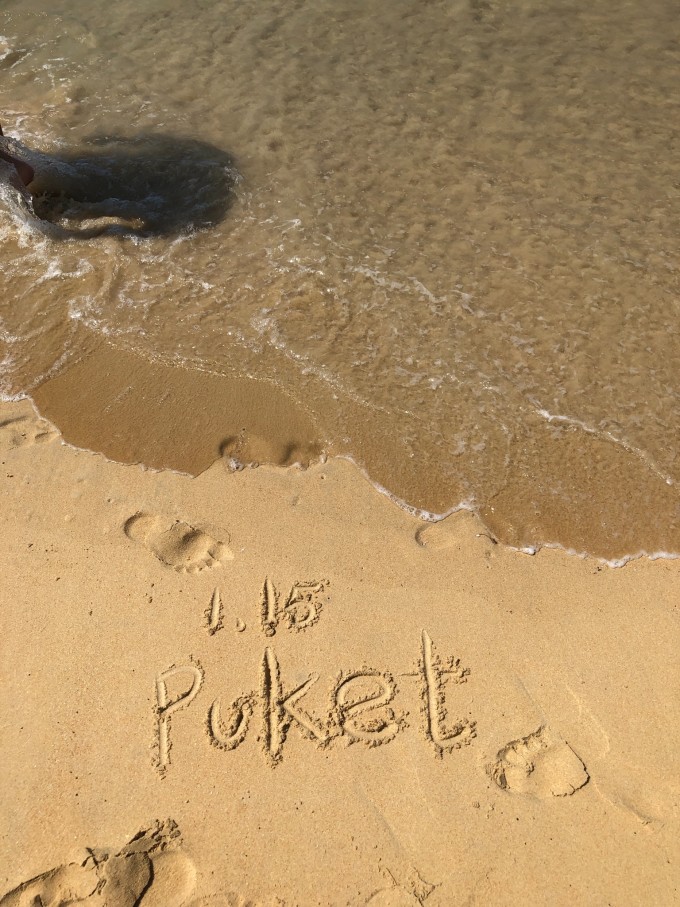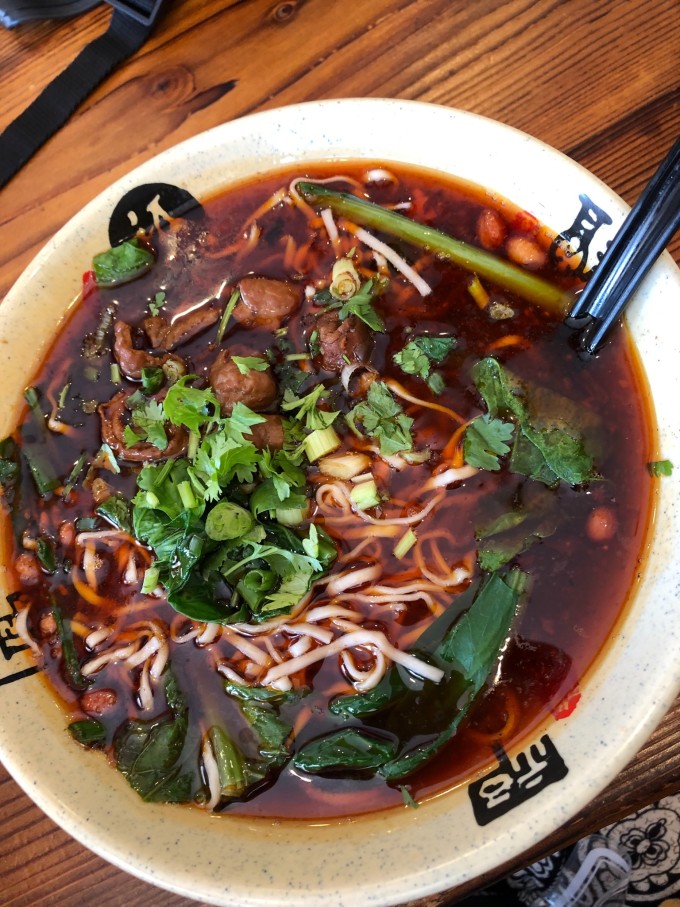 The road met a sale of Chongqing facet of my day, tired of eating Thai food, I large Chongqing face is really too delicious to go before a person to eat a bowl, back on the road to eat a bowl of another person, ha ha ha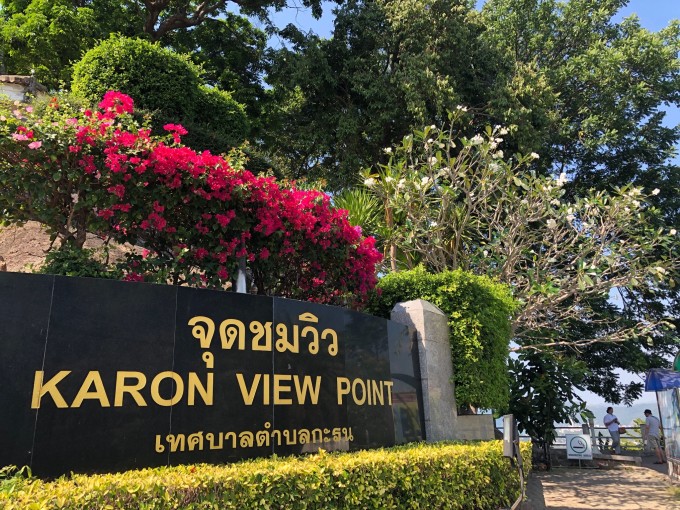 Karen observation deck located on a hilltop south of Kata beach area, while viewing platform overlooking Phuket's three main beaches, the size of the co-Kata Karon. Riding a motorcycle is still very convenient, and you can get a sense of relief when you go up there, and there are pavilions to take a break to escape the heat.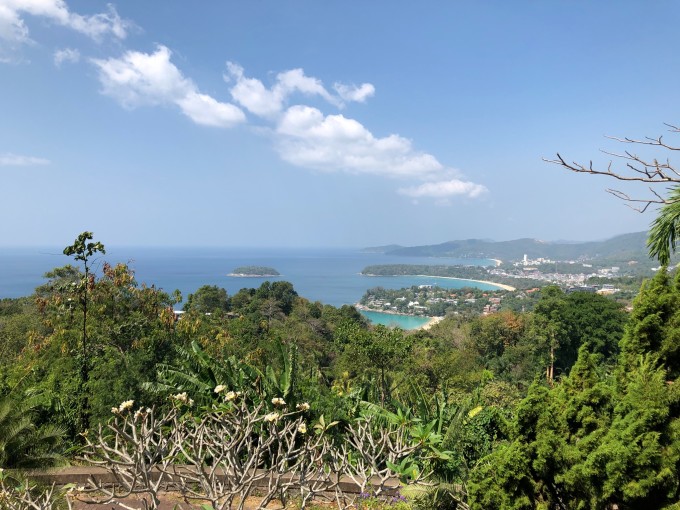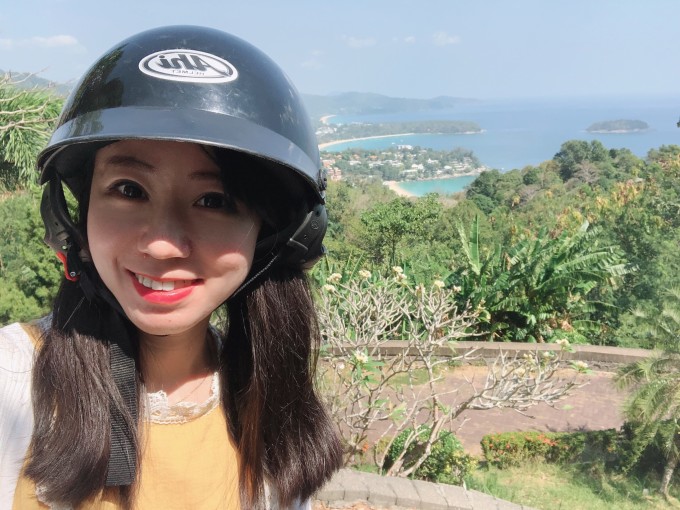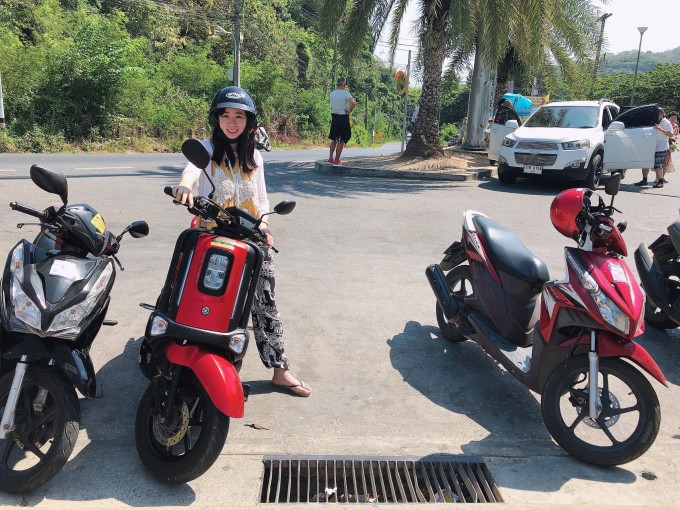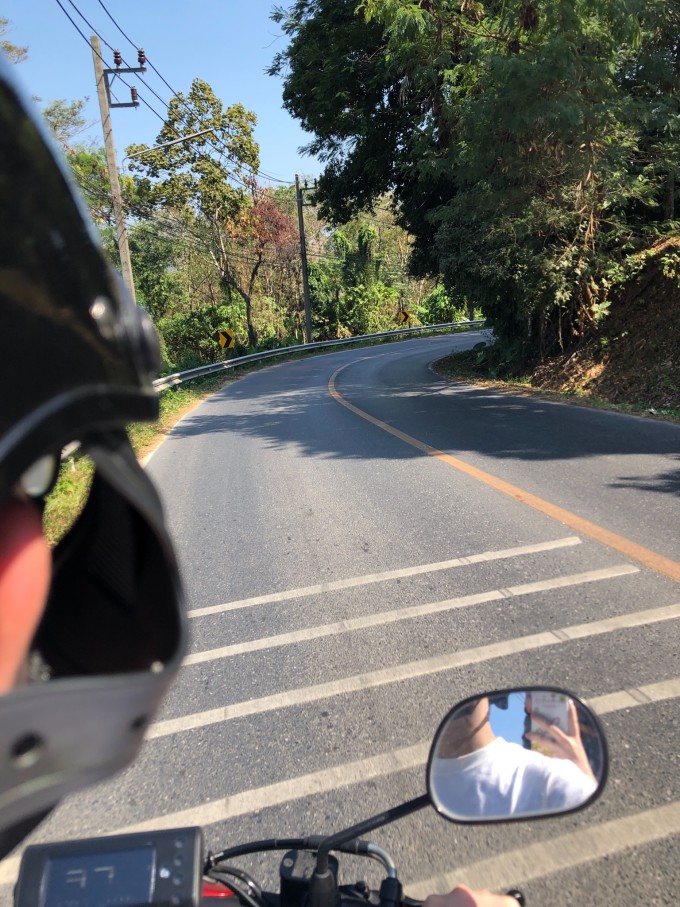 The road in Phuket is actually a bit scary to ride a motorcycle. People like me think the road is very dangerous.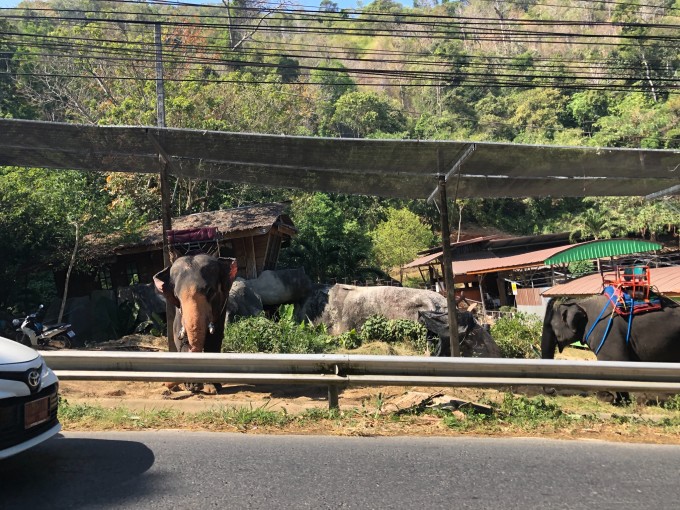 Net Red Big Swing NUI BEACH~~
Today, we travel mainly to Phuket network red big swing, that is, NUI BEACH. Just next to the Karen Observation Deck, downhill, there is an off-road vehicle at the entrance to take you down, 100B per person, we saw a couple of foreign couples riding a motorcycle straight down, and we followed along. but riding the half-way can not go on the ride, full of potholes loess, we had to motorcycle parked next, and then walk down. I wore flip-flops, but also large at 1 o'clock after I came back two calf muscles ache for several days, it has been estimated to be downhill tore ligament. After playing on the big swing, we did not hesitate to choose the car, where we parked the motorcycle.







Tickets are also 100B per person.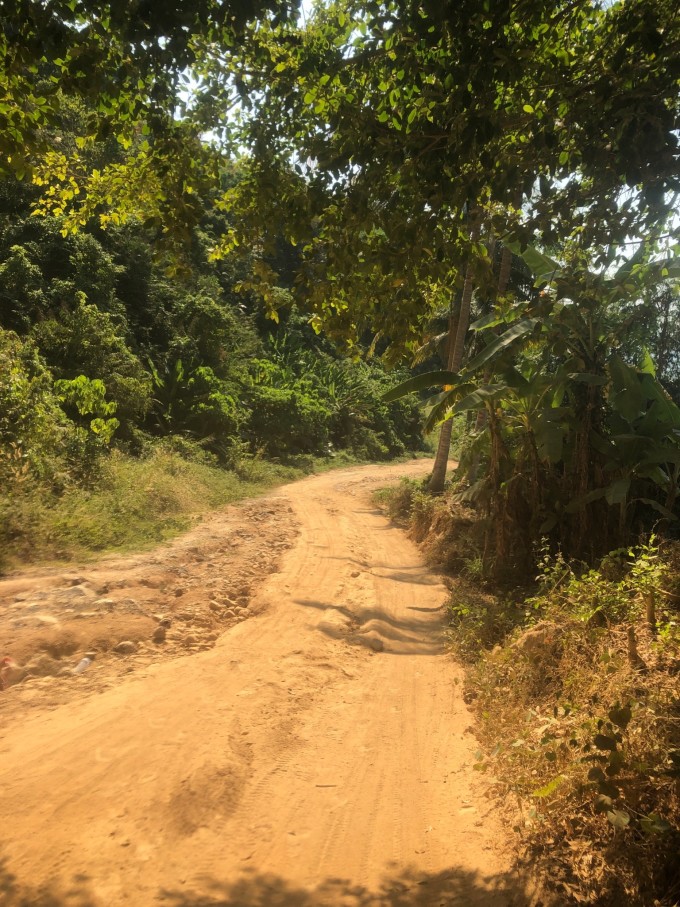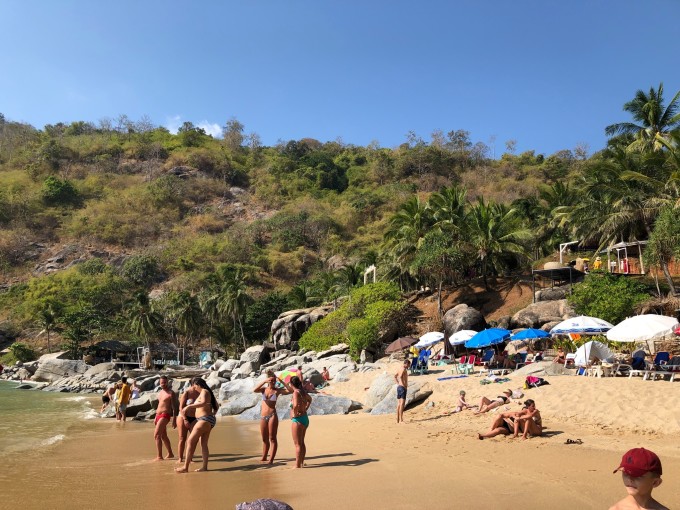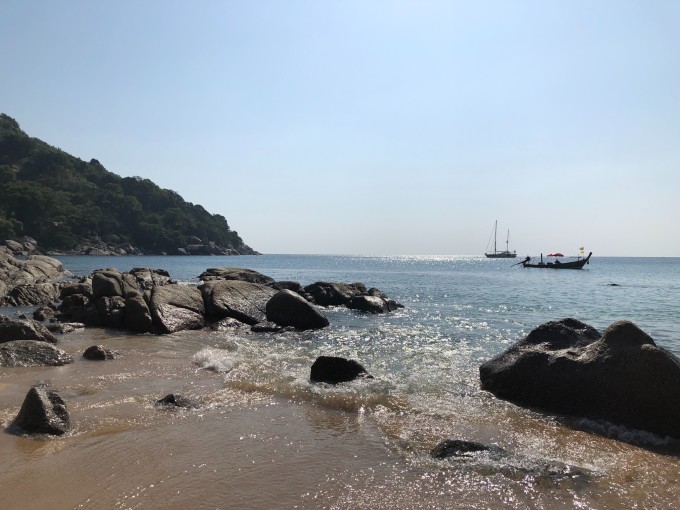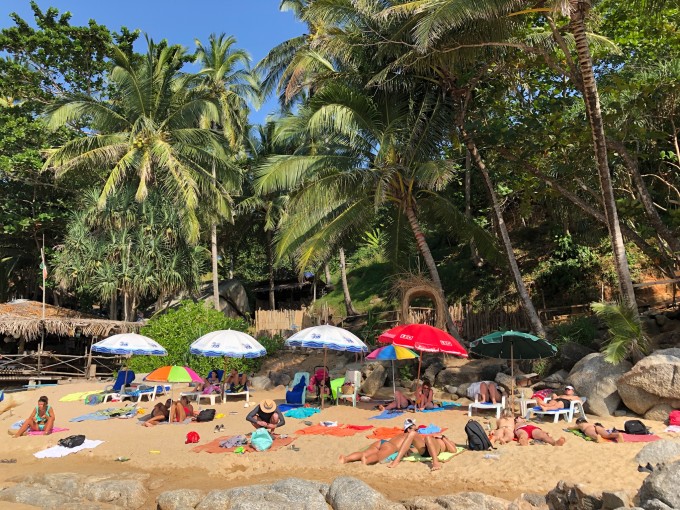 Foreigners just pose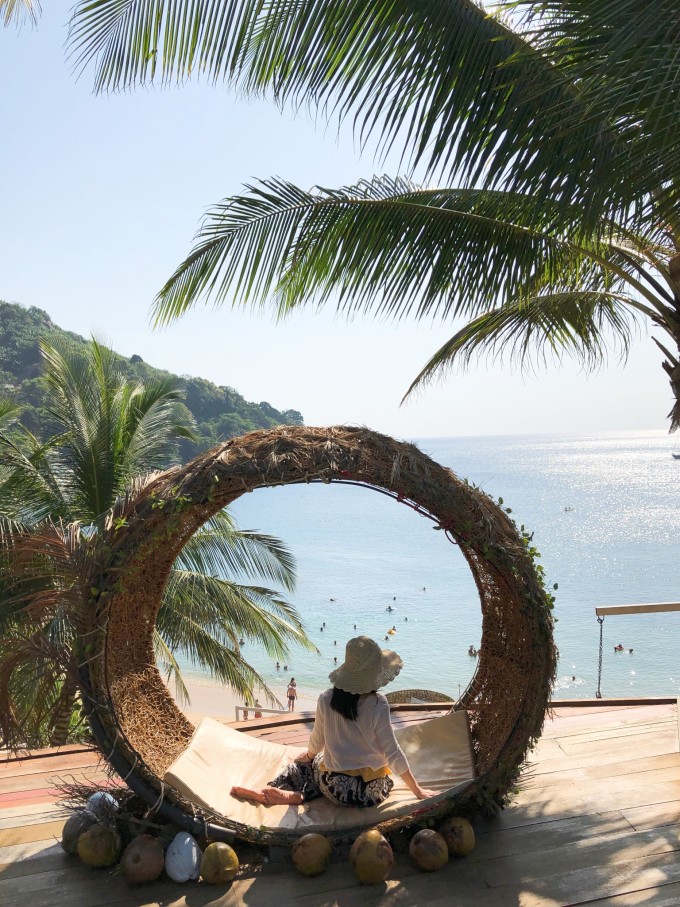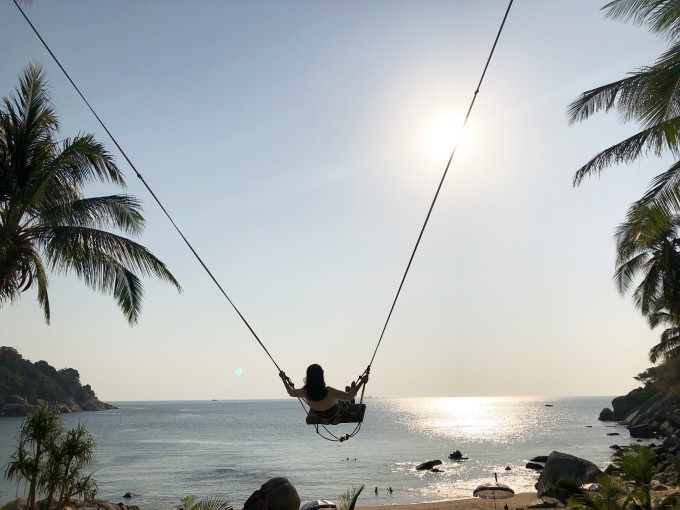 This big swing can let the worker next to you help you, and then give him a 20B tip.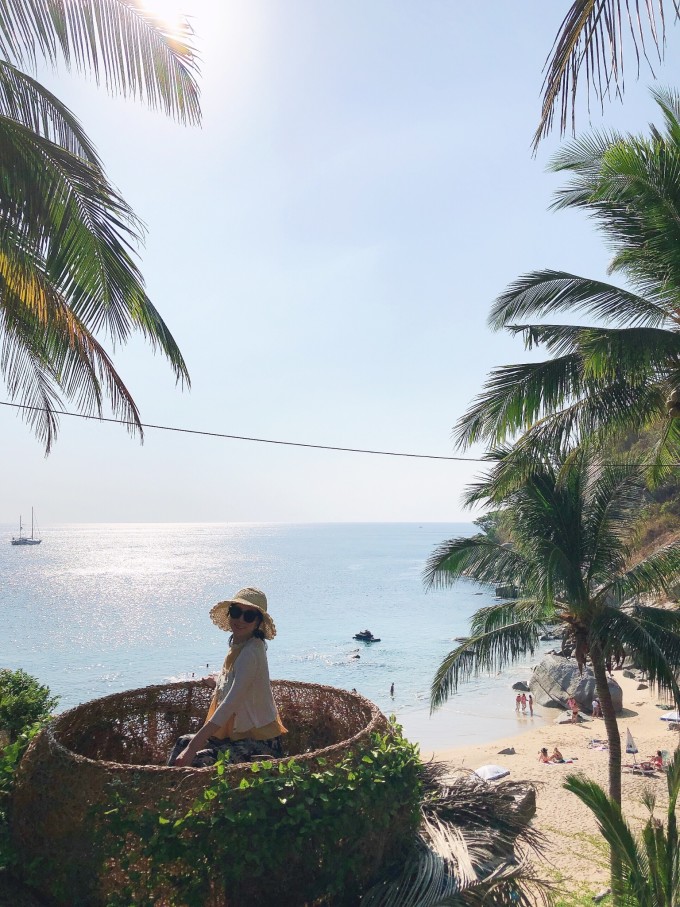 The sun is too hot, I'm afraid I will get old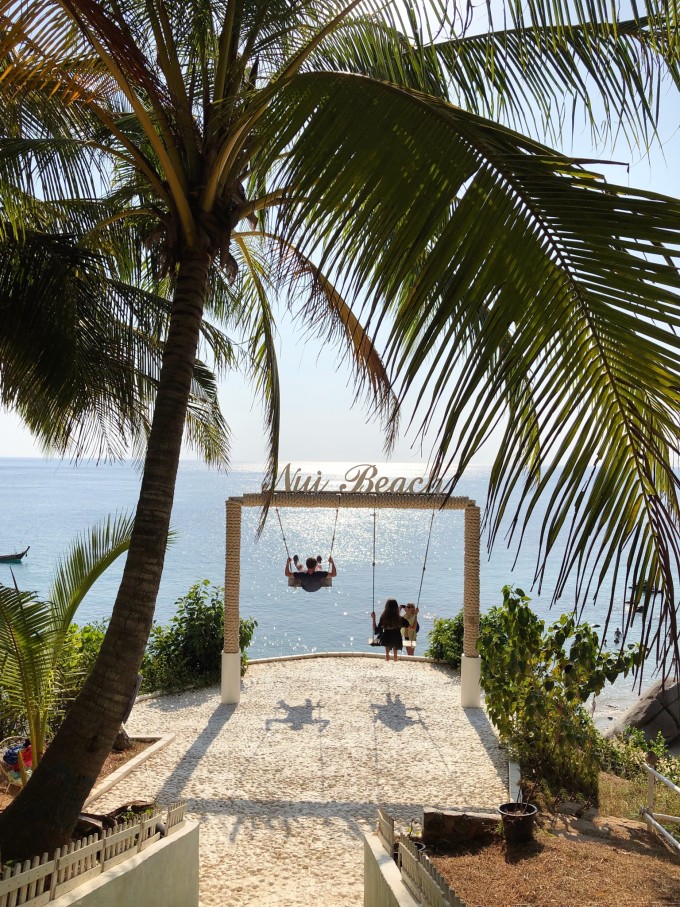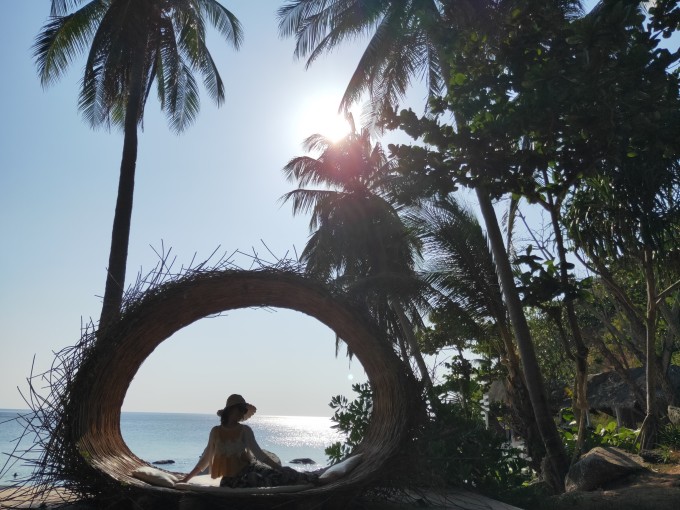 Well, that day has been really shine on the back along with the limited level nothing like the photos online so nice, not happy but this place is still possible to look at the pictures really fit, under the beach of Patong is better than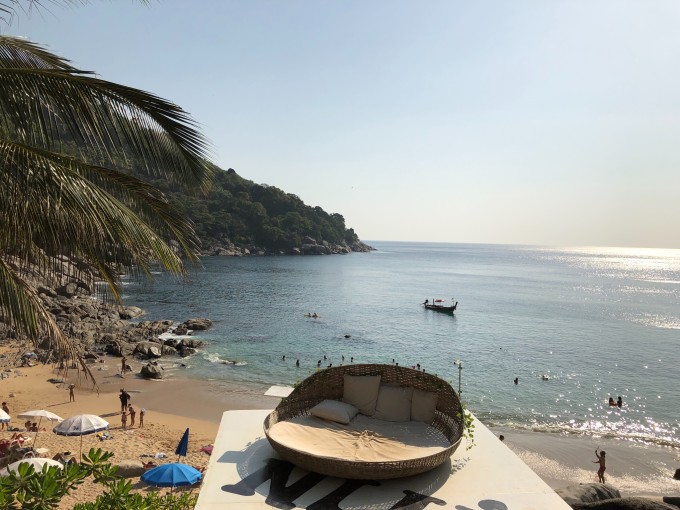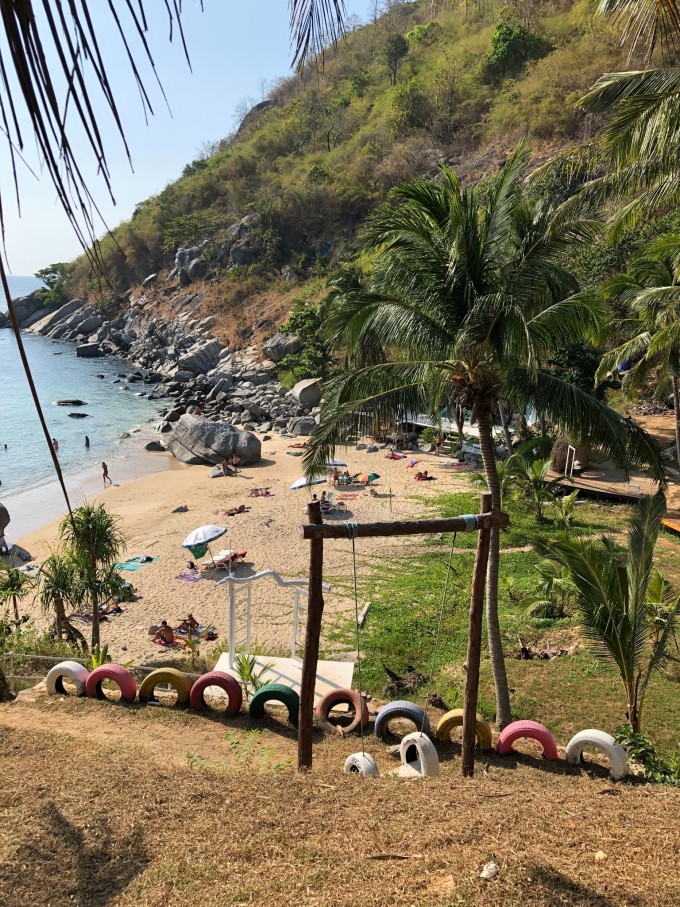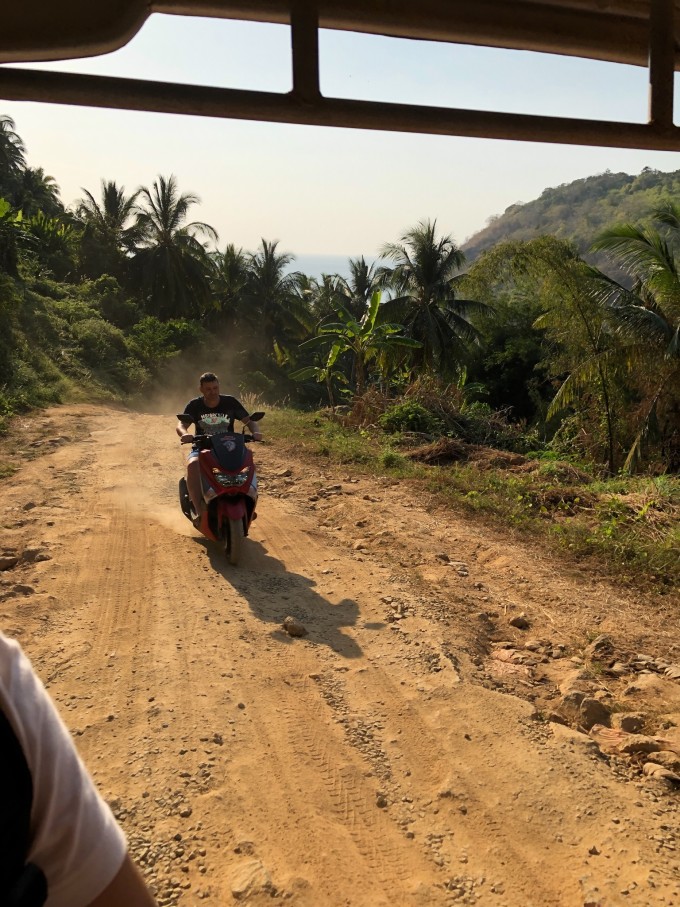 This is Russia's uncle badly he just rode with us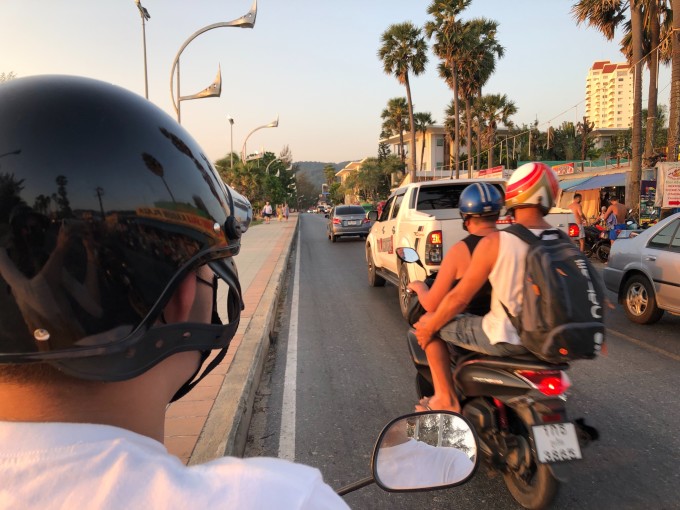 Cycling back to the hotel, the sunset is really beautiful~~ I am going back to China tomorrow, and suddenly I feel a little bit reluctant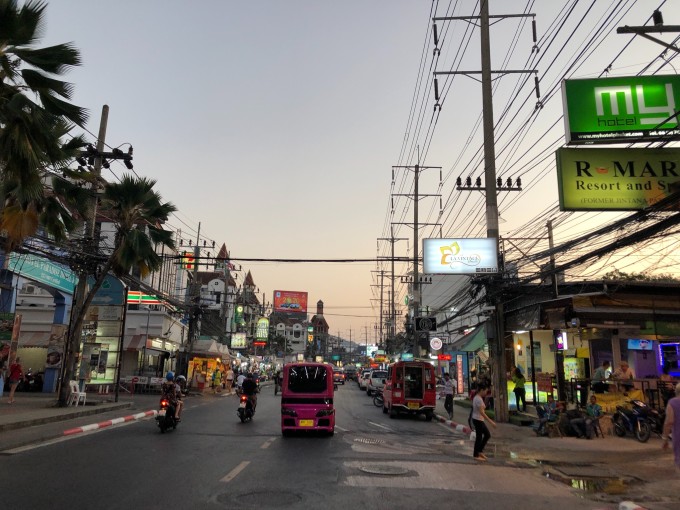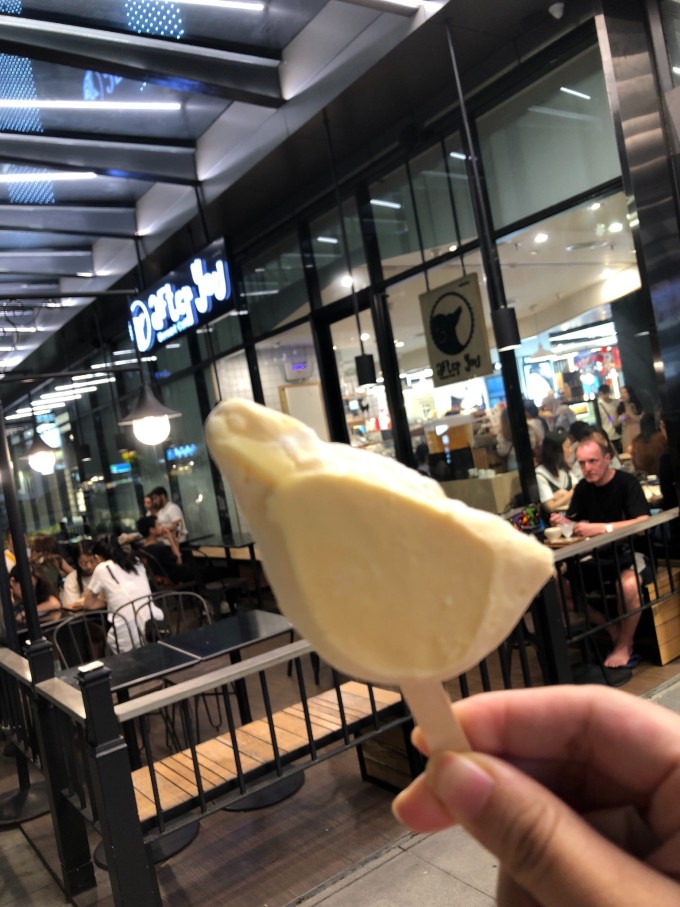 Before I left, I bought afteryou durian ice cream in order to spend the remaining baht~~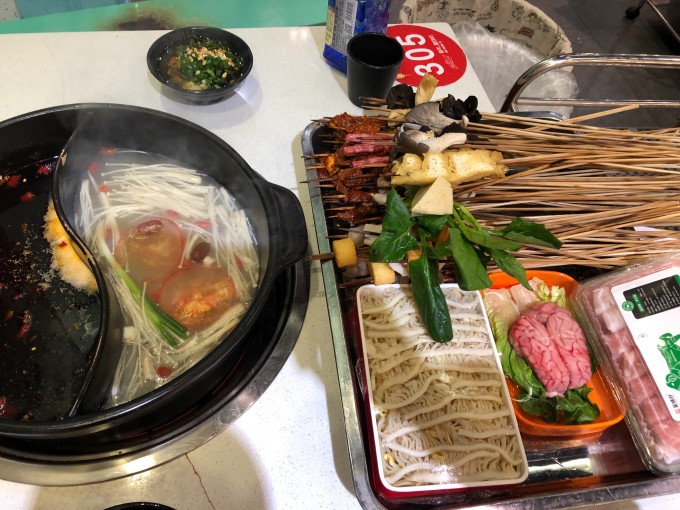 I went home at night and couldn't wait to eat the small county liver skewers from the fifth steel pipe factory. Do you have them in your city?

Finally, attach the baby at home now feel at ease with my hard we looked for so long ~~ mua ~